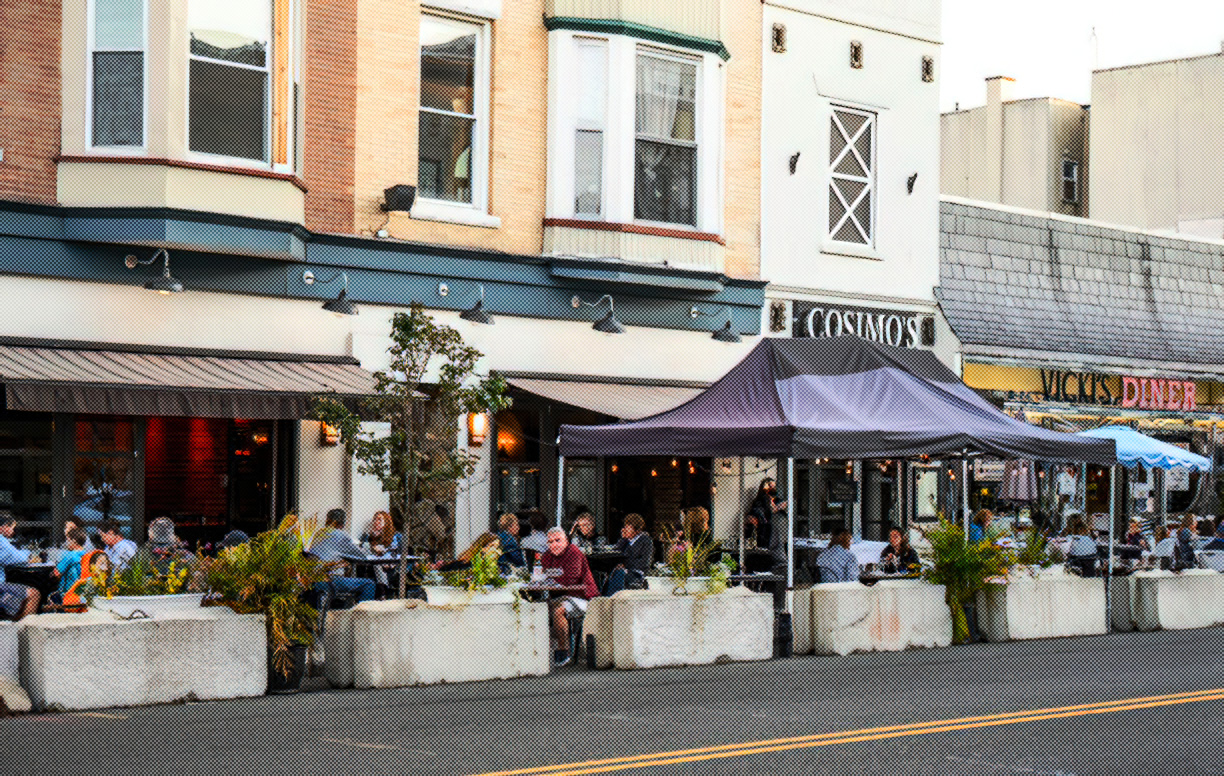 Westfield, NJ, is a great place to live! Known for excellent schools a tight-knit community, and vibrant downtown, it's no wonder this town attracts new residents every week.
If you're thinking about moving to Westfield, there are a few things you need to know before buying a home. In this blog post, we'll give you the inside scoop on what it's like living in this charming New Jersey community.
We cover almost every topic you could want to know about living in Westfield.
Westfield Local History
Four hundred years ago, the area we know as Westfield, NJ was heavily wooded and home to several Native American tribes, including the Raritans, Leni Lenapes and Unamis.
The names of these tribes can still be seen on many streets and landmarks in the town: Lenape Trail, Mindowaskin Park, Unami Terrace and Shackamaxon Country Club.
In the mid-17th century, Governor Richard Nicolls of New York bought the land west of Elizabethtown, which was known as the "West Fields". They included Springfield, Union, Rahway, Woodbridge and Perth Amboy.
Westfield officially separated from Elizabethtown on January 27, 1794. At the time, Westfield consisted of a Presbyterian church, a schoolhouse, one store, one blacksmith shop, a tavern, and around 14 homes.
Westfield, NJ Cost of Living
Westfield, New Jersey, is an affluent town located in Union County. It has about 30,754 people and is about 25 miles and one hour from Manhattan.
One of the things you'll want to consider before moving to Westfield is the cost of living. In Westfield, NJ, the cost of living is about 23% cheaper than Manhattan, but 64% above the national average.
The COL index for housing is high at 305, which means that homes in this area cost three times the nation's average. For perspective, the COL index for Manhattan housing sits around 500, and the state of New Jersey is around 140.
This town is definitely on the pricier side, with the average home sale price at $1,049,706. The average rent for apartments in Westfield ranges between $1,800 and $3,452.
The average monthly rent is $2,155 for a 1-bedroom apartment, $2,680vfor a 2-bedroom apartment, and $3,452 for a 3-bedroom apartment.
It's also important to know that property taxes are quite high at 2.4%. With an average tax bill of $17,427.
Westfield NJ vs New York City
Cost of Living Indexes
Manhattan, NY
Westfield, NJ
Difference
Overall Index
221.4
173.3
21.7% less
Food & Groceries
120.4
110.8
8.0% less
Housing (Homeowner)
520
305.1
41.3% less
Median Home Cost
$1,169,400
$935,200
$234,200
(20.0% less)
Utilities
150.3
104.9
30.2% less
Transportation
161
154.2
4.2% less
Health
125.1
97.5
22.1% less
Miscellaneous
149.4
107.2
28.2% less
Westfield vs New Jersey State
| Category | Westfield COL Index | State Average |
| --- | --- | --- |
| Overall Cost of Living | 169 | 121 |
| Goods and Services | 113 | 107 |
| Groceries | 107 | 108 |
| Health Care | 102 | 98 |
| Housing | 305 | 136 |
| Transportation | 106 | 107 |
| Utilities | 102 | 98 |
Costs of Basic Services:
| Service | Average Cost in Westfield, NJ | National Average |
| --- | --- | --- |
| Haircut | $20.73 | $18.62 |
| Beauty Salon Treatment | $36.40 | $39.05 |
| Cinema Ticket | $12.59 | $10.68 |
| Bowling Alley (per hour) | $17.73 | $14.67 |
Utility Costs:
| Utility | Average Cost in Westfield, NJ | National Average |
| --- | --- | --- |
| Electricity | $174.26 | $167.67 |
| Phone Bill (monthly) | $179.87 | $175.64 |
Taxes in Westfield, NJ:
Tax Type
Westfield, NJ
National Average
Top Income Tax Rate
1.4%-10.75%

(State Income Tax Rates)

Varies
Effective Property Tax Rate
2.40%
1.19%
Westfield Schools
Based on a recent report, Westfield Public Schools rank highly in the state of New Jersey, especially for academics, teachers, and college preparation. In short, the schools are excellent.
The school district consists of 10 schools serving an enrollment of 6,214. Aside from academic excellence, students of the district are also known to be highly active outside of the classroom, with 80% of Westfield High School students participating in co-curricular activities.
The town also has many private schools, including one Catholic school, an Episcopal school, and a Montessori school.
Westfield Weather
Another thing to consider before moving to Westfield is the weather. This town is located in the northern part of New Jersey, which means it experiences all four seasons.
Springtime brings warmer temperatures and blooming flowers, while summer is hot and humid. Fall is more relaxed, with leaves changing color, and winter is cold with snowfall.
The town gets about 50 inches of rain per year, and an average snowfall of 24 inches. You can expect about 200 sunny days per year.
Given the beauty of the four-season climate, Westfield is a great place to live. There's often something to do no matter what the season.
Commuting in Westfield, NJ
Commuters in Westfield enjoy NJ Transit rail and bus options. The Westfield train station offers via a connection in Newark Penn Station. It takes about 30 minutes to get to Newark and 55 minutes to get to Manhattan on a direct train during off-peak hours
NJ Transit bus route 113 leaves the town center for New York City every day. There are two other routes, 114 and 117, which are picked up along Route 22. NJ Transit's Route 59 bus makes stops in Newark.
Residents living in Westfield also have quick access to the Newark Liberty International Airport.
If you want to drive from Westfield to Manhattan, you can take either I-95 or 1-78. The trip usually takes just under an hour, depending on traffic.
Things to Do in Westfield, NJ
Westfield, NJ is home to plenty of things to do that are sure to please visitors of all ages.
Downtown Westfield
Westfield's downtown area stands as a prominent attraction for residents, offering a blend of shopping, dining, and arts and entertainment all conveniently located in one place.
Within this vibrant hub, you'll find retailers like Banana Republic, Gap, and Urban Outfitters.
With over 60 dining options, including Rock 'n' Joe and 16 Prospect, visitors can indulge in a diverse culinary experience.
Additionally, the downtown district hosts various community events throughout the year, such as music festivals and holiday celebrations, and the Westfield Community Players, all creating a lively atmosphere.
Miller-Cory House Museum
Immerse yourself in the fascinating world of the past at the Miller-Cory House Museum. This remarkable establishment serves as a "living history" museum, meticulously restoring and recreating the farm life experience from 1740-1820.
Open on Sundays and select Saturdays from September to June, the museum offers special programs catered to both children and adults, providing a unique educational and entertaining experience.
Westfield Historical Society
The Reeve History & Cultural Resource Center, situated at 314 Mountain Avenue in Westfield, New Jersey, serves as the headquarters for the Westfield Historical Society. The society is housed within an exquisite 1870s residence, which the Reeves brothers generously donated to the town in 1985. This historic establishment embodies the vision of becoming a permanent home for the Westfield Historical Society. To arrange a tour of the revered Reeve House, kindly reach out at (908)-654-1794 and schedule an appointment at your convenience.
AddamsFest
In October, Westfield hosts AddamsFest, a month-long celebration dedicated to the acclaimed cartoonist Charles Addams, creator of "The Addams Family," who once called this area home.
Drawing inspiration from the iconic Addams Family house located on Elm Street, this event features a captivating lineup of activities.
From movie screenings and art exhibits to an enchanting masquerade ball, AddamsFest promises a captivating and immersive experience, paying homage to the remarkable contributions of Charles Addams.
James Ward Mansion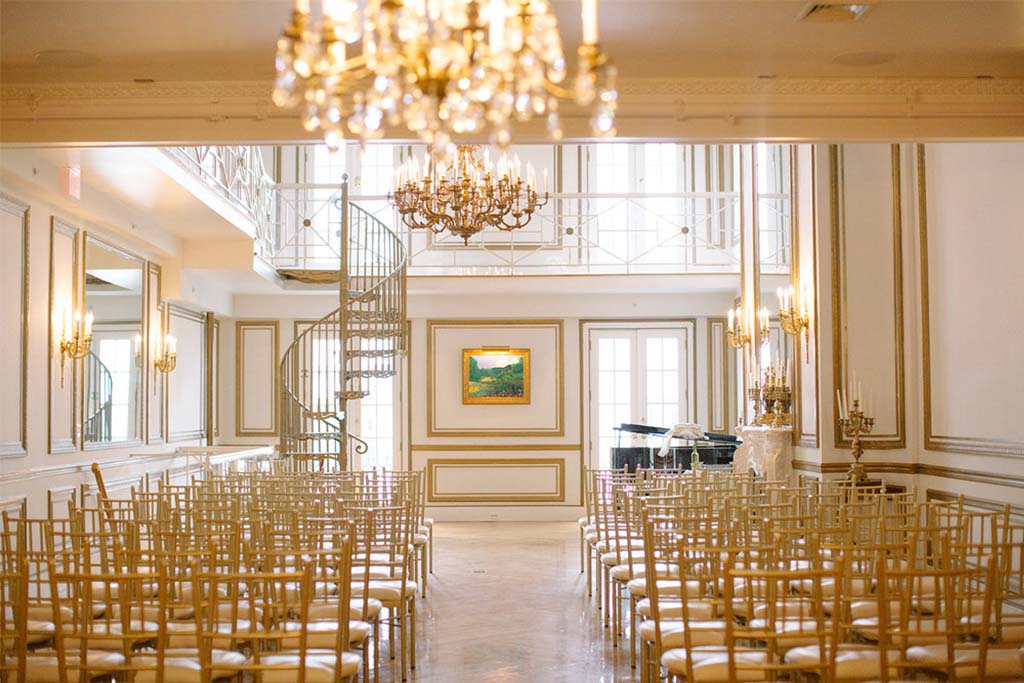 The James Ward Mansion is a must-see for history buffs visiting the town. The sprawling 19th-century estate was once home to one of the town's most prominent families. Today, it is open for tours, giving visitors a chance to see what life was like for the wealthy during that period.
The mansion features beautiful architecture and furnishings and a stunning garden. Visitors can also learn about the family's history who once lived there. The James Ward Mansion is a truly unique place, and it is sure to leave a lasting impression on all who visit.
On The Side Spa
For those living in Westfield who want a little rejuvenation, On The Side offers a great spa experience. They offer a vast array of services to care for your body and mind.
Harmony Meditation
Along a similar line, Harmony Meditation offers a number of services and courses to keep you balanced and centered. Master Instructor Jin Lee and her team offer meditation, tai chi, energy work, and a range of holistic healing services.
YesterCADES
I did a full article on YesterCADES because it's such a fun addition to our community. They provide retro arcade-style gaming that's fun for all ages and nostalgic for many parents.
On weekend nights, you can BYO beer or wine to indulge your inner child while enjoying a few adult beverages.
Westfield Restaurants
One of the greatest things to do in Westfield is eat! Check out these articles for lots of ideas and a taste of the local culinary experience.
Westfield Events
Beyond all these Westfield activities and things to do, there are plenty of city-hosted events every year. Here are the greatest hits:
Pride Month Celebration and Walk
Annual Christmas Tree Lighting
Hanukkah and Kwanzaa Events
Shakespeare in Foundation Park
5K Runs with Pizza
Neighborhoods in Westfield, NJ
The town of Westfield, NJ, is a lovely place to call home. With its tree-lined streets and well-maintained homes, it's no wonder that families love living here. Here are the best neighborhoods in Westfield, NJ.You can also check out my article on the Best Neighborhoods to Live in Westfield. For even more information on local properties, read 10 Architectural Styles in Westfield and Cranford, New Jersey.
Wychwood
Wychwood is a neighborhood in Westfield, NJ, known for its charming Victorian homes and leafy streets. The Wychwood Historic District is listed on the National Register of Historic Places, and the area is also home to several parks and playgrounds.
Families love Wychwood for its close-knit community feel, and there's always something going on – from block parties and garage sales to holiday celebrations. If you're looking for a place to call home, Wychwood is worth considering!
The Gardens
The Gardens neighborhood in Westfield, NJ, is a beautiful and convenient place to live. It is only blocks away from the shopping center and downtown, yet it feels like a world away. The streets are lined with trees and flowers, and the houses are well-maintained.
There is a strong sense of community in the garden neighborhood, and residents often get to know each other. The area is also home to various businesses, including restaurants, cafes, shops, and galleries.
There is something for everyone in the garden neighborhood, making it a great place to live.
Kimball Avenue Historic District
The Kimball Avenue Historic District is a charming neighborhood located in the heart of Westfield, NJ. The community comprises a mix of Victorian and Edwardian-style homes and various businesses and restaurants.
The Kimball Avenue Historic District is also home to several parks and green spaces, making it a great place to stroll or relax.
In addition, the neighborhood is within walking distance of the downtown area, which offers a variety of shops and services. The Kimball Avenue Historic District is a great place to live, work, and play.
Outdoor Spaces and Parks
Echo Lake Park
Echo Lake is a decent-sized park with a lot to offer. There's ice skating, fishing, softball, paddle boats and a dog park. Though well-maintained, nature is allowed to grow a little wild, which encourages lots of interesting wildlife.
It's also home to the Echo Lake Country Club for those who want to play the links.
Mindowaskin Park
Mindowaskin is a small, yet scenic and historic park that's been around for over 100 years. It features a playground, pond with a lovely fountain, and well-maintained greenery.
Tamaques Park
Situated on Lamberts Mill Road, Tamaques Park is a county park that caters to a wide range of interests. This expansive recreational area boasts basketball courts, tennis courts, pickleball courts, shuffleboard courts, handball courts, two playgrounds, and six playing fields.
Nature enthusiasts can appreciate the park's scenic pond, while pet owners can enjoy the dedicated dog park. For those seeking outdoor activities, there's a jogging path to explore. Additionally, the park provides picnic areas and restroom facilities, ensuring a comfortable and enjoyable visit.
Westfield Real Estate Market
Especially in the wake of the pandemic, Westfield is a very popular place to live. Among other things, the desire for a dedicated work space at home has changed the market.
Check out my 2022 Real Estate Market Report for more information on the current trends and market statistics.
Multiple offers are common on listed homes, so it's important to hire a realtor when moving to Westfield NJ or selling your house here.
I'm proud to be a Top 1% agent for Coldwell Banker and 12-time winner of the Five Star Professional Agent as seen in NJ Monthly Magazine 2012-2023.
I'd love to have a conversation about how I can make the process of living in Westfield a dream come true.
FAQs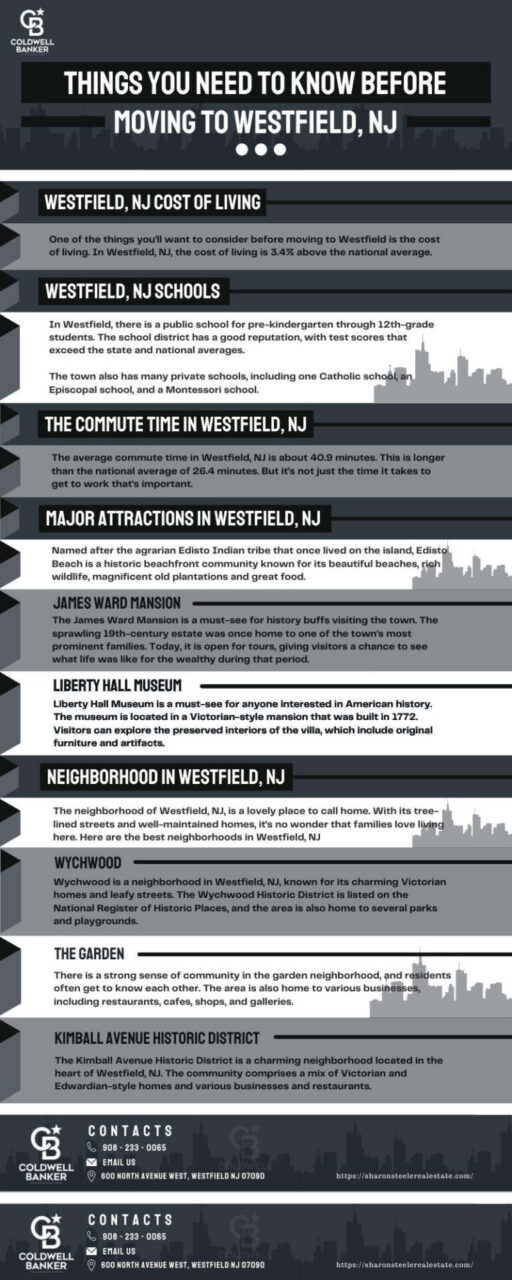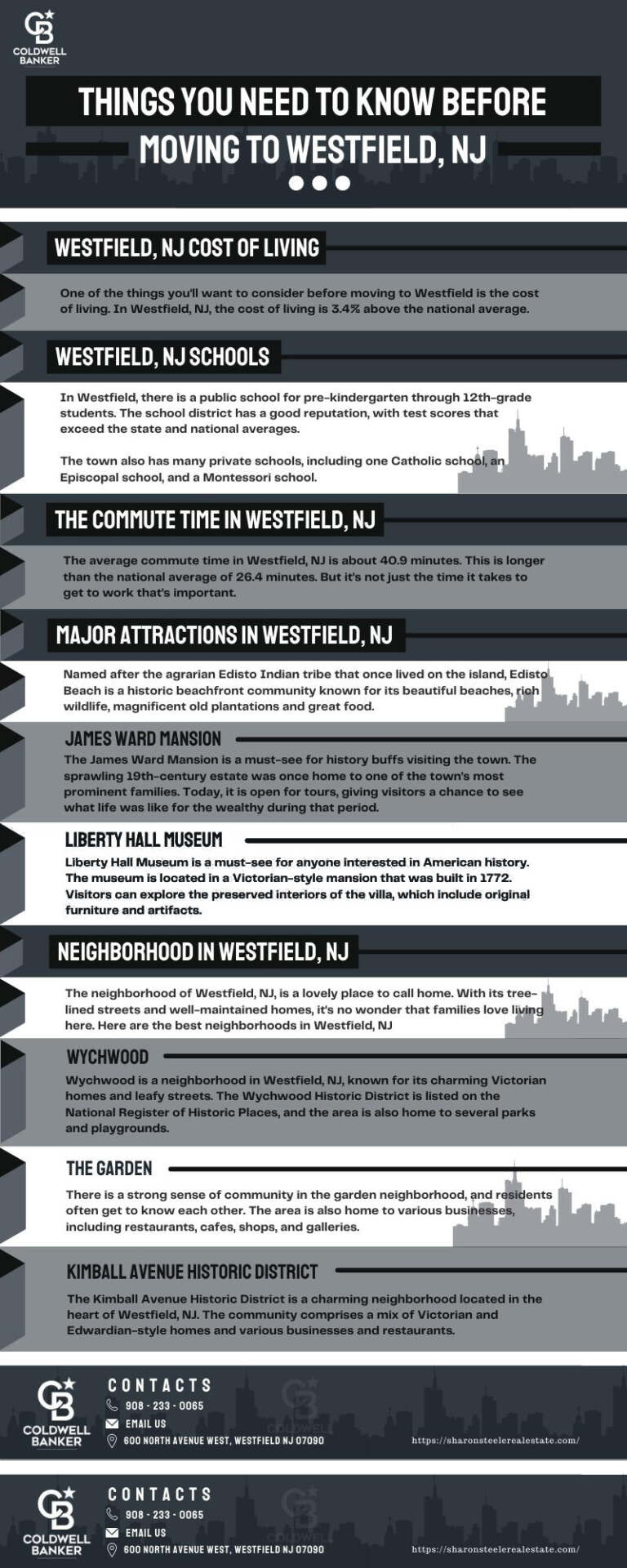 Final Thoughts
Now that you've read our list of things you need to know before moving to Westfield, NJ, are you more prepared for your big move? We hope so!
Remember to take your time when packing and unpacking, give yourself plenty of time to adjust to your new surroundings, and be patient as you get to know your new neighbors.
With a bit of planning and preparation, you'll be settling into your new home. If you have any questions or need help relocating, please don't hesitate to reach out to me. I would be happy to assist you in finding a home of your choice.