2022 Real Estate Market Recap: Trends, Challenges, and Opportunities
The 2022 real estate market in Central NJ was marked by several notable trends, challenges, and opportunities. From the impact of the ongoing pandemic to changes in mortgage rates and shifts in inventory levels, the market saw significant developments throughout the year. It was certainly a year with many twists and turns for buyers and sellers alike.
These graphics provide an overview of the 2022 real estate market for our local towns. The year was characterized by low inventory levels and rising mortgage rates, which had a significant impact on the market. Low inventory levels made it more difficult for buyers to find available properties and created a highly competitive environment. Due to this, multiple offers and bidding wars became common. As a result, buyers often had to act quickly and make strong offers to secure a property, which pushed up home prices.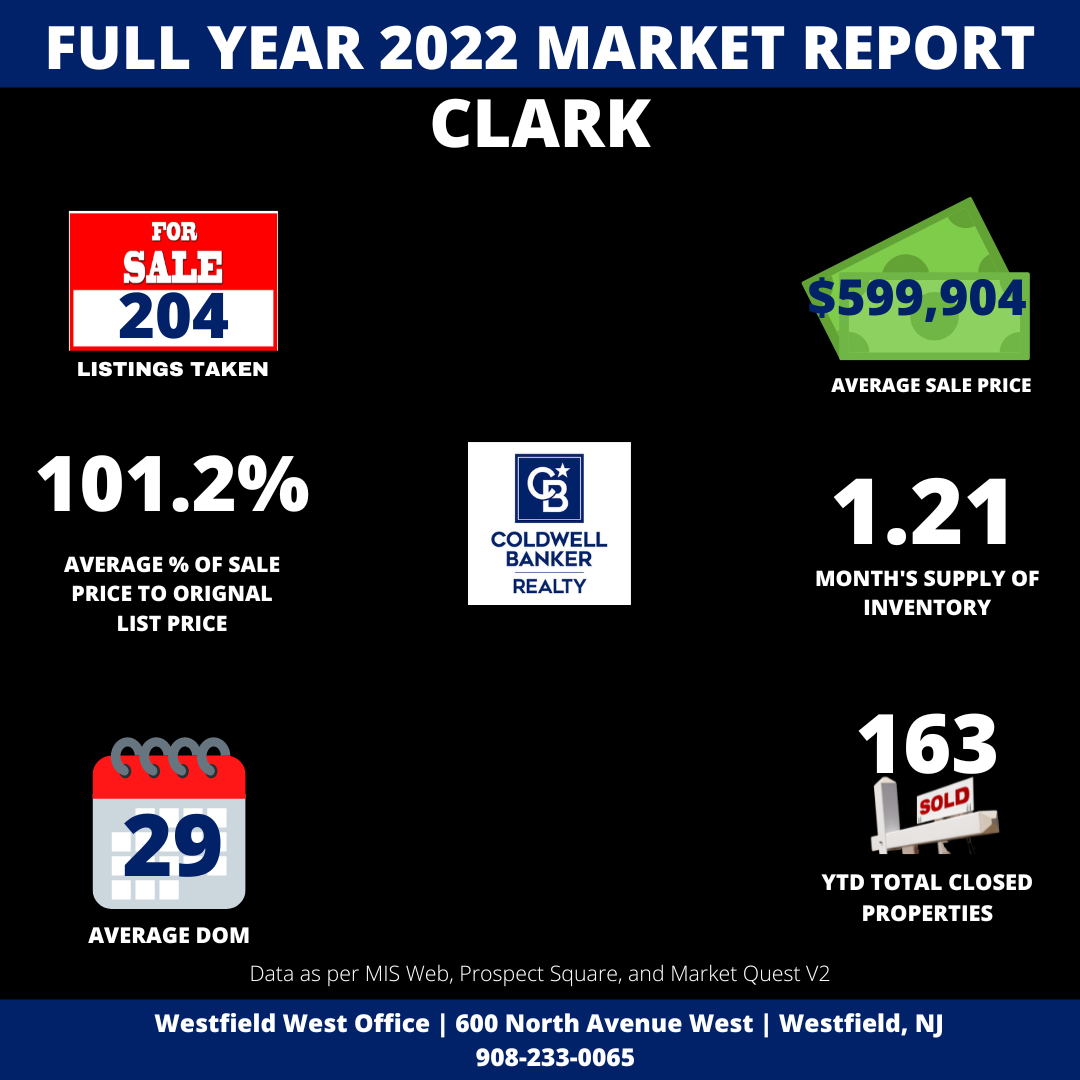 The Pandemic and its Effect on the Real Estate Market in The Cranford Westfield Area of NJ
The shift to remote work due to the COVID-19 pandemic has led to a significant change in buyer preferences for home features. With more people working from home, buyers are looking for homes that can accommodate their work needs and provide a comfortable environment for extended periods of time.
Home offices have become increasingly popular as buyers search for a dedicated workspace that can offer privacy and quiet for work calls and video conferences. Additionally, homes with ample natural light, outdoor spaces, and flexible spaces that can be used for multiple purposes have become more in demand. As remote work continues to be a prevalent part of the workforce, we can expect to see these preferences continue into the future, with a focus on creating comfortable, functional spaces for work and leisure activities. The real estate market activity has shown that buyer needs have shifted considerably!
Rising Mortgage Rates
During the third quarter of 2022, rising mortgage rates affected the market. As mortgage rates increased, buyers had to contend with higher monthly payments, which limited their purchasing power and made it more difficult to afford a home. Additionally, homeowners who had previously refinanced their homes to lower rates now felt the need to stay put. This had the effect of cooling off demand and slowing down the pace of home sales in our area.
Overall, the combination of low inventory and rising mortgage rates created a challenging real estate market for buyers. As the year came to an end, mortgage rates leveled off, however, the lack of inventory is still an issue. Therefore, multiple offer situations are still common, and prices are still relatively high. In 2023, the real estate market will require careful navigation by agents, buyers, and sellers to achieve successful transactions. According to NAR, the 5 Trends that Defined the 2022 Real Estate Market are still having an impact. It is projected that the roller coaster ride for both buyers and sellers will likely continue to be bumpy!
Let's connect and discuss your specific needs! I can help you reach your goals in ANY market!