The Season's Hottest Restaurants to Try in Downtown Westfield, NJ
Top 6 Westfield NJ Restaurants to Enjoy This Summer! Welcome to the summer months in the Westfield, NJ area! It's the perfect time to get out and enjoy everything that Westfield, NJ has to offer in terms of dining!
The Downtown Westfield Corporation brought back "Open Quimby" once again! During the warmer months, Quimby Street will function as a pedestrian area for expanded outdoor seating, live entertainment, fitness activities, and games! Sweet Sounds Downtown Music Festival will take place every Tuesday!
Downtown Westfield also incorporated new designated drinking areas for the consumption of alcoholic beverages in select areas and parklets throughout town. Outdoor dining has never been more easy, fun, and enjoyable! We picked our top six restaurants in Westfield, NJ that either offer outdoor seating or some sort of unique attraction when visiting with friends and family! Live it up this summer and make the most of our area!
Addams Tavern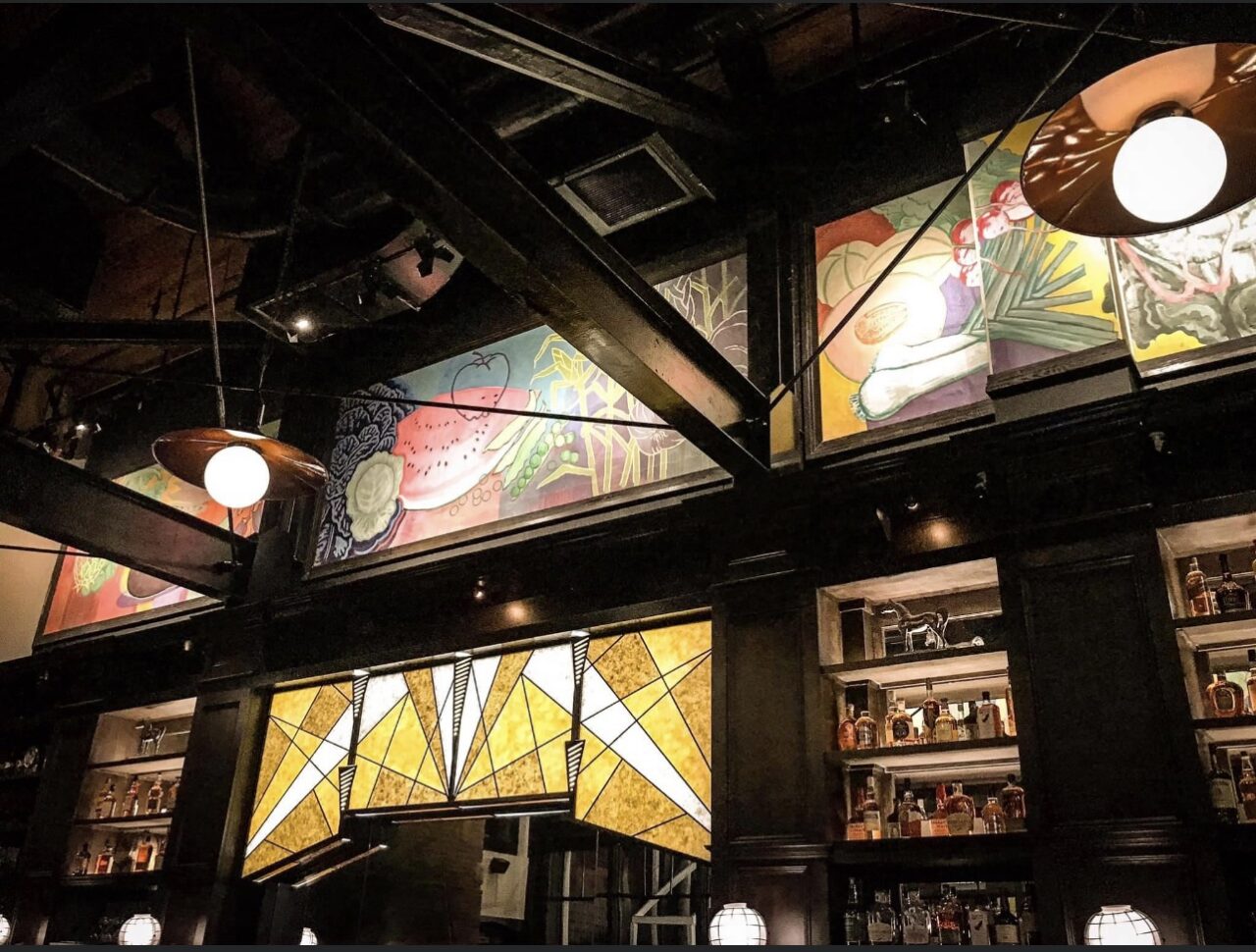 Progressive New American
Extensive fine wine collection, cocktails, & spirits
115 Elm Street
Monday-Sunday hours
Brunch, Lunch & Dinner
Take-out ordering available
908.232.3201
Addams Tavern is owned by the Harvest Restaurant Group and is a bustling and engaging restaurant atmosphere perfect for any occasion. The menu changes with the season using local markets. The current spring menu is incredible! Dining guests will take delight in the high vaulted ceilings, wrap-around murals, and portraits paying homage to Charles Addams – the creator of the Addams Family and one of Westfield's most famous icons. Whether stopping in for a cocktail or celebrating a big event – Addams Tavern is the spot that has it all!
Start with Cheddar Onion Biscuits, Lemon Ricotta & Strawberry Toast, Tuna Tartare, Addams Grain Salad
You MUST try Fried Chicken Fried Rice Bowl, Vermont Cheddar Burger, Potato Crusted Flounder, Wood Fired Baby Back Ribs
End with the Sweet & Salty Sundae or the new Peach & Blueberry Crisp with Blueberries & Cream Ice Cream!
Pairs well with anything from their extensive wine list. Our favorite cocktails currently are the Barrel-Aged Summertime Manhattan, Farmer's Mule (Peach Vodka, St. George's Raspberry Liqueur, Lime Juice, Ginger Beer), & Very Berry (Raspberry & Blueberry Infused Vodka, Orgeat, Lemon Juice, Vanilla, and Mint Simple Syrup)
For the little ones… the kids love the Addams Mac & Cheese and Pommes Frites!
Chez Catherine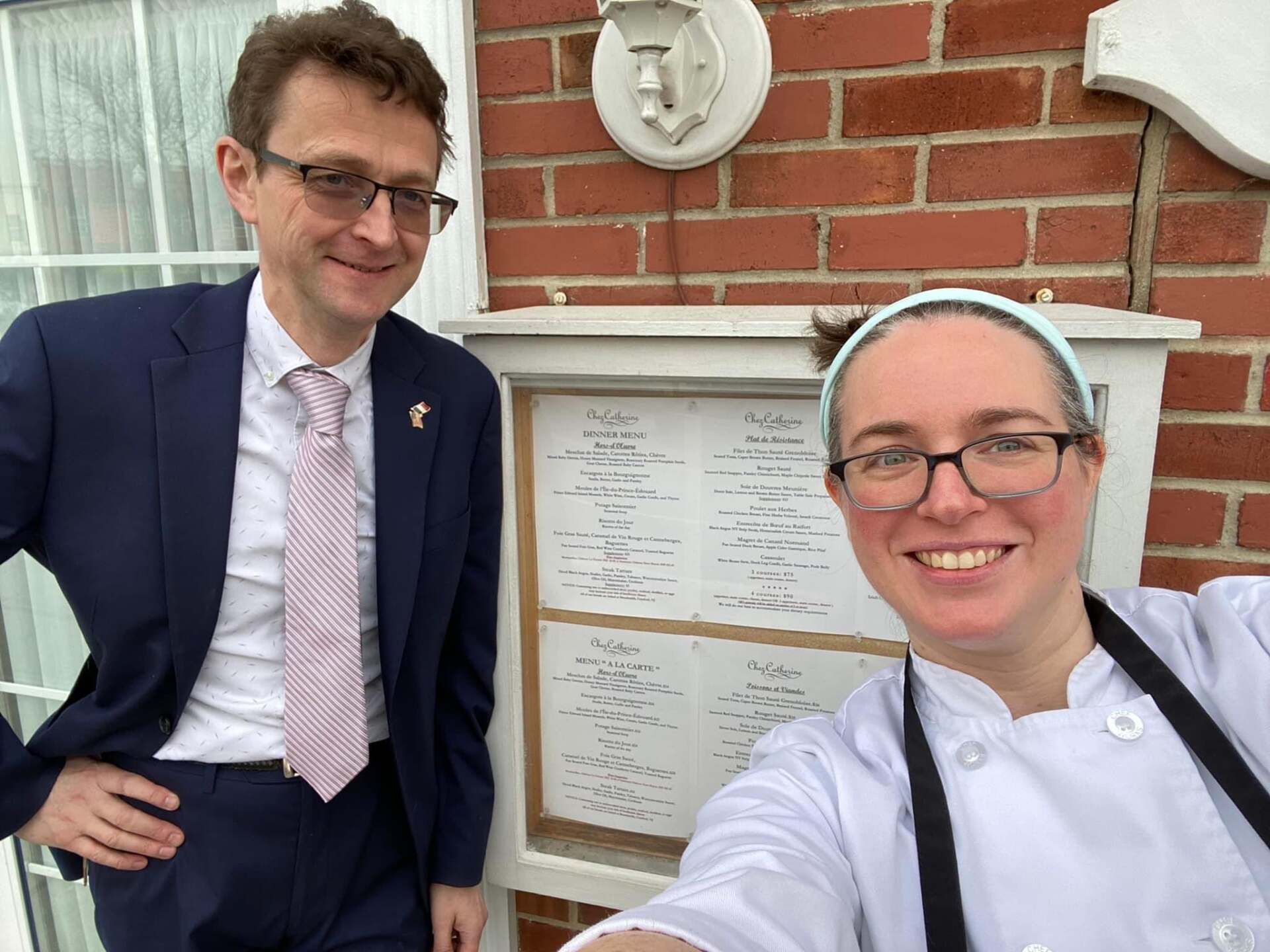 French
Extensive fine wine collection & cocktails
431 North Avenue West
Tuesday-Saturday hours
Lunch & Dinner
Take-out ordering available
908.654.4011
Looking for a quaint, French restaurant that feels like you were transported to the French countryside? Owner Stéphane Bockert has continued the authentic, impeccably prepared French cuisine for which Chez Catherine has received multiple awards. They recently made the list of "The 11 Best Restaurants in New Jersey" by BestThingsNJ.Com. We love that Chez Catherine has been partnering with Greens Do Good and features the freshest, most beautiful greens from this organization on their ever-rotating seasonal menus. This organization cultivates organic, vegan produce and creates meaningful employment opportunities for adults with disabilities. Their new spring menu has you wanting one of everything!
Start with Escargots a la Bourguignonne, Mesclun de Salade, Abricots et Chevre (mixed baby greens, Lemon Poppy Vinaigrette, Apricot, Goat Cheese, Sunflower Seed), and their Seasonal Soup of the Week!
You MUST try Sole de Douvres Meuniere (Dover Sole, Lemon, and Brown Butter Sauce), the Magret de Canard Madra (Pan Seared Duck Breast, Pineappple Gastrique, Rice and Grains Pilaf), or Navarin d'Agneau Printanier (Braised Leg of Lamp, Spring Vegetables)
End with Souffle du Jour! We also highly recommend the Mascarpone cheesecake with cherry compote and shortbread crumble. Oh… and the fluffy profiteroles with warm chocolate sauce!
Pairs well with…you must try the Traditional Kir cocktail, Catherine's Sparkling Cocktail, and the Chocolate Martini. If you are looking for some champagne to celebrate or a deep red wine…the list is extensive! A current "Mocktail" on the list is fresh squeezed orange, grapefruit, pineapple, hibiscus, and a splash of Sprite!
For the little ones (this is the one restaurant that we'd say is adult only. It's a very intimate space and best to be enjoyed with the kids at home! You deserve a special night out!)
Roosterspin Westfield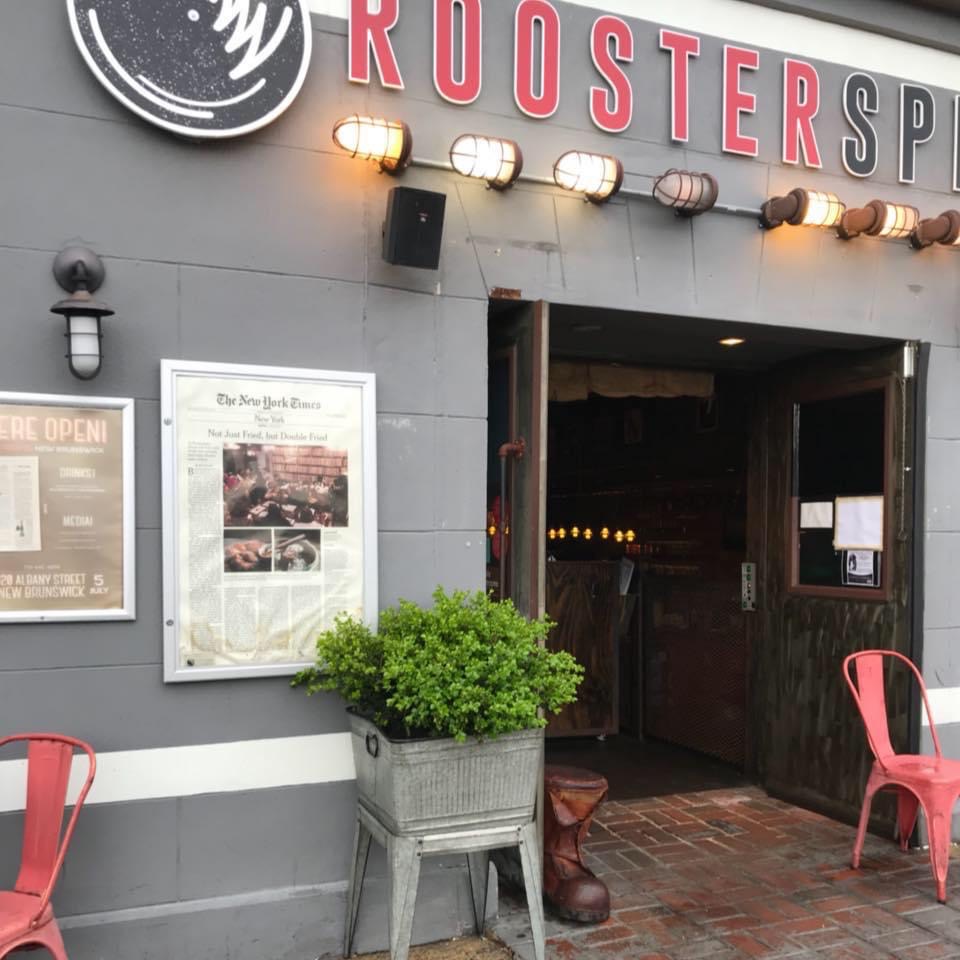 Korean
House Wine &Sangria available plus BYOB
251 North Avenue West (Train Station Parking Lot)
Monday-Sunday hours PLUS Karaoke booking hours
Lunch & Dinner
Take-out ordering & delivery available
908.233.7333
Once you are hooked on the Roosterspin experience– it's hard to stay away! It's a hip, vibrant scene that's perfect for any occasion and the Korean-based cuisine is so delicious! How can you NOT love an eatery that offers a NYC style private karaoke club! Come prepared to eat and have fun! Owner Mihae Cho has brought a unique dining experience to Westfield – one where you can enjoy dinner with the kiddos or hanging with your friends while listening to a live DJ or having karaoke fun!
Start with Grilled Corn on the Cob with Cotija Cheese, Roosterspin Fries, Steamed Buns, Honey Butter Rice Balls, and Kimchi Deviled Eggs
You MUST try the obvious Always Double Fried Chicken (so crispy and tasty!), Ramen Taco, and Bulgogi Burger Slider
End with a R-Waffle! It's both crunchy and chewy at the same time with an assortment of syrups to choose from!
Pairs well with their house wine or a cold beer perfect with the Double Fried Chicken!
For the little ones…a kid's menu is available and offers items such as chicken fingers and udon noodles. This restaurant is perfect for the little ones!
Fiamma Wood Fired Pizza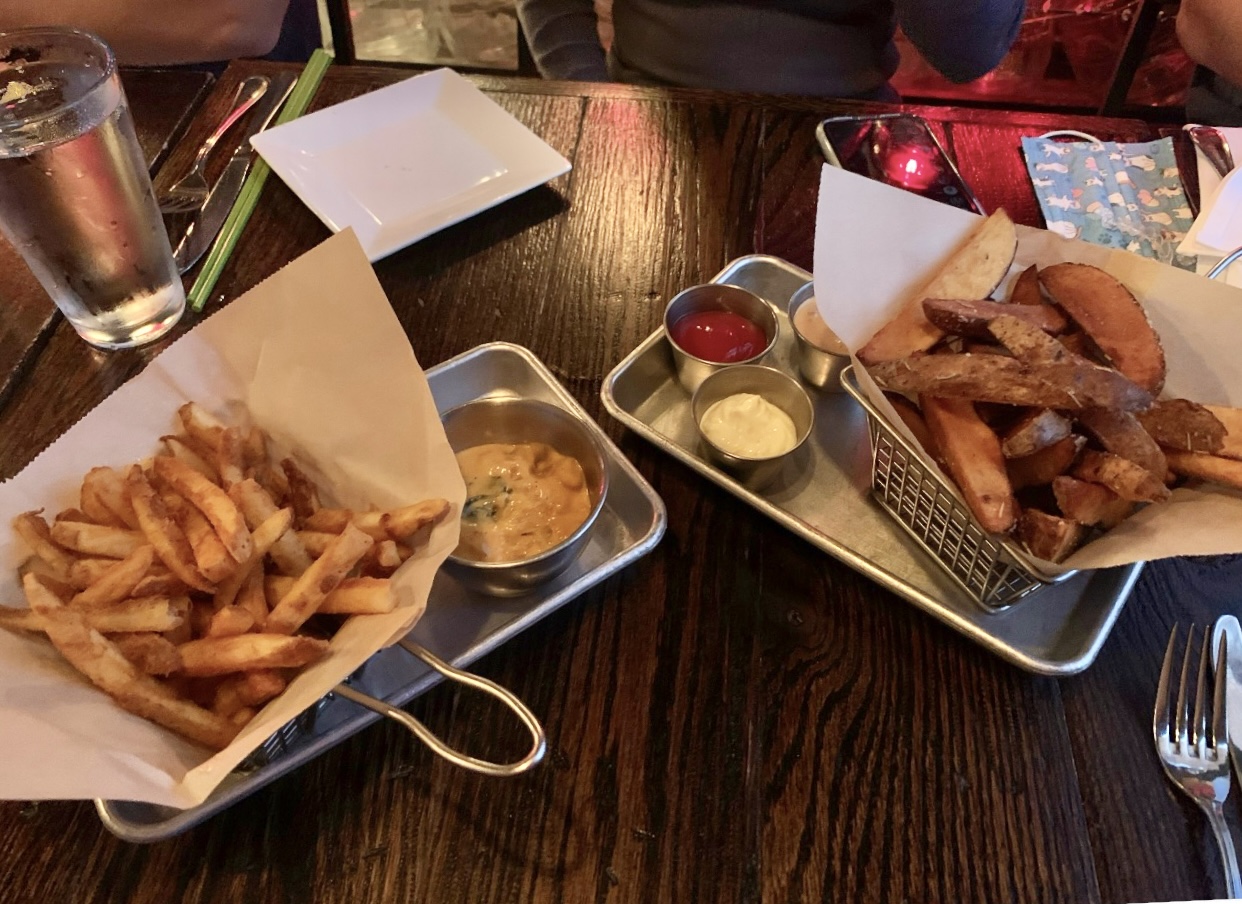 Italian
BYOB
108 Quimby Street
Monday-Sunday hours
Lunch & Dinner
Take-out ordering & delivery available
908.654.0400
We truly love frequenting this family friendly pizzeria and can't get enough of their cozy atmosphere with authentic Italian dishes, gourmet pizza, and fresh salads! Grab a pie and enjoy the outdoor seating during these summer months!
Start with the Hand Rolled Burrata, Polpette (wood fired beef meatballs stuffed with mozzarella), Calamari Fiamma (so good with the balsalmic reduction), and Beet Salad
You MUST try their Pollo Milanese (Breaded chicken topped with arugula, tomato, red onion, shaved parmigiana, and balsamic vinaigrette), Rigatoni Napoli (Kalamata olives and goat cheese in house made tomato sauce), Pollo Fiamma (Parmesan -encrusted chicken in lemon, white wine, with artichoke hearts and broccoli)
Of course, we need to talk about pizza… each pie is made with prepared dough using Caputo 00 Flour, fresh ingredients, homemade mozzarella, all in their Acunto wood fired brick oven handmade in Italy! We love the Original Wood Fired Tomato Pie (a classic!), Vodka Pie (Fresh mozzarella, tomato cream vodka sauce, mushrooms, pea, and prosciutto di parma), and the Sorrentina (Crushed tomatoes, fresh mozzarella, crumbled wood fired sausage, basil, and roasted peppers)
Pairs well with Peroni beer, Stella Artois beer, or a great Grenache-Syrah wine!
For the little ones… the restaurant offers a Kids Menu with such items as chicken fingers, individual pizzas, penne pasta, and cheese ravioli!
Spice Bazaar-Modern Indian Dining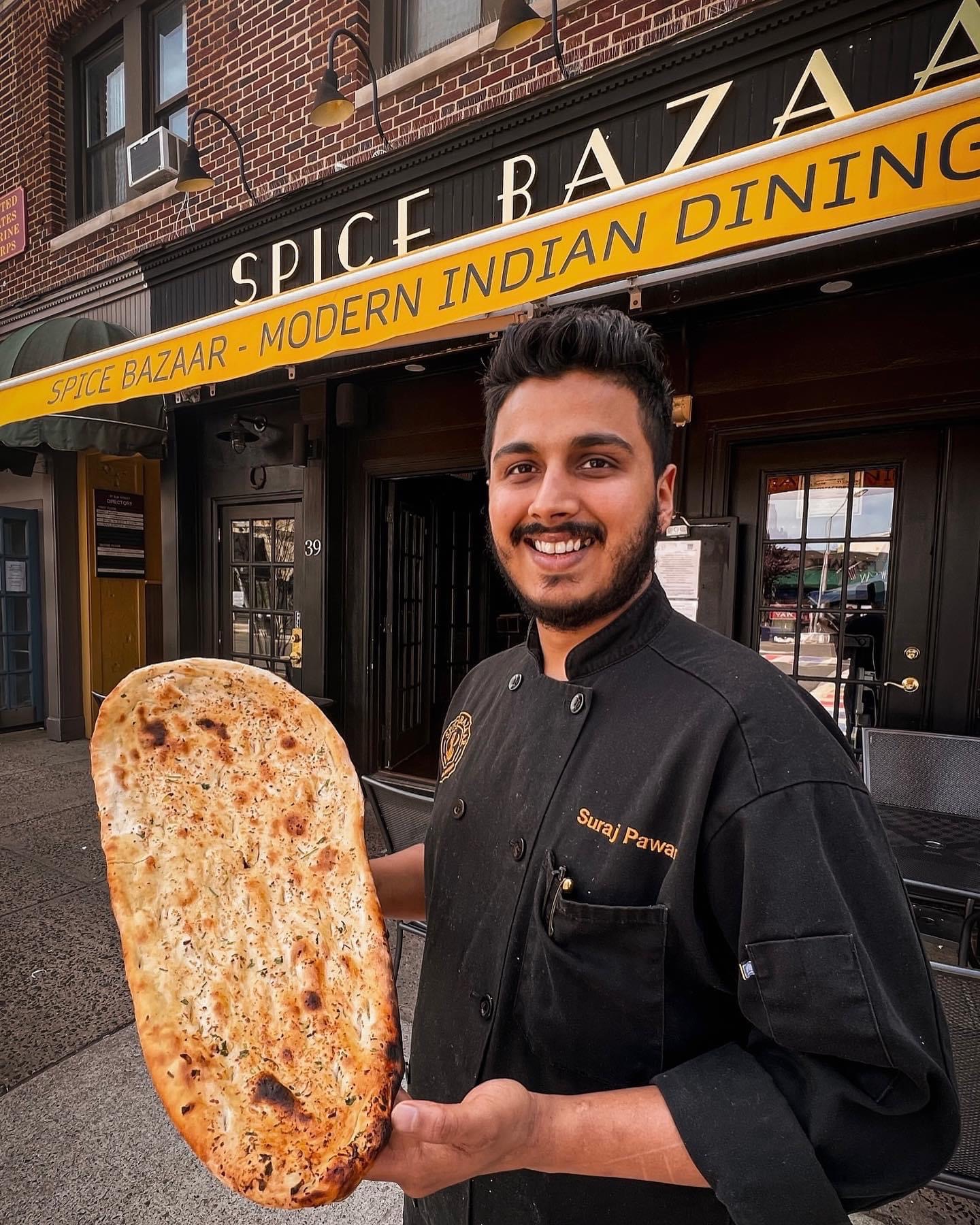 Indian
BYOB
39 Elm Street
Monday-Saturday hours
Lunch & Dinner
Take-out ordering & delivery available
908.389.1888
If you love authentic Indian cuisine, then you need to visit this beloved family-owned restaurant! Owners Kanika and Simran have truly brought a modern, cozy vibe to their restaurant and everyone raves about the seating options and highly-rated service. Your favorite Indian dishes are on the menu along with gluten-free and vegetarian options. This is a unique and casual dining experience for the whole family!
Start with a Samosa (Stuffed Indian pastry, jalapeno cheese), Spinach Chaat (Tamarind, sweet yoghurt, tomatoes, onions),
You MUST try Cottage Cheese Tikka (cubes of paneer, onion, and bell peppers marinated with turmeric, cumin, and yoghurt), Chicken Tikka Masala (a favorite – Tandoori, fresh creamy tomato sauce), Tandoori Cornish Hen, Grilled Shrimp Tikka, and Keralan Fried Chicken. Their summer menu is about to drop and it look amazing!!!
End with Gulab Jamun – a hot fried dumpling soaked in honey syrup!
Pairs well with their homemade Mango Lassi or bring your favorite Pinot Gris or Riesling which pairs oh-so-well with Indian fare!
For the little ones… endless Naan and rice! And Chicken Tikka Masala and Butter Chicken is always a hit!
Maya Thai Eatery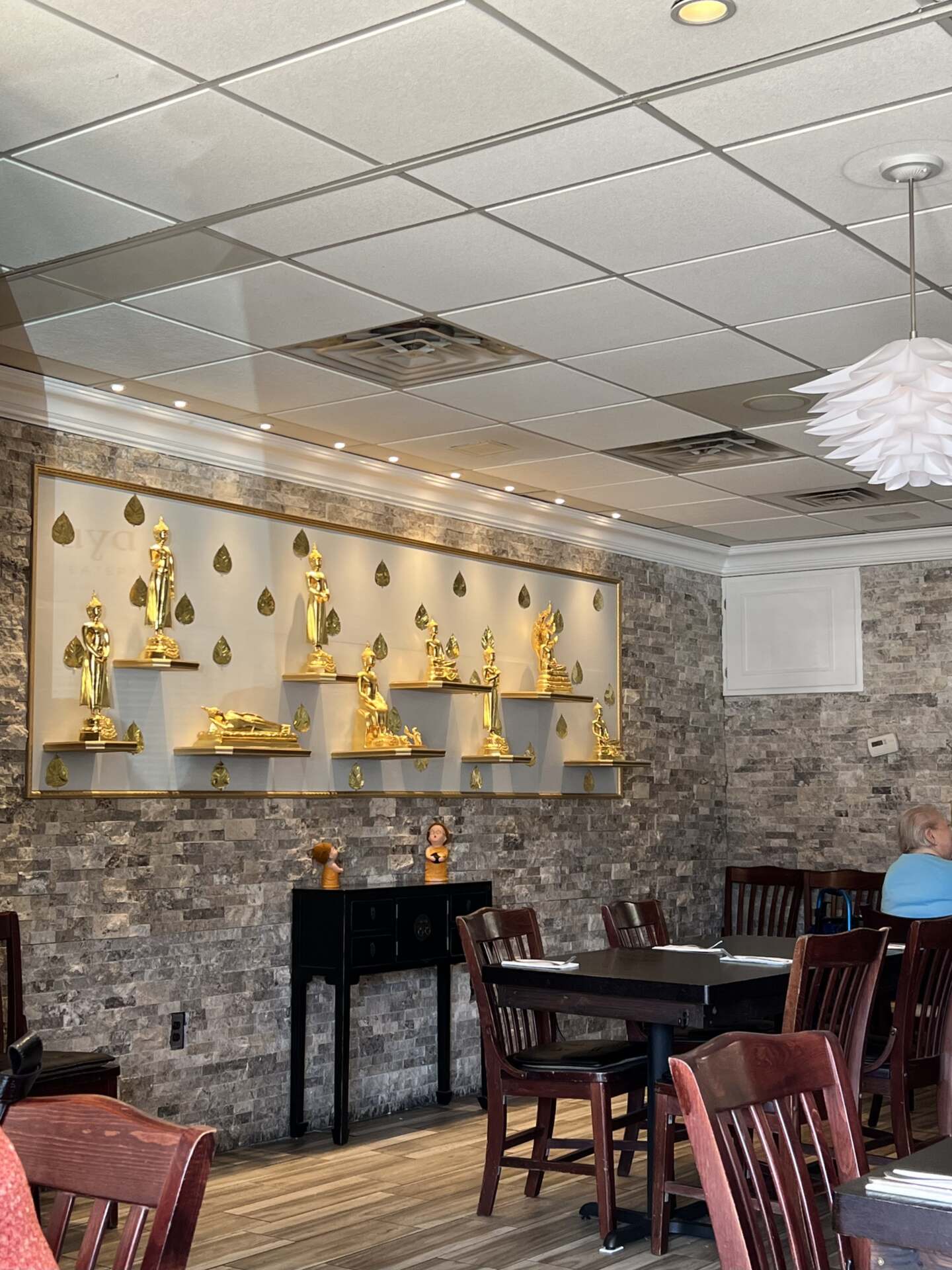 Thai
BYOB
235 Elmer Street
Tuesday-Sunday hours
Lunch & Dinner
Take-out ordering & delivery available
908.232.3962
This hip Thai restaurant is new to the Westfield restaurant scene for Spring 2022. It offers bright and airy ambiance indoors plus a great little outdoor seating area. Owner Phattharaphon Phuetpha brings authentic Thai cuisine that is simply delicious! We tried so many things on the lunch menu and give this new Thai restaurant 5 stars!
Start with the Crispy Spring Roll, Fresh Summer Roll (vegetarian), Thai Dumplings, Fried Golden Bag (chicken & shrimp w/ sweet chili sauce), and the Papaya Salad
You MUST try the Pad Thai Noodle (a classic…and it's sooo good), Pad See Ew Noodle (Broad noodle, broccoli, Chinese broccoli, egg), Special NJPD (Crispy half duck with Pad Thai noodle, bean sprout, scallion peanut & egg), Green Spaghetti Salmon (green peas, bell pepper, broccoli w/ creamy green curry sauce), Tom Yum Super Bowl (Bean sprout, scallion, Chinese broccoli, peanut, chili paste in their famous Tom Yum soup)
End with…it's a tie between their Fried Ice Cream and their Fried Banana!
Pairs well with their special "Pink Milk" (non-alcoholic), Thai Iced Tea, or bring a dry Riesling, Pinot Gris, or Pino Grigio that pairs well with Thai cuisine!
For the little ones… you can't go wrong with fried rice & noodles!
Our area offers so many delicious dining options… check out my Six Cranford NJ Restaurants You Must Try Post for more options!