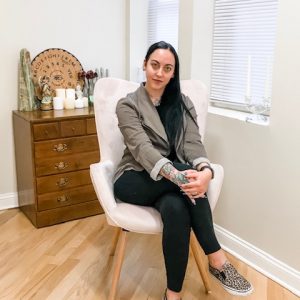 Meet owner Chelsea Selby and then wish her congratulations! She literally just got married and she and her husband are excited to open their first storefront for Witch Baby Soap at 11 Eastman Street in Cranford on Wednesday, May 1! It's definitely exciting times for these Cranford newlyweds! Their handcrafted vegan and cruelty free beauty products are completely unique and intriguing – and Chelsea has had a worldwide cult following for her products since she opened shop on Instagram and Etsy in October 2013! Already being featured in Allure, Buzzfeed, Bust Magazine and many other publications – how lucky is Cranford to be the site of their first enchanting store?!
Chelsea Selby's Potions
Born in Central New Jersey – Chelsea has always had a passion for beauty and making her own "potions". She received a cosmetology license and then decided to pursue a degree in alternative medicine. Her life after college ended up taking an interesting path – one that led to taking charge of her life and manufacturing her own beauty products. She combined her passion for spells, nature, and herbology. Chelsea began practicing witchcraft as an act of self-care. "It was a very spiritual journey for me -I like making beauty products that are more than just a beauty product. They come with a spiritual intention – basically, it's like treating your body as a temple." Chelsea found that the beauty products she was buying at the store weren't representative of who she was. She started creating her own unique products born out of the desire to "create ethereal fragrances that have the power to evoke powerful memories."
Witch Baby Soap: From Etsy to Cranford
Chelsea introduced her Witch Baby Soap in October 2013 and started out on Etsy and Instagram as her primary advertising platform. Witch Baby Soap became popular way before other bath and beauty products started leveraging the platform. "There's a huge advantage to getting your name out their early. And what we were doing was different than anything anyone else was doing", added Chelsea. "Witch soap has always existed, but we were doing it in a new, fresh, and more inclusive way."
Growing the business
She was selling out of products and needed employees. She moved to her first facility in Kenilworth and quickly outgrew that space. She and her husband then found their current manufacturing facility in Roselle Park. Her husband quit his job at that point, and they started running the business together. They currently live in Cranford with their beautiful daughter– and never planned for a wedding and a new store opening to coincide with each other! Chelsea commented, "We see this storefront every single day and at one moment we just said, let's go for it! The goal is giving our customers what they have always wanted – an actual store! We are excited to run this new business together! When we announced we were opening – we got such great feedback and excitement from everyone in town. I like that about Cranford – such a nice and supportive community." Chelsea also loves the fact that Cranford does Halloween right – she adores all of the spooky events surrounding this beloved day!
The top products
So, let's go back to a little more about the actual products inside the Witch Baby Soap store…
Each ingredient that goes each and every bath bomb, body butter, and hand soap is carefully chosen by Chelsea. "I make educated decisions on everything I decide to use – there will be no parabens, phthalates, sulfates or any other harmful additives. Everything I sell is 100% vegan and cruelty free." These are a little "spookier than other soaps around. Witch Baby Soap is intentionally "witchy" and you can find appropriately and cleverly named soaps that correspond to spells, the moons, and other magical themes. These products are perfect for GUYS and GALS alike!!
The uniqueness of Witch Baby Soap is "building worlds through atmospheric scent combinations and marrying them with magical herbs, crystals, and oils". Here's a highlight on her top sellers…
LOVE SOAP – the top seller. (red soap above) It's made with ingredients that are traditional with love spells, promoting self-love, romantic love, platonic love – whatever your intention. It's a "perfect balance of fruity and floral and contains poppy seeds for mild exfoliation"
PSYCHIC SOAP– (blue soap above) "scented with lavender, black amber, vanilla, black myrrh, and Egyptian musk". It contains powdered yarrow flowers used as herbs traditional for divination and the enhancement of psychic powers.
GRAVEYARD SOAP: (flower filled soap above) "This beautiful floral bar smells like a spring time stroll through a warm graveyard". It will remind you of the scents of funeral flowers, coffin satin, and warm dirt…
Go visit Witch Baby Soap!
If you aren't into the magic and occult – this store will still draw you in…trust me! The whole variety of products in the store (body scrubs, face soaps, body butter, bath bombs, bubble bath, bath salts, body oils) are seemingly scary on the outside but everyone will love the names (my favorite is Gossip Stopper) and their hauntingly delectable fragrances. Chelsea added, "we definitely have a cult following…an eccentric following for sure. But everyone and anyone will love our products and maybe even accept their "inner witch" (wink, wink)!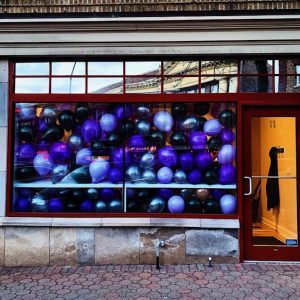 When Witch Baby Soap swings opens its door on May 1 – customers will be spellbound by not only the colorful soaps, but also by the gorgeous crystals, candles for all intentions, stones, and sage candles. The walls are adorned with all local, indie artists and their depictions of witches and the supernatural! One of Chelsea's favorites is the featured "witch with green hair" by NJ artist, Little Punk People.
A witchy community this way comes
Eventually Chelsea hopes to introduce you to her "witchy" friends who will provide such fun as tarot card readings, palm readings, and aura photos. She also wants to have classes dealing with metaphysical subjects, manifesting, herbalism, and use of crystals.
EVERYONE will love this store. The naturally curious. The naturally intriguing. Everyone who wants to be a little bit different.
Looking forward to a little magic in Cranford on May 1!
Follow Witch Baby Soaps at:
https://www.witchbabysoap.com/
https://www.facebook.com/witchbabysoap/