Whimsy Rose Outdoors is bringing Boho Flair and Fun to Your Outdoor Festivities
I remember the moment I first noticed Whimsy Rose Outdoors on Facebook. Local residents were posting pictures of this gorgeous white bell tent with a boho flair. There was a long table filled with scrumptious food and cozy pillows, cushions, lanterns, and fairy lights all decorated inside. I thought to myself, "Now that's how you party pandemic style!"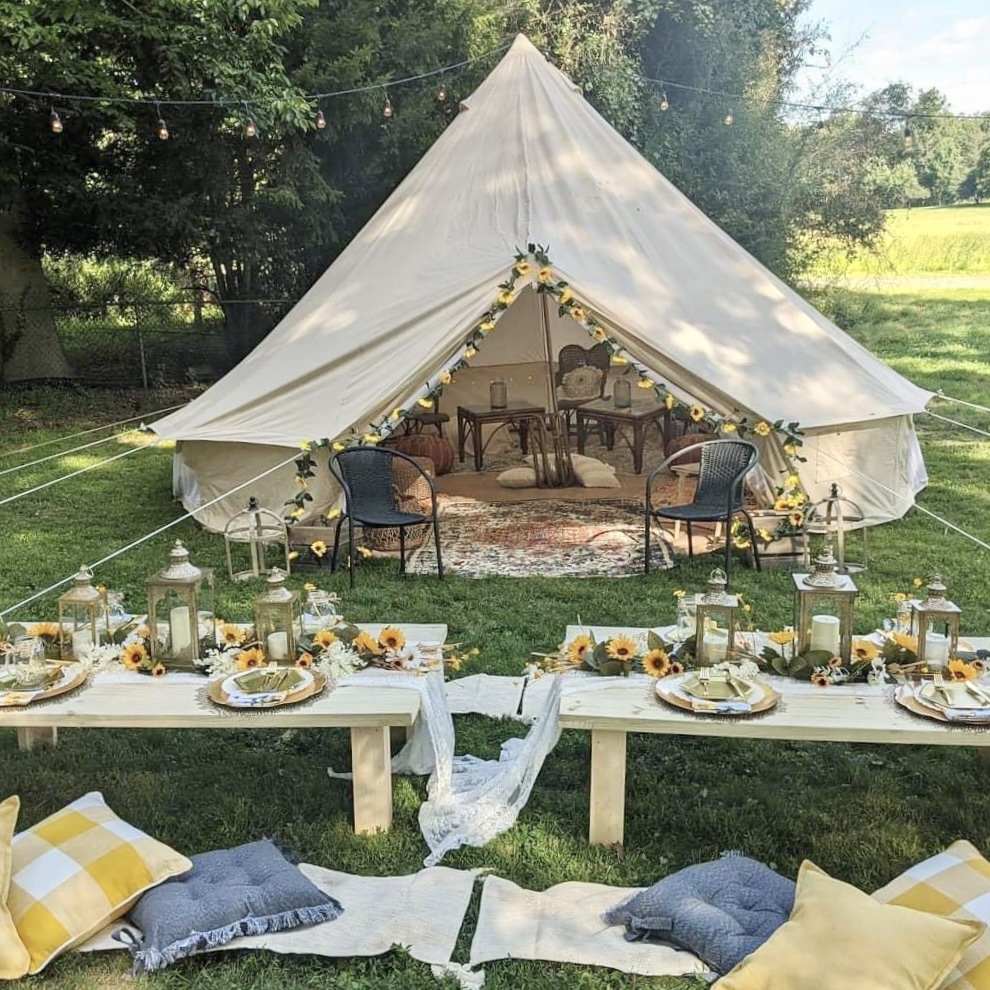 Since that day Whimsy Rose Outdoors has continued to wow us with her socially distanced parties – for both children and adults. We recently featured local chef and caterer, Chef Soph , who did an amazing grazing board for some of her outdoor events. Just because we can't party the way we used too…doesn't mean you can't celebrate in a new way! Tents are IN! Let's learn more about owner Dakota Rose and how you can truly have a unique backyard party that is swoon-worthy!
Tell us a little bit about yourself!
My name is Dakota Rose and I grew up in Westfield, NJ, just moved to Colonia a few years ago. I can't imagine anything taking me away from my favorite towns, Westfield, Cranford, Scotch Plains and Summit.
What was the motivation to start Whimsy Rose Outdoors?
I never thought I would ever own my own business, but Covid-19 had other plans. I was a Brand and Production Manager for many fashion labels for about 15 years. Due to the virus, my company let go of all staff besides family members. The fashion industry is completely dead right now, and I wasn't finding any jobs that met my career profile. At first, the downtime was a much-needed break from my normal day to day. After a while I started getting extremely bored -I needed something to spark my creativity and fill my day.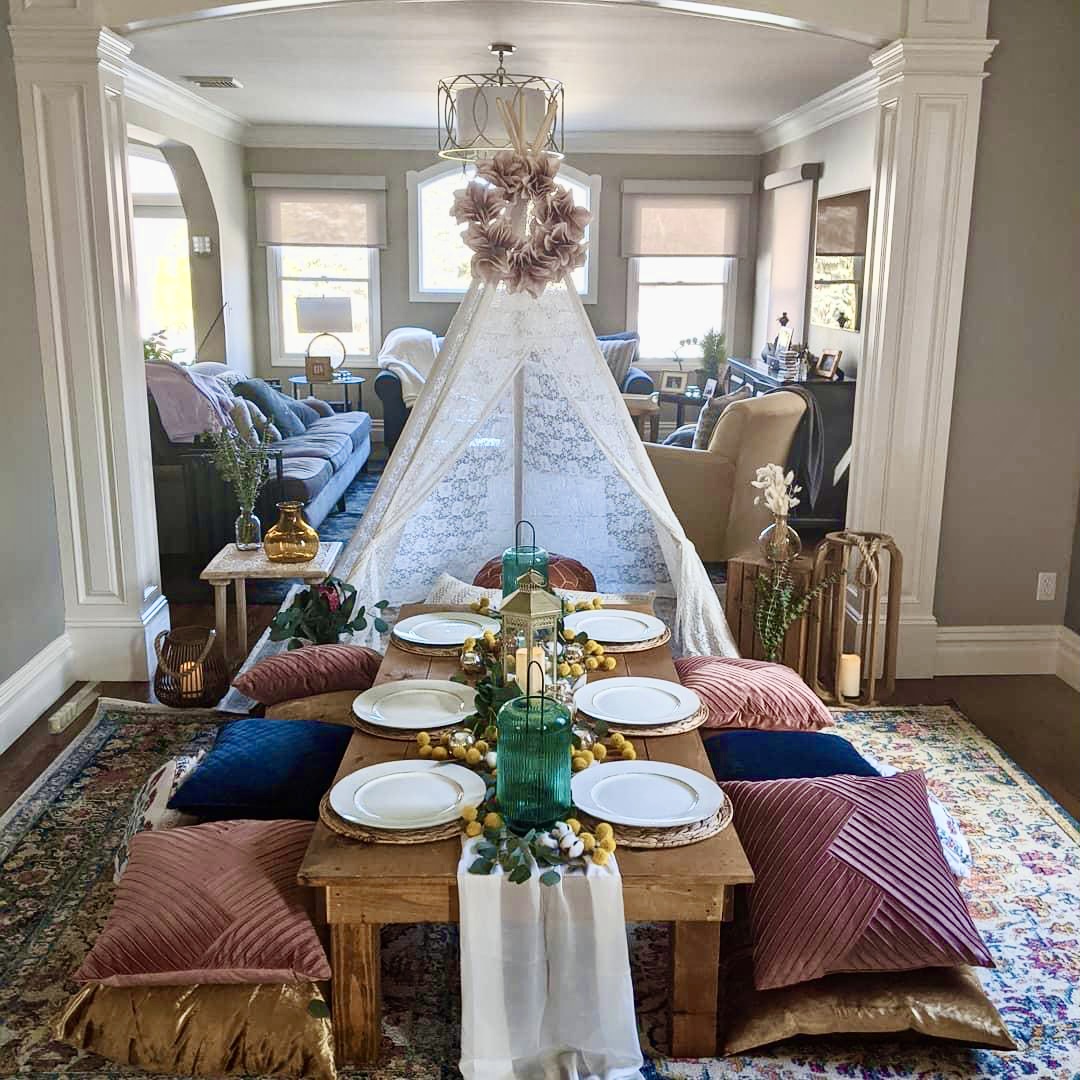 It all started with a baby shower…
My friend's baby shower was postponed due to Covid and I told her to let me plan something for the outdoors and I would take care of all the details. She was very happy with the results and everyone was telling me to start doing outdoor events. After posting some photos of that event, four of my other friends had me do their parties. I finally launched my business in September 2020 at my best friend's 30th birthday party. I scaled back on the party planning and just started with a different tent and decor rentals. It has been non-stop since my launch!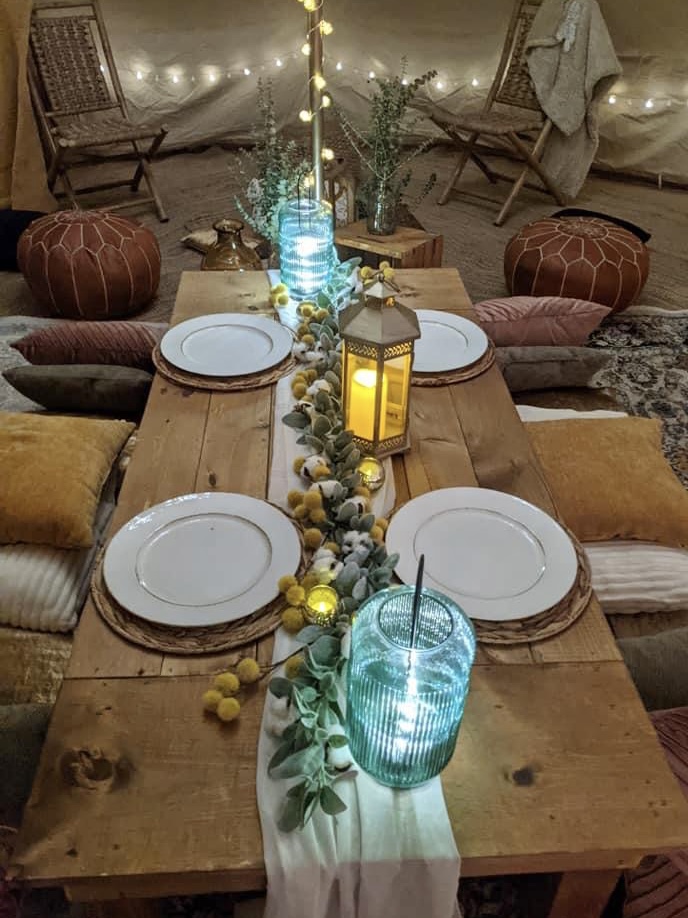 Whimsy Rose Outdoors offers safe celebrations with flair
I knew that Covid wasn't going away as quickly as everyone one hoped. Even though I caught the nice weather on the tail end, I knew people still wanted to get together safely outdoors even as the weather became cooler. Every day I challenged myself to think ahead and come up with "out-of-the-box" ideas to keep people outdoors/indoors safely.
I had heaters in the large "Bell Tent" for those who still wanted to be outside. In the winter months I came up with "Tiny Tent Sleepovers" that allowed kids to be spaced out with their own individual tent or the kids had a "Virtual Sleepover".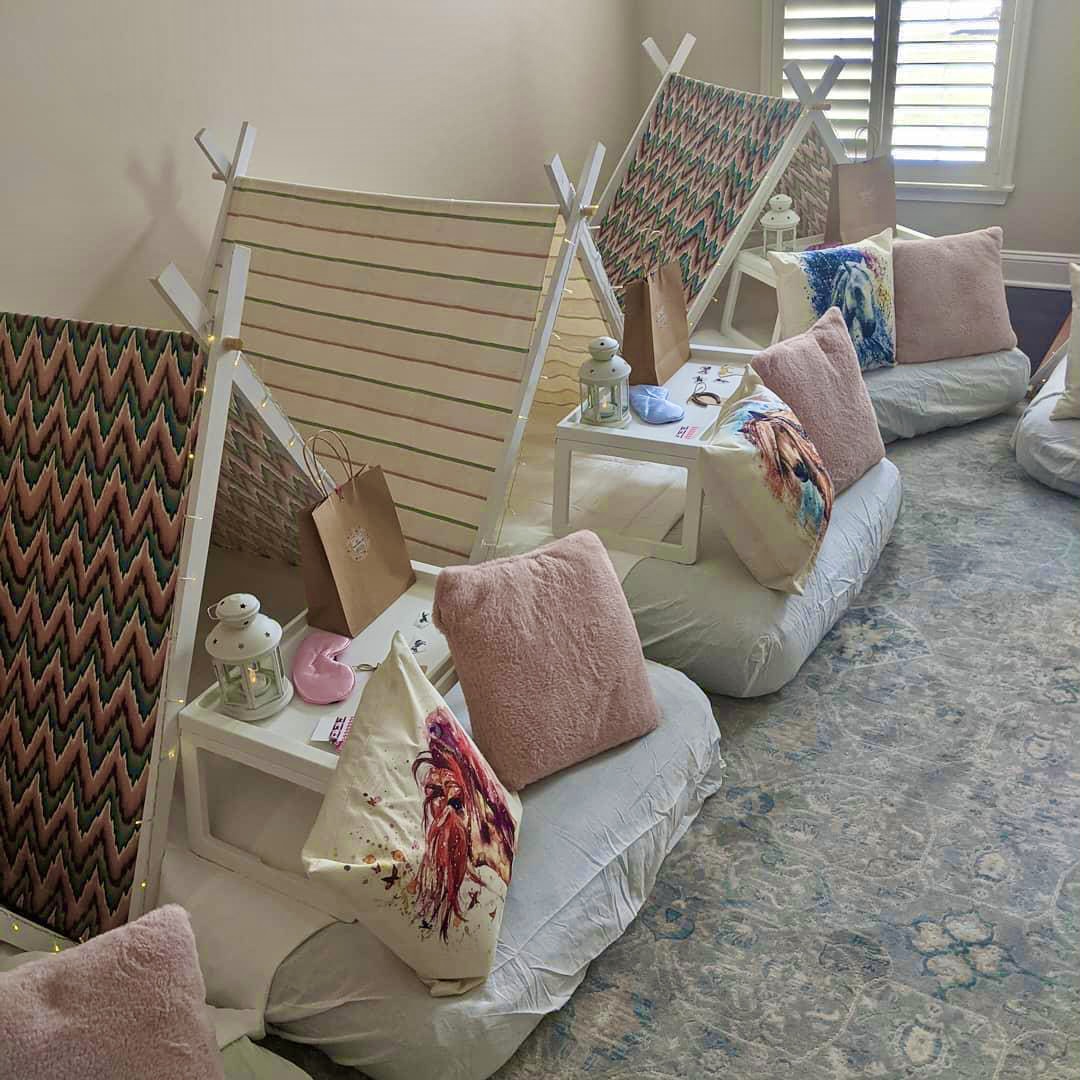 Virtual Sleepovers are the new sleepover!
"Virtual Sleepovers" have really taken off! This is great for kids who still want to have a party and interact with their friends. Virtual Sleepovers give children a chance to experience the tiny tent and all the activities that come along with it and get to link up with their friends online and have a party!
Indoor Dinner and DIY Craft Parties
For those who opt to safely distance indoors, we bring in our low sitting Moroccan style tables with pillows, poufs, and rugs and the clients can spread out around the tables and either have a dining experience or do one of our many DIY kits.
It's all about the tents!
Our most popular rental is our large Bell Tent. This was purchased because I dislike doing the same things as others. I wanted to stay far away from the "white wedding" tents. When I got this tent, I thought it was so forward, chic and Instagram-worthy! It was perfect for my friend's party. Also, we thought we could bring it to music festivals once everything opened back up. Our Bell Tent is very deceiving. From photos you cannot tell how big it actually is. We can fit about 32-35 adults in the tent! During Covid we are only allowing 16-20 max. Our tent has ventilation on the top and the windows open for a great cross-breeze. In the warmer months we can take down all of the sides so it's just the cap floating on top of you. The business took off so fast that I had to acquire two more tents. We now have three Bell Tents, smaller lace tents for accent pieces, 10′ Tri-Tents and individual Tiny Tents.
Take us through the design process of a Whimsy Rose Outdoors party…
We design around what rental the client chooses – making their vision a reality. Whimsy Rose Outdoors secures the best vendors for grazing tables, catering, and private dinner parties. For add-ons we have balloon specialists, cake artists, wine tasting and pairings experts, belly dancers and more! If I don't offer it, I can certainly find a top vendor for whatever you need!
What was your favorite party to date?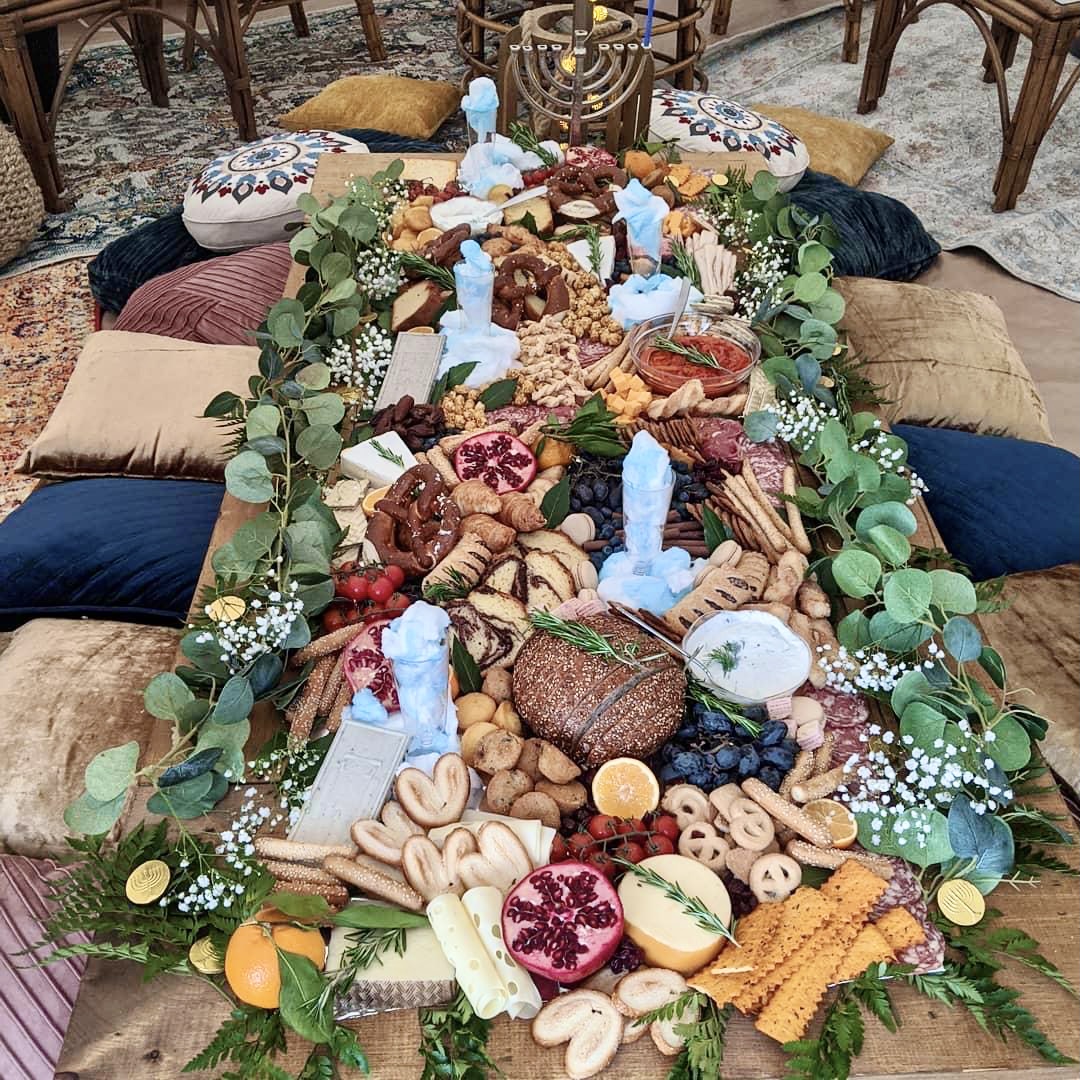 I have met so many great people along this journey! One memorable party was an Arabian Nights theme for a 40th birthday party. There were belly dancers, hookah pipes, vibrant colors and amazing food. Another was a 40th birthday party where they had tables spread out all about the backyard for a Girls Night Wine Tasting. It was beautiful! The coolest set up I did (which I still get calls from the moms in Warren) was a Halloween party where we had magical hanging hats from the ceiling of the tent, 4-foot spiders cascading down the sides, webs, fog, and crafts.
Unique parties for children and teens
For your younger children and teens we have individual Tiny Tents and our Canopy events. We can also take the same adult rentals and make them kid friendly. We have kids parties in the large bell tent where they can have tea parties or lunches on our table rentals. Our outdoor movie nights include rugs, pillows, poufs and blankets in front of the screen and glamping in our large tent. Don't forget to add on the DIY craft!
What makes Whimsy Rose Outdoors unique from other party planners?
I think my willingness to keep pushing myself and the boundary from the norm is what sets me apart. I used to spend a lot of time in LA and NY with fashion. Always being ahead and trendy is very important. Why not give that forward edge to all of my neighbors in New Jersey?
What is the best contact for booking a party?
You can contact us on Instagram, Facebook, Website or phone at 908-917-0338. I am always available!
"I would not be able to do this without the support from my husband. Also, I continue doing this to show my niece, my younger girl cousins, and all my family members under me that no problem is too big to solve! That with hard work and a strong sense of self you can do anything!"