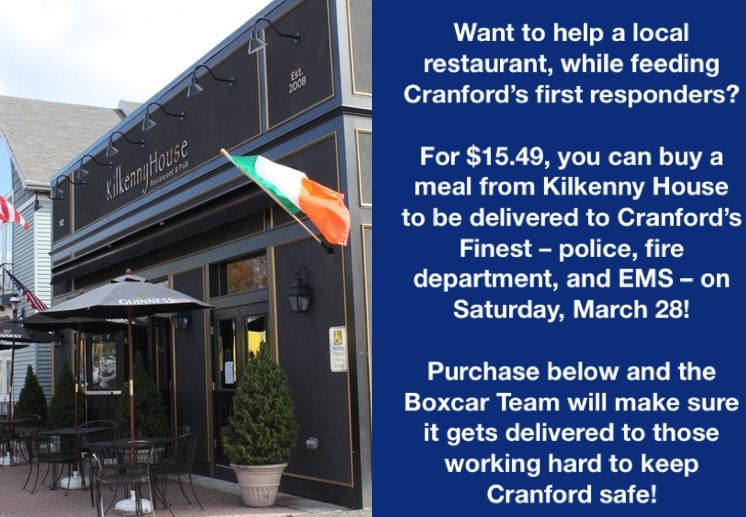 Cranford Delivery of Food For Our First Responders
It's been a few short weeks – but this worldwide Coronavirus pandemic has completely altered our way of life. The atmosphere is filled with much anxiety for many. This is an unprecedented time where "Shelter in Place" and "Social Distancing" has become our norm. For many people, (myself included) it means that business as usual is simply impossible.
As a matter of fact, many of our friends and neighbors are simply unable to work. Family members and friends cannot see each other and people are afraid to venture outside their homes. However, many of the men and women in our community are still heading off to work each day risking their lives to provide us with the necessities and protections we so badly need. We are so grateful to all!
Cranford native Joe Colangelo also understands how COVID-19 has rocked this community to its core. I interviewed Joe a few months ago and published a blog about his BoxCar App company. Boxcar caters it's business towards commuters, and with "Shelter in Place Order" in effect, commuting has simply stopped. BoxCar wants to use its resources for the betterment of the community. This evening, Saturday, March 28, they will host a restaurant event at Kilkenny House that will not only support a local restaurant but will also provide meals to our first responders.
SO HAPPY THAT THIS EVENT SOLD OUT QUICKLY… MORE TO FOLLOW!
The "FLAG" Connection: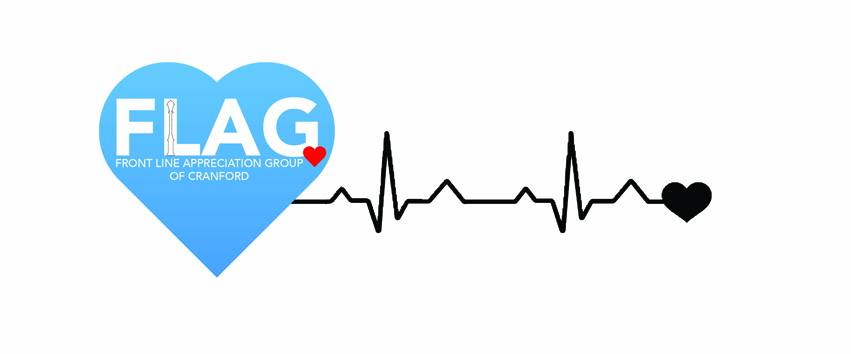 FLAG of Cranford (First Responder Appreciation Group) is partnering with Boxcar to begin collecting donations! Boxcar has a website in place to get things started so food deliveries to our Cranford first responders, Urgent Care of Westfield and RWJ University Hospital Rahway can begin ASAP. In this time of uncertainty, it feels good to show appreciation and be a part of something important! FLAG of Cranford was started by community supporter Rebecca Tantillo, and I am proud to be included in the admin of it with Rebecca, Caren Demyen, and fellow agent Barbara Zeckman. The group feels fortunate to partner with Cranford resident and supporter Joe Colangelo from BoxCar. Great things can happen through collaboration!
Join the FaceBook FLAG of Cranford Group to find out how you can participate in future events!
Conversation with Joe Colangelo:
Everything shut down rather unexpectedly in the NYC/NJ area – how is everyone doing in the BoxCar family?
Boxcar is using this break from operational business to move big projects forward – like a new website and other administrative things that we have been meaning to get around to.
What's been something positive you have seen in the community during these trying times?
The selflessness of front-line medical workers who are going to work and potentially exposing themselves to coronavirus in order to save lives – it leaves me speechless. I believe that this has the potential to be America's finest hour, and the chance for a generation that didn't live through World War II to answer a "call to service" to help their community and country.
What have you seen as a challenge?
It seems like a small percentage of the population either doesn't understand or doesn't care about the new social distancing rules. With schools shut down and businesses suffering, it's tragic to think that this small group of people may be making all this sacrifice for naught. To kill the virus, we need everybody to do their part.
What was the inspiration behind the Restaurant Night?
One of Boxcar's first and most loyal customers, Liz Bernich, started the "Front Line Appreciation Group" in Chatham, NJ – to coordinate purchase of meals from suffering small businesses and deliver them to hospital employees. They're expanding rapidly and if we find enough people in Cranford are willing to purchase these meals then we'll quickly have too much demand for police/fire/EMS alone and hopefully be able to help supply meals to Overlook/RWJ Rahway as well!
How does it work?
If you purchase a meal, the restaurant gets the money and the meal gets delivered to on-shift Cranford policemen, firemen, and EMS workers. We're starting with just one restaurant and if people want to keep this going, we will expand to a different restaurant each night, with a schedule of restaurants published in advance. The idea is that there are a lot of people who want to support Cranford restaurants during this downturn, but don't feel comfortable leaving their homes (which is fine!) This way we're getting money directly in the hands of restaurant owners without violating social distancing.
Tonight is Kilkenny House Night!
If you'd like to purchase a meal from Kilkenny House for donation tomorrow night, you can do so via the following link with all proceeds going to Kilkenny. Our Boxcar team will coordinate delivery to our first responders. You can order tomorrow night's meals here: BoxCar Kilkenny House Night. Sharon Steele from Coldwell Banker Realty (and 365CranfordWestfieldNJ) supports this event and will donate a tip for every meal purchased to the staff.
What are your hopes for continuing in the future weeks?
Like most people, I hope we find and distribute a vaccine tomorrow. Barring that, I hope that the isolation we're living doesn't stop us from helping our neighbors and the vulnerable members of our community. Our town has a really strong civil society – philanthropic organizations like the Jaycees, Elks, VFW, American Legion, and Cranford Women's Club. I'm excited to see these and other member-organizations rise to the occasion in the coming weeks and months and, with the government, get us back to a new normal – whatever that ends up looking like.
What's new with BoxCar that could help displaced workers right now?
When we're back out of this quarantine Boxcar offers free parking and bus rides to anyone who is out of work and commuting to an interview for a new job. In the meantime, keep an eye on our careers page at BoxCarApp Careers for new opportunities
The ultimate goal is that this event can continue at restaurants all over our community to help our family businesses, their staff, local responders, and then other healthcare facilities! Please participate and share with your neighbors! This is a feel-good, pass-it-along night, Cranford!!