Have you noticed that recent high school graduates keep getting more impressive? They are quickly becoming entrepreneurs and already have future goals for how they are going to make an impact in this world! Meet recent Cranford High School 2019 Graduates Benjamin Quinutolo and Chris Giuditta. They are making heads turn at the Jersey Shore with their bright pink and super cool Ono Bowls Food Truck, also known as the Pink Ono DTS (Down the Shore) Truck.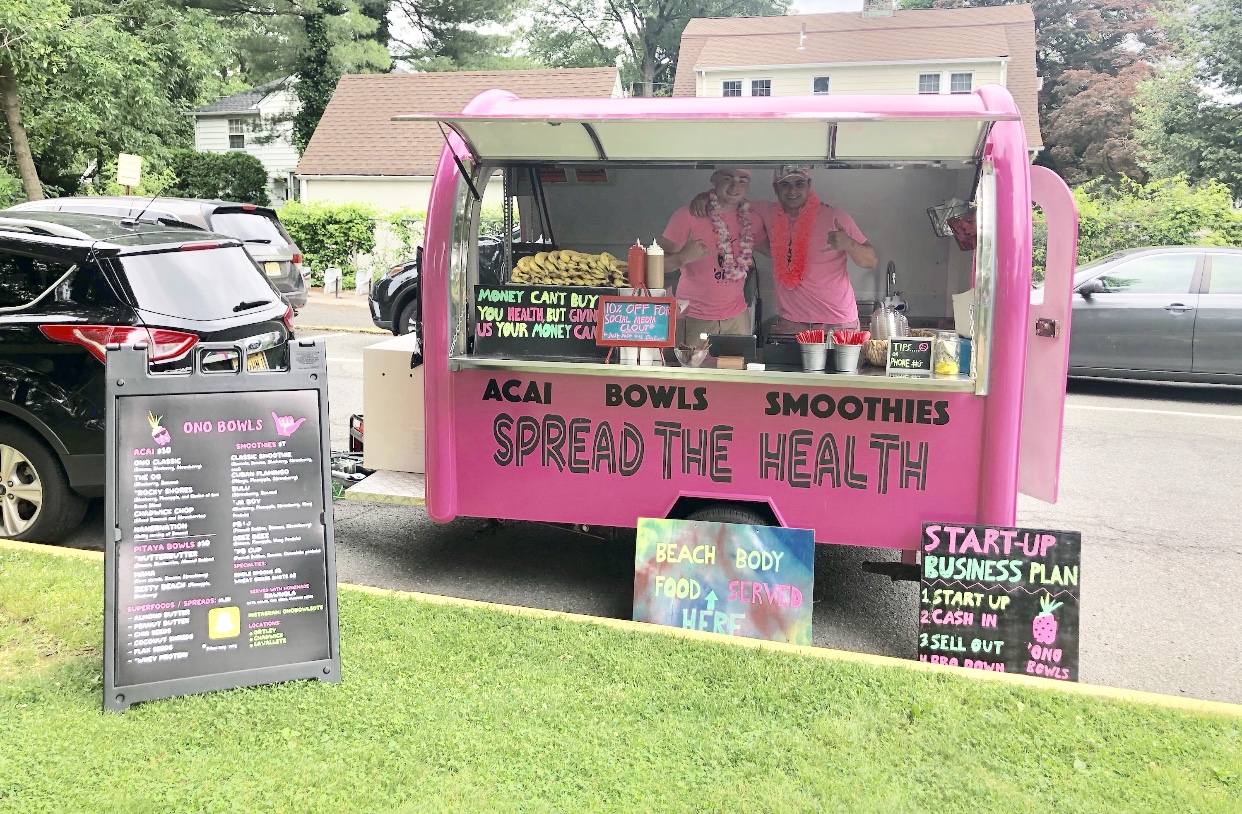 Ben and Chris
Since the engine revved and the Ono Bowls DTS Truck took off for the shore in June – these boys have been super busy! I was lucky enough to catch Ben for a quick interview on their recent success and goals for the future of this fabulous business!
Ben started working at Ono Bowls (107 Quimby Street in Westfield, owned by Tricia Caminos) at 15 years of age. He was one of her first employees: "I have always been a very passionate and energetic kid and I thrive on independence. I remember asking Tricia before she even opened Ono Bowls if I could work at her store. I must have asked her so many times, "When are you going to open?" Literally every day I begged her to let start me as an employee. When I finally was able to work at Ono Bowls – that job honestly changed my life. I learned how to live and eat healthier and how to be more aware of our environment!"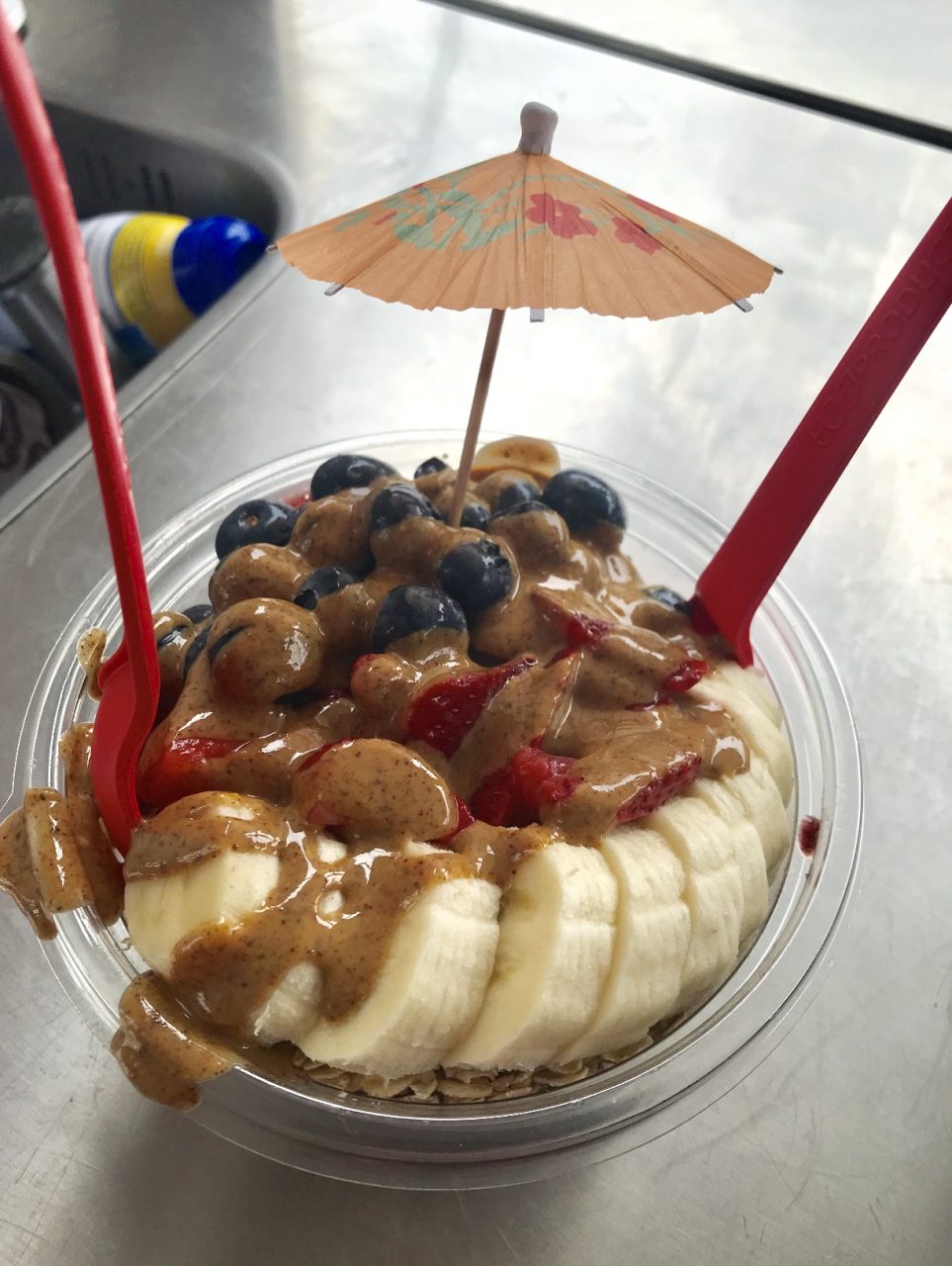 As Ben was quickly learning how to make their delicious smoothies and juices, Chris came along with his "entrepreneurial mindset". The two started working together at Ono Bowls and then the idea of starting a food truck down the shore was hatched! Plans were drawn on paper plates and Tricia, being a "very family-oriented and helpful boss" – gave them the loan after they pitched the idea to her four months later.
How they got the truck… you won't believe this story!
Ben and Chris literally spent the next 3 ½ weeks in their basements – 7 hours at a time – thinking about how to get this plan off the ground. Their biggest struggle was how to get their truck. They did a TON of research and finally found a hot pink one with a retro rounded top (7ft wide, 10 ft tall and refrigerated!)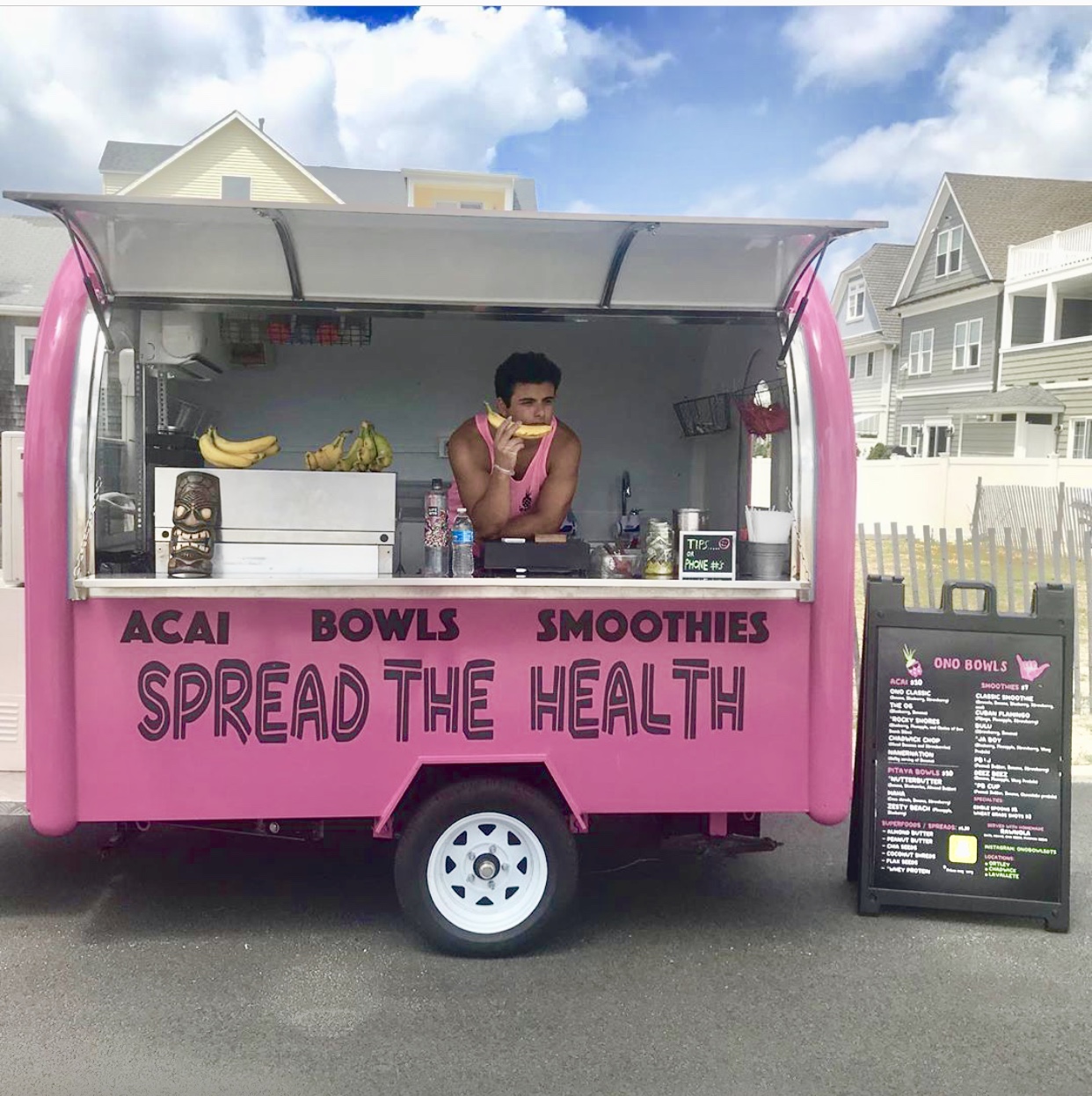 The only issue was that it was to arrive at the port from China on June 5. Ben and Chris went to receive their truck one night. The truck arrived in a box, unassembled with no tools. The boys had to put everything together on-site and drive back to Cranford! Ben did most of the art and graphic design for the new truck, while Chris worked on the business aspects of owning the truck – the permits, and regulations. "We are very balanced like that", commented Ben. "We have a way of sharing the aspects of the business that work perfectly for us."
The whole journey (from idea inception to actually heading down the shore) took approximately eight months for these boys! Ben indicated that there were a lot of growing pains, but everything that happened was very influential in their lives. Ben indicated that he a Chris strive to have a positive attitude and do not want to be intrusive to beachgoers.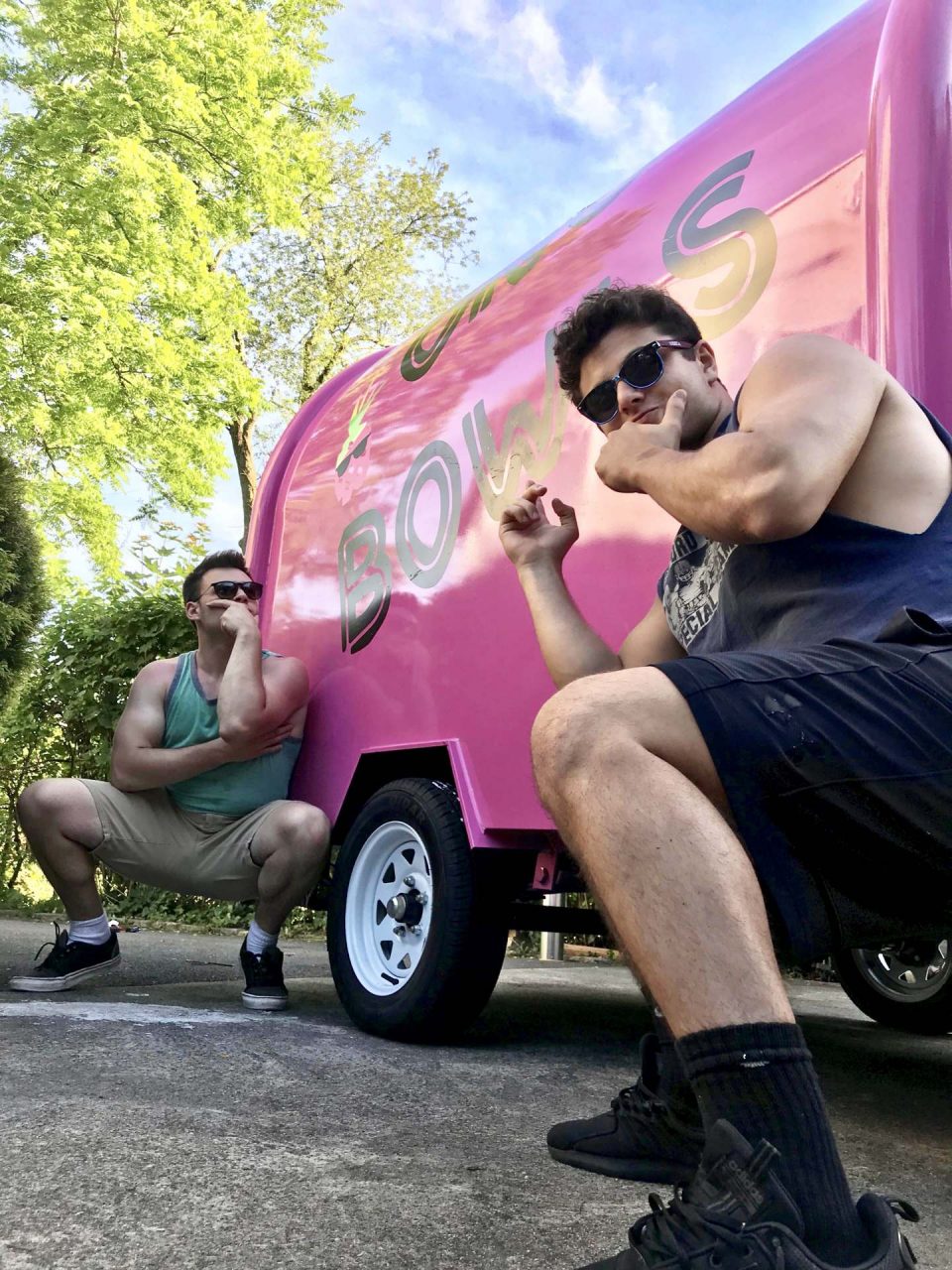 What they are serving at the Ono Bowls DTS Truck
How did they decide on the menu for Ono Bowls Food Truck? They had to keep true to the main menu at Ono Bowls in Westfield. However, there are some bowl names and toppings that are geared towards their shore point locations – such as the "Chadwick Chop". Ben indicated that they have new smoothies and specials each week! Each and every day you can be sure to find the freshest, healthiest, and most delicious acai bowls, pitaya bowls, and smoothies! Where to find the Ono Bowls Food Truck
Where to find the truck this summer
You can find the Ono Bowls DTS Truck at Chadwick Beach, Ortley Beach, and Normandy Beach in Toms River – and Lavalette Beach in Lavalette, NJ. They are still working out the best times to be at the beach and to not intrude on the beach-going experience. So far, it's when everyone is walking on and off the beach – around 11am-2pm and then 3pm-5pm. Ben indicated they will be there every day except for when they have a private event. Ben mentioned that their entire business is marketed through their social media. "We post every day where we are, what we have on the menu, and what time we will be at that location. "Depending on the weather – we want to make our customers aware of our location before they head out!"
Now taking orders… and catering gigs!
So how can YOU order one of their delicious bowls to your spot at the beach? Again, their up-to-date location and where to order can be found on social media. Ben and Chris take your orders via messaging them at:
Instagram: Ono Bowls DTS
Facebook: Ono Bowls Food Truck
Snapchat/Snapmap: follow onobowlsdts for daily destinations
They are also excited to bring the Ono Bowls DTS Truck to private events and catering opportunities. In their first month of being in business, Ben and Chris brought Ono Bowls DTS to four graduation parties, L'Oréal Headquarters corporate event, school functions, and Crunch Fitness! Ben stated, "We would love to cater more private events and parties! It's fun when you can host these events because we can serve the acai bowls out of real pineapples!"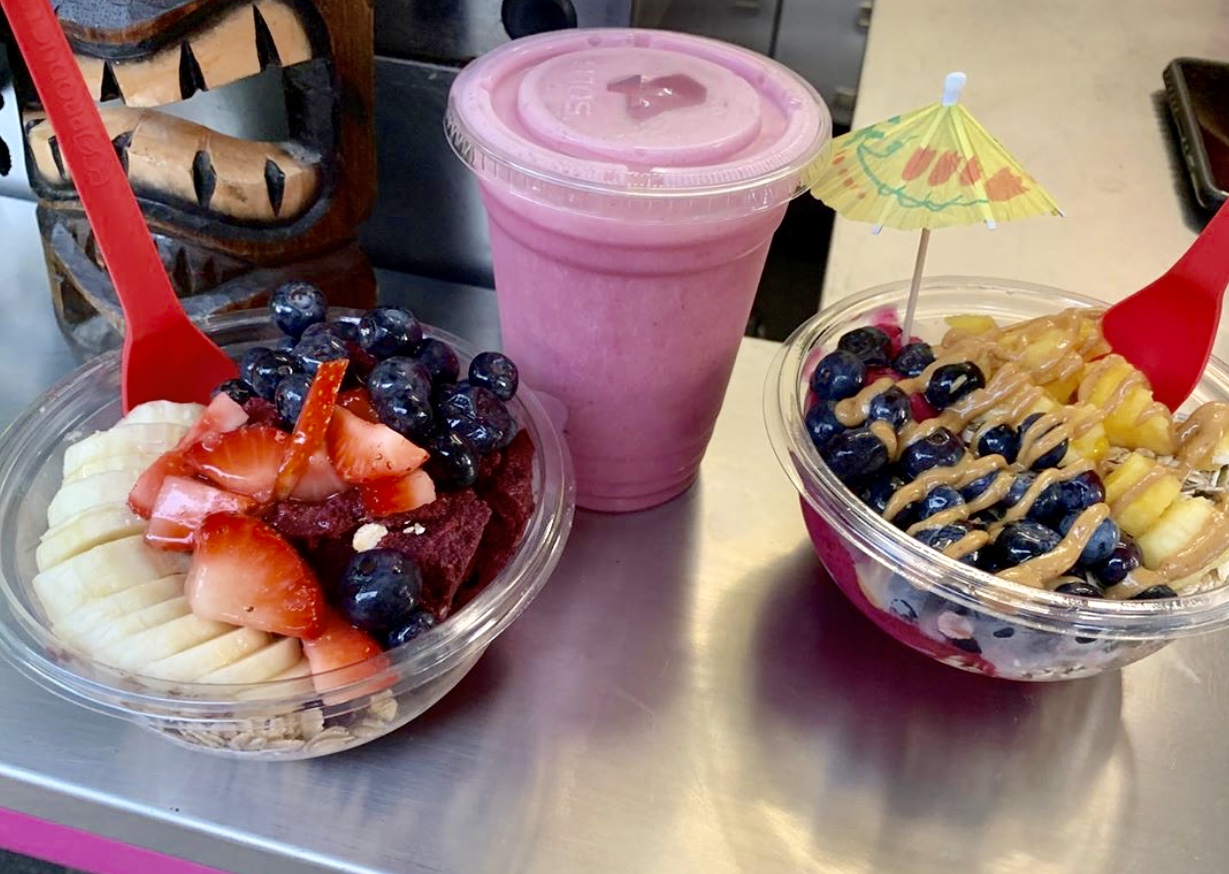 Staying green, down to the edible utensils
Both boys are very environmentally conscious, and their business is adhering to all environmental codes and regulations such as reducing food waste, food portioning, edible spoons (Ben says they taste like cocoa puffs), and hay straws. In the future, Ben would also like to add his own environmentally conscious items such as coral reef safe sunscreen and natural shea butter!
Lessons learned while launching Ono Bowls DTS Truck
So, what did these boys learn throughout the whole experience? Ben stated that "dealing with the municipal buildings and having a sense of urgency was really difficult – we needed to get going and get responses in a short amount of time. We also had to understand that everything won't go as planned. Everything is a step in the journey. Like the day we picked up the truck!
Bumps in the road are just part of the adventure!"
What's in store for the future of the Ono Bowls Truck and Ben and Chris? Ben will be attending the University of Delaware this Fall and majoring in Food Science. Chris is majoring in finance at the University of Maryland, College Park. One day, "Chris wants to be on Wall Street – thriving in his own businesses….and I want to have an environmentally conscious empire. This world is in such a bad state – I really want to own something and have the means to make a difference in our world environment!"
Planning for 2020
As far as the Ono Bowls DTS Truck… "We will put the truck away for the winter and begin operating again next summer – this time the full summer – May through August!"
"Our mission statement is "Spread the Health" – we want to provide a service to the people of the community. Let's not always go to the ice cream trucks – that isn't going to energize you for a day at the beach. When we are cutting you that freshly sliced banana and strawberries – we know we are giving you the freshest and healthiest snack to keep you going. We love to see people enjoying our bowls – honestly nothing makes us happier!"