Lucky's Hamburgers of Clark Celebrates Their One Year Anniversary!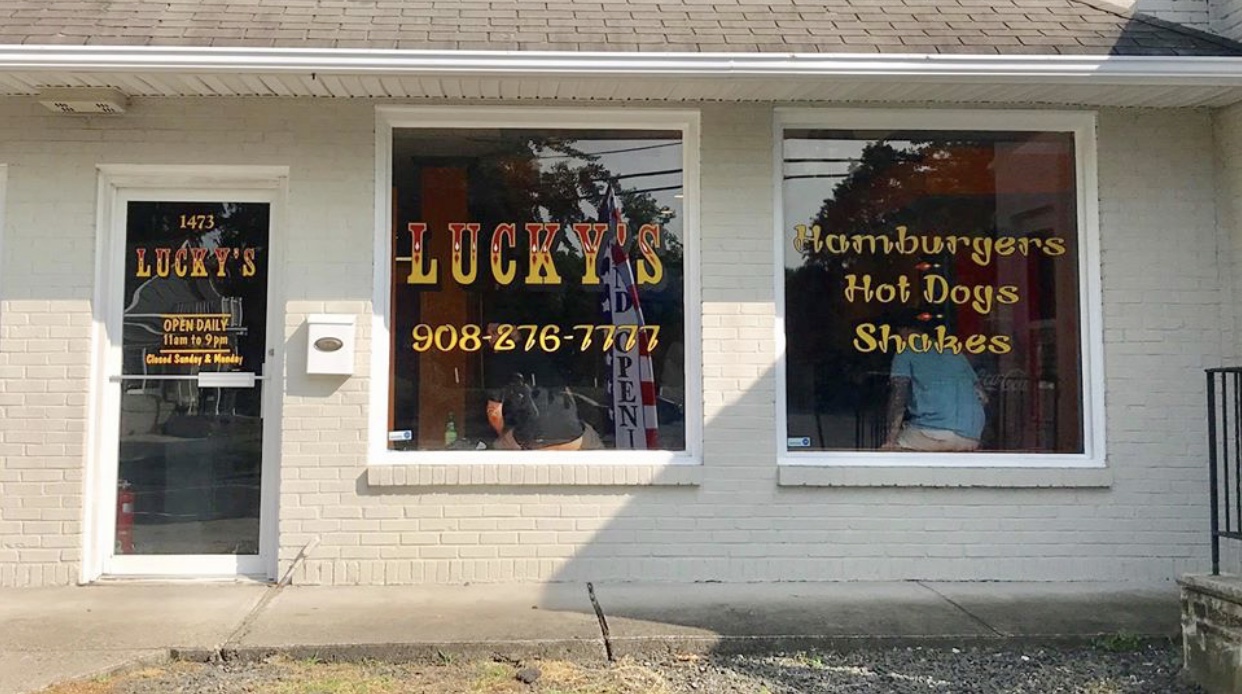 It's the return of the throwback burger n' shake joint that brings everyone through the doors of Lucky's Hamburgers in Clark, NJ (1473 Raritan Road). With their toppling shakes, gourmet burgers, disco fries, classic hotdogs, and iconic countertop seating – Lucky's was a very fun place to hang out with friends and family when they opened last year. Owners Damian, Natalie, and Charles kept the burger shack persevering through this pandemic.
Now more than ever we need to support our family businesses and keep these restaurants going through difficult times. Who doesn't love upscale fast food after a day of swimming, sports games, or even working from home! After you read the interview with the trio of Lucky's – place an order for some classic American favorites.
EVERYTHING is prepared by the owners and homemade! We can't WAIT to hang out in Lucky's again – but until we can dine indoors – it's essential to keep business thriving for a community's favorite eatery!
Happy Anniversary to Lucky's Hamburgers! For starters, please introduce yourselves to us!
There are three of us! Damian Walsh (43) from Cranford, Natalie Deo (43) from Kenilworth, and Charles Campisi (42) from Union. Charles and Damian have been friends for several years and own two tattoo studios called Tattoo Asylum in Edison and Lawrence Township. Damian and Natalie are newlyweds, married this February. Natalie also works for a child advocacy program as Program Director.
How did you start out in the restaurant business? What were the inspirations behind choosing this path?
Damian and Charlie owned an Italian deli six years ago. Charlie also owned a pizzeria in Edison that he sold three years ago. Damian wanted to get back into cooking and Natalie loves to cook and bake. They talked about doing something in the food industry. Natalie and Damian are big foodies and about three years ago, Natalie found a place in NYC that was making epic milkshakes and also served burgers. Natalie loves burgers and who doesn't like milkshakes!? That night Natalie and Damian had a date night at Black Tap. The place was small, packed and had a chill urban vibe – which they both loved. Damian scanned the room and looked at Natalie and said, "We can do something like this around us and it would be successful." And a year and half later, Lucky's was born!
Why did you choose Clark, NJ for the location of Lucky's Hamburgers?
Damian and Natalie used to live in Cranford, NJ – a few blocks away from the location. They had driven past the Clark location numerous times and were always intrigued. One day they were walking and decided to go up to the location and peek inside. Damian called the number on the sign left a message!
Why the name Lucky's Hamburgers?
We actually did not know what to call the eatery and we were toying with so many ideas. When Natalie called to set up the phone number, the representative gave them a really great number – 908-276-7777. Damian, who enjoys poker, said we should call the place Lucky's!
What are your specialties and the MUST-HAVE's?
Must-have's are Fried Pickles, Onion Straws and Garlic Parmesan Wings to start…followed by Mushroom Burger or BBQ Burger or Garbage Burger with a side of Disco fries. In the mood for a hotdog? Go with the Tater Tot Dog, Southern Dog or the classic NY Dog with a side of Tots. If you are not in the mood for a burger, try a classic Cheese Steak, Sriracha Fried Chicken Sandwich or Chicken & Waffles. For those who want to stay on the lighter side- we suggest the Balsamic Chicken Salad- it's our most popular, but all the salads are great! Definitely have a milkshake…just a plain one or Cookies & Cream or Peanut Butter are high in demand.
Who decides the menu each week? Is it a collaboration?
The majority of the menu was created by Natalie. Damian and Charlie added to it once the majority of the menu was created. There are monthly specials that Damian and Natalie come up with.
What is YOUR favorite thing to eat on the Lucky's Hamburger menu?
The Burger Salad is my favorite. I also love our Onion Straws and Lucky's Spicy Wings. My favorite shake is Cookies & Cream. But that's me! Both Damian and Charlie like different things!
Those shakes are epic…as well as the burgers! What sets Lucky's apart from other hamburger & shake joints around?
We take pride in using quality meats, hotdogs and ice cream. All the recipes used are Natalie and Damian's. Natalie makes all the treats for the specialty shakes, except for the name brand candy. Additionally, the fries are cut fresh and batters are made daily. We make food we eat and that's what is different!
How have you been during the pandemic – it seems you were quite busy with carryout orders. How have you been doing?
Actually, we were doing very well until everything started to open up again. Because we do not have outside seating we slowed down, which has caused us to change our hours to Summer Hours. Now we are closed on Monday, Tuesday, and Wednesday. We are only open for dinner on Thursday and Friday 4-9pm. Now on Saturday and Sunday we are open from breakfast straight through 9 am to 9pm on Saturday and 9am to 8 pm on Sunday.
Describe the precautions you taking to make sure social distancing is happening and safety precautions are taken at Lucky's Hamburgers
You must wear a mask when you come to order food or pick up. People will see that the counter for pick up and door for entry are constantly wiped down and sanitized. We will offer curbside if requested, but do prefer you call ahead (908-276-7777)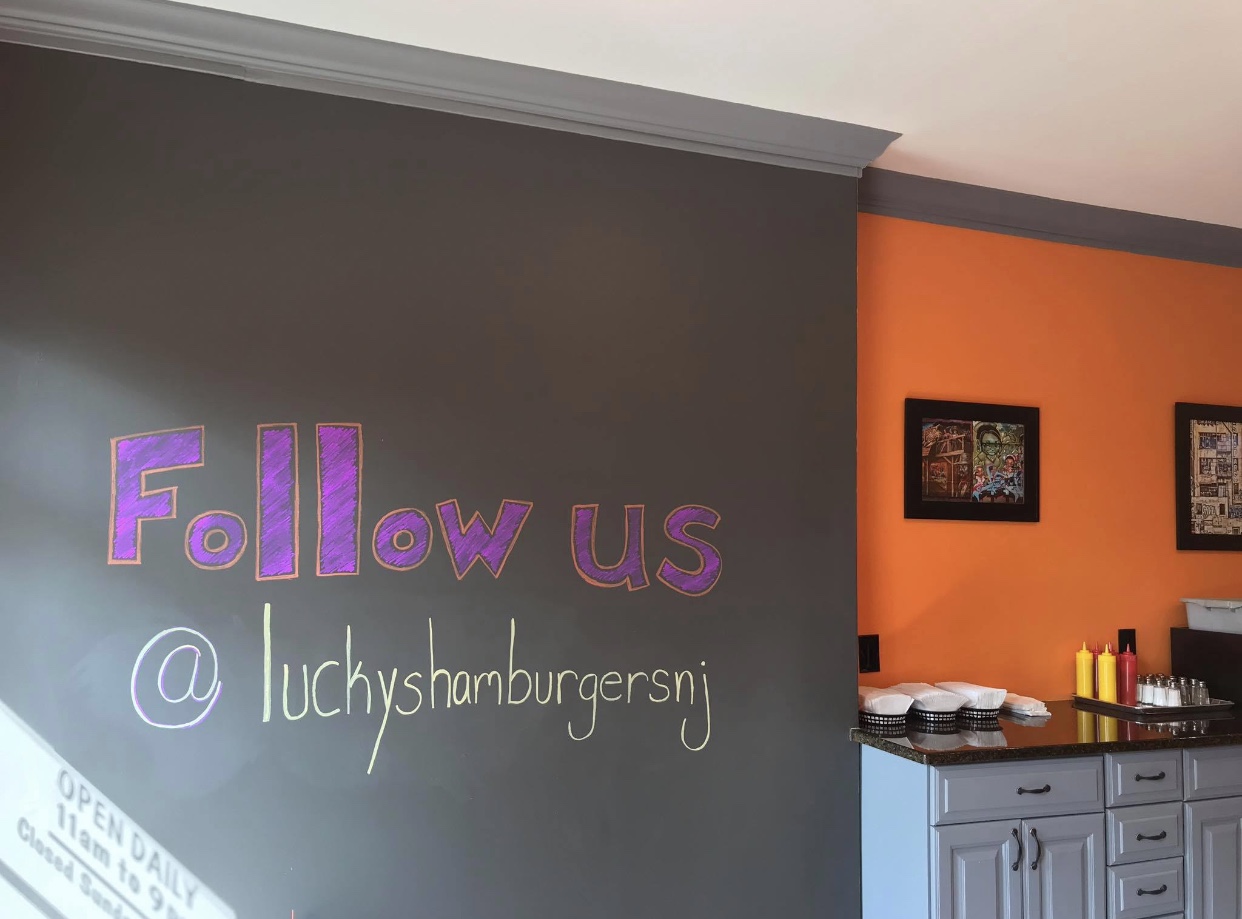 Where is the best place to park for Lucky's Hamburgers?
On Raritan Road in front of Lucky's or on the side street, Poplar Terrace.
Happy 1st Anniversary – what has been the biggest struggle this year?
The pandemic has been a huge struggle. It changed everything from shortage of food to our vendors closing and learning how to survive during this time.
What has been the best and unexpected outcome of owning Lucky's Hamburgers?
We are so grateful for the love and support from the community, our friends and family. We have so many regulars who have become a part of our Lucky's family and that is the best unexpected outcome of owning Lucky's.
What's one thing that you would like your customers to know…that they might not know already?
That this is our take on gourmet fast food: We make what we like to eat! Since we cannot accommodate everyone's dietary needs and hope customers understand. Although we have a very small kitchen, we also have a small, powerful staff. You will see all the owners working behind the counter or in the kitchen. We take pride in what we make for you, this isn't just a business or a job for us.
What are your hopes for Lucky's Hamburgers in the coming months, any changes or events?
This past weekend we opened up for Breakfast! We would love to grow our breakfast menu and cannot wait till we are able to serve everyone when inside dining resumes! Also, in August there is a Hot Dog stopping by Lucky's!