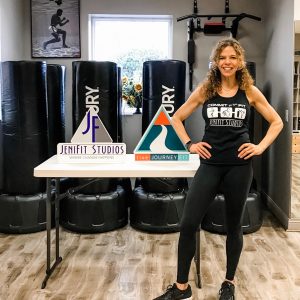 JeniFit Studios at 345 South Avenue in Garwood is not your ordinary gym – it's truly a boutique experience where the entire team of trainers and instructors wants you to "focus on the whole person". As you enter this gleaming studio – you are immediately greeted with a smile and "hello" as words of encouragement flood the walls. Pictures and stories of success make you feel instantly welcomed and motivated. It's a feeling of family within the walls of a fitness studio.
A lifetime love of fitness
The owner of JeniFit Studios, Jenifer Wirtshafter from Westfield has been incorporating fitness and mindfulness into her life since a young age. She grew up on a small farm in East Brunswick and experienced a very unique way of living – chickens, goats, and eating mostly a farm fresh diet. She began exercising at age thirteen when she and her mother would attend a workout class down the road. Jenifer commented, "Somehow I felt so empowered and liked that I was taking command of my body and my mind."
Her father was diagnosed with heart disease in his early 50s and the entire family switched to a heart healthy diet. He was able to control his heart issues naturally through diet, without the use of any medication. "I appreciated the impact of diet on the body – I understood early on the importance of exercise and a healthy diet", stated Jenifer. The love of fitness and helping others continued throughout her teen and college years – even teaching classes in her college dorm! After being in the corporate world and then having children later in life – Jenifer found she was ready to get back to her passion full time.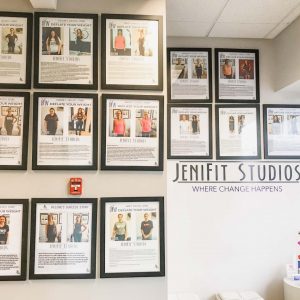 In 2006, Jenifer began an exclusive outdoor fitness program. It was the only one at that time and she went around to local outdoor parks. She began to add resistance and weights to her JeniTone program and, after a few years rented her first studio in Westfield. She started a boxing and weight lifting program in addition to the outdoor program. Two years later, Jenifer was certified and began teaching barre. She taught barre classes in Cranford and then took over a very large boutique gym with a spin studio on Route 22. She started offering spin classes and the clients fell in love with it. When the business closed, Jenifer went back to her original digs and looked for a spin studio in Garwood -close to all the local towns.
JeniFit Studios opened in December of 2013 when boutique studios were still very unique. Now in 2019, the studio has grown to accommodate a variety of interests and includes such amenities and classes as personal training, Deflate Your Weight program, JF Ride, Jeni-Barre, Boxing Boot Camp, JF Cross Fit, Jeni-Fit Outdoor, Jeni-Tone, Jeni-Tone H.I.I.T. TRX, JF Yoga, Kettle Bell Bootcamp, and Spinlates. Jenifer has created an entire family at JeniFit Studios – from her classes to social events to her latest Live Journey Fit program – it's all about the power of mixing up what you do to achieve maximum potential for your body and mind! Visit jeni-fit.com for the full extent of everything that this super studio has to offer!
At JeniFit Studios, the focus is on having fun – and Jenifer's latest embark into fitness journeys truly makes her studio stand out from the rest. Let me introduce you to LIVE JOURNEY FIT. This extension of the studio is "an active travel retreat designed to provide individuals with lifestyle-enhancing adventures combining outdoor fitness, mindfulness, and hands-on culinary experiences. The program will leave participants feeling challenged, empowered, and restored!"
Exploring has always been Jenifer's "happy place" and she wants to bring the world of the outdoors to you! Since 2016, Jenifer has taken people on 20 trips – from hiking, kayaking, snowshoeing, wineries, breweries, distilleries, yoga in a museum – each trip combines: 1) outdoor adventure, 2) culinary delights and 3) mindfulness!
You can choose multi-day events a little further away or single events that can be completed closer to your home. Near or far, it's however you want to choose your own journey! Live Journey Fit is "filled with fitness for all levels, culinary exploration and mindful moments with like-minded adventure seekers"!
Last week Live Journey Fit went on a local Mini-Journey. The group hiked in the South Mountain Reservation, did mindful meditation throughout the trail, then had a 3-course lunch + tequila tasting at The Red Cadillac in Union! This winter the studio also went on a co-ed hiking journey to see waterfalls, Watchung trails, and yoga in a salt cave!
Coming up…visit www.livejourneyfit.com/ for the latest events and happening with LJF.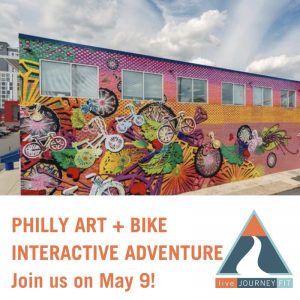 Philly Art + Hike: Interactive Adventure – May 9, 2019
Treat Yourself for Mother's Day! Suitable for all guests of all fitness levels: Enjoy a 2.5 mile guided hike through Wissahickon with mindfulness moments to take in all the surrounding beauty. Enjoy lunch at the Barnes Museum and a docent-guided private tour. Finish the day with yoga at the Barnes a la Heather at the Buddha Bar! Sign up at www.livejourneyfit.com today! Price is $325 per person and includes luxury van, water, snacks, lunch, LJF gift, and all activities!
For all upcoming events – make sure you sign up for the FREE newsletter on the website with up-to-date information so you don't miss out!
What's in store for the future?
Jenifer said the goal is to scale LJF – to go beyond local and go abroad! She's thinking trips to California, Europe, and beyond! A little birdie told me that there is an overnight trip to Cape May that is coming up in June. Details to follow, but envision staying on a farm, picking crops and then preparing the meals, riding bikes on beaches, and meditation in the winery!
Jenifer is also excited to start offering corporate events, private birthday party trips, and family adventures. She is reaching out to the corporate market because these journeys are perfect for team building! Tell her what you want and she will create the perfect adventure for any occasion. Jenifer stated, "I love creating journeys for other people. I'm looking for special gems in our own towns and promise something you've never experienced – new routes, new sites."
"It's truly what I love. And the truth is that we live in such an stressful society…diet and exercise are just tops for the mind. And the part that I still love about being outdoors is that the combination of being outside and exercise is so powerful!"
What are you waiting for…are you ready to start your own journey…it begins at JeniFit! There's nothing like it around – Live Journey Fit combines your love of adventure, your inner foodie, and the need to relax your mind!