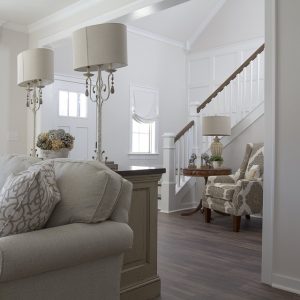 Selling a house can be a strenuous process, and I am often asked by home sellers if they can skip the step of staging their house. In our area, we have the benefit of idyllic houses with charming front yards and beautiful interiors. Many home sellers, then, think that their house doesn't need to be staged when selling.
I want to reinforce that the need for home staging doesn't mean anything is wrong with your home. Over the course of time, though, every homeowner is going to make decisions that benefit their lifestyle and how they use their house. Those decisions are extremely personal, and they also may alter the way other people view your house.
Let's look at a few examples:
Staging can help you delegate rooms properly
Perhaps you have a main-floor room that could be used as a den or home office, but you've converted it into a bedroom for your youngest child. In a perfect world, that bedroom would be on the second floor with the other bedrooms, right? And of course, you may even be planning to move so that you can all be on the same level.
You know, fundamentally, that most buyers may not wish to purchase a house with a bedroom that's adjacent the living room. When selling, we want to convert that room into an office and move the youngest kiddo upstairs.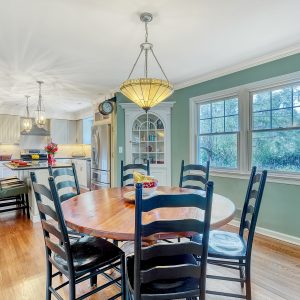 Staging can help your home look more spacious
But staging isn't just about how rooms are being used, it's also about how the space is being used. If you have a big family, you may have a larger table in your dining room, even though it would look best with a four-person table. Or maybe you have an overflowing pantry full of Costco's finest non-perishables. Maybe your basement has ample storage, but it is packed to the gills with boxes and old furniture.
Buyers are turned off by houses that seem too small for the current owners. Staging can also mean de-cluttering your house to help it seem more spacious.
A recent example of one of my staged listings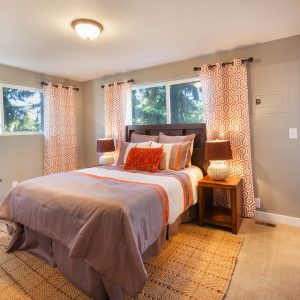 Staging can help neutralize your decor and make it more appealing
A professional stager will help fill in the space with right-sized furniture and fresh decor that is appealing to the broadest set of buyers. They might select bright throw pillows to cheer up a neutral-colored living room. Or a large piece of art to replace a cluttered gallery wall, or a bowl of fruit on the kitchen table. Staging can make a big difference in the overall feel of your house. Even small changes such as fresh bedding and towels can pack a big punch!
But, do buyers really care about staging?
New data from the National Association of REALTORS® shows that buyers very much prefer a staged house. They may even act faster if a house is staged.
The latest report says:
Nearly 2 in 3 sellers' agents say that staging a house decreases the amount of time the property is on the market.

77% of agents who represent buyers say that staging makes it easier for buyers to visualize the house as their future home.

40% of buyers are more likely to walk through a house they see online if it's staged.
Who pays for the staging?
While there may be a few smaller-scale home improvement projects I'll ask for you to take on before we list your home, I pay for the home staging process for each of my sellers. My professionally trained and experienced stager will "re-style" enhance and highlight your home's best features. It's my way of showing you that I'm committed to bringing out the best in your house… and to ensure we draw in the most buyers for an in-person showing.
Have more questions on staging or selling?
Fill out the below form or contact me any time at 908-447-3579 for a no-obligation conversation. The seller preparation process is one of my favorite things to discuss!
P.S. If you have a real estate question of your own, feel free to reach out! I am happy to help!