Hickory & Hill General Store Brings Timeless Charm and Modern Appeal to Shopping in Cranford!
Maybe the idea of a general store brings Schitt's Creek to mind or the kind of old-fashioned store in the movies that were the heart of a rural town. All I know is when the rustic wood sign went up for Hickory & Hill General Store at 21 North Avenue West in Downtown Cranford this past October, everyone was ecstatic!
What business owner Kelli Paterno has brought to Downtown Cranford has everyone smiling. Her youthful energy is contagious, and Hickory & Hill is the perfect answer to shopping a little for yourself, for your home, and gifting for others! Her curated selection of carefully handpicked items from local artisans makes this a treasured store. Glass canisters filled with classic candies, fragrant hand-poured candles, soft handmade blankets, and cozy items for every nook and cranny of your home is what keeps the customers coming back for more!
First, let me introduce you to Kelli and then tell you a little bit more about why she opened her first storefront in Cranford and what's stocked on the shelves right now!
A little bit about Kelli…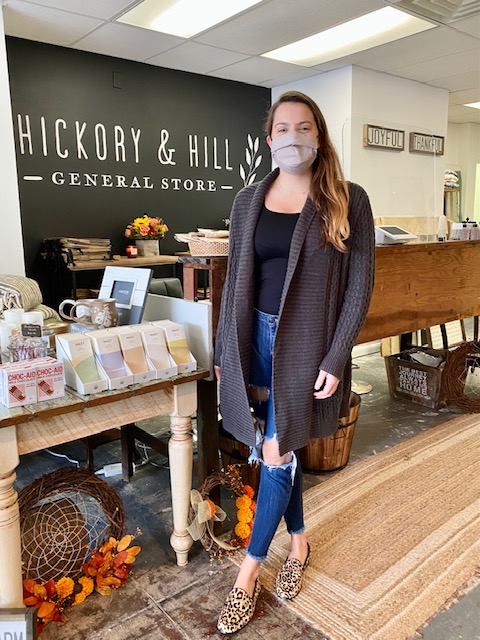 My family was originally from Cranford, NJ, and I was born in Cranford, but grew up in Clark, NJ. One of the best decisions I ever made was attending Union Catholic High School. I credit so much of where I am today to the education and social experiences UC provided to me. During High School I worked in retail at Gigi's Dance & Activewear in Rahway, NJ. I loved working for the owner Dan and learned so much about customer service & retail while working there.
I graduated from Marist College six years ago and immediately started working for Indeed.com in their Client Success department. I've been there ever since and could not be more grateful for how much they care about their employees and the mission of helping people get jobs. I currently live in Cranford and enjoy time eating out with friends, listening to live music, & experiencing all of the great things Cranford has to offer!
The meaning of the name Hickory & Hill
The name Hickory & Hill General Store has two meanings. Both Hickory & Hill are the two streets I have lived on since moving back from Hoboken, NJ a year ago. Additionally, Hickory is my aunt on my father's side's address and Hill is my mom's sister's married last name!
Have you owned previous stores before?
Nope, this is my first business!
What drew you to open Hickory & Hill General Store in Cranford, NJ?
I wouldn't have opened in any other town! I love how much the community supports its small businesses and now more than ever that is so important!
Local inspiration within the Hickory & Hill collection
I try extremely hard to make a large portion of what you see in the store to be provided by small businesses and artists – many of which are local! I've always loved purchasing things from people where I can hear the stories behind how they started doing what they do. When I decided to open a store, I knew it would have a heavy focus on promoting local small businesses.
What makes this store so unique?
We have a big collection of homewares. I love entertaining at my house and you will see that I've selected a lot of things for the store that center around sharing food, drinks, etc.! Additionally, we carry home decor, clothing, jewelry, pet items, food items, and more!
What are some of your favorite items?
One of my favorite things in the store is our charcuterie boards. I'm a huge lover of cheese and wine! Additionally, I love our wooden signs that are made by a local artist!
Tell me a little bit about Hickory & Hill's vibe:
I tend to lean into a more rustic decor, and you will see that in the "vibe" of the store. Pieces either stand out to me because they make me feel a bit more at home or they have some meaning behind them.
Opening a new store in the middle of the pandemic…did you encounter any bumps along the way?
Yes, for sure! It's been interesting opening up a business at this time. However, I have Downtown Cranford to thank for helping me the whole way through.
Get the latest updates on store arrivals!
Hickory & Hill General Store is definitely where old meets new and you can honestly get lost in the store looking at all of the unique items! You can follow the store at Facebook and Instagram and on their website at hickoryhillgeneralstore.com .
Store Hours at Hickory & Hill
Visit Hickory & Hill General Store at 21 North Avenue West in Cranford, NJ. The store is open Monday-Friday from 10am-6pm, Saturdays from 9am-7pm and Sundays from 10am-5pm. You can call the store at 908-447-6955