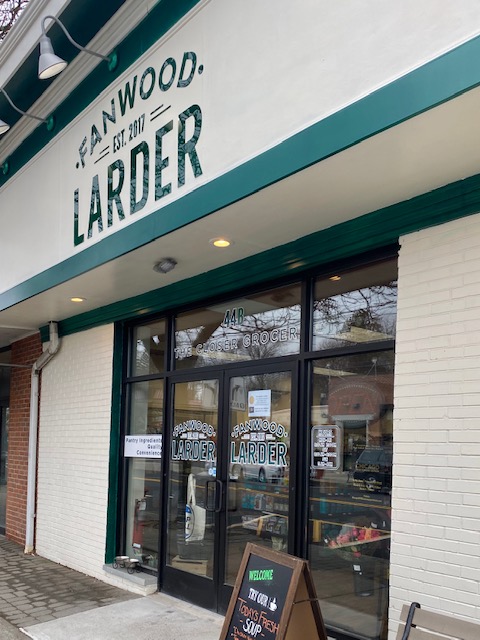 Fanwood Larder is the "Closer Grocer"! We've all been there before – you just need one egg, a quart of milk, or that last ingredient to make your meal – and you have no desire to drive to the large supermarket and deal with parking! What happened to the neighborhood grocer? Thanks to longtime Fanwood resident Eva Pfaff – your corner market is making a comeback in a big way. The word "larder" is an old word meaning "room or large cupboard in which food is kept". The Fanwood Larder "The Closer Grocer "at 44 S. Martine Avenue is a store where you can find basically everything you need…and more!
The inspiration behind opening Fanwood Larder:
We used to have an A&P in Fanwood and it closed in 2015. As a result, shopping options were no longer in town. Here we have a thriving, growing community and it makes no economic sense to be losing a grocery store. People are moving here in droves and that was the inspiration for the store. It took a lot of time to get here, but we opened Thanksgiving weekend of November 2019 – two years after the idea started.
On opening Fanwood Larder: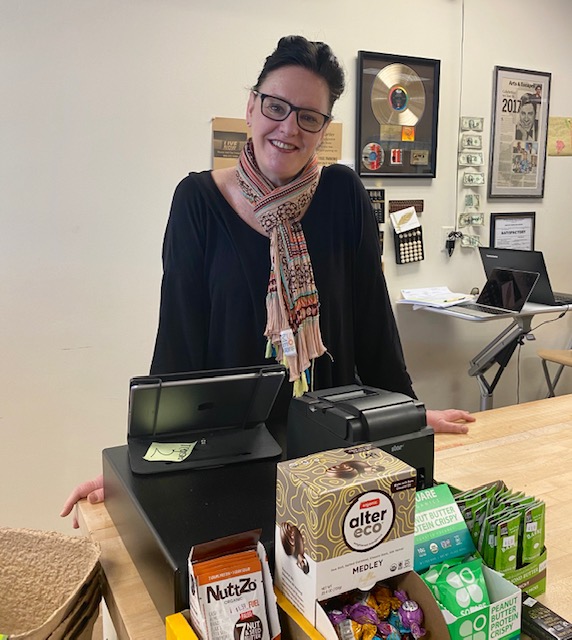 I was born and raised here. I went away for a while and moved back here from Manhattan to open this store. I now live in my childhood home! I am an expert at choosing industries in decline. I was in the music business (note The Smithereens record in the background with a commemorative plaque for her!). Then I started to think, wouldn't it be great to do digital marketing and work on the internet. I wound up working for different magazine brands that had websites that were big.
As time went on, I was the research director for New York Media for eleven years. I think that really prepared me for this because they were constantly challenging us. They asked us these questions, we didn't know the answer, and we had to figure out how to build the answer. You have to start at the beginning. So, I thought, how do you replace a supermarket in a town that has no supermarket and has nowhere to put a real supermarket. This is a big city, small space solution. I have over 2,000 products here. There's not a lot that we don't address. And if we don't have it – I can order it for you.
Fanwood Larder Customers:
The development of the idea was with this thriving community in mind. We have 5,000 households that just lost a supermarket. Consequently, I do have people who pass by on their way to work. Generally, it's Fanwood and Scotch Plains residents who all had the same grocery dilemma. This was, "I just need an onion, or a quart of milk and I have to drive to Somerset County to get it, or I have to pay for parking in Westfield!"
I get a lot of people from the surrounding apartments, and a couple who do all of their shopping here. Another customer comes here before even bothering to go to Whole Foods! We have lots of young couples, families with little kids, our lovely senior community – a little slice of everything!
Carefully curated items:
We always want to be better quality. And by default, with better quality it's going to be healthier and in a lot of cases even more decadent. I want this store to eventually be known as having the best selection of special dietary needs products in the area. I have some rules for myself – if it advertises on TV, it's probably not in this store. Because that's what you are paying for – not product development or innovation. You're paying for "how can we sell you more stuff". If it's owned by a major consumer packaged goods company – it's probably not going to be here (except for a few major exceptions). That is to say, I try to really keep it to the innovative and local brands.
Fanwood Larder is filled with local brands! For example:
· Fresh eggs from a local Fanwood family, The Farmer's Hen
· Falafel Pizza from Falafel Eats, owned by a family in Scotch Plains (delicious falafel products, employee met owner on an Uber ride!)
· Soup from Feast Catering in Westfield (we get that fresh almost every day because it sells out so fast – it's that good)
· Fresh ravioli from Florence Ravioli Company in Scotch Plains (we get it every Tuesday after they make it from scratch)
· Hummus from The Healthy Hummus Broad out of Westfield (she's at all the local farmers markets)
· Variety of rotational fresh meats from John's Meat Market (lamb, chicken, stuffed peppers)
· Fresh coffee-to-go and packaged coffee from Ahrre's Coffee Roastery in Westfield
· Holly Jolly Jams out of Point Pleasant, NJ (Jersey Jam which is peaches & blueberry and Guinness Beer Jelly)
· St. Patrick's Day will feature Irish Soda Bread from The Breadsmith of Cranford
· Fresh Baked Bread from Paramount Bakeries– owned by Scotch Plains Family, operated out of Newark
And Eva says the quest isn't over – she always looking for more local connections! In other words… more to come!
At Fanwood Larder you will find:
Beauty Counter products – These are mission driven personal beauty care products and the company reinvests a lot of what they earn into research and lobbying Congress to improve the quality of the ingredients in our products. For example, ingredients that are banned in Europe, aren't banned here. As a result, it is crucial that we all become more conscious of what's good for us, what's good for the planet. And their products are terrific!
As a matter of fact, there is even a little hardware department– because there isn't a hardware store in town. You'll find the necessities such as basic tools, paint brushes, batteries, floral tape, light bulbs, nails, etc.
You will find plenty of fresh produce from a company in West Caldwell called Fresh Pro – what a healthy and robust selection of loose lettuces for salads, microgreens, vegetables, and fruits!
Additionally – an amazing array of gluten-free and vegan products, all the types of milk you could imagine, cold cuts, cheeses, cocktail mixers, breakfast needs…the list goes on and on!
St. Patrick's Day: Get your Irish soda bread from Breadsmith Cranford, corned beef from John's Meat Market, O'Hummus from The Healthy Hummus Broad!
The current Coronavirus situation…Fanwood Larder has you covered!
Fanwood Larder now accepts PHONE and FAX orders at 908-322-5900 and offering carryout service for your convenience. Above all, plenty of toilet paper….certainly, this will be a benefit during these crazy times!
Stay Tuned… ONLINE ORDERING and their OFFICIAL GRAND OPENING!!
Follow Fanwood Larder on social media here: Fanwood Larder Facebook
Hours of Operation:
Monday
8AM–7PM
Tuesday
8AM–7PM
Wednesday
8AM–7PM
Thursday
8AM–7PM
Friday
8AM–7PM
Saturday
9AM–6PM
Sunday
11AM–4PM