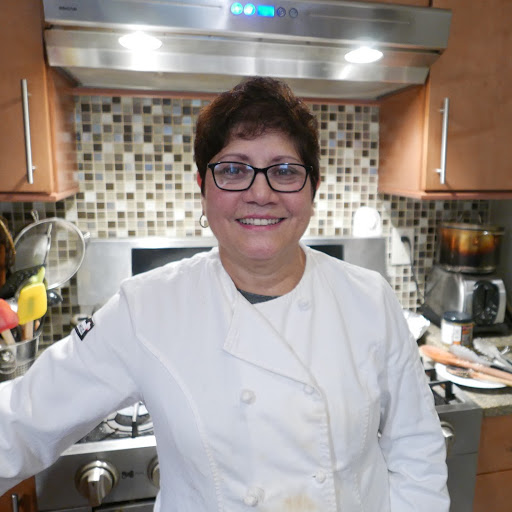 I'm excited to introduce you to a local meal plan and catering service owned by Chef Lilia Daly of Cranford called "Fresh Daly". While this is definitely not a new service offered to our area by Chef Lilia – she and her daughter-in-law, Rachel Daly, are ramping up their marketing efforts and bringing the family-run business into the digital age where it's now so much easier to order and get fresh and healthy food delivered right to your doorstep! I'm definitely looking forward to getting my weekly dose of Fresh Daly meal plans! I hope you'll join me in making this summer more relaxing by enjoying the outdoors and spending less time in the kitchen!
Fresh Daly meal plans
Although she was born and raised in Mexico, you can definitely call Chef Lilia an "OG Cranford Mom"! She has lived in Cranford for over 25 years and all of her boys graduated from Cranford High School. Finding herself in a situation as a young single mother of three boys, she realized she needed to get back to the drawing board and start her own career – something she was passionate about.
Lilia sent herself to culinary school because she had always adored cooking. She graduated with a Culinary Arts degree from the Culinary Art Institute of New York City with an emphasis on fine dining/food operations, healthcare facilities, and hotels.
Her history in food
Chef Lilia began her career in New York City at the famous French-Provençal restaurant, The Colom D'Or. She subsequently had the honor of also stepping into the kitchens of the Short Hills Hilton, Dennis Foy's Townsquare, and Café Panache. All of these experiences helped Lilia to grow her culinary expertise in the area of fine French, Italian, and American cuisine. In addition to her vast knowledge of Mexican/Latin cuisine – Lidia can pretty much do anything – and WELL!
Like many chefs working in the hectic and demanding restaurant industry in a big city – Chef Lilia was ready to move on to something new. Fourteen year ago, she decided to start her own business – focusing on cooking privately for families and catering local events through Fresh Daly. She found she adores this aspect of cooking and is very excited to let you know about all the things you can experience out of her very own kitchen!
Who is Fresh Daly for?
She found that her Fresh Daly meal plan service worked perfectly for stay-at-home parents, working parents, commuters, busy empty-nesters…you name it! Lilia does all the cooking and has it personally delivered to your doorstep. All you have to do is create a weekly personalized meal plan for your family and then schedule a drop-off! Everything comes fresh and ready to heat/serve in perfect portions!
What's wonderful about Fresh Daly meal plans is that you can customize for the dietary needs of everyone in the household – food allergies, kids portions, dietary restrictions, healthy-eating, vegetarians, etc!
Kids can enjoy well-balanced and nicely portioned meals such as baked chicken tenders, soups, homemade mac & cheese, kids meatballs, and mixed veggies – just to name a few! Most children's items are priced at $10 each. You can even add on some homemade desserts as treats!
Adults will love choosing from a vast array of culinary pleasures and the easy to navigate website has entrées perfectly organized into categories such as Classics, Vegetarian, Seafood, Italian, Mexican…and more! The meal choices range from Country Baked Chicken with Root Vegetables and Rosemary to Baked Salmon with Mustard-Parmesan Crumb Crust and Rack of Lamb with Fresh Herbs and Garlic!(Chef Lilia can accommodate gluten free, nut free, vegan, dairy free, diabetic restrictions, and vegetarian) I am literally blown away at how every single item on the menu looks simply scrumptious!
Are you ready to order and simplify your mealtime?
Look at the entire menu selections on https://www.freshdaly.com/and then create your custom menu and send to an email to lilia@freshdaly.com or call 908-578-0990 with your choices and delivery time! She needs your order 24-48 hours in advance as she sources the ingredients upon receiving your order. Chef Lilia prepares with only the finest of ingredients and then everything will be delivered right to you!
Fresh Daly meal plan prices
A full meal is $20 per serving and includes an entrée and chef selected sides
An entrée only is $15 per serving
Children's meals/portions are $10 each
Organic, gluten free, and special meats and fish are subject to additional fee
Free Cranford delivery – charges apply outside of Cranford
Now let's talking about catering… Chef Lilia is ready to make your holiday/family event so much easier on you! You can hire her services as a catering service for your party or she can come to the event as your private chef.
Delicious appetizer and entrees can be customized to fit your theme. Everything is prepped before and heated in your oven or on your grill and served fresh buffet style! A recent Cinco de Mayo party featured homemade guacamole, pico de gallo, homemade tortillas, shrimp fajitas, chicken mole, beef enchiladas with tomatillo sauce, and homemade Spanish rice. Talk about yummy!
I think we can all use of a dose of Fresh Daly in our lives – maybe weekly, a short time, or for a big party! But I certainly love the idea of supporting a local mother and her culinary accomplishments! Chef Lilia is very happy to be able to share the joy of food and make someone's event a little easier!
"Chef Lilia prepares every dish like she would for her own family. If you're looking for a convenient way to give healthy meals to you family, Fresh Daly meal plans can help!"