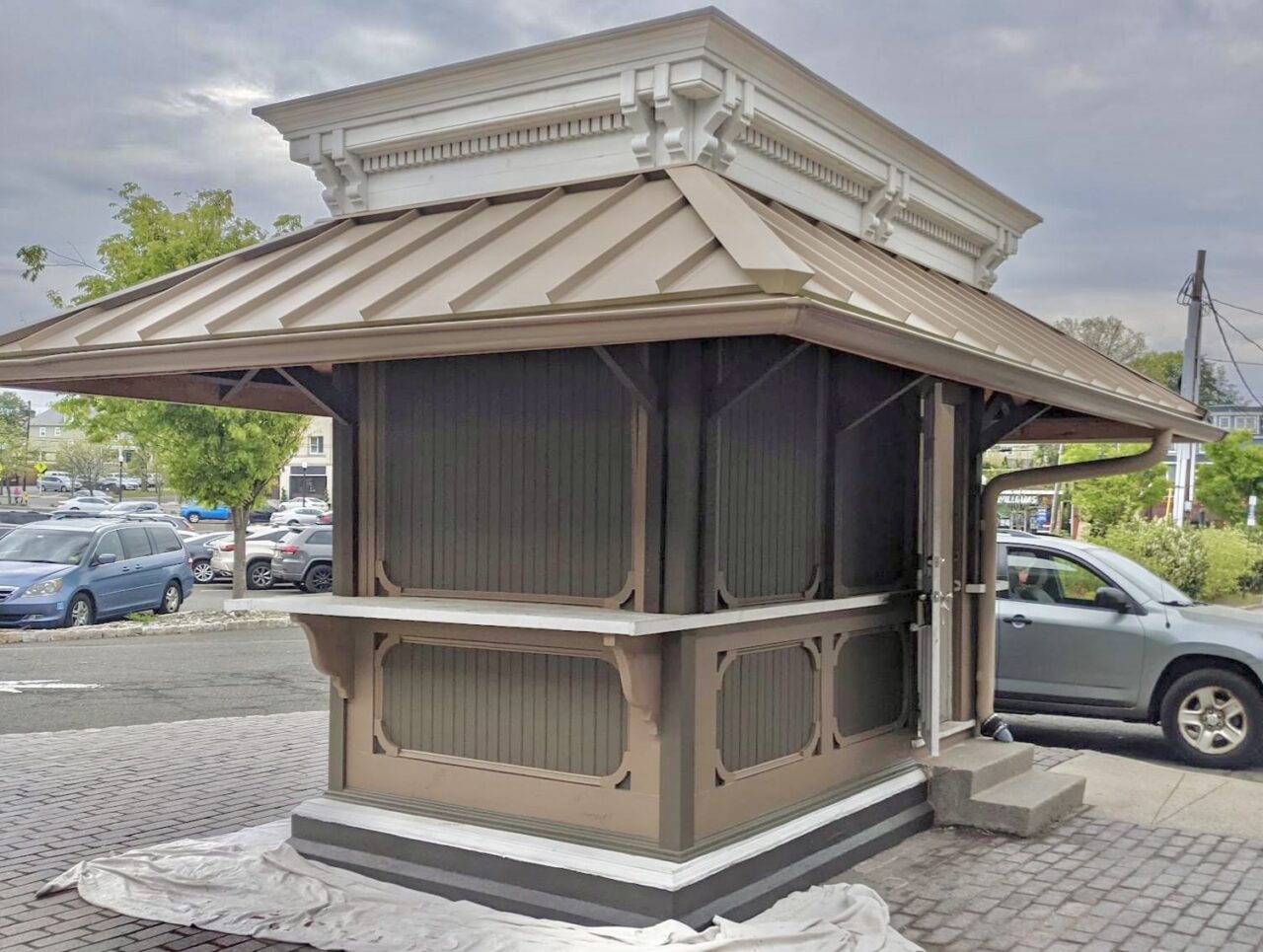 Boxcar Wins Bid for Westfield Kiosk and Can't Wait to Welcome Back Commuters
It's been five years since Westfield, NJ commuters have been able to visit "The PLACE to stop for your morning coffee, bagel, and newspaper" – The Westfield kiosk on the South Avenue side! Mayor Shelley Brindle announced the ongoing efforts of the complete renovation of the beloved kiosk in early 2020. We were all excited to hear the recent news that Boxcar (already providing private commuter bus service into NYC) won the bid to operate the new kiosk! Before we talk about the future of the Westfield kiosk, we'd like to go back a bit in history so you can get the true appreciation of this "coffee hut" and why it's such a vital part of Westfield, NJ living.
Kiosk Declared a Westfield Landmark
The Westfield kiosk opened in the early 1900s and was located on the north side of the tracks. It has been synonymous with early morning conversation and friendly greetings. The stand started out selling newspapers and postcards to travelers and the convenience for commuters grew over the decades. The newsstand was declared an "Official Bicentennial Landmark" by the Westfield Service League many years ago. The plaque states that "the newsstand built in 1920 reflects the architecture of our Victorian era and serves as a reminder of the importance of passenger service in Westfield's dramatic growth."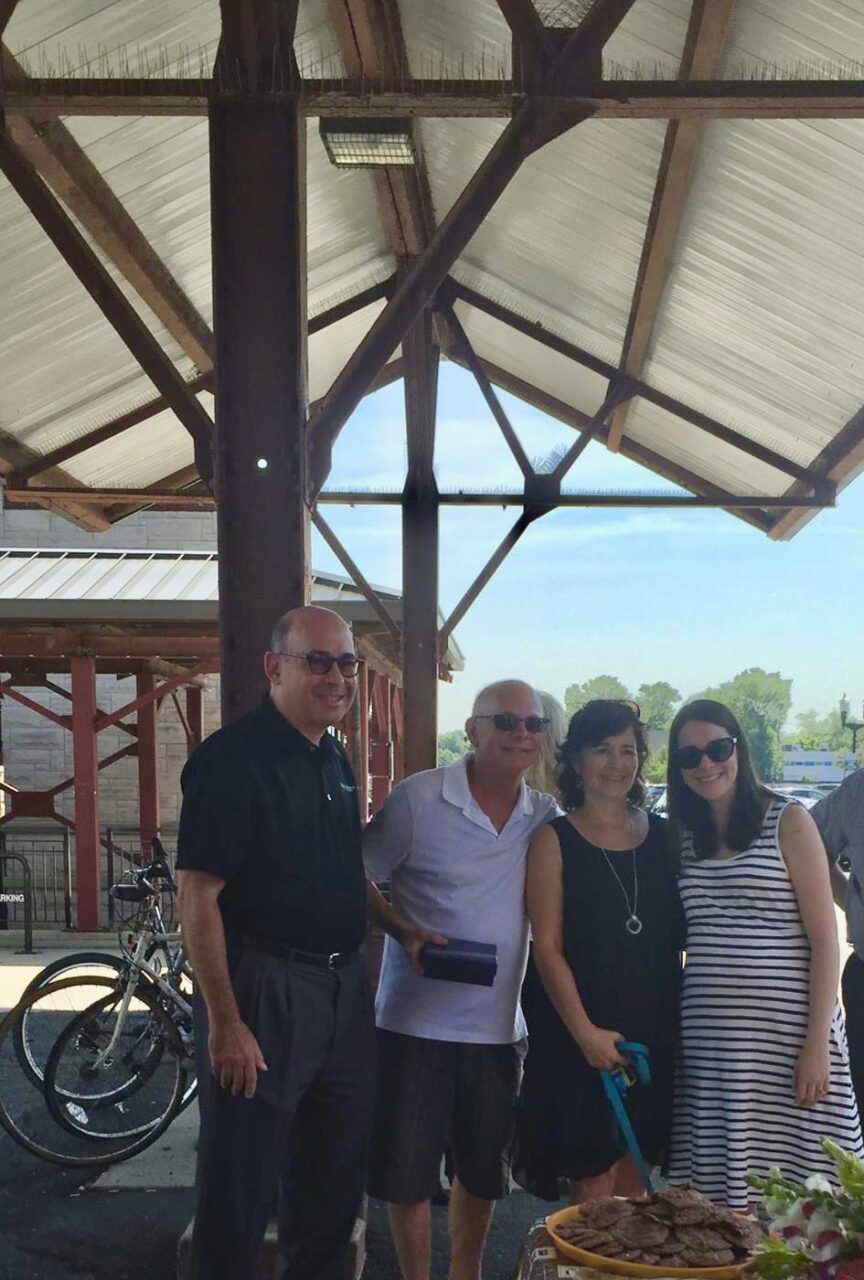 The Murray Perch Era at the Westfield Kiosk
Perhaps the most memorable era in the history of the kiosk is when Murray Perch operated the "Coffee Hut" from 1983-2016. This beloved Westfield resident and father happily served the community commuters for 33 years! His Westfield kiosk opened for customers in 1983 and initially offered newspapers, Lifesavers, gum, and cigarettes. Over the course of the kiosk history Murray increased the menu to add hot coffee, specialty coffees, tea, bagel, muffins, donuts, water, and soda. He also offered small necessities like combs, pens, and mints.
The Westfield Kiosk is Where Everybody Knows Your Name!
When asked if there was a special memory from the kiosk, Murray shared that there were "too many special memories" but he truly delighted in seeing the smiling faces of children that arrived with their parents. He would give them treats and later they would visit and come back just to say "hi"! For three decades, customers could rely on Murray to not only know their name, but also how they liked their coffee! It doesn't get better than that!
Their "Last Stand" in 2016
Murray celebrated his "last stand" at the Westfield kiosk on Saturday July 16, 2016. He retired for the simple fact that he was about to be a grandfather and his daughter asked him to babysit! "The Westfield kioskwas always a special place for me and my family. We had a big party at the station, I was interviewed by a NYC radio station. It was a great way to go out!" You can view the news interview video here: "Buddy Keep the Change" . Joe Salerno, Murray's friend and customer, commented on a news interview that "you won't find a man or person having a newsstand with more conscientiousness or integrity than this man."
A Piece of Westfield Kiosk History
The Perch family showed me a painting that they had of the Westfield kiosk back when it first opened. "The kiosk was on the North Side and empty when I started selling newspapers. There was an old hut on the tracks west of the station house near the old tunnel. When the station was renovated, they tore down the old hut, moved the kiosk from the North Side to the South Side and built a new tunnel under the tracks. A friend painted this for me. That was my red truck and me carrying the huge coffee urns."
Murray and Donna Perch wish the best of luck to the new owners!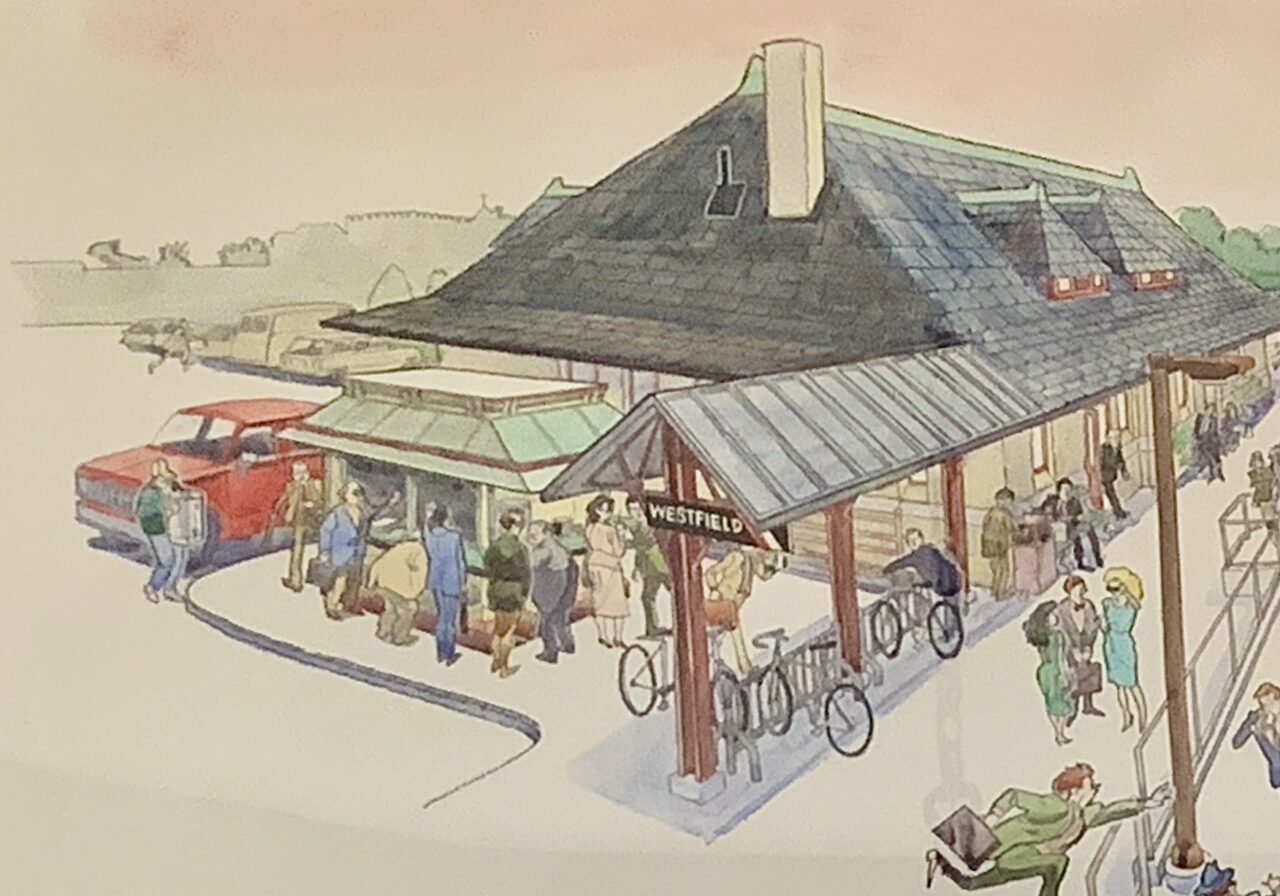 Boxcar is the Future of the New Westfield Kiosk
Cranford native Joe Colangelo has been an integral part of the Westfield area community and providing convenience and comfort to commuters since 2017. I interviewed Joe in 2019 and published a blog about his BoxCar App company. Boxcar is reshaping the future of commuting from the suburbs in a huge way with their luxury commuter buses departing from outside the kiosk. The fact that they are the new owners of the Westfield kiosk fits perfectly with their goal to provide the ultimate experience to commuters! I caught up with Joe to see what is in store for the new customers of his Westfield kiosk!
How has Boxcar re-emerged from the pandemic?
"As a commuting company, we were hard-hit by the pandemic shutdown. But instead of shutting down, we pivoted: offering services our customers could use when they weren't commuting. From grocery deliveries and drive-in movies last summer to auto detailing and grill cleaning this summer, we've found ways to help our customers through this crazy time and have come out stronger and nimbler because of it."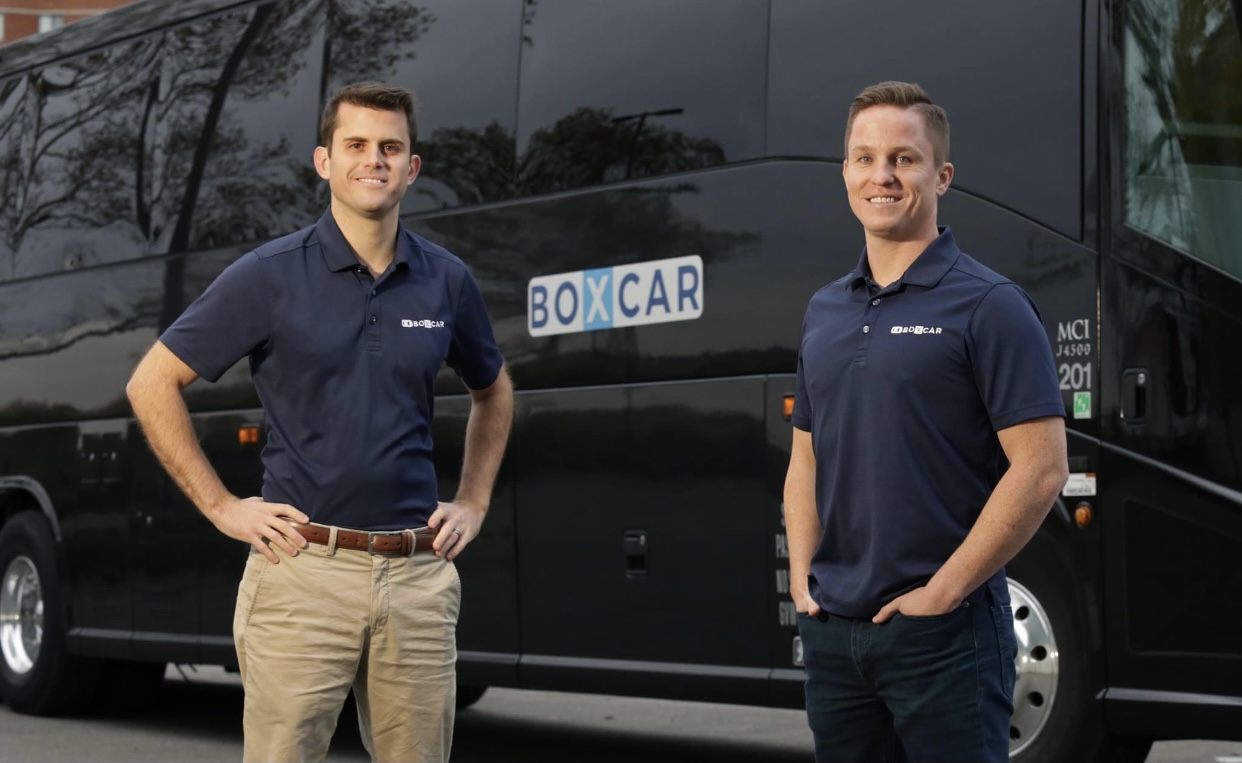 What Motivated You to Pursue the Westfield Kiosk?
"We see it as a great opportunity, both for Boxcar and Westfield commuters. Starting out, we'll offer coffee service from the kiosk. As commuters come back, we plan to offer other Boxcar services, as well – from knife sharpening to auto detailing. We hope to create a one-stop-shop for Westfield commuters, allowing them to take care of everything on the "To Do List" before they head to work in the morning."
Boxcar's Westfield Kiosk Will Offer the Ultimate Commuter Convenience
"Bus riders can grab a coffee as they board and pay for everything through the Boxcar app. Train riders will also be able to grab a cup of coffee or book any of the other services we have planned. Boxcar staff will be on hand to answer questions about any of our services."
Fresh, New Ideas for the Future of Commuters
"We are looking into a lot of different options…everything from knife-sharpening services and auto detailing to dry cleaning drop off and prepared meal services – with the kiosk as a central drop-off/pickup location."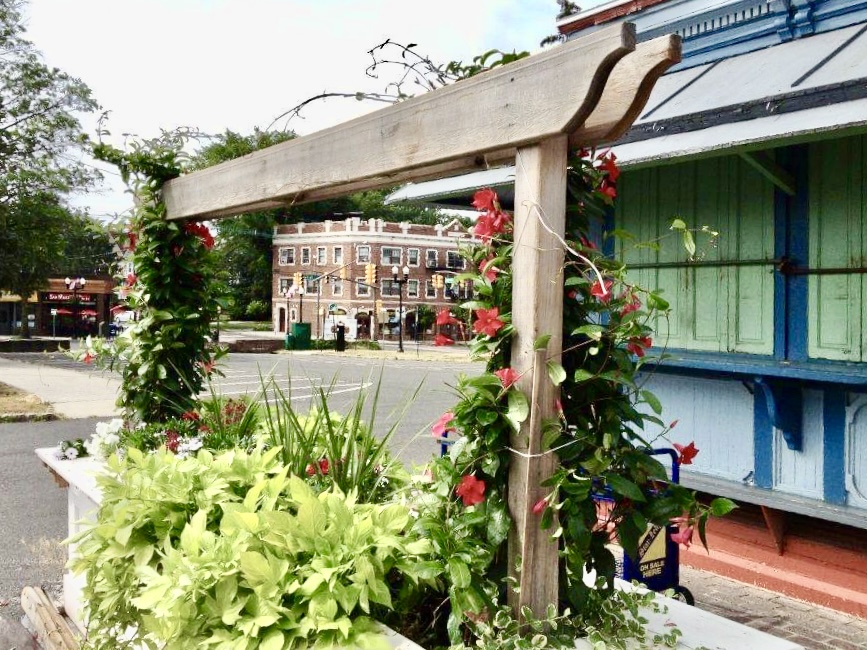 Boxcar to Partner with Westfield Businesses
"One of our major focuses as a company is partnering with other small businesses. We're all strong when we work together, bringing our particular strengths to the table. We are talking to a local coffee shop about providing morning beverages right now. From there, we hope to expand to even more local partnerships."
Boxcar Needs Your Input!
"We'd love to hear ideas from Westfield commuters, and we want to offer services people are looking for. Suggestions can be sent to support@boxcar.com
Boxcar is Hiring for the Westfield Kiosk!
We're hiring! $28 + tips for a four-hour morning shift – it's a VERY COOL job! Please apply here: https://www.boxcar.com/kiosk-manager
Congrats to Joe and Boxcar – we are all excited to see the transformation of this 150-square-good kiosk in Westfield!