Empowering Local Mothers with Beyond Balance, an 8-Week 1:1 Coaching Program
Discover the inspiring journey of Cranford, NJ's very own Carly Nguyen, a dedicated mom on a mission to transform the lives of local mothers through her personal life coaching program, Beyond Balance. We featured Carly and her Little Voice Big Matter blog a few years ago after the pandemic helped her focus more on self-care and self-reflection (you can read the article here). She took a big career pivot and started Little Voice Big Matter as a means of sharing inspirational posts that pull from her own life experiences as well as resources that helped guide her along the way.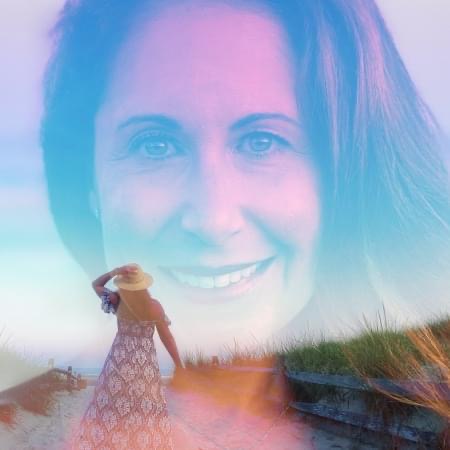 In this blog, we delve into Carly's passion for supporting fellow moms on their wellness and self-care journeys and how her life has changed since we last caught up with her. Join us as we explore the unique features of the Beyond Balance 8-week program designed to empower moms to achieve balance in all aspects of their lives. From telling us about her own struggle to maintain balance in her personal life to practical tips, get ready to embark on a transformative adventure with Carly Nguyen and Beyond Balance, right here in your local community.
Tell us your life story post-2022 and share your blog journey and mindset shift progress
The last time we connected, I had recently started my blog site Little Voice BigMatter, through which I strive to help women cultivate a positive mindset in order to find more purpose, joy, and confidence every day, and ultimately more fulfillment in their lives. With weekly blog posts and free resources on self-care, personal growth, motherhood, wellness, and healthy mindset tools, I've been doing just that. I've also continued to experience transformational personal growth in my own life during the (nearly) 2 years that I've been writing the blog and as I've continued down the path of my own mindset work. It's been so rewarding, especially when I get feedback that my readers find support and inspiration in my content. Recently, I decided that I was ready to take that support to the next level and have started offering one-on-one coaching services. Beyond Balance is the result!
Digging deeper, has your journey been smooth, or what challenges did you face?
It hasn't always been easy to stay the course with my personal and professional goals. Working behind a screen all day and as a solopreneur (it's just me, I don't have a team to bounce ideas off of!) can be lonely and it takes consistent perseverance and mindset work on my part to maintain focus on the larger picture of what I want and how I choose to live my life. Although writing the blog has been rewarding, it also has come with its challenges, especially as it pertains to finding what works and what doesn't.
I've certainly made mistakes along the way, as is common with any new venture, but I've always tried to maintain the perspective that with any mistake or "failure" comes an opportunity for learning and thus, for growth. Also, putting my private thoughts out there on the internet and on social media can be scary! However, thus far, I've received a lot of positive feedback and very little negative feedback so that is reaffirming and encouraging!
What do you struggle with as a mom?
I struggle with being present with my kids. It is difficult to avoid getting consumed with other stuff when I'm spending time with them. This is particularly challenging for me in this season where I'm trying to build and grow my business, which is very personally fulfilling for me. I also feel like as they're getting older and want and need less time from me, I should be maximizing the time that they do want to spend with me! I know they won't always want to spend time with me and that makes me sad when I think about it.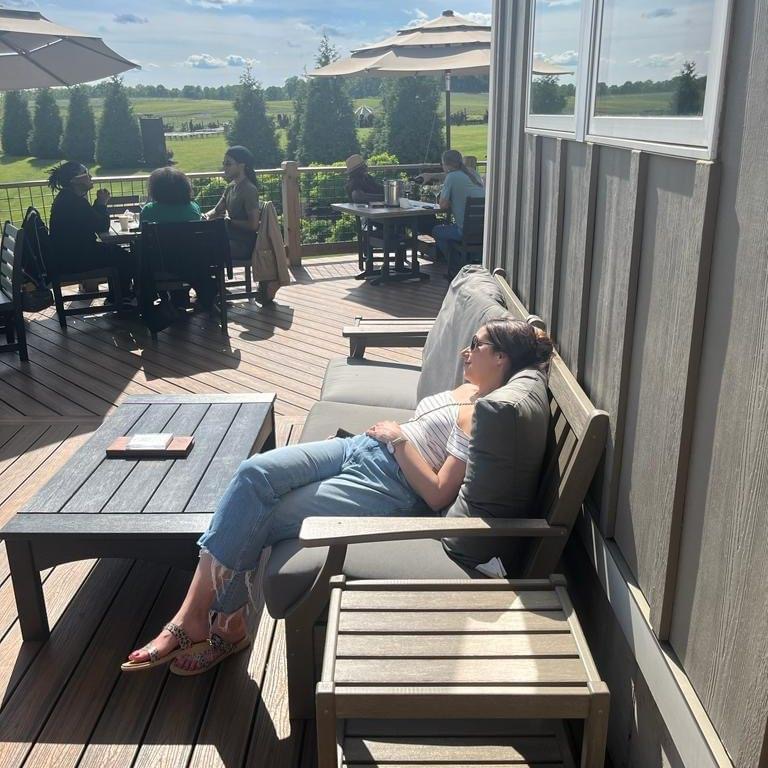 As a parent, what do you feel is the most meaningful thing you've done for your children?
The most meaningful thing I've done for my children is striving to model how I hope they will live their lives because our children are always watching and learning from us. My greatest desire in life is for my children to be healthy and happy, but I also want them to learn to live bravely, in a way that brings them fulfillment and joy every day, and to pursue their passions in life without reservation.
As their mother, I am modeling this for them every day in the way that I live my own life. I don't believe in the "do what I say, not what I do" adage from our own childhoods. We want our children to grow up to be well-rounded, thriving, and wholly fulfilled individuals, so we must show them how.
How do you define a successful day?
One in which I adhere to the intentions I've set at the onset, whatever they may be. Sometimes it's really focused and get sh*t done and other times it's to take it easy and allow myself space and rest.
What is one piece of advice that someone gave you that you found helpful?
How you think creates the outcomes in your life and you have the power to take control of your thinking and choose thoughts that are productive for what you want.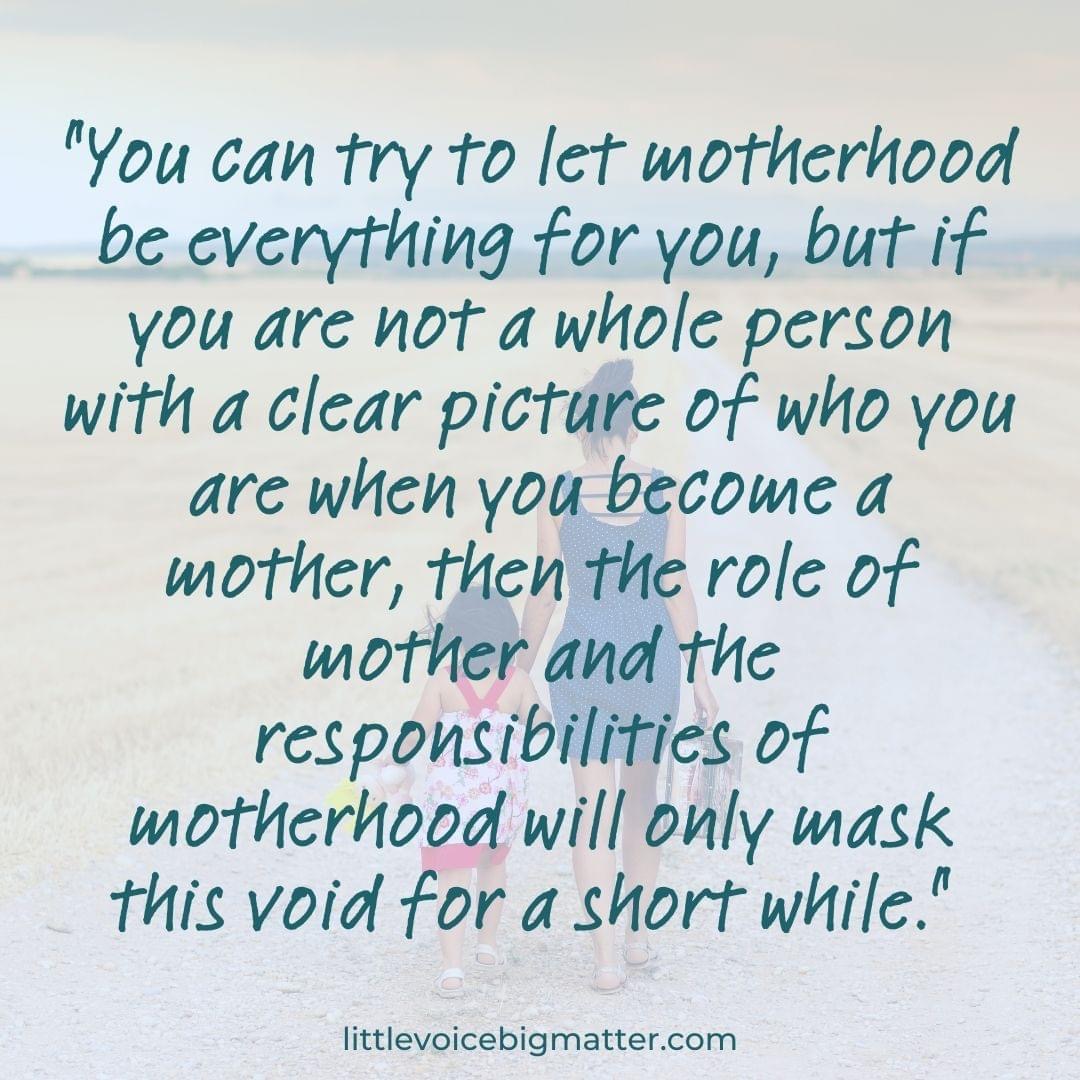 What led you to incorporate life coaching alongside your blogging?
My goal with Little Voice Big Matter was always to create some type of online business and I viewed writing the blog as the first step in this endeavor. When I started it, I wasn't exactly sure how I would eventually monetize, but coaching has been on my radar since its inception.
As time passed and I wrote more and more articles for the blog, I realized that I was already "coaching" in a sense through the written word with the actionable advice I was offering in my posts. I also was learning so much about the topics I was writing about and found myself wanting to help others on a deeper level. Over time, starting the coaching part of it (Beyond Balance) just felt like a natural progression.
Please tell us more about about your new 8-week program, Beyond Balance.
My coaching program is called Beyond Balance. It's an 8-week 1:1 online coaching program through which I help overwhelmed moms create
balance in their lives so they can find more time for themselves and live with more joy, connection, and fulfillment every day. Through my 6-step Surviving to Thriving framework, which is my own proprietary coaching method, I help moms reclaim their time and energy so they can not only tackle their to-do lists with ease, but also find that guilt-free time for themselves and understand how to use it in a way that's going to fill them up.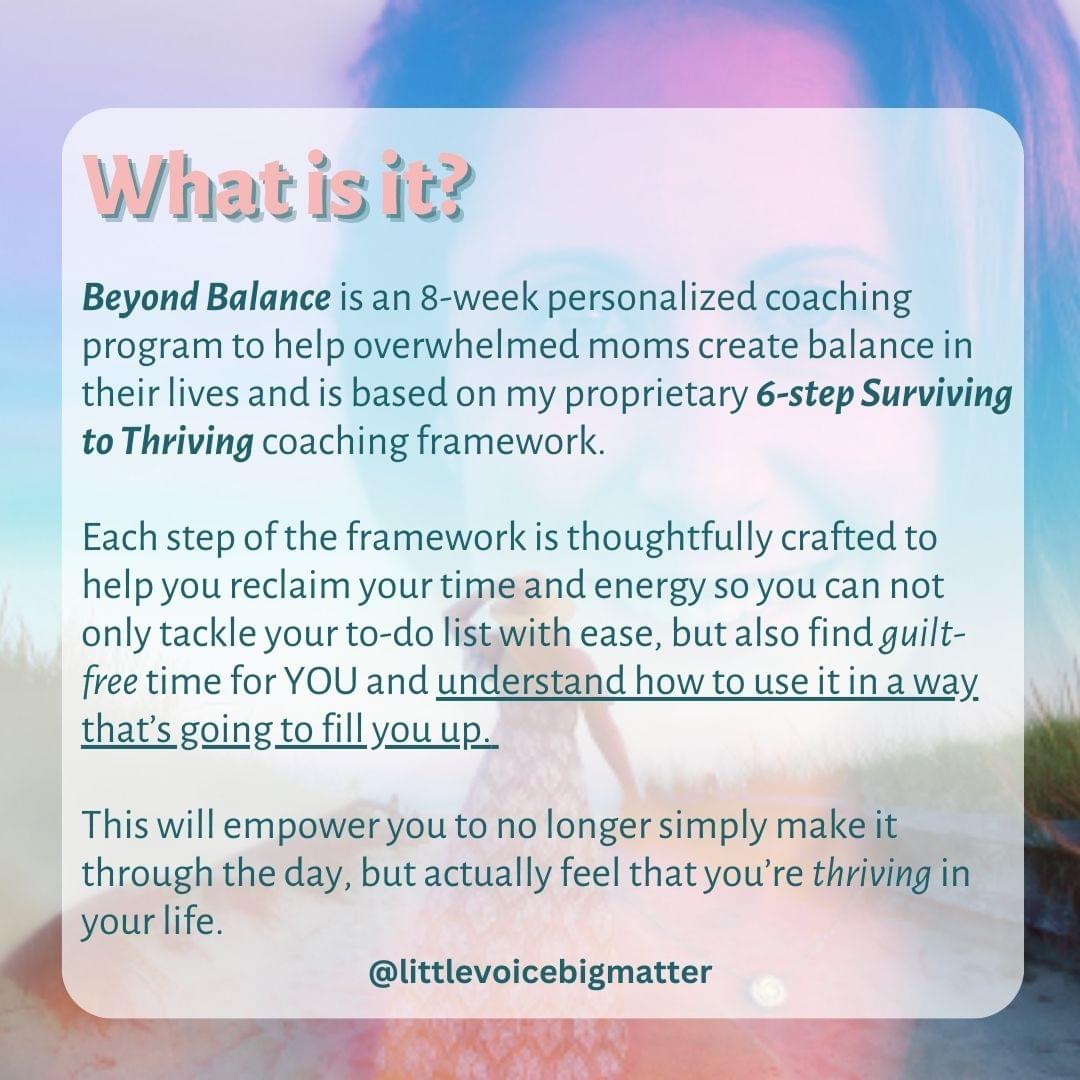 A sneak peek into how the Beyond Balance program works
We work together to realign their schedules with their core values and priorities and uncover their unique happiness formula, which is key to balancing out overwhelm. These are essentially the routines, rituals, and everyday moments that will help them feel calm, grounded, and at their best. Bringing peace of mind to the many aspects of their multifaceted lives as moms is the ultimate goal of the Beyond Balance program.
We also work on mindset and mitigating mom guilt so that when they finish my program, they walk away with a healthier mindset, a schedule that is better aligned with their priorities, a greater connection with themselves and their families, and MOST importantly, a big picture plan that includes what they need to feel happy, in control, and best equipped to manage everything that comes with being a mom.
What sets your life coaching program apart from others?
I like to say that the Beyond Balance coaching program empowers you to no longer simply "make it" through the day, but actually feel that you're thriving in your life! What sets it apart from other programs out there is that it's my own proprietary coaching method. I developed the method based on best coaching practices, but also on what has been proven to work for me in my own life as it relates to navigating these same struggles. Although structured in a way to ensure that each part of the coaching program has clear goals, outcomes, and action steps. The coaching sessions are personalized, collaborative, and tailored to each client's individual needs.
What's the best way to sign up for the Beyond Balance personal coaching program and your blog?
The best way is to set up a FREE 30-minute call with me at my calendar link here – https://calendly.com/carly_littlevoicebigmatter/30min During the call, I'll provide you with a safe space to share it all and talk about YOU and how coaching might support you. There is no pressure for anything more, no strings attached! You can also visit my Instagram @littlevoicebigmatter to learn more about my coaching program.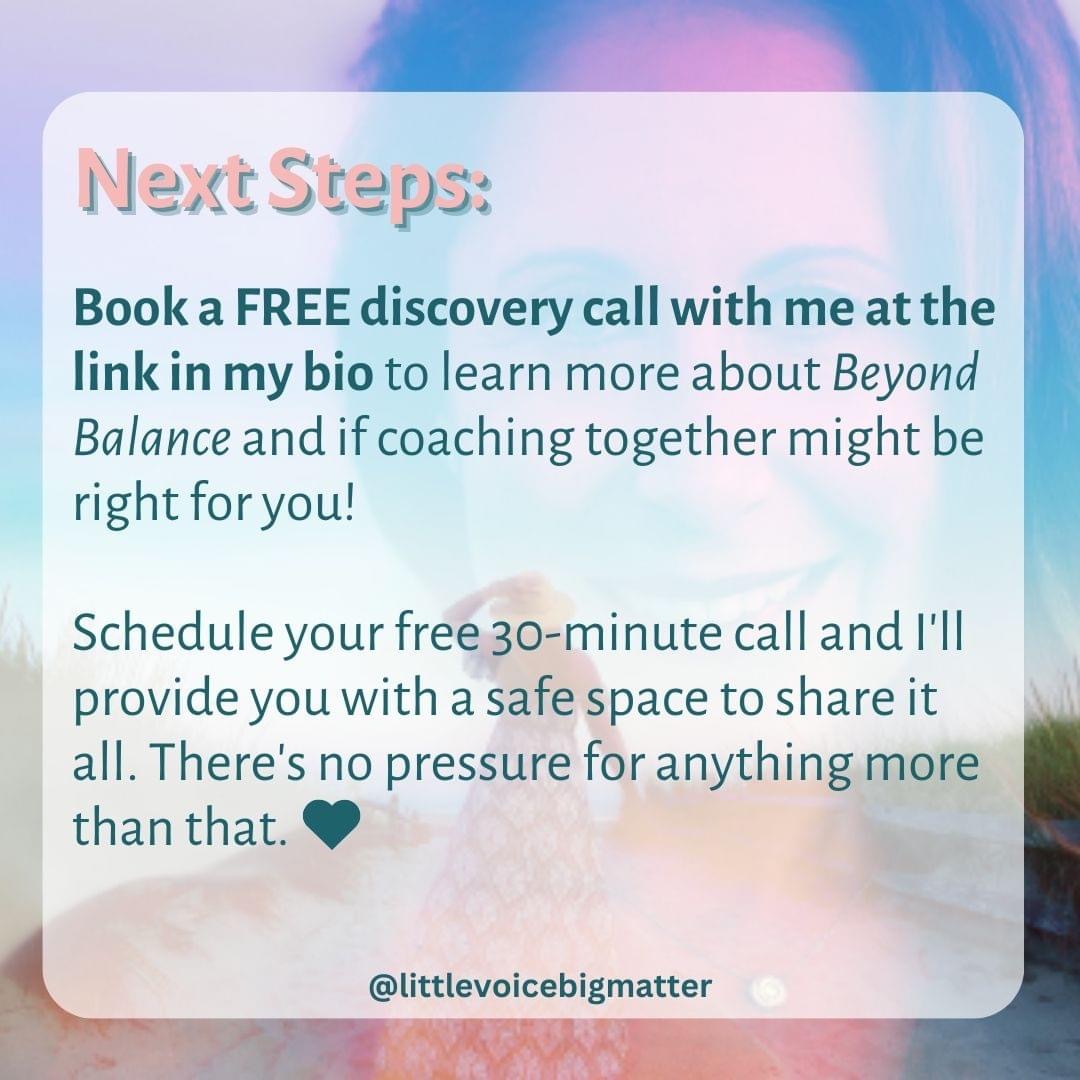 Anything else you would like to add?
I'd love for readers to visit littlevoicebigmatter.com to read my content and feel free to email me at littlevoicebigmatter@gmail.com. I'd love to connect!