Local academy teaches the art of fencing at any age!
Did you know that one of the top fencing clubs in the United States is right around the corner? The Advance Fencing & Fitness Academy (AFFA)in Garwood, NJ at 110 South Avenue is world renowned for its top fencing coaches and producing champions at the state, national, and world level. AFFA is open to everyone – youth, teen, and adult and welcomes fencing enthusiasts of all levels. I met up with Aleks Ochocki, founder and world recognized coach at AFFA (he's from Clark, NJ , too) to tell you a little more about the history of the fencing club and how your family can get started with this up and coming sport!
Tell us a little bit about yourself and how you got into fencing
My name is Aleks Ochocki and I am the Founder/Head Coach at Advance Fencing & Fitness Academy in Garwood, NJ. I started fencing at the age of nine by stumbling upon it while attending a karate class. The fencing club offered a free trial and I got hooked. My love for the sport fueled me to train hard as I can. This led me to becoming a member of the U.S National Team and World Championships Bronze Medalist. It gave me the opportunity to travel the world and opened doors to some of the top universities in the country. I went on to receive a full scholarship to Penn State, where I won four NCAA championships and become a four-time 1st Team All-American.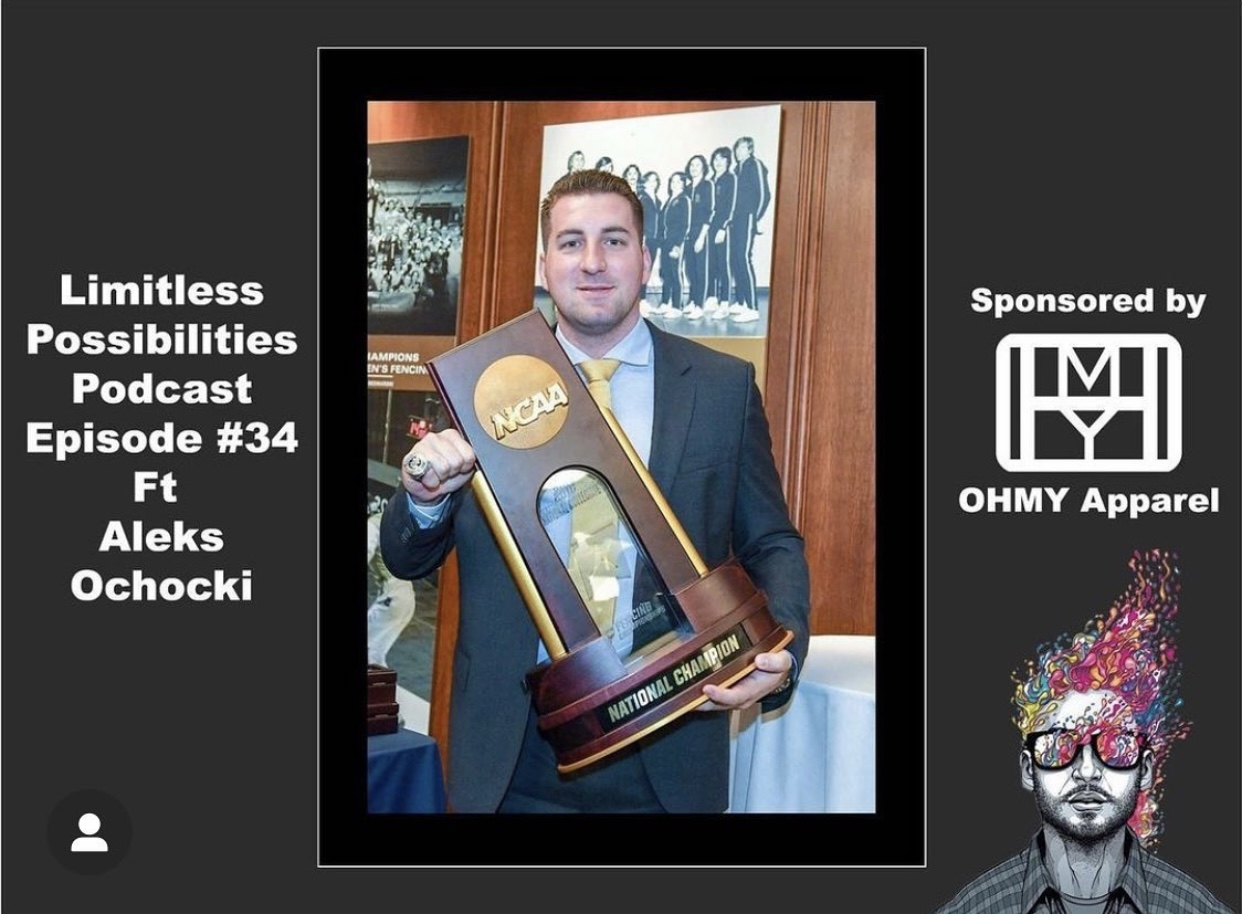 When did Advance Fencing & Fitness Academy in Garwood first open?
The club opened in September of 2013, but we didn't move to our own designated facility until January 2014.
How long have you been an instructor at AFFA?
I have coached at AFFA since I opened it in 2013. During that time, I have been recognized as a Master Coach by the United States Fencing Coaches Association. I took a brief pause from coaching at AFFA as I was sought out by the University of Notre Dame to be their saber coach. During my three seasons there, we went on to win back-to-back national titles.
What makes fencing such an exciting and unique sport for youths?
It is unique due to the fact that it's an individual sport that has no required pre-requisites to becoming successful. Each person can find their strength and be able to use it for success against their opponent. Fencing is sometimes referred to as "Physical Chess". Fencing is a mental game. It demands focus, strategy, tactical execution, and incredible forethought. However, fencing is also a sport that requires power, flexibility, and speed.
What lessons does this sport teach children at an early age?
Not only does it provide children an anerobic exercise but helps build stamina, strength and coordination. It helps teach strategic thinking, focus and academic discipline along with self-reliance and confidence. Children learn self-control and sportsmanship.
Advance Fencing & Fitness Academy offers classes for many ages. At hat age can a child begin at AFFA?
Six years old. We teach from ages 6 and up. We have adult classes as well for those who are trying to pick up a new hobby or a new exercise!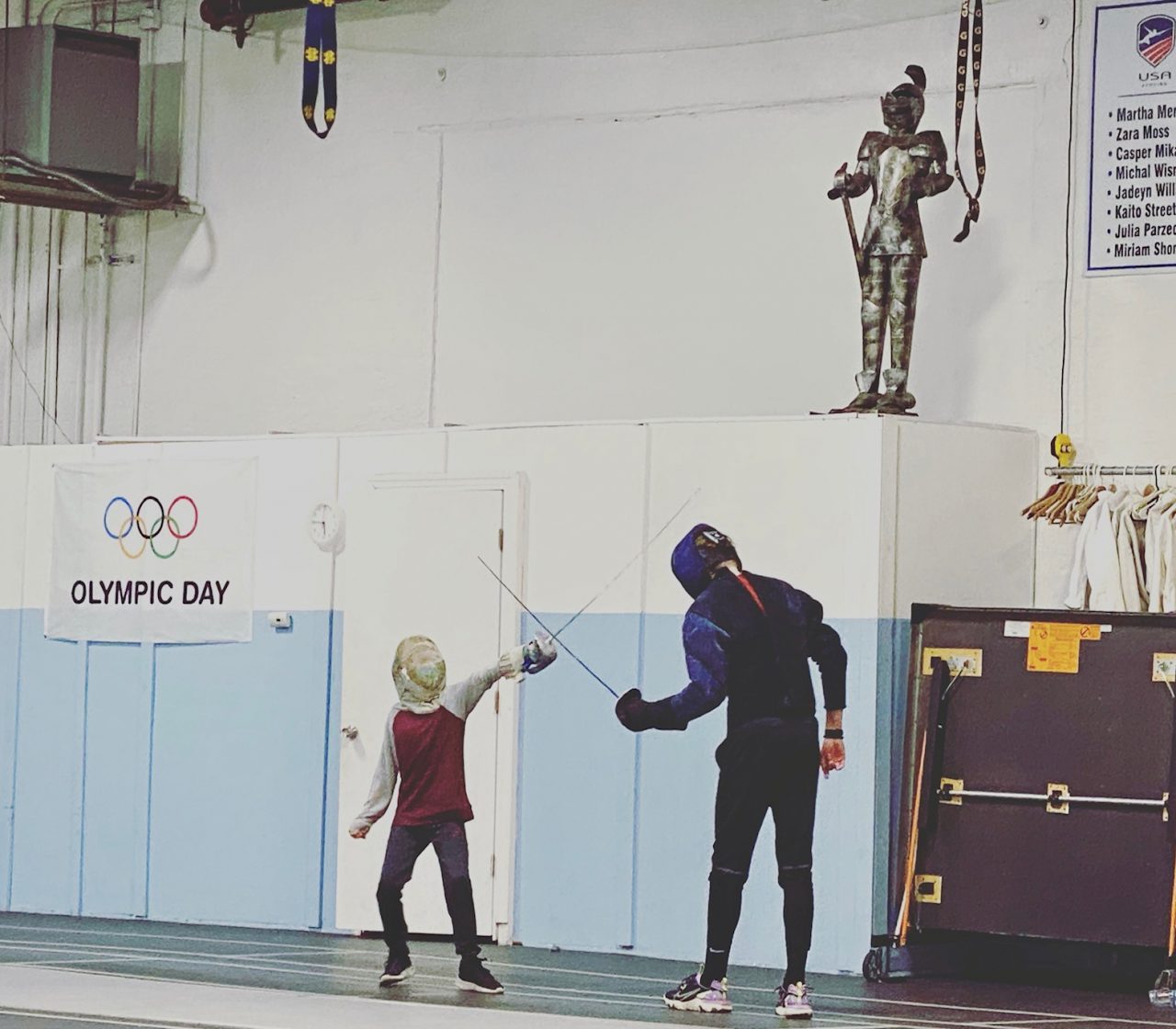 What competitions does Advance Fencing & Fitness Academy participate in throughout the year?
Our students participate in competitions on all levels. For example, our youngest groups participate in in-house tournaments before moving on. Athletes represent AFFA at local, regional and national tournaments. The most experienced athletes represent the USA at international competitions such as World Cups, World Championships and Grand Prix. We hope to be represented at the Olympics this year as we have a few Olympic hopefuls.
Tell us about Advance Fencing & Fitness Academy's recent accolades:
In the last two seasons, our athletes were members of Team USA winning the U-17 World Cup in Hungry. One of those athletes was selected for the U.S National Team and ranks number 1 in the world in that category. Our biggest accomplishment would have to be sending 9 of our students to the top D1 Universities on fencing scholarships this year alone!
Advance Fencing is headed to World Championships!!
Congratulations to Lola Possick of Summit for making the U-17 U.S. National Team (Women's Saber) and on April 4 she will compete at the U-17 World Championships in Cairo, Egypt! Lola is just 15 years old and Aleks is her coach at AFFA. She is currently ranked #1 in the world in U-17! We wish her all the luck in Cairo!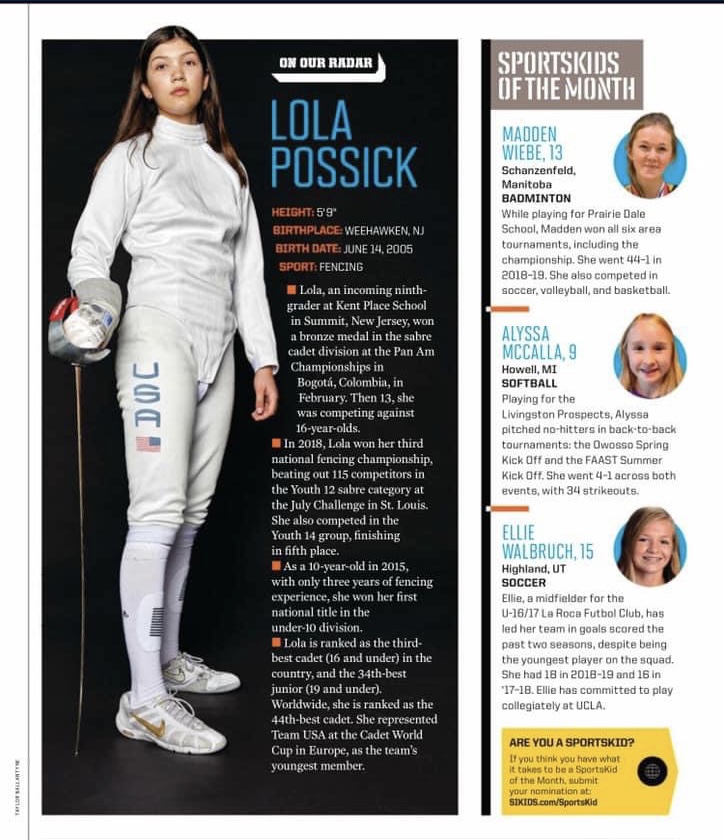 What colleges/universities have recent teen competitors been awarded fencing scholarships to?
We have students that have received scholarships to Harvard, Notre Dame, Johns Hopkins, Northwestern, NYU, Penn State, UNC and Stevens just to name a few.
How does someone get involved at Advance Fencing & Fitness Academy in Garwood?
They can come visit us or call to set up a FREE trial at our website: www.advancefencingfitness.com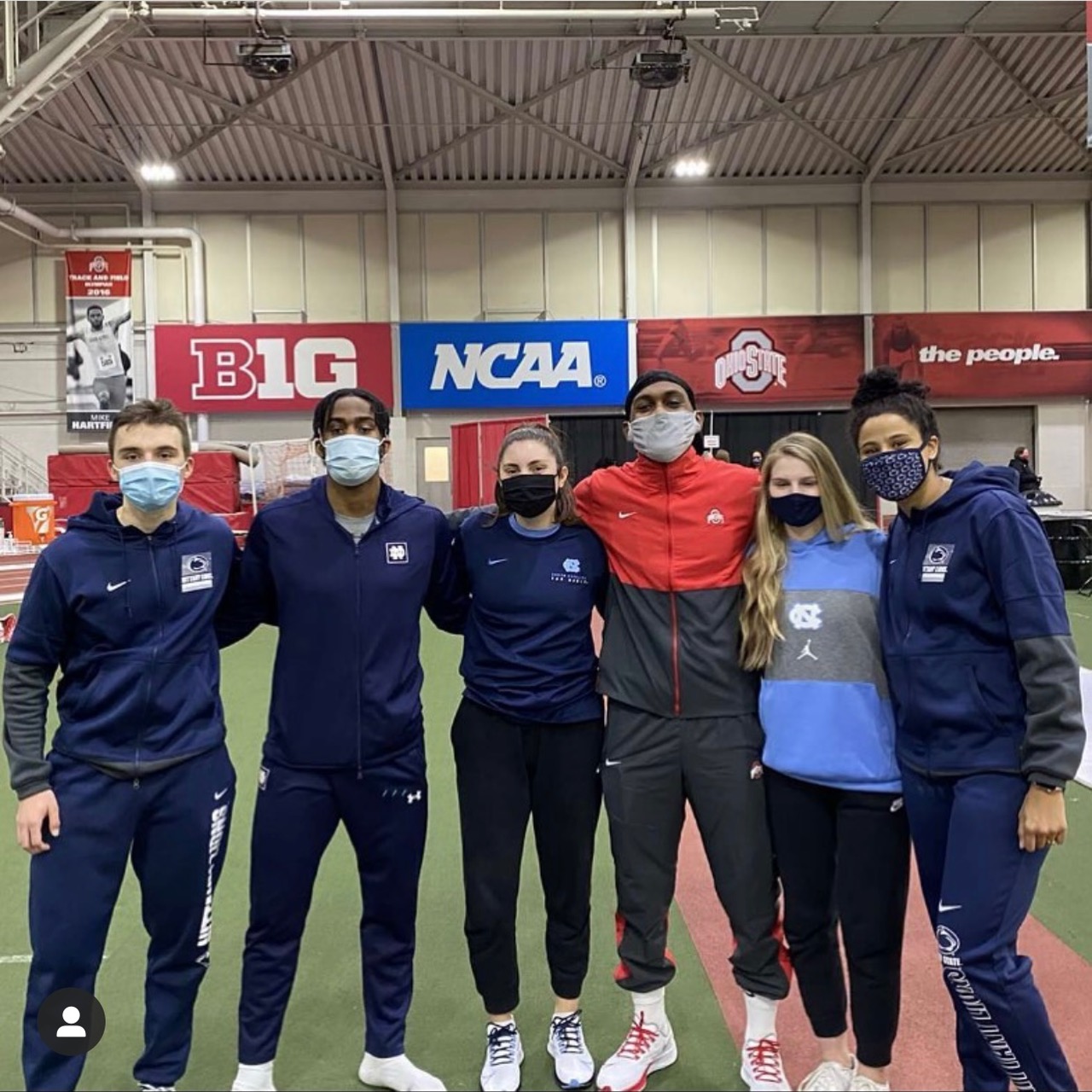 Once someone becomes a member with AFFA, how many students become competitors and continue?
We have actually had the pleasure of having most of our students from the time they start fencing all the way up to college. As a result of their commitment, the college students often come back to the club during their breaks. We have had students who have transferred to our club as well!
Is fencing safe? Does gear need to be purchased once one becomes a member?
Yes, very safe! Fencing equipment is made from Kevlar. Members are able to rent gear, however, obtaining a mask and fencing glove is recommended. For those who are more serious, they would need to get a jacket and a sabre.
Why is fencing so exciting?
It's a fun and exciting sport where you get to hit someone with swords without getting in trouble!! All jokes aside, it's an opportunity to make friends from all over and challenge yourself at every practice. No match is the same and it is very rewarding being able to strategize a way to beat your opponent.
What would you like the community to know about Advance Fencing & Fitness Academy?
We are a local small business that prides itself on using the sport of fencing to educate and instill life skills into children. We have a world class coaching staff filled with passion that allows our students to become the best version of themselves. As a result, our local fencing club is an international destination for fencers to train at from all over the world. Our students have won over 90 national medals and 12 international medals. Furthermore, we provide ADULT classes and lessons!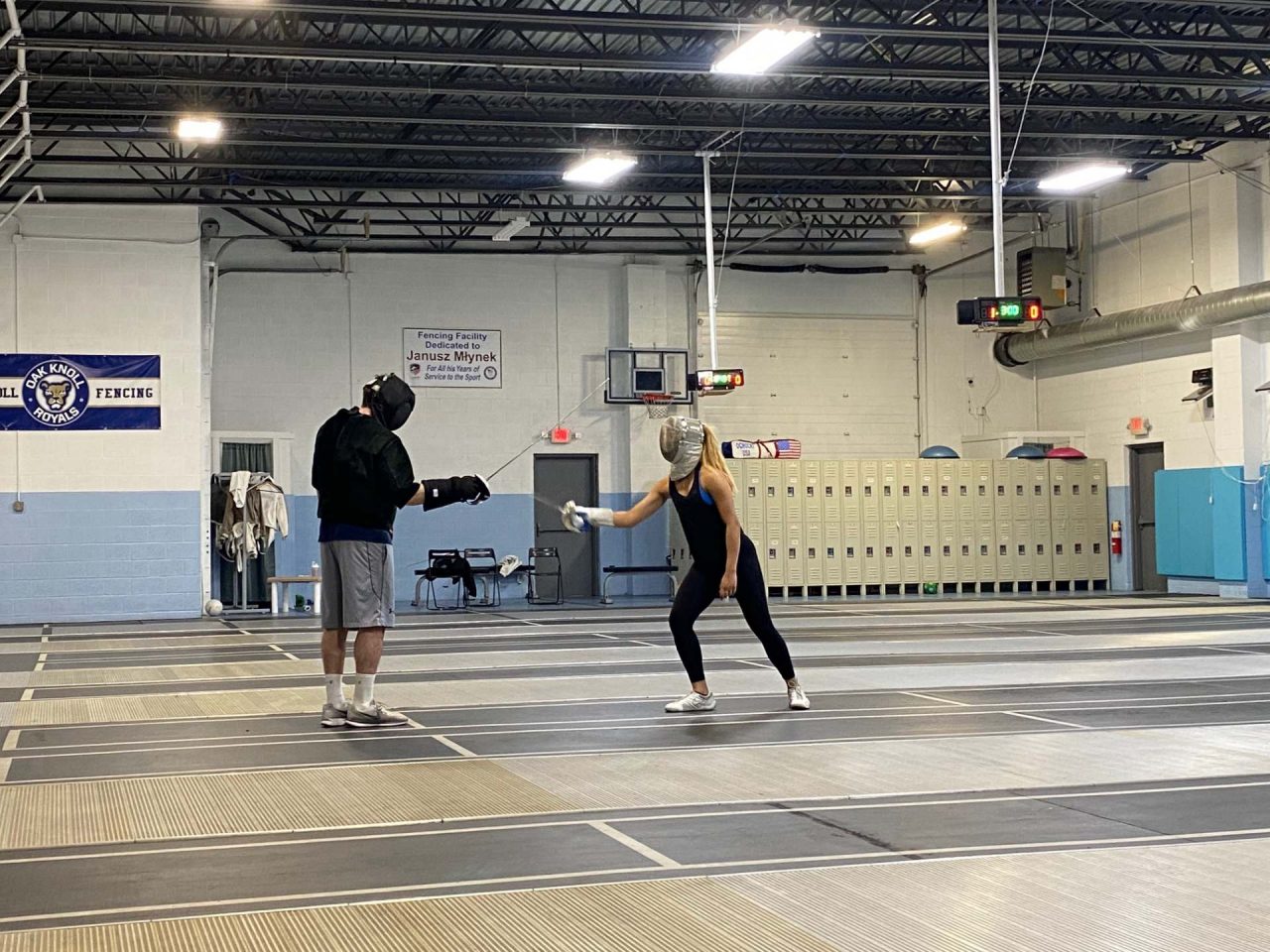 AFFA takes it to the movies!
Fun fact…AFFA was the set in March for the filming of a new YouTube Original Series "Strive" featuring Olympic 🥉 Medalist and World Champion Dagmara Wozniak. The episode will premiere June 20th!
Founded in 2013, Advance Fencing & Fitness Academy offers personalized training to empower and create opportunities for all ages and skill levels. Please visit www.advancefencingfitness.com or call 908-290-5055 for more information. Additionally, you can also follow AFFA on Instagram and Facebook. In conclusion, Advance Fencing & Fitness Academy is a great way to learn to fence!