Mountainside was recently placed at #9 on the list of Best Places to Live by New Jersey Monthly. That's out of 565 municipalities ranked according to home values, property taxes, crime rate, school performance and a lifestyle factor.
In earlier years, New Jersey Monthly magazine ranked Mountainside as its 16th best place to live in its 2008 rankings of the "Best Places To Live" in New Jersey. It also received eighth place in the 2010 list.
The town represents the idyllic suburban lifestyle with strong schools and highly safe neighborhoods.
Lawns tend to be green and spacious, and homes feature a lovely range of architectural styles. That said, it's a common trend for families to buy large lots, level the existing split-level, and build a dream home.
It's also special because the slight rise in elevation allows for some homes to have a view of the Manhattan skyline. That makes it rather perfect for those whose love affair with the city has recently been eclipsed by a need for more space.
On that note, Mountainside is especially woodsy because of the Watchung Reservation and Echo Lake Park.
Where is Mountainside, New Jersey?
The borough is located on a ridge in northern-central New Jersey, within the Raritan Valley and Rahway Valley regions in the New York metropolitan area.
If you're familiar with New Jersey, you'll probably recognize the larger nearby towns of Scotch Plains and Westfield. It's also nestled between Route 22 and the US-78/Phillipsburg-Newark Expressway.
Mountainside Climate and Weather
Mountainside has typical, four-season New England weather. But if you're not familiar with the region, that means warm and humid summers. Winters can get very cold and snowy.
Around the year, the sky is often partly cloudy. The temperature rarely gets below 10°F or above 94°F.
| | |
| --- | --- |
| Anual Precipitation: | 51.23 |
| Average January Low Temperature: | 19.1 |
| Average January High Temperature: | 39.04 |
| Average July Low Temperature: | 62.82 |
| Average July High Temperature: | 85.74 |
The Commute
You can link up with New Jersey Transit trains in Summit or Westfield. The trip to New York's Penn Station takes about 50 minutes. Expect to pay somewhere just under $10 for a one-way ticket and close to $300 for a monthly ticket.
Alternatively, you can catch New Jersey Transit buses 114 and 114X to Port Authority, picking up passengers on Route 22 at New Providence Road. The prices will be slightly cheaper.
Local Lifestyle and Events
Although you'll find fewer local events compared to neighboring Westfield of Scotch Plains, the special charm of Mountainside comes from its natural setting.
Between Watchung Reservation and Echo Lake Park, residents have close access to hiking trails, biking trails, fishing ponds, small lakes, ice skating, softball, camping, and even cross-country skiing.
After Halloween, there's the Great Pumpkin Sail Event. Residents bring their carved jack-o'-lanterns to Echo Lake Park, where they float together for a well-deserved pumpkin party. It makes for quite an amusing little display.
The community pool is also popular. Family membership for residents is $334 and individual memberships are $171.
Politically, the town is quite liberal with around 2/3 of voters registered as Democrats. The whole of Union County tends to be especially liberal in a somewhat liberal state.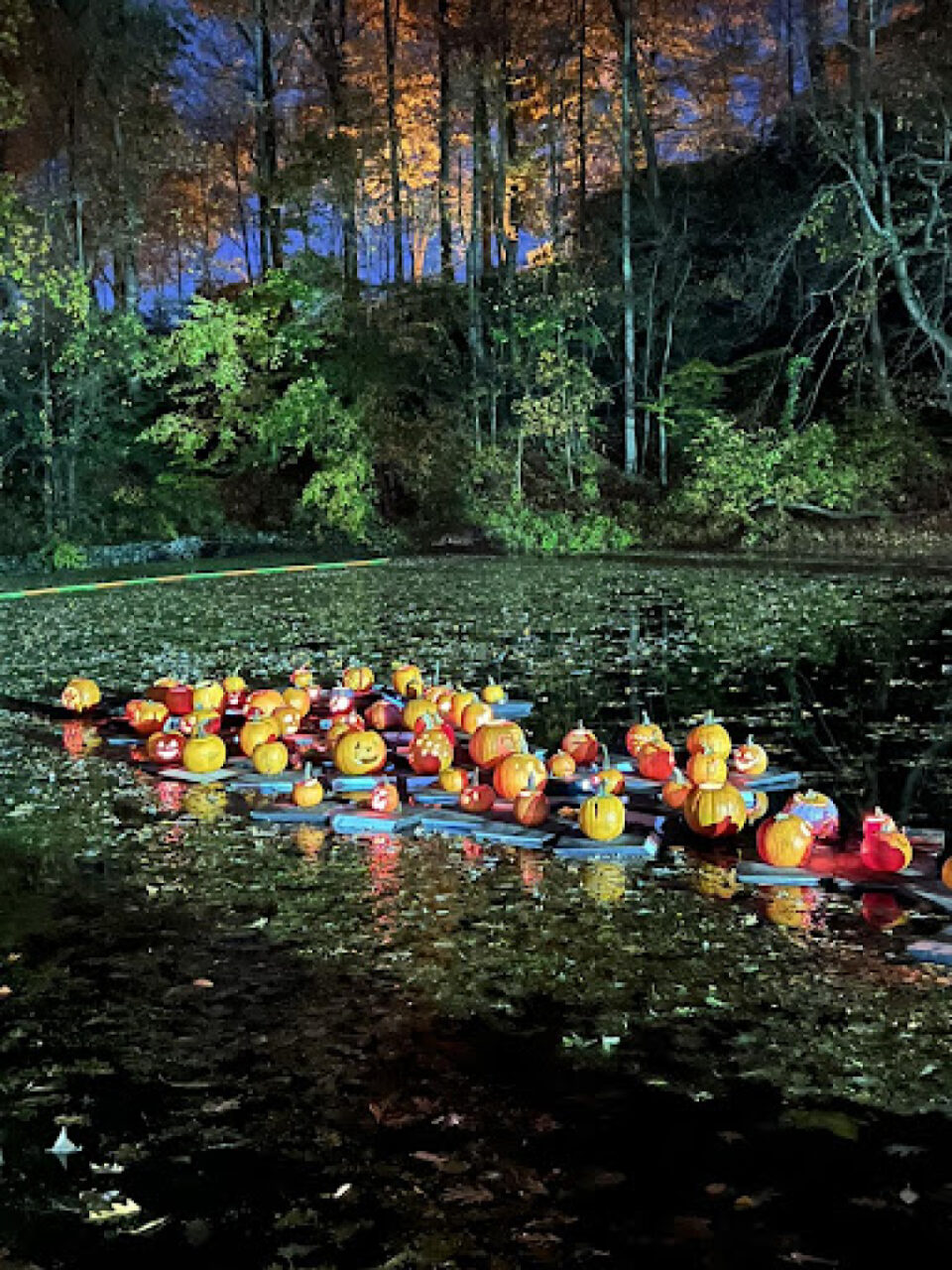 Mountainside, NJ Real Estate
The average sales price for residential properties hovers around $680,000 as of 2022. Because of its small population, you might expect to find 10-20 listed homes at any given point during the year.
You'll mostly find non-residential structures like office buildings on the eastern section of the town. This demarcation allows for lower property taxes on residential properties.
If you're looking for an apartment building, there are two new residential complexes on Route 22. These are the 23-unit Echo Ridge and the 30-unit, age-restricted Alpine Ridge.
| | |
| --- | --- |
| Population: | 6,813 |
| Population Density / Mile: | 1,701 |
| Median Age: | 50.07 |
| Number of Households: | 2,516 |
| Average Household Size: | 2.644 |
| Households with Children: | 752 |
| Median Household Income: | $122,540 |
Population (2022)
The median income for Mountainside is significantly higher than the state average, which sits at $85,751.
| | |
| --- | --- |
| Number of Households: | 2,516 |
| Average Household Size: | 2.644 |
| Households with Children: | 752 |
| Households without Children: | 1,165 |
| Family Households: | 1,917 |
| Non-Family Households: | 57 |
Households (2022)
FAQS
1. What draws people to live in Mountainside, NJ?
It's a near perfect place to raise a family. Combined with the low property taxes, moving to Mountainside can be a very sensible decision for many families that want a place to settle down and spread out a little.
3. What are some of the best parks in Mountainside, NJ?
The Watchung Reservation and Echo Lake Park are especially spacious and full of activities. In fact, the Watchung Reservation is large enough to accommodate cross-country skiing in the winter.
4. How do people commute from Manhattan to Mountainside?
The main way is certainly New Jersey Transit trains, but you can also take a bus. Read the Mountainside Commute section for more detailed info.
5. What are the things you like about Mountainside, NJ?
It embodies many of the aspects that other local towns do, including safety, great schools, and proximity to NYC. However, it also features an especially woodsy setting, low property taxes, and views of the Manhattan skyline in some areas.
6. What type of people visit Mountainside?
If you're visiting Mountainside, you're probably visiting someone who lives there. However, it does make for an ideal home base to visit other places.
7. What's your favorite season in Mountainside, NJ?
Autumn is absolutely gorgeous because of the many tree-lined streets and nature preserves in the area.
Getting In Touch
If you'd like to have a deeper sense of what life in your new Mountainside home would be like, please reach out. If you'd like to read the glowing reviews from my past clients, you can do that here.