Cover photo by Febrian Zakaria on Unsplash
Scotch Plains, NJ has no shortage of excellent restaurants for every budget and many cuisines. Whether you need a great but inexpensive Mexican restaurant or an upscale French dining experience, we've got you covered.
In case you want to explore a bit further, we've also gathered the top restaurants within 5 and 15 minutes of the city center.
This list represents the best dining options in the area. We've hand-selected some of the most mouthwatering menu options available, so you can't go wrong. Whether you're a diehard foodie or just looking for a solid family restaurant, we'll point you in the right direction. Bon appétit!
Top Restaurants in Scotch Plains
Location: 2376 North Ave, Scotch Plains, NJ
Menu: Charlie Brown's Steakhouse
Contact Info: Order Online
Rating:
Price Rating:
Cuisine: American
A family-style restaurant with over 50 years of experience, Charlie Brown's offers great ribs, burgers, and steaks in addition to their famous Unlimited Farmer's Market Salad Bar™.
Unfortunately, many locations closed due to COVID, but the Scotch Plains location is still up and running!
RIBEYE GORGONZOLA – A 14 oz. hand-cut, grass-fed ribeye grilled to perfection and topped with Gorgonzola butter
CRAB STUFFED FLOUNDER – Jumbo lump crab stuffed flounder baked in our creamy Parmesan sauce and topped with crisp Parmesan bread crumbs. Served with your choice of one side and garlic green beans
PRIME RIB FRENCH DIP – Thinly shaved slow-roasted prime rib served on a toasted hero roll with au jus. Served with seasoned fries.
"First time at this location, the service was good and the food was excellent. As an appetizer, I ordered the seafood platter. Everything was very good, the fried calamari was extremely tender and the grilled shrimp melted in your mouth. I ordered the Charlie Cut Prime Rib with a Lobster Tail. The steak was juicy and well seasoned and cooked to perfection. The lobster tail was delicious and sweet, it actually tasted better than the last one I had at Red Lobster. So sad this is the last CB standing. This chain is so much better than Longhorn or the Outback. Hopefully, they can make a comeback…"

– Chester J.
Location: 405 Park Ave, Scotch Plains
Menu: Massa Roman Square Pizza
Contact Info: Order Online
Rating:
Price Rating: –
Cuisine: Italian
This Italian eatery has unlocked a secret to delicious authentic Italian pizza by using their signature San Marzano tomatoes. They have a stream of overwhelmingly positive reviews to match their excellent pizzas and paninis.
The pizzeria is undoubtedly one of the best Italian restaurants in Scotch Plains.
Burrata Pizza – San Marzano tomatoes, cherry tomatoes, burrata, basil, EVOO
Parma Pizza – San Marzano tomatoes, cherry tomatoes, mozzarella, arugula, prosciutto di parma, shaved parmigiana
"Ever since this place has opened, I have been a huge fan of the pizza here…The 3-day fermented pizza dough and the amazing sauces make all the difference! I highly recommend this place to people who love good pizza."

– Tony Flagg
Location: 200 South Ave, Fanwood
Menu: Sheelen's Crossing
Contact Info: 908-753-4500
Rating:
Price Rating: –
Cuisine: Irish Pub & Bistro
Sheelen's presents its guests with a dining experience above and beyond what you might expect from an Irish Pub and Bistro. They are connected with Sheelen's Fish Company, located just down the road.
If you're in the mood for great seafood, head straight over to Sheelen's for a guaranteed and proven array of seafood appetizers and entrees.
PEI Mussels – Made with India Pale Ale beer and jalapeño cilantro broth with grilled French bread
Crab Cakes – Baked lump crab cake platter with sautéed spinach and butter
Fried Calamari Salad – Mixed greens, crisp wontons, and Asian dressing
"I had the corn chowder soup and my wife had the tomato soup to start. They were both very good. For my main course, I had corn beef and cabbage and my wife had salmon. The corned beef and cabbage were homemade, very tasty and delivered in a generous porton! My wife loved her salmon. This was our second visit. Our first was a Sunday brunch, which was also very good. I would recommend giving this spot a visit. Service is also above average."

– Bill Flagg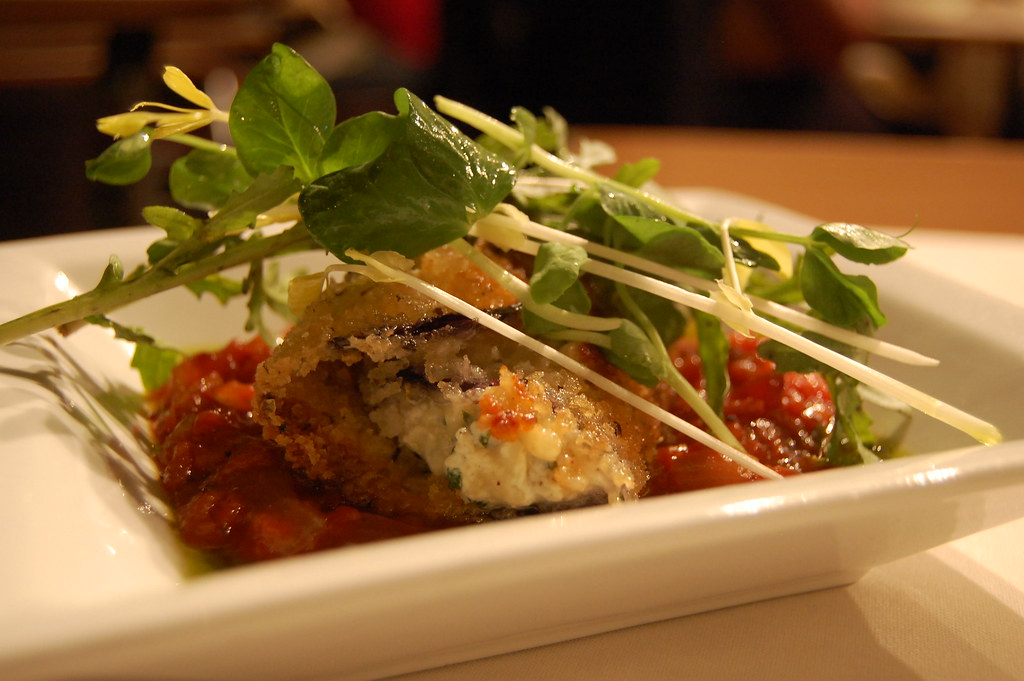 Photo by stu_spivack on Flickr


Some rights reserved
Location: 435 Park Ave, Scotch Plains
Menu: Grano's Pizzeria
Contact Info: Order Online
Rating:
Price Rating: –
Cuisine: Italian
Apart from the cozy yet elegant interior, Grano's provides hand-tossed pizza and rustic Italian dishes with stylish plating. Established in 2020, it's quickly gaining notoriety and has become one of the best new restaurants in Scotch Plains.
Eggplant Rollatini – Roasted eggplant, whipped ricotta, melted mozzarella, marinara
Short Rib Lasagna – Braised short rib, whipped ricotta, melted mozzarella, marinara
Chicken Cacciatore – Peppers, onions, wild mushrooms, white wine, marinara
"I've been here multiple times. On the right there is a pizza section with a solid selection of take out & slice pizza. Dinner on the left is fantastic. The space is beautiful. Most recently I had a Negroni and a limoncello cocktail that were both excellent. My wife enjoyed her wine.

We had an antipasto platter that was massive for two but very good and fairly priced. My veal Milanese was gigantic and delicious. It was on a bed of arugula that I loved. My wife had a bucatini limone with burrata. It was perfectly cooked and excellent.

I am normally cautious when I see portion sizes this large because sometimes the food suffers but that is not the case here at all. Everything was excellent and we will be back. The prices are fair, especially considering the portion size."

– Brian
Location: 450 Park Ave, Scotch Plains
Menu: Darby Road Public House and Restaurant
Contact Info: Order Online
Rating:
Price Rating: –
Cuisine: American/Irish Pub
Darby's offers a suite of great menu options alongside a selection of prime tap beer. Check out our recommended choices below to leave your taste buds wildly satisfied.
Bang Bang Cauliflower – Fried cauliflower florets topped with a spicy bang bang sauce and rainbow microgreens
Habenero Shrimp Tacos – Habanero shrimp, shredded lettuce, pico gallo, queso fresco, and red cabbage
Smokey Cilantro Mezcal Margarita – Casamigos Mezcal, Cointreau, lemon, lime, pineapple juice, and simple syrup with a tajin rim
"Always a great experience! Awesome food, good atmosphere and great service. The beer menu is pretty good too, sports on TV, nice inside, and outdoor seating as well. Burgers are always good, our favorite is the pretzel bites too. Last time I tried the chicken and waffles and it was amazing. Can't go wrong here."

– Jeff Nelson
Location: 366 Park Ave, Scotch Plains
Menu: Stage House Tavern
Contact Info: 908-322-4224
Rating:
Price Rating: –
Cuisine: American
Admittedly, Stage House Tavern has had an increased amount of negative reviews in 2022. However, it's still a well-known restaurant with a history of impressing its guests.
House-made Spinach and Mushroom Ravioli
House-made Vodka Penne – housemade vodka sauce and housemade pasta, peas, roasted red peppers, optional chicken or grilled shrimp
Chicken and Waffles
Location: 1928 US-22, Scotch Plains
Menu: Scotchwood Diner
Contact Info: Order Online
Rating:
Price Rating:
Cuisine: Diner Food
With a giant 12-page menu full of breakfast, lunch, and dinner options, it will be hard not to find something that looks good. Although it has mixed reviews, it offers a classic diner experience.
MONTE CRISTO – Thick Sliced French Toast with Sliced Turkey, Ham & Melted Swiss Cheese, served with French Fries
THE FLORENTINE EGGS BENEDICT – With Canadian Bacon & Spinach
Great Restaurants Within 5 Minutes of Scotch Plains
Upscale Dining
Location: 10 Prospect St, Westfield, NJ 07090, USA
Menu: Chez Catherine
Contact Info: Reservations
Rating:
Price Rating:
Cuisine: French
Chez Catherine proudly offers Scotch Plains and Westfield an excellent fine dining experience featuring classic french cuisine.
Magret de Canard aux Pêches – Pan Seared Duck Breast, Ginger Stone Fruit Sauce, Parsnip Purée
Steak Tartare – Diced Raw Beef, Shallot, Garlic, Parsley, Tabasco, Worcestershire Sauce, Olive Oil, Mayonnaise, Croûtons
Carré d'Agneau aux Myrtilles – Roasted Rack of Lamb, Blueberry Rosemary Demi, Fingerlings Potatoes
Rouget Sauté – Sauteed Red Snapper, Sweet Pea Purée, Lemon Herbs Couscous
"Dinner is either a 3 or 4 course prix fixe menu. We chose the 3-course option. We began with the mussels in a tomato broth and the melon with jambon, a French ham. Both were delicious.

We chose the same entree, a duck breast in an apricot rosemary gastrique. The duck was juicy, cooked perfectly in what was one of the best sauces for duck that I have ever had.

For dessert, we selected the chocolate mousse and a blueberry souffle. These were excellent. The mousse was again one of the best I have eaten."

– Aruba Phil
Great Asian Restaurants
Location: 46 S Martine Ave, Fanwood
Menu: Tasty Thai
Contact Info: 908-288-7063
Rating:
Price Rating: –
Cuisine: Thai
With excellent plating and an exciting menu, Tasty Thai is one of the best Asian restaurants near Scotch Plains.
Mango Duck – Crispy roasted Duck topped with baby potatoes, baby carrot, string bean and broccoli with chef-special mango sauce
Tilapia in Love – Stir fry crispy Tilapia fish with bell pepper, carrot, onion, string bean, Thai basil, eggplant with Thai chili shrimp paste sauce
"Finally found a real authentic Thai food restaurant with Thai chefs. Food here has more flavor than other Thai restaurants. Tom yum soup is very authentic, it's sour but delightful and I can taste the lemongrass and other herbs that match nicely together. I love the Chicken satay also, very delicious. Recommend!"

– Nick K
Location: Westfield, New Jersey 07090, USA
Menu: Roosterspin
Contact Info: 908-233-7333 / Online Delivery
Rating:
Price Rating: –
Cuisine: Korean, Asian Fusion
A trendy and stylish interior provides the perfect backdrop for inventive and well-crafted Korean and Asian fusion dishes. Everybody loves the twice-fried chicken wings. Roosterspin also provides Scotch Plain residents with a karaoke bar in addition to the restaurant.
RFC Twice-Fried Chicken Wings – Fried twice in soybean oil to dissipate the fat leaving a light super crispy crust and a juicy meat/ choice soy garlic, spicy, half and half. Mix of wings, drumettes, and drumsticks. Available wings only, drum only, chicken tender platter.
Kraze Burger – Beef patty, bulgogi cheesesteak (beef, onion, hot cherry pepper), American cheese, lettuce, tomato, jalapeno mayo, sesame bun, pickle fries.
Mochi Ice Cream – Ice cream inside sweet rice cake
"Roosterspin is known for their famous triple-fried chicken wings, and they are definitely really good, but also really expensive. It is a Korean fusion restaurant. I love their seafood udon, garlic fried rice, kimchi fries, and several other menu items."

– Bill F
Great Italian Restaurants
Location: 1100 S Ave W, Westfield, NJ 07090, United States
Menu: Gennaro's Pizzeria & Restaurant
Contact Info: 908-654-7472

Rating:
Price Rating: –
Cuisine: Italian
Another institution of the area, Gennaro's has been serving the people of Scotch Plains and Westfield for over 20 years. Diehard fans of NY-style pizzerias rave about the menu, saying it compares to the best pizza in New York.
Guests are allowed to bring their own alcoholic drinks inside the restaurant.
Grandma Pizza – Fresh Mozzarella Cheese, Fresh Plum Tomato Sauce with Garlic, Oregano, Salt/Pepper, Oil, & Basil
Eggplant Rollatini – Stuffed with Ricotta & Mozzarella Cheese topped with Melted Cheese
Mussels Alla Marinara – Hot or Sweet Over Choice of Pasta
"Always delicious. Friendly staff We order take out at least 2x/month and are never disappointed. Food is consistent; ingredients are fresh. One of the best crusts and sauces around. My kids are addicted to the garlic bread with cheese. Recently tried the Grandma Pie and it was very good."

– Jennifer Andreottola
Top Mexican Restaurant
Location: 1442 South Ave, Plainfield, NJ 07062, USA
Menu: Freppe's Tex Mex
Contact Info: 908-791-3773

Rating:
Price Rating:
Cuisine: Tex Mex
It's always Taco Tuesday at Freppe's Tex Mex, perhaps the best Mexican restaurant in Scotch Plains, New Jersey. Of special note are the mouthwatering fajitas. Yes. Please.
Frappe's House Fajitas – Chicken, jumbo shrimp, flank steak, pork carnitas, chipotle shrimp with pineapples, shrimp and steak, or meatless (extra vegetables) served with onions, peppers, broccoli, carrots, and zucchini.
Molcajete (For 2) – Fajitas in a large rock lava bowl with chicken, shrimp, steak, pork, fresh cheese, and vegetables. Served with warm tortillas and all the fixings.
"Freppes is our new go-to Mexican place. The staff is super attentive too. We felt like we had 5 different waiters/waitresses. The food came out relatively quickly and everything tasted amazing. It's so hard to find a truly great Mexican place but here it is!"

– Issac Brownstein
Top Restaurants Within 15 Minutes of Scotch Plains
Location: 1266 Springfield Ave, New Providence, NJ 07974, USA
Menu: The Bagel Chateau
Contact Info: Order on DoorDash

Rating:
Price Rating:
Cuisine: American
From an on-the-go New York-style bagel to large-scale catering, The Bagel Chateau has many well-loved options for Scotch Plains residents.
NY-style bagels
Gourmet salads
Breakfast sandwiches
Omelets
Deli sandwiches
Classic diner meals
Burgers
Seafood
Soup, salad, and subs
Wraps
Desserts
Location: 1266 Springfield Ave, New Providence, NJ 07974, USA
Menu: Avenue Deli
Contact Info: 908-464-6766

Rating:
Price Rating:
Cuisine: American
An absolute institution of New Providence, the Avenue Deli has been delighting customers for six decades. Order their catering options over the phone.
Heart Attack Special – Taylor Ham, Bacon, Egg & Cheese with Lettuce, Tomato, Mayo & Ketchup on a Toasted Sub Roll
Signature Sloppy Joes – Regular Joe (Ham), Turkey Joe, Roast Beef Joe, Corned Beef Joe, Tuna Joe, Cheese Joe (*Choice of meat, Swiss cheese, joeslaw, & Russian dressing on rye bread*)
Ham, Salami & Provolone Sub
Upscale Dining
15. Water & Wine
Location: 141 Stirling Road | Watchung, NJ 07069
Menu: Water & Wine
Contact Info: Reservations

Rating:
Price Rating:
Cuisine: American/Italian
Water & Wine is a restaurant and tavern offering fine American cuisine infused with Italian influences. The elegant plating and lush outdoor dining area are of special note.
Dover Sole Meuniere – Sautéed, lemon, white wine, butter, grilled asparagus
Osso Buco – Braised veal shank, risotto, roasted vegetable jus
Veal Chop Parmigiana – Pounded & breaded, marinara sauce, mozzarella
Roasted Gnocchi di Stagionale (Vegan) – Romanesco cauliflower, yellow zucchini, white asparagus, red bell peppers, broccoli rabe, English pea puree, roasted garlic
Great Asian Restaurants
Location: 130 US-22, Springfield, NJ 07081, USA
Menu: Cathay 22
Contact Info: 973-467-8688

Rating:
Price Rating: –
Cuisine: Chinese
Admittedly, Scotch Plains itself tends to lack spectacular Chinese food. However, Cathay 22 will certainly do the trick if you've got a hankering for a great Chinese restaurant with a unique menu from the standard Chinese takeout options. They offer reservations on the weekends and takeout always.
Sea Dragon in Spicy Sauce – A whole freshly-fried fish in a hot, pungent sauce, tipped with shredded scallions
Heavenly Chicken – Chicken breast shaped into a tender blossom and served with snow peas in a slightly spicy sauce
Peking Duck with Beijing Pancakes – Crispy, cracking duck skin and meat with hoisin sauce and scallion wands wrapped in pancakes
Location: 38 Elm St, Westfield, NJ 07090, USA
Menu: Ferraro's
Contact Info: Reservations

Rating:
Price Rating: –
Cuisine: Italian
Another restaurant in Scotch Plains that has served as a culinary institution, Ferraro's has been serving great Italian cuisine since 1969. They also provide catering and events. At the time of this writing (October 2022), online orders come with free delivery.
Port Poached Pears Salad – Organic baby arugula, shaved fennel, applewood smoked bacon, sun-dried cranberries, goat cheese, roasted fig vinaigrette
Stuffed Gnocchi – Truffle mushroom duxelles with filet mignon tips, cherry tomatoes, asparagus, madiera with a touch of mascarpone
Salmon Napolitano – Baked north Atlantic salmon topped with diced roma plum tomatoes, basil served with roasted garlic chardonnay balsamic glaze over saffron risotto
FAQs – Scotch Plains, NJ Restaurants