Have you fallen in love with Garwood yet? In case you haven't visited in a while – the number of small businesses opening in this quaint town is rapidly growing! Many of these are women-owned like my latest discovery– Love Valentine Boutique (pronounced "Valen-teen") opened by local entrepreneur, Joeanne Valentine Farrell. The motto for her new boutique is "Be Different. Be Passionate. Be Love Valentine". Located at 60 North Avenue – this store offers a "unique collection of woman's apparel, accessories, jewelry, all natural candles and bath and body products". However, after spending the morning with Joeanne the other day and seeing all the products on display – I think even the guys would have a heyday in here!
Meet Joeanne Valentine Farrell
I immediately fell in love with Joeanne – her spunky, upbeat personality made me swoon over her new shop and everything in it! She is Brooklyn born and raised and her background is in retail logistics. For over 16 years she was in charge of retail transportation, warehousing, and distribution for major designer brands such as Neiman Marcus, Saks Fifth Avenue, and H&M. "Trucking and warehousing is the backbone to every single industry!" commented Joeanne. She was all over California- opening up warehouses and was THE person that brought everything in from containers overseas. Joeanne left her career and California in 2008 and wanted to be on her own for a while. She eventually moved back to the NYC area and then a friend turned her on to our area of New Jersey and she fell in love with Garwood!
Joeanne has now been in Garwood for six years! She commented – "I love the small, quaint feel of the town – it's a great small community. It's compact and everyone knows each other. You KNOW your local business owners. It's also surrounded by two great towns – everything is right here for you to shop and eat!" Joeanne also loves the new apartments going up on the train line across the street with local trains going right to the city – it's a revitalization of Garwood!
Building Love Valentine Boutique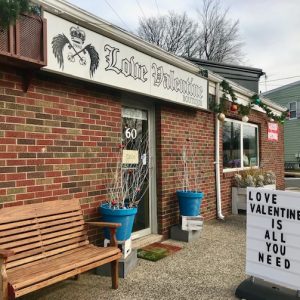 Two years ago, she went into business with the Love Valentine Boutique brand. She started out as an online boutique only – wanting to get her name out there and build the brand. She did pop-up shops in New York and New Jersey. She noted that people still craved feeling the textiles, smelling the candles, and holding the jewelry – there was a need to open a shop! Last summer, Joeanne had a boutique for three months on Ocean Avenue at Point Pleasant Beach and it was huge success! She knew she needed a permanent brick and mortar spot to build a local client base for her boutique. She discovered the old mechanic's shop at 60 North Avenue and the office space was perfect. She opened the doors to Love Valentine Boutique in October 2018 and had her Grand Opening on Black Friday.
As you walk through the doors of her posh and airy boutique – you feel like a kid in a candy store! There are so many things the eye is drawn to – handbags, jewelry, candles! "I wanted to bring something new to this area," exclaimed Joeanne. "My motto is "Look Different, Be Different". I noticed that all the stores sell the same things – candles, jewelry and clothing brands. Why not stand out from everyone? I carry such fun candle lines – funny ones, sarcastic ones. I spend a lot of time going to the shows – picking out individual pieces and brands to sell in the store. All these different pieces are from all over the United States. I try to incorporate small, women-owned businesses. Most brands I have met though pop-ups over the last couple years. We all try to help each other out. Everything you see in this store ties into a certain look and vibe -the "New York/California" vibe"!"
Joeanne did very well at her Grand Opening with her candles and jewelry. Everything she sells in the store that is bath and body is all natural and organic. They are so witty and sarcastic – nobody is carrying these lines! I left the store with a handful of gifts for me and my friends! I could go on and on about every amazing item in her store – but I will leave that for you to discover on your own. This is my take away from the entire interview that I think EVERYONE needs to know about…
The Love Valentine Boutique Candle Recycle Program!
Joeanne pours her own candles, too! Love Valentine Boutique candles are ½ soy and ½ coconut oil (no smell at all from the coconut) and she uses a natural, wood crackling wick. You can bring your candle jar from home -from wherever you bought or from her store. She will refill it with the soy/coconut wax, wood wick, and whatever scent you want! You can pick it up in 3 days! You are recycling and reusing your candle jar! You can also bring in your thick mugs and jars and get a new candle! Joeanne has seasonal scents that rotate throughout the year– it's new candles in your favorite vessel -forever! No one is doing this!
It's all about small businesses supporting each other…
I can truly sense there is a movement in our area and small businesses are thriving because we all support each other. What a perfect boutique for sip and shop events, small business gatherings, meetings…the possibilities are limitless for helping each other out! Joeanne commented – "It's hard owning a small business. I'm learning as I go – it's completely different than retail logistics. I taught myself how to go to showrooms, do purchase orders, buy different brands, and build trust within the designer community. It's all very humbling!"
Make sure you find your special something at Love Valentine Boutique – and just in time for Valentine's Day! Her website is https://love-valentine.com/. You can follow her at social media at Love Valentine FB and Love Valentine Shop IG!
Can't wait to see what unique items you found at Love Valentine! What a great time to living, loving…local and supporting our women in small business!