We All Scream for Scream Truck! Your Neighborhood On-Demand Ice Cream Truck Coming Soon!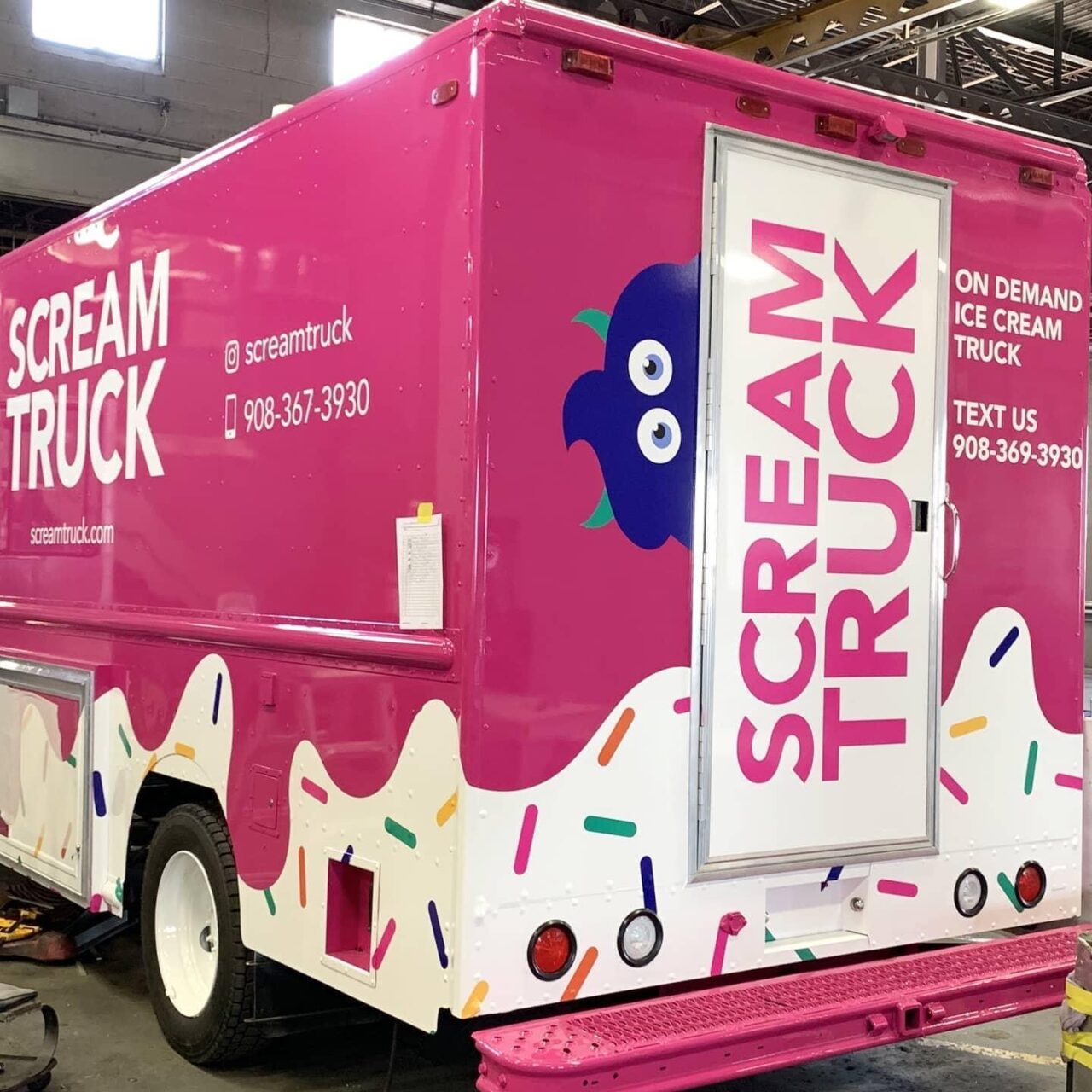 I know your kids love to hear the ice cream truck as it turns the corner – hoping that their block will be the next stop. Children literally scream with excitement at just the thought that a cold, creamy treat could be in their hands within moments. Kids even go as far as hopping on their bikes to track down the ice cream truck if it goes the opposite direction!
Now imagine for a moment that delicious, soft-serve ice cream can arrive at your home with the touch of a button. That you, the parent, can actually control when the truck arrives at your home! Thanks to the new Scream Truck, on-demand ice cream service is on its way to Westfield neighborhoods and hopefully to nearby towns in the near future! I met with the mastermind behind this amazing concept, Eric Murphy, former CEO and founder of Pop2Life and Concierge.com – a leading experiential marketing agency and an event technology platform powerhouse.
How lucky are we to be the recipients of his new passion: a modern, on-demand ice cream truck that will soon be turning heads in a neighborhood near you!
Tell me a little bit about yourself, what town you grew up in, and where you are living now…
I was born in New Mexico and lived most of my childhood on the West Coast. Eventually, I entered radio at a young age and was a DJ and programmer for ten years where I moved all over the country. After moving to the New York/New Jersey area in 1996 I took a job with RCA Records. I lived in Montclair, NJ and invested eight years with the company. With a focus on experiential marketing and large-scale events and, following my tenure at RCA, I launched my experiential COMPANY called Pop2Life.
Our focus was in the media and pop culture space (a lot of our initial clients were major cable networks and movie studios including Disney, MTV, Showtime, Comedy Central, Warner Bros, HGTV, and iHeart Media). A few years in, we began planning events where the company would be flying contest winners, executives, VPs, and talent to an event. I ended up starting a sub-brand of Pop2Life, an event technology platform, that managed the travel and guest experience/itineraries for high profile events. This became the platform we used to manage all of our high-profile events.
Eventually, both of those companies were sold to Conde Nast in 2017. I stayed with Condé Nast for three years to enhance their experiential marketing efforts, working with iconic brands including Vogue, Vanity Fair, The New Yorker, GQ, Bon Appetit, and WIRED. It was very exciting and really cool to work with brands of that caliber.
Tell me about how the idea came about to reinvent the iconic ice cream truck…
After leaving my Condé Nast when my contract ended, I decided to try my own thing. I had this idea brewing in my head for a while and then started working on it at the beginning of 2020. Becuase I have lifelong love of ice cream, I've always wanted to share that love with the community in some way.
Additionally, I have always loved technology. I'm always thinking about how to integrate technology to improve business models. We all have a local ice cream truck that comes around, but you never really know when they're going to be in your neighborhood. People in our town used to text the ice cream truck guy to request he stop by their house. It was just a funny, disorganized process where he would drive across town to visit random people's houses as they texted him.
Modernization was the key to success…
Ice cream trucks are a very iconic part of pop culture, but it's never been modernized. It's been the same way for the last 60+ years. So, I just thought, "Wow, wouldn't it be cool if there was some way that, instead of an ice cream truck playing corny ice cream music over a crackling speaker, people could be notified that the truck is coming to their neighborhood?"
I started thinking about how people were always texting our ice cream man and just had that "epiphany". The signal for an ice cream truck coming to your neighborhood could be your phone – and not necessarily somebody playing music driving by. So, I immediately started working on a software platform to manage the communication. It's pretty complex on the back end, but simple for the consumer.
How does this model work?
People simply sign up on our website to be added to the Scream Truck route. Our software divides towns into different, smaller neighborhoods. In Westfield, I think we've divided it currently into eight different neighborhoods (but this will grow based on the response). We will text each customer anytime we're coming to their neighborhood (for instance, "Today between 3 and 4PM!").
Customers simply reply with "Y" (for yes!), and their address is dynamically added to our routing software. As people continue to say "yes", the platform creates the most efficient route within those addresses. The business model is dependent on serving as many houses as possible within each hour.
What made you choose Westfield, NJ as the initial town for this venture?
Good question, actually live in Basking Ridge, NJ. I lived in Summit before living here. The original plan was to start it in my own town, but ironically, they don't allow soft serve ice cream trucks! So, I thought it would be easier to start somewhere else and then come back to my town and say, "here's how it's worked, here's the response we've gotten" and obviously give them a reason to change the ordinance.
I chose Westfield, NJ because I just love the town. I think it's a really great family-first community with a vibrant downtown area. It just has a persona that I thought would be great for this type of service.
I also have a really good friend (former employee at Pop2Life) that lives in Westfield, NJ, and I knew she'd help get the word out. She was able to post about Scream Truck in the Westfield Moms Facebook group (Thank you, Moms!). I knew it would be really important to get parents and families excited about it.
Did your idea for the Scream Truck happen prior to the pandemic hitting the area?
It did. It's a crazy time, you know. Everyone is craving something fun and happy. Before COVID even came up, my goal was to create something really fresh, clean and modern. Our "squeaky clean service", we call it, was always part of the initial idea.
Other than the previously mentioned details, tell me more about what makes Scream Truck different from other ice cream trucks…
I think that the biggest difference is the personalization of the experience. Obviously, there's a novelty to how we're getting the truck to your house and a technology behind that. But beyond that, we have two 4K LED monitors that flank each side of the service window, which can be dynamically customized for events. We can program the screens in advance to display text, graphics, video, etc. such as "Happy Birthday (insert name)" at a specific time. The screen changes automatically at the start of the event.
Scream Truck Personalized LED Screens…
In the future, our goal is to personalize a menu for each house that we visit! The screen might say something like, "Hi, Murphy Family! We're Excited to See You Today!" Perhaps they see the last thing that they ordered or it displays a customized menu for that particular family. We really want to make it feel very personal and make every family feel extra special. Our goal is the highest level of customer service!
Scream Truck Doubles as a DJ…
We're not going to be playing a jingle driving around right like the old school ice cream trucks, but we do have a really good sound system on the outside of the truck. For special events, we can "double" as a DJ and an ice cream truck. We'll be able to play a custom playlist at special events and, depending on local ordinances, we would also like to play music while we do our neighborhood routes.
While we're on the topic of special events, I noticed you offer levels of services. What would these look like?
(See Scream Truck: Events for full info). The "Scream Social and "Scream Soirée" you can book in real-time. You don't have to actually call anyone. Simply go to the Scream Truck website, select your date and time, and book it! The smallest event is 20 people for 30 minutes at $199. That includes one item for every person, DJ music, and customized LED screens. The next level is a full hour event for $349. This event includes up to 40 people, a full menu of Scream Truck treats, custom-branded LED screens, and music.
Our "Special Event Scream Special" starts at $1000. This is going to be for whatever amount of people you have… if you want us there for one hour or five hours… basically something that will be custom for each party. We may even offer Scream Truck t-shirts that can be customized for events – like with a company logo or a special birthday slogan!
A Secret Toy Dispenser?!!
Yes! We have a super cute and surprising addition to the truck – a secret toy dispenser! There's a little latch door on the side of the truck and underneath the service window. We drop fun toys into it, and a child can open it. It's a small detail that makes people really happy.
The special events are within a certain radius of the Mountainside/Westfield area, correct?
Yes. The "Scream Social" is within a 5-mile radius and the "Scream Soirée" is within 10 miles. This helps us still maintain our route and "hop off" to do a quick event. We chose Mountainside because it seemed quite central to each of the towns we were servicing with our first truck.
The soft serve ice cream that you have on board looks delicious! What's on that menu?!
We are getting our soft serve ice cream mix from a creamery in Upstate New York called Upstate Farms. We want to give customers nothing but premium ingredients. Our soft serve will consist of vanilla, chocolate, and twist. Some creations will be somewhat traditional like Reese's Peanut Butter Cups, Oreos and Butterfinger, while others will be unique or "limited edition." We also want to partner with local bakeries for, let's say, a special cookie crumble or brownie sundae.
(The reveal of the menu came out recently and let's just say I want to order EVERYTHING! Take "the pink" for example…vanilla soft cream, pink vanilla waffle cone, round rainbow sprinkles, frosted animal crackers, glitter dust)
I hear the sprinkles are epic…
These sprinkles are really good. I found this company called Fancy Sprinkles in L.A. (side note: it is owned by Jack Osbourne's ex-wife, Lisa Stelly). The company mostly targets bakers, so I think using them on an ice cream truck may be a first! They have probably 50 different colorful combinations. We narrowed the selection down to six to eight that we thought would be great and offer a good variety. We will likely be rotating seasonal sprinkles in and doing some other fun creations around the holidays. Oh, and wait until the little girls see our edible glitter!
Scream Truck Offers Not Just Any Cone…
We have GOURMET waffle cones from The Konery in Brooklyn. The flavors on the menu right now are Pink Vanilla, Dark Chocolate, Orange, and Birthday Cake.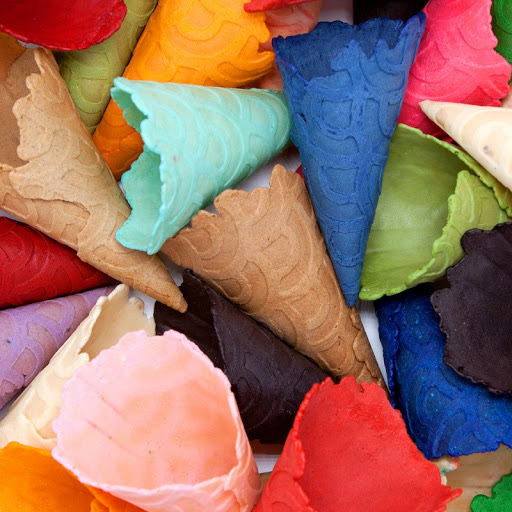 Hard-Shell Cone Dunks
We'll have a few different dip warmers to create the classic, hard shell topping. To start, we will be featuring three different flavors: chocolate, cherry, and cotton candy. Again, we will rotate seasonal flavors in there as well.
A live-in taste tester!
My daughter has been my taste tester. She's eight and has been requesting a different Scream creation every night. She loves the edible glitter. I think it's going to be very popular! She's looking forward to the Scream Truck hitting the road and can't wait to work with me on the truck!
That pink truck, though…
The truck just arrived from APEX Specialty Vehicles out of Missouri (COVID caused a delay in the manufacturing, detailing, and arrival of the truck to NJ). I really liked this company because they had a real attention to detail and making sure that things were exactly the way that I envisioned them. It's hot pink with sprinkles on the bottom…that's a little bit of the homage to the past. I think sprinkles are a classic piece of ice cream culture. Representing that nostalgia somewhere on the truck was important to me.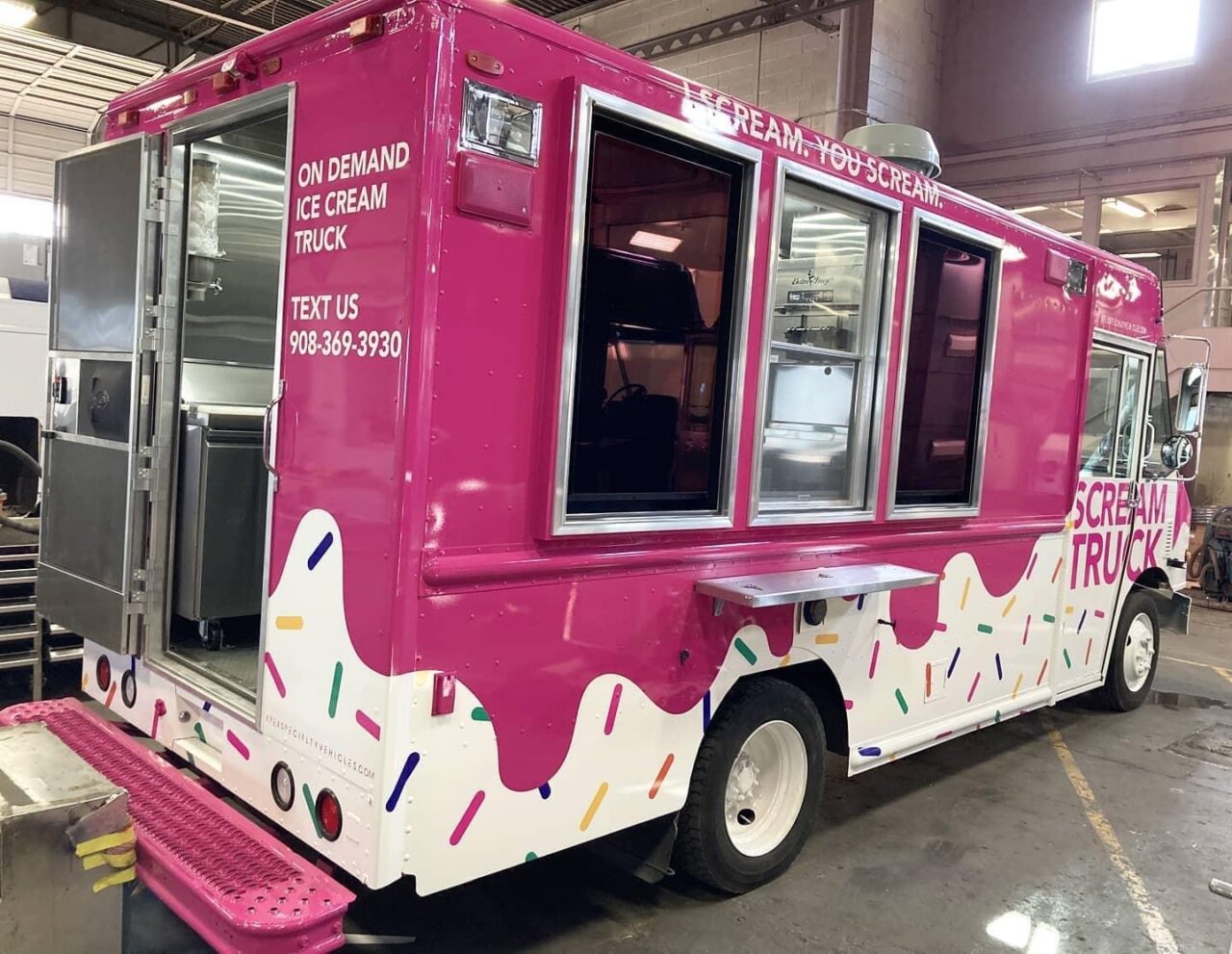 A special nut-free prep space inside and safety first!
Inside the Scream Truck we have an Electro Freeze soft serve machine, which is the absolute best state-of-the-art soft serve machine you can buy. In addition to that, there are two different prep areas on the truck. We are going to designate one of those prep areas as nut-free. In addition to the squeaky-clean service, all staff on our truck will be certified as food handlers.
They'll be required to take a course and pass an exam in order to understand and adhere to health and safety regulations. We're doing our best to create a safe product for anyone with food allergies. I've spoken to parents who have children with food allergies and sent some of them the plans for the truck. We've received super positive feedback on the nut-free layout.
Squeaky Clean and Contact-Free
The Scream Truck has a triple sink so that we can wash, rinse, and sanitize anything that we're using utensil-wise. We also have a separate hand washing sink. Our employees will be required to wash their hands every 30 minutes and we'll use single-use gloves at every stop. All of the ingredients are going to flow straight from the packaging into our prep stations and holders. We're doing everything we can to make it as contact-free as possible with all of the products. Each of the standard cones are pre-wrapped as well.
What you need to do RIGHT NOW if you are a Westfield, NJ resident
EVERYTYHING you need to know to get the Scream Truck at your house is right here in this video… CLICK HERE: https://www.screamtruck.com/#video
There's hope for everyone else too! (last words from CEO and founder Eric Murphy)
Scream Truck will be expanding quickly – that has been the goal from the beginning. I didn't put all of this work in just to have one truck. I did this to create a new ice cream experience and a new brand that can expand across the country.
Westfield, we need your help!
So, in order for other NJ towns to get this amazing, pink Scream Truck – we need the demand to be huge! Start by getting your house on the grid and hopefully other neighboring streets will follow! We can't wait!
In the meantime –
Just because you don't live in Westfield, doesn't mean you can't experience the Scream Truck! You can book small-large gatherings NOW by heading to the website at https://www.screamtruck.com/#events and SPREAD THE WORD!
WE ALL SCREAM FOR SCREAM TRUCK!