Do me a favor right now. Dim the lights in the main room of your house, place some candles around, and then light them! Do you instantly feel more relaxed, cozy, and calm?
Hygge and candles go hand in hand. You can't have one without the other! If you ask any Dane, they will tell you that candles are the ultimate addition to any room in your home. Meik Wiking, author of "The Little Book of Hygge", says that "there is no faster way to get hygge than to light a few candles!" Danes burn a whopping 13 pounds of candle wax a year per capita according to Wiking—more than any other country in the world! They reportedly burn a candle almost every day during autumn and winter and multiple times a day during December! The Danes continue to hygge throughout the summer and light candles indoors and outdoors in the warmer months!
The Danes are also very preoccupied with their lighting! Hyggelig lighting is just as important as candles in the home. Wiking states that "the lower the temperature of the light, the more hygge – sunsets, wood, and candle flames – that's your hygge sweet spot"! To create "Hyggelig Lighting", Wiking feels that those large, overhead lights must be turned off. They are too bright and glaring! Use those smaller lamps on your tables and keep them on the lowest setting. Then light some candles or use those amazing LED candles that move and look like the real thing without the concern of leaving a candle unattended! Wiking says the idea is to "create small caves of light around the room".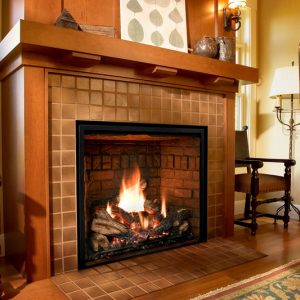 Creating the sense of hygge is also easier if you have a fireplace with a mantle! It definitely gives you a "hygge advantage" in your home! The Danes reported in "The Little Book of Hygge" that a fireplace is "the most hyggelig piece of applied art ever made"! Just like your kitchen is the heart of the home where everyone comes together– family and friends also like to spend time cozied up next to the fire. Whether you are watching television, playing board games, or just enjoying each other's company – the warmth and glow from the fireplace evokes a feeling of comfort and togetherness. Don't save the fireplace for special occasions – light it every night if you can!
I've scoured the shops in our area and found my favorite candles to add some crackle, glow, and amazing scents into your home!
Augusta Mae, Cranford:
Frost Candles: Any one of their current candles in the store seem perfect for this time of year! Try Balsam Fir, Pine & Thyme, Juniper Leaf, or Spices & Evergreen
Periwinkles Fine Gifts, Cranford:
RAZ Push Flame LED Candle: A soothing glow that is safe to be on all day! Simply blow on the flame and it goes out!
Thymes Frasier Fir: Many famous hygge blogs report this is the ultimate hygge candle to purchase. The smell is reminiscent of bringing the winter outdoors, inside!
WoodWick: Hear crackling sounds like a fire every time you light these amazing candles!
Anthem, Cranford:
Balsam + Feather: Even the packaging looks super hygge – highly recommend the Blue Moss!
Paddywax Relish Jar Collection: Fun colors and scents to bring into the home – Lavender + Thyme is to die for!
Paddywax White Woods Hand-Poured Soy Candles: They all come in adorable enamel tumblers and the Evergreen + Embers smells like a fresh walk through the woods!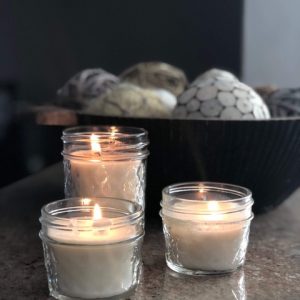 Bella Organici, Westfield location:
Organic soy wax candles are hand-poured by Melissa every week at the Skin Bar! My favorites are Winter Woods and Tranquility! If you want immediate zen, order online at http://skinbarbellaorganici@gmail.com
Blue Jasmine, Westfield:
Himalayan Handmade Candles: Not only are they gorgeous to display in their copper tin and leather vessels, but their scents last forever! I'm crushing on the Tobacco Bark!
Rewined: A sweet family company out of Charleston, SC – these candles come in recycled wine bottles and their scents named after your favorite wines will make you want to pour yourself a glass!
The Farmhouse Store, Westfield:
Archipelago Winter Frost Collection: Beautiful containers adorned with silver and snowflakes – this scent will make you enjoy winter all over again!
Milkhouse Creamery Candles: Adorably packaged in little milk bottles – these candles are completely natural in every way and will clean the air in your home as they burn!
KOBO: Pure soy candles that are hand-poured in New York using 100% USA pure soy wax – they have stunning labels and the name of each candle will make you want to buy the whole lot! I'd start with the Opal Basil!
Thymes: Again, the Frasier Fir is the hottest "hygge scent" and this store also carries this candle poured into beautiful, white ceramic containers with etched trees and bark! Perfect for your hygge decoration!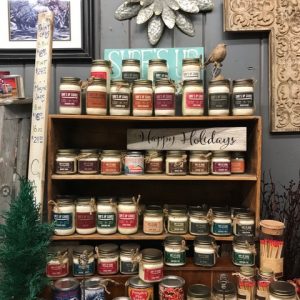 The Flower Shop, Westfield:
Surf's Up Candle: Amazing soy candles out of Belmar, NJ – this fabulous shop carries the entire collection for warm glow enjoyment all year! Right now, I'd try the Spiced Balsam, Blue Spruce, or Evergreen Forest!
If you like LED candles – I'm obsessed with a new company called LightLi (http://lightlicandles.com/) and it's the "next generation of flameless LED candles". Not only are they beautiful, hand-crafted, and their jarred candles are from hand-poured wax – there is an app and a remote to make sure you get the most out of your LED experience!
As you can see, you don't need a ton of time or money to make a lasting difference in your home! At dusk, simply light some candles when sitting down together, playing board games, making dinner, or even watching television! The warm glow that comes from the candle is very hygge and the immediate feeling of comfort and togetherness will make everyone feel…home.