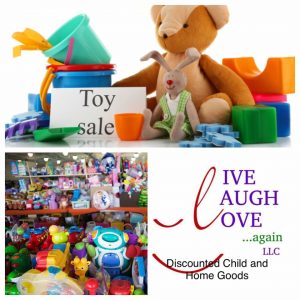 It's that time of year again and boy do we need some good, heartfelt stories! Everyone is craving a little positivity and I'm here to highlight a local mother who is selfless, devoted, and determined to make an impact! Meet Kacie Peluso – wife, mother of two beautiful toddlers, and a house full of rescued greyhounds! She started a local business out of her home a few years ago called Live, Laugh, Love Again. LLC! This is a mom with a mission of getting your toys out of your house, into the home of a mother in need, and then a portion goes to a charity!
Live, Laugh, Love Again
Live, Laugh, Love -Again was aptly named because, as Kacie explained, "We are giving new "life" (and thus "love and "laughter") to toys "again". We are consigning toys and baby gear that other children have grown out of and at the same time saving lives through donations from the proceeds! This is more than a hobby for me – it just brings such good karma!"
Kacie started this organization while living in Hillsborough, NJ a few years ago. She was shopping for her son's first Christmas and saw how much money could be spend at the toy stores on new items! Simultaneously, she noted that her mommy friends were going through closets and basements and just getting rid of brand-new toys/gently used toys! Their piles were overwhelming! She had the brilliant idea that she could consign these new toys and help mothers on both sides – the seller and the buyer!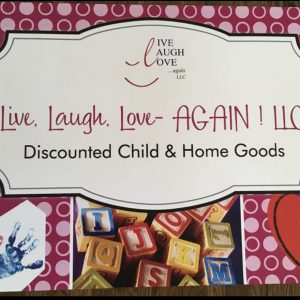 The concept of Live, Laugh, Love- Again is "so simple and it just works!" – according to Kacie. Let's say you have a nice baby crib – you reach out to Kacie. She will sell for a drastically reduced price to a mother in need of that item. The seller receives 50% of the sale. Kacie keeps enough to cover her costs. Then the rest is donated quarterly to either St. Jude Children's Research Hospital or Greyhound Friends of New Jersey. Once a month the consignor receives their check! "It's a win for everyone", exclaimed Kacie!
So why did she choose these two organizations? "I did very careful research for the children's organization and ultimately chose St. Jude because they are extremely transparent and 100% of proceeds go back to the children. The Greyhound Friends of New Jersey is a personal organization for my family. We rescue racing greyhounds, when at the age of 2 or 3 years, they get euthanized because they slow down. We love these dogs – they are so gentle and don't bark!"
Make room before the holidays
Are you in the same situation as so many parents this time of year? Do you have a ton of toys and need to make a little room before the holidays? Kacie gets all of her merchandise from local moms like you! She also stocks up on new toys as they go on sale the year before! Reach out to Kacie through her Facebook page at Live, Laugh, Love – Again. Send her a message and she will coordinate a time to meet you at your home or you can drop items off locally. She is currently accepting the following:
Wooden toys
Puzzles
Toys in good condition, working with batteries
Baby gear
Home goods such as small kitchen appliances
Decorative items for the home
NO stuffed animals
NO items from a smoking home
Are you interested in seeing what Kacie has to sell as discounted prices? Hey, we all can use a break on the price of gifts during the holidays! Also keep in mind friends or community members who could use a little help with their children! Again, follow Live, Laugh, Love – Again on Facebook! You can 1) Scroll down the page to check for her latest Amazon sales or 2) Browse her categorized "Photo Albums" for local pick-up consignment items! She tries to keep up-to-date on all pictures, making sure everything is current. Simply "comment" if you want an item, Kacie will message you back, and then you can arrange a porch pick up!
Kacie also wanted to share an event coming up in Westfield that is near and dear to her heart! She invites everyone to the Westfield Armory at 500 Rahway Avenue on Saturday, November 10 and Sunday, November 11 from 10am-4pm. The Greyhound Friends of New Jersey is hosting their 22nd Annual Pet Expo and Craft Show. Bring the whole family and enjoy a Basket Raffle and 50/50, bakery goods, café with yummy food, Santa photos for people and pets, and tons of local vendors with holiday gifts for everyone – including pets! There will also be adoptable greyhounds for pre-approved applicants! Kacie will be at this event with a ton of new and discounted children's toys!
Thank you, Kacie for reaching out to me about your lovely, charitable organization. It really is so simple and easy and just makes sense! We all know someone, including ourselves, who could give back or benefit from Live, Laugh, Love- Again! When preparing for the holidays, please think about Kacie and help out her cause! It's makes everybody happy in the end!