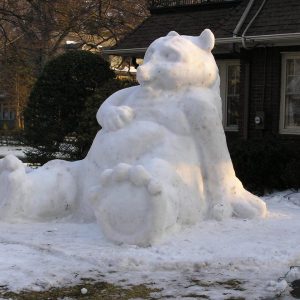 Ask any Cranford resident what one of the greatest perks of winter in Cranford is, and you're bound to get the same answer . . . . the snow sculptures. Thanks to the Schott family, their Springfield Avenue home (not far from the intersection of West Side Avenue), has become a must-see spot every time there is snowfall. And our hometown artist, Robert Schott, is the one we have to thank for the smiles we can't help giving as we walk or drive by.
Schott moved into Cranford in 1990, and into his current location on Springfield Avenue in 1997. It was here that the Schotts raised their three children, who are basically now grown. And it was here that snowy winters with the children inspired the now much-anticipated lawn snow-sculpting fun. Actually, Robert ALWAYS enjoyed the winter months, and even chose Rochester as a school, at least in part, for the cold weather. He made snow dinosaurs and snow frogs as early as high school, but back then would simply make a pile of snow and let spontaneous inspiration take over. He took a "sculpting hiatus" during his adult single years, and then years later, when he took the hobby up once again with his children, he began planning out his creations a bit more carefully.
Involving the children in the creations became a special family tradition. The family would start by building the pile of snow together, and playing on it the way most children do. Then, once they became tired of climbing and sliding on their "mountain," they would get to work on the actual figure. "We had a lot of fun working on these," says Robert, "and my kids always felt excited about what we created in the front yard." And so did all of the passers-by!
Robert's all-time favorite was the convertible mini-cooper, which was on an incline and had pseudo characters Thelma and Louis riding in it with "no hands." It even had working LED headlamps! But this "piece du resistance" was built on Christmas Eve and Christmas Day, immediately followed by a night of rain and fog, that unfortunately spoiled the creation rather quickly. So, while it remains Robert's favorite, not too many locals got to see it finished before it deteriorated.
The great white shark, snapping at a rubber chicken, is one that many people still talk about. And who could forget the surfers?! Riding on a snow wave about 30 feet long, which arced at the end with whitewater and a surfer crouched in the curl. Robert says, "On the Sunday when I set about to make the surfer, I bombed on the first attempt and began to panic, thinking what could I turn the whole thing into next? But then I sized the surfer better on the second attempt, and he came out pretty nice!" The creative never-give-up attitude of a true artist!
"Nemo was really fun too," says Robert, "especially named after the snowstorm Nemo, as if he fell right out of the sky onto our lawn!" What most people don't know is that this one actually began as Humpty Dumpty on a great wall . . . . but Humpty Dumpty had a great fall, after he was shaping up to be too precarious and Robert knocked him down to make Nemo instead.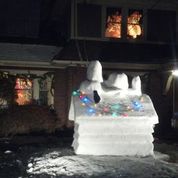 Snoopy, a recent snow sculpture, is a favorite too, in part because he is such an iconic crowd favorite. The string of lights across his doghouse really made it special.Below you can see the process it took to make this special sculpture!
Robert recalls, "For one design I said I wanted to make a snowman. Some said that was just boring! But I had B-I-G in mind, and that one went nearly 12 feet high, with a tip of his hat and some attitude! I have to say, year round, the topic of the snows sculpture comes up, with interest to know what I'll do next!"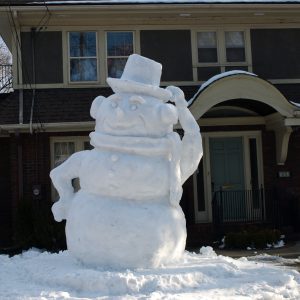 It's true! For many of us who might not otherwise have too many nice things to say about winter and snow, the Schott family snow museum gives us something to look forward to with great anticipation. It has become an actual event to take the kids past the Springfield Avenue house, making speculations about what the most recent creation might be.
"I enjoy creating things and stepping back to look at the work," says Robert. "It is especially exhilarating when I nail it and I seem to be finally good at that! But a huge part of it is the excitement that seems to build as people walk and drive by wondering what's coming. Horns honk, (including fire department and public works), thumbs up signs, and people stopping to ask how I do these and getting pictures with their kids or for their friends. It's really uplifting for me and I know how much the town and those passing by appreciate this little bright spot in their day. It's fair to say there is just a little bit of expectation now to build each time it snows! I do dread building the pile, as it's got to be thousands of pounds of snow. I always get anxious that I took on a bigger project than I have time for and whether it will actually come out okay. I bombed on a few of them, but even up to a week later was able to finish or convert to a nice finished piece."
Ironically, snow sculpting is actually a fairly warm weather activity, when the snow is soft, wet, and packable. The tools Robert uses are a wheelbarrow (which helps with carrying the snow and packing it into a large starter pile), a snow shovel, a straight edge shovel to shave large sections, a tree branch pruning saw for cutting, a straightedge board, a 6 foot measuring stick, a drawing for planning and for basic proportions, and thick rubber gloves for all the hand shaping. After building the pile nice and high, he works on the design from top down, reusing the shavings from the upper parts to help shape the lower parts. He is completely self-taught. His recipe for success is having the right weather, proportional measures, and lots of time, as most of his sculptures take two days – one day of hard labor for making the pile, and the next day for the actual design. Check out the progression for Snoopy:
Robert is quick to point out that there are professional sculptors doing some of the most incredible works of art in snow around the globe. "I feel like a rank amateur seeing what's possible, but then again I get just a day maybe two to get something made." That certainly doesn't hold any (frozen) water with the neighborhood. The people of Cranford are always grateful for the unexpected smile his hard work brings to their day!
Would it surprise you to find out that Robert actually owns a creative business for window decorating? His company is WOWindows, (http://www.wowindows.com/ ) selling creative posters (Wowindow Posters) for Halloween and Christmas window decorating. After spending 30+ years in employee communication and consulting with firms including Merrill Lynch, J.P. Morgan, and Coopers & Lybrand, Robert has settled into his own with his mission of spreading decorative smiles to all! In many of the pictures you can see these window decorations! How cool is it to see Santa looking out the window?
Schott's work has been featured in local newspapers and enjoyed by countless residents and passers-by. He may never fully appreciate the length and breadth of the joy he shares, but, without a doubt, he makes winter a little warmer and happier for all of us.
Here are some more pictures of Robert's sculptures…. ENJOY!