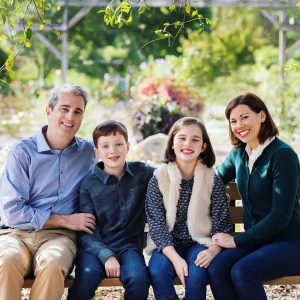 Christa Teevan, a local mother from Scotch Plains, has found the perfect balance between corporate life and following her passion of educating the community on the positive effects of essential oils. Her grand opening of The Oils Room in Westfield, NJ, happened in early November at 138 Elmer Street (sharing space with ViaNutrition). Her shop couldn't have opened at a more appropriate time as we are all shopping for health-conscious gifts for the holidays…and let's face it…products for us to ward off those nasty viruses!
Christa Teevan's story
Christa was born in Minnesota, met her husband, and moved to New Jersey around 1998. She was working in a big accounting firm in the city and had moved from Hoboken to Clifton – and then Scotch Plains once her son Matthew was born. She and her husband welcomed daughter Emma into the family and have made Scotch Plains their home for 13 years!
By day, Christa is a certified public accountant and is able to work from home most days of the week. She's so excited to have started her own business focusing on her main passion – essential oils and natural living!
She got into oils about three years ago. It was over Christmas break and she was about to visit her family. She was worried about the get-together as her sister's youngest had the stomach flu. Christa was surprised when her sister told her not to worry – that she was diffusing oils and using essential oil rollers on them. "I had no clue what she was talking about!" commented Christa. Her sister explained more about essential oils and Christa was amazed to find out that no one in the entire family got the flu – and everyone enjoyed the Christmas holidays together!
"My kids were 10 and 8 at the time and we were already moving towards a natural lifestyle. What I didn't realize at the time was that I was missing a major piece."
Getting started with essential oils
Christa ordered her first starter pack and started her own pathway of education on essential oils. She found that these natural oils had hundreds of uses. There was literally an oil that could help with any ailment that should arise! She loved the idea of limiting antibiotics and decreasing their side effects on her family. Christa was also hooked on oils because of their boost on the immune system and learned that our bodies know naturally what to do with them!
When I asked her what she has noticed with her own family after using essential oils for three years – her answer was pretty impressive! Christa related that the biggest difference was the number of times everyone has gotten sick drastically declined. In two years, they have had no sick visits in the family! Her children have only gone to well visits with the pediatrician. Christa's chronic sinus infections went away. She also noted that when symptoms do pop up – she's very proactive and uses the oils immediately. The oils seem to stop the illness in its tracks, the virus runs through the system faster, or the severity and duration of the symptoms are lessened.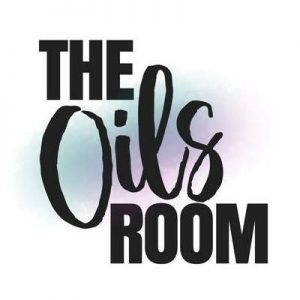 Christa started sharing her information and results with her friends. She never had a real intention of making it a business. "My passion is to educate everyone on essential oils. It's such an amazing tool to use in the home – not only for your health but to decrease your chemicals and synthetics!" But it turns out that more and more friends told their friends about Christy and soon enough she had a reason to open up shop!
Opening the Oils Room in Westfield, NJ
The Oils Room opened up this November and just in time to address your holiday and winter needs. Christa invites everyone to come in as The Oils Room is an avenue for playing around with the different oils, smelling them, and experimenting with what you like best. Even though she will be hosting some classes – she wants her shop to be a "living class" – pop in whenever you can for some education and sampling!
Christa sells dōTERRA Oil which she considers "the best in the world". She supports this statement by explaining that this is the biggest and leading essential oils company because they are able to control their oils throughout the entire process and the oils are sourced indigenously. Christa went on to explain that the climate and soil from which the oils are sourced make a massive difference on the purity and therapeutic strength.
dōTERRA has what other essential oils companies can't claim – that they are also able to be ingested internally. The oils have no pesticides – just the right chemical compounds to give you the maximum benefits. Since there are no FDA regulations on oils – Christa says this means whatever you buy at The Oils Room is safe and controlled so you can get exactly what you body needs!
Non-toxic is the name of the game
Step inside her shop for non-toxic and natural cleaning and skin care products. Did you know that even the dryer sheets you use in the home can fill it with toxicity? Yikes! Christa has natural dryer balls and so much more to limit the chemicals you are producing in your home.
Her latest favorite item in the shop is OnGuard a protective blend and even loves her natural toothpaste and handwash!
She offers ongoing classes to help you incorporate essential oils and natural living into a whole new approach to your lifestyle change. Everything in the store is ready for you to visualize and encounter firsthand.
Winter Wellness Q&A
This Thursday, December 13th from 6-9pm you are invited you to the store for a Winter Wellness Q&A learning workshop co-hosted with Karen from ViaNutrition. We are right in the middle of cold, flu, and stomach bug season. Come and learn how certain essential oils improve the immune system and how they can kill viruses and prevent spreading.
Oils Room hours
If you are unable to attend these sessions, Christa's shop is open Fridays from 11am-1:45pm and Saturdays from 11am-1pm. Stop in anytime for whatever information and education you need to beat the winter blues and some Essential Oils 101! Christa also welcomes and would ADORE private bookings for Girls Night Out – BYOB and make some custom essential oils treats for yourself!
Looking for some fun stocking stuffers that have health benefits? Stop by the store for oil roller balls with fun slogans, personalize rollers with gemstones/birthstones, bring your own oils or custom-make in the shop. Christa also recommends jewelry with diffuser beads and mini essential oil starter kits! Any of these items would be perfect as hostess gifts, teacher gifts, and something for that yoga-enthusiast!
Whatever your essential oil need – Christa has the answer and the guidance! As our community is starting to become more health conscience – she is a welcomed resource! Once you receive your oils, you'll receive a welcome package from them, a private consultation, tons of education, and access to a community of over 8,000 dōTERRA users who share experiences and provide inspiration; empowering you to become an advocate for your own health.
Let Christa do what she does best – educate you on natural medicine and start the path towards making your you and your family healthier and environmentally-conscience in 2019! Make sure you follow her on Facebook at The Oils Room FB and on Instagram at The Oils Room IG!