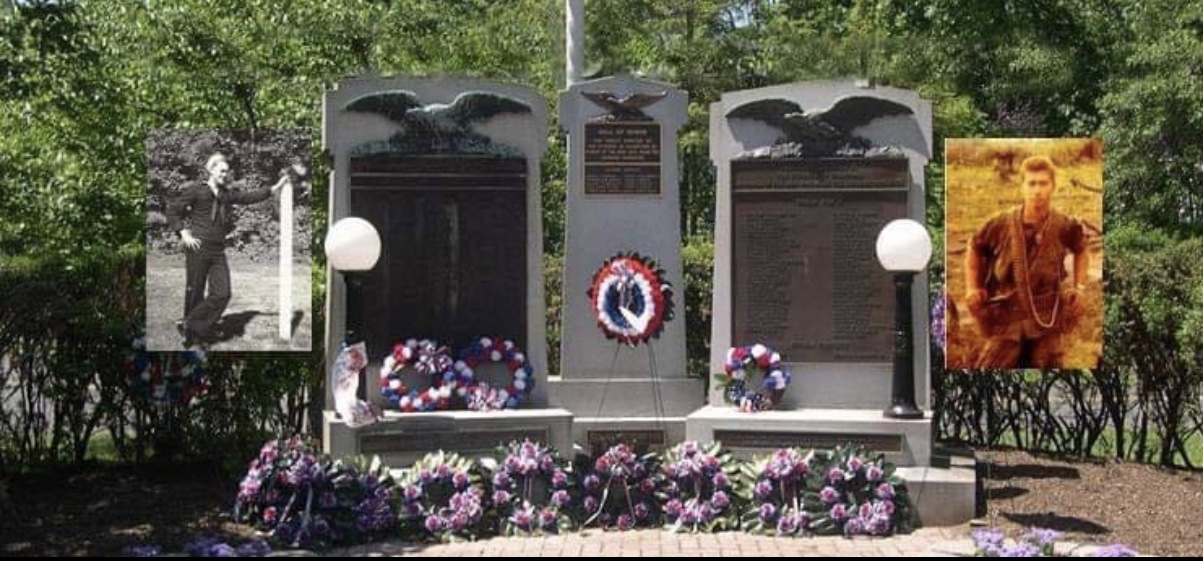 Many of us associate Memorial Day Weekend with the start of summer, vacation time, BBQs, and blockbuster sales. However, we really must pause and reflect on the true meaning of Memorial Day – to honor those who gave their lives for our freedom. I wanted to take a moment to share with you why the Cranford86 Project is so poignant during the Cranford Memorial Day Parade and Ceremony.
Why do the scouts carrying the flags and what do they have to do with the monument at Memorial Park and the Hometown Hero banners throughout the town? It's overwhelming when you think about it – and just writing this article brought forth many emotions and such pride for those who have gone before us. I hope that after reading this post – more of our children and parade-watchers on Monday will have a newfound reverence for the Cranford86 and the real meaning behind all the pomp and circumstance.
Cranford Memorial Day Parade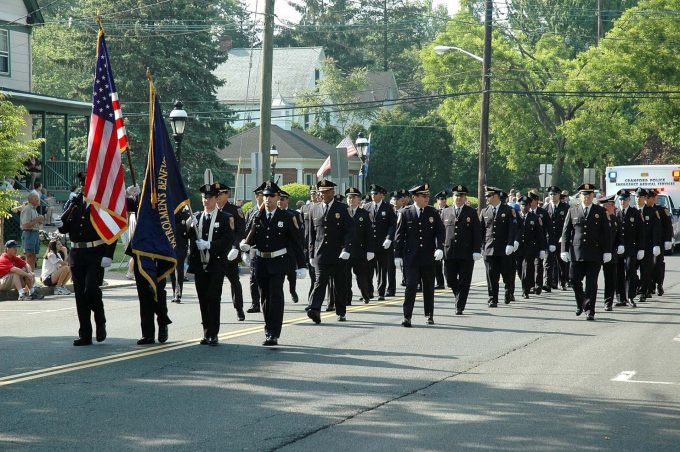 Our Cranford Memorial Day Parade always begins at the Community Center (220 Walnut Avenue) promptly at 9:00 am and concludes with services at Memorial Park on Springfield Avenue around 10:00 am. The parade committee is made up of a volunteer branch of the Cranford VFW Post #335 and the Cranford Recreation Center's Memorial Day Parade Committee. In years past, a group of boy scouts would carry a handful of the "Gold Star Flags" in the parade. Names of soldiers were read during the concluding ceremony and some flags were lowered as names of the soldiers were read aloud
Don Sweeney and Cranford86
Don Sweeney began the Cranford86 project after being a participant in the parade for so many years due to his affiliation as a Boy Scout leader. He recounted a parade ten years ago when he was standing with his scouts and listening as Bob Greco, a World War II veteran, walked up to the podium. The overall message of what he said was…
"I am going to read the names of the World War II war dead… and as I do, you will just be hearing names. But for me, I will see their faces. Between the years of 1941 and 1945 fifty-seven young men from our town went to war, and never came back. These were my friends, my teammates, my classmates. I knew almost every one of them. One of them was my best friend that I went to war with."
Don went on to tell me that he had such an overwhelming emotion come over him when those 57 names were read. He imagined his own son's high school class and what an impact it would be to lose so many. Don said it literally gave him the chills – and from that day forward, it set the tone for him each Memorial Day.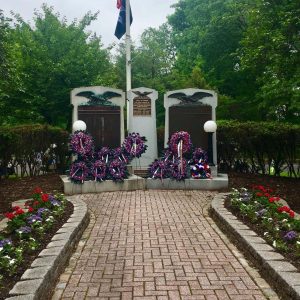 Don Sweeney eventually took over from where Cranford resident and veteran Bob Greco left off. He made the connection between the 86 flags in the basement of the VFW and Cranford Memorial Park – on the granite monument with 86 names of Cranford hometown heroes: 15 for WWI, 57 for WWII, 2 for the Korean War, and 12 for the Vietnam War. He made it his mission to resurrect the Cranford86 and "to give identity to each of the names that are read each year at the Memorial Day service at Memorial Park after the township parade." He started out by making sure that ALL 86 flags were being carried in the parade by a girl scout or boy scout.
Chronicling the stories of the Cranford86
Then, at particular Memorial Day ceremony, he met a Vietnam veteran named Mike Sapara. He told Don that his two of his classmates were part of the Cranford86. Don invited him to his home for a Memorial Day picnic and Mike told the story of his two buddies to all that would listen. Don wrote down everything and they became the first two stories of the Cranford Hometown Heroes. You can read the accounts of their conversation in the first story of the series about Raymond Ashnault and Joseph Minnock. https://rennamedia.com/cranford86/
A little later, Don was introduced to Steve Glazer – a retired Army Lieutenant Colonel from the Vietnam era. Don found that this new acquaintance had a mutual interest for telling the stories of war heroes. Together, they picked one hero per month and – through intensive internet searches – put a "picture of a hero" together from birth to "premature demise". Joe and Tina Renna offered their newspaper, The Cranford Monthly, as a means to bring the stories into every household. The first year, 2018, the team gathered 12 faces and 12 stories!
Hometown Heroes
2018 also brought forward fundraising and educational campaigns that allowed the names to be embroidered on each flag. Don Sweeney started the Hometown Heroes banners lining the poles in Downtown Cranford streets – funded by local organizations. A book of the 12 stories was compiled and sold at the Memorial Day ceremony – all 125 sold out! Cranford residents loved the Cranford86 initiatives and came forward to be sponsors of future heroes' banners. An individual by the name of Stu Rosenthal approached Don and said he would be interested in assisting with the research aspect of the project. Since Steve Glazer had retired from the project and moved away – Don was more than happy to have a new partner on board!
Don and Stu together have found more of the 86 soldiers this year through connecting with girlfriends, buddies, and family on Ancestry.com. Don mentioned that he has really enjoyed learning how to research these Cranford heroes and finding out their stories – so far they have 20 of the 86! He commented that "it's half about the solider, and half about the time and history".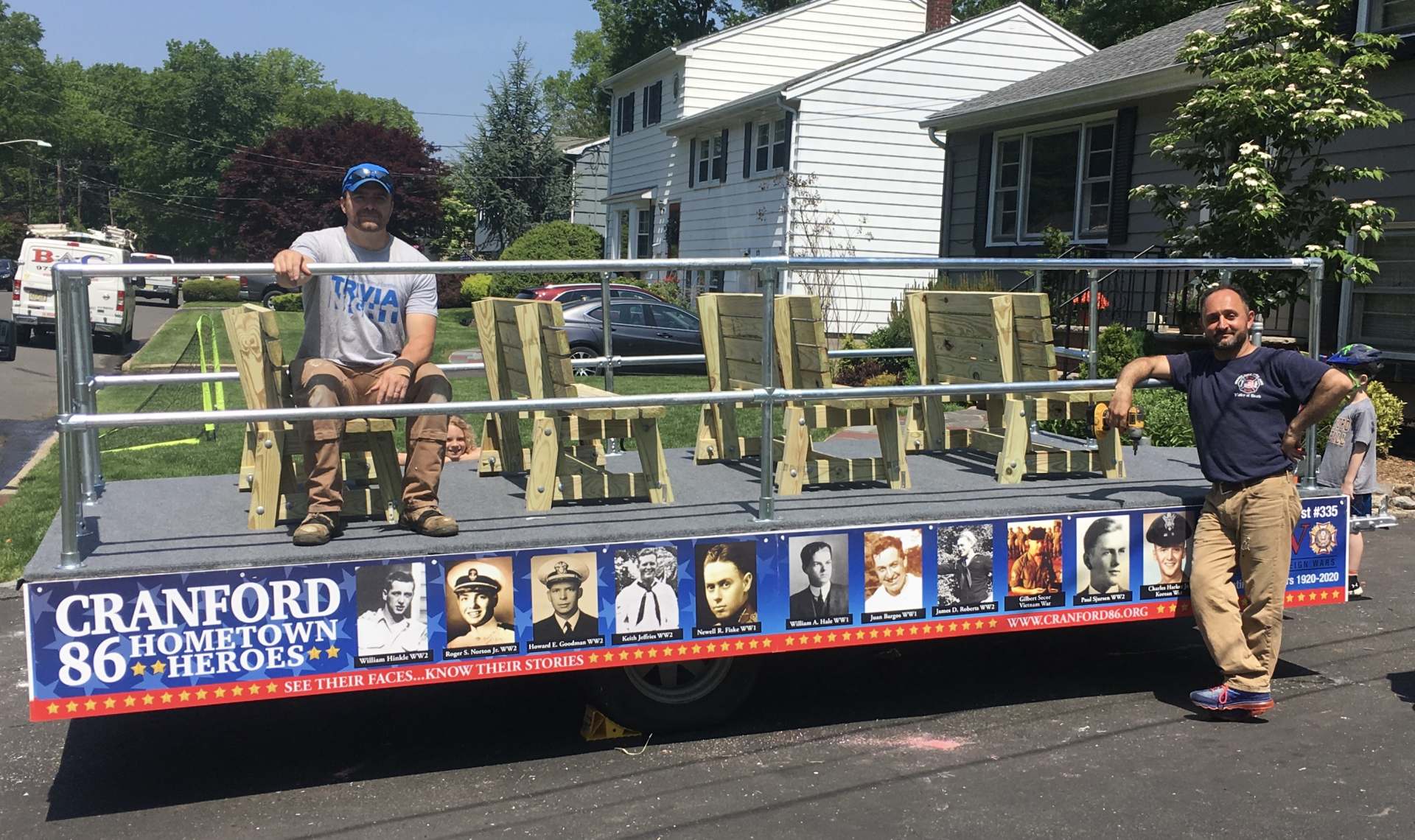 Memorial Day 2019: We have a float!
What's new for the Cranford86 Project: They have 11 new stories (2 of which were updates on the original Ashnault and Minnock). Don was also proud to announce that they now have a parade float! With the tremendous help of Mayor Patrick Giblin and the Cranford Jaycees – they found and repaired an old float that was about to be sent to the salvage yard!!! Current Cranford VFW #335 veterans can now ride in style in a well-deserved float! Make sure to wave and salute!
Also say hello to the Grand Marshal of the Cranford Memorial Day Parade – Veteran Lee Blowe. He was a former sergeant and combat squadron leader with Charlie Company of the 1st Marine Division in and around Chu Lai, Vietnam during 1966. Lee has been a Cranford resident for 22 years and lives with wife Karen. They have twin children, Patrick and Catherine. Lee is a current member of the Cranford Chamber of Commerce, Cranford Memorial Day Committee, and Senior Vice Commander of the Cranford VFW Post #335.
Want to Sponsor a Soldier's Banner?
The Cranford's 86 Project is still looking for banner sponsors (list on the Facebook page). This is a thoughtful way for an individual, family, or group to help share the stories of these men. Maybe you lived on their street – or even in their past home? To sponsor a banner, the cost is $200 and contact the group through their Facebook Page at: https://www.facebook.com/Cranford86/ My family and I chose to sponsor fallen soldier Arthur S. King who lived at 2 Hamilton Avenue. When we saw that he had lived on our street – we felt compelled to sponsor his banner! We feel very fortunate to live here, and it is because of the sacrifice of others that we have the freedoms we do. We are eternally grateful for the service and sacrifice of these brave men!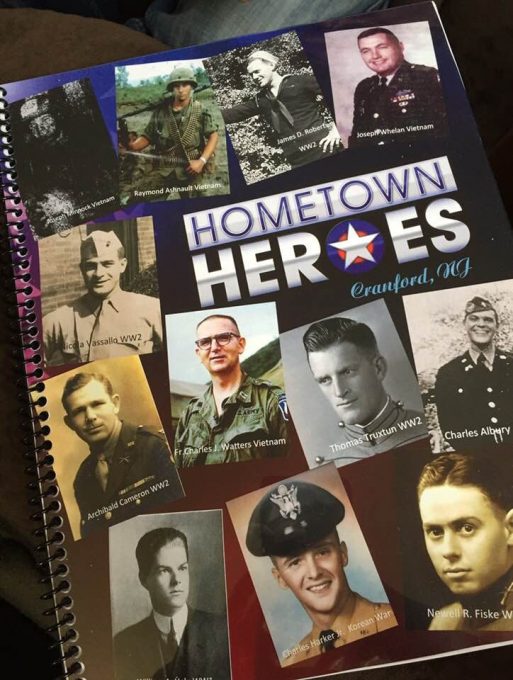 How to learn more about the Cranford86:
Don and his team have created a beautiful website that has each of the soldier's names listed. Simply click and find out their life's story! Maybe you can find someone they are still searching for! Cranford86 Project Homepage: https://rennamedia.com/cranford86/
We are forever grateful to this committee and for keeping the memory alive of the 86 Cranford residents who gave their life for our freedom. FOLLOW THE PARADE to Memorial Park this Monday and bring your children! As the girl scouts and boy scouts lower each flag, remember there is now a face and a story behind the flag!
"Together our team has taken on the challenge to continue our journey through American history to complete the stories to honor these 86 brave men and make their faces recognizable to the people of Cranford that live in the privilege by the sacrifice of these men that lived here before them." Don Sweeney