Perhaps you've seen the enticing Instagram posts of Café Teasia's Korean Snow Ice, colorful Bubble Tea creations, or Frappés. But did you know that this new addition to Cranford is so much more – and that owner Mike Hur is an experienced barista? He wants everyone to know that his new Café Teasia in Cranford Crossing at 1 South Avenue East is your new local destination spot for coffee, espresso drinks, gatherings, late-night studying, and book clubs – in addition to the latest craze of bubble tea and snow ice! With school back in session and our lives getting busier – what a perfect place to unwind and treat yourself with cold or hot treats!
Mike Hur was born in Germany, lived in Korea for a few years, then came to the United States when he was nine years old. He currently lives with his wife in Teaneck, New Jersey. Prior to opening Café Teasia, Mike gained experience in the industry. His love for coffee was sparked by being a barista at Starbucks. Mike also had a waffle and bubble tea stand in a local mall for six years. He wanted to further his knowledge of bubble tea creations and even travelled to Upstate New York for extensive training! With these skills mastered – he was ready to open his own café!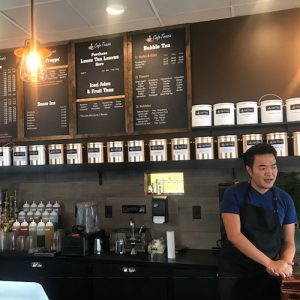 Mike related that he was always on the search for that perfect location. He admitted he had never heard of Cranford until he saw that the previous owner of Teabar was looking for a relatively quick transfer of new ownership. "I wanted something fast, too – and I saw that Cranford was this beautiful, small town. There was no point in holding back. I told my wife and she liked it – so it was sold!"
The Korean Snow Ice is out of this world and so unique! Mike told me that "every Korean household knows how to make this traditional dessert. If you go to Korea – it's everywhere!" I was told that the correct term for this dish is "Bingsu" – but most people refer to it by "snow ice". It's made by taking a tiny percentage of water, milk, and sweet condensed milk – which holds the temperature longer with water. You shake everything and put it in a special machine and the mixture freezes instantly. What comes out is small snowflakes of shaved ice!
For "first-timers", Mike suggests trying the strawberry, chocolate, or mango snow ice. The traditional flavor is sweet red bean paste, canned fruit, fresh fruit topping, vanilla ice cream, mochi, and strawberry glaze. "It's so very cold, refreshing, and light – the perfect treat!" exclaimed Mike. I ordered the "Mango" with cheesecake chunks, fresh mango, mango syrup, mango puree, mango popping boba, mango fruit jelly, and vanilla ice cream…all over snow ice!!! It was ridiculously good and perfect for sharing!
If you are a bubble tea lover, you'll love to mix and match flavors – up to two flavors! Café Teasia has 27 flavors – and Mike already did the math for you – that's 265 combinations and he's tried them ALL! What's his favorite combo of all time? "That's a tough one! I like passion fruit strawberry or chocolate covered strawberry!"
For the colder months – head to the café for enjoying 35 different flavors of loose tea! Enjoy a warm cup and take a seat – or purchase to take away (sold by the ounce or cup).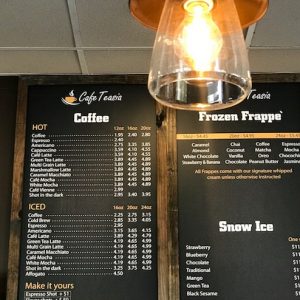 And let's talk coffee! Yes, this is a coffee shop, folks! Mike uses La Colombe coffee and can make any and all espresso drinks including latte americanos, affogatos, and cortados. He can even pair your hot beverage with a mouth-watering Balthazar Bakery treat!
"I just want everyone to know that I'm not just bubble tea!" commented Mike.
The café has been transformed into a great spot for studying, catching up with an old friend, or meeting with a group (book clubs, friends, organizations). You can reserve a space for 10-20 people or can reserve the entire café for a minimal price!
"I'm not here just to make money – I'm very serious about my coffee business and the quality of the product and experience at Café Teasia. I have all my teas and bubble tea supplies shipped directly from Taiwan. In fact, I personally travelled to Taiwan to make sure I was choosing the best ingredients and equipment on the market.
I urge all of you to find your own reason for visiting Café Teasia – whether for a snow ice treat, bubble tea after school, or sitting down with an old friend over a cup of coffee in the evening. Find your own niche at Café Teasia and become a regular! Mike is a great guy and we whole-heartedly welcome his new café to Cranford!!
The hours at Café Teasia are: 10am-8pm (Mondays, Tuesdays), 10am-9pm (Wednesdays, Thursdays), 10am-10pm (Fridays, Saturdays), and 10am-9pm (Sundays)
Make sure to follow them on Facebook and Instagram! Mike has a special promotion right now for everyone who reviews Café Teasia on Instagram, Facebook, Yelp, or Google gets a FREE DRINK on him! Try your first drink and get posting!