Brendan Cox may seem like your regular teen – but this Westfield High School senior has been operating his own company for about two years now! What started out as helping some neighbors after school to earn some extra money – Teen Assistant is now one of the hottest "odd jobs" companies in our area!
What is Teen Assistant?
The demand for teen help in the Westfield local area grew and grew. Brendan, already a member of YEA! (Young Entrepreneurs Academy), decided to brand the name "Teen Assistant" and take the company live over Facebook and Instagram. He spread the word of the business all over local community Facebook pages. In his words…"it blew up" from there!
And it was his Instagram social media platform that caught my eye! Brendan does an amazing job highlighting his business through posts that show his happy crew of teens helping others and demonstrating what services they offer! I adore their "Staff" shirts and smiling faces! Teen Assistant has over 1300 likes on Facebooks, 100% satisfaction, and over 50 customer reviews giving them nothing but 5 Stars!!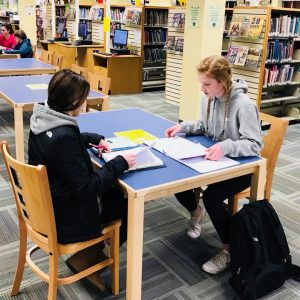 Who works for Teen Assistant?
Brendan has six consistent teen friends who work with him. He rotates a total of twelve students throughout the year due to various friends having seasonal sports and other high school activity conflicts. His staff members are between 17-18 years of age and provide their own transportation. When asked about starting his own company and what skills he has had to acquire – Brendan mentioned that it's all about business and people skills. He gets texts all day long and has to manage his staff. Brendan strives to teach his crew to be courteous, polite, and punctual! If you read the reviews – it looks like these teens are right on the mark! It's definitely a full-time job for Brendan on top of being a high school senior!
Teen Assistant's service offerings
So what services does Teen Assistant offer? Brendan mentioned that they pretty much do any odd job that is asked of them! The most popular requests are furniture moving/assembly, U-Haul and POD loading and unloading, weeding, mulching, leaf blowing, snow blowing, party clean up, tech support, and dog walking/sitting. Oddest request ever? Hands down Brendan said it was adding kitty litter to thousands of paint cans to ready for proper disposal!
Get in touch with Brendan Cox of Teen Assistant
How to contact Brendan and get those teens over to your house? The best way is to text him at 908-930-9813. He is extremely quick to reply back to you! Simply explain the odd job in need and Brendan will tell you your rate. His goal is to keep things very simple – no estimates. Your job is based on how many teens are needed to do the job and for how many hours. You know exactly what you will be paying in advance. These teens bring their own tools to the job site – wheelbarrows, leaf blowers, etc. You do need to provide your own flatbed or truck if moving items from one place to another. At the end of the job you pay the staff with cash or Venmo. It's that easy! Teen Assistant will provide staff members to anyone within 15 minutes of Westfield High School.
Just speaking with Brendan Cox – I can tell he's a teen with great business sense and charisma. In his early teen years he started his own company, managed and trained his staff, learned the tricks to social media advertising, and did all the accounting! Wow – what an impressive teen! Brendan is headed to Scranton, PA to pursue a degree in Entrepreneurship this fall. Even though he may be leaving the area for a few years – Teen Assistant will continue and prosper! We wish you the best of luck in college!
Hire Teen Assistant today!
So, what are you waiting for – those spring tasks are begging to be finished before summer! Call Brendan Cox at 908-930-9813 and follow them on Facebook at Teen Assistant Facebook and Instagram at Teen Assistant IG. You'll keep finding more reasons to bring these awesome teens back over to the house!