Sweet N' Fancy Emporium Opens New Sprinkle Bakery Just in Time for Valentine's Day!
Cranford's Favorite Baking Store Gets a Fresh New Look in 2022
Amanda Girardi, the new owner and manager of Sweet N' Fancy Emporium/The Sprinkle Experiment at 1 South Avenue East in Cranford, NJ is a breath of fresh air. She's funny, ambitious, and boy does she know how to bake! She's creating something pretty magical inside her new storefront. It's a haven for makers and bakers and she's here to take what's in your oven to a whole new level!
Now if you want someone ELSE to bake for you, Amanda has the hottest new bakery around! Inside her sparkling new kitchen, she's turning out her famous Crumb Cake, delicious Irish Soda Bread, epic Hot Cocoa Bombs, personalized cakes, corporate candy confections, and pretty much anything you can dream of! You'd never believe that she was in the corporate business world until recently! Read here to find out a little bit about Amanda's journey to baking/retail and how you can make the most out of your personalized Sweet N' Fancy experience!
Just to quickly fill you in on the Sweet N' Fancy Emporium featuring The Sprinkle Experiment mission before we begin…
Founded more than 30 years ago, Sweet n' Fancy Emporium has been providing bakers with cake and candy supplies. We offer hundreds of baking, cake decorating products, and candy-making supplies!
Our commitment is to serving up delicious goodies to all of our customers in Cranford. We are the ultimate store for all your baking and candy-making needs.
It is our belief that the experience of visiting a bakery should include both enjoying your favorite pastries and trying out some new ones too. This is why Sweet n Fancy is now featuring The Sprinkle Experiment, where you can order custom-baked items and candies!

Our team of professionals creates top-quality, imaginative and delicious baked treats, and makes sure to cater to the needs of each one of our customers. Whether you're looking for a quick bite or something to bring home and share, we have it all.
Tell us a little bit about where you grew up!
I grew up in Edison, New Jersey. I lived there until 2000 and then moved to Bethlehem, Pennsylvania for about ten years. We have been back in NJ for about twelve years and finally settled in Colonia, New Jersey.
Fun fact about yourself?
I always have a smile on my face and my brain works like a crazy eight ball. If someone asks me a question or requests me to create something, my brain goes into diagnosis mode! (This is what my friend says about me all the time!)
What were you doing prior to starting your first business in the baking world?
Prior to starting The Sprinkle Experiment, I was an executive at a credit union. I was there a little over twenty years. I oversaw retail and mortgage originations. In English, I was responsible for the members' experience. I love making people happy! One of my colleagues referred to it as a "professional people pleaser". I found solutions for anything and everything! The Sprinkle Experiment was my first leap at a business. It took off immediately. That's what led me to buy Sweet n' Fancy Emporium. It combined my love of the retail side and moved The Sprinkle Experiment (her bakery) in under one roof!
What is your earliest memory of baking?
I've been cooking and baking since I was very young – maybe five years old! My dad is a phenomenal retired chef so I learned a lot growing up! Also, I remember my mom always made a Bundt cake with pudding in the middle and cream puffs. We made Christmas cookies as a family and shared them as gifts! I truly prefer to cook, but my confections really took off!
Any formal training?
Nope. I've always learned best hands-on. There are many things I've learned over the years by just observing or doing.
How did your passion for baking evolve over the years?
I honestly started doing it more when the pandemic began. Sheer boredom. After working remotely all day, I needed to clear my head. People would always ask me to bring baked goods to work!
How did The Sprinkle Experiment bakery business begin?
By making a few lollipops and carrot cakes around Valentine's Day. It just went viral!
What enticed you to take over the ownership of Sweet N' Fancy Emporium?
By chance really. I went in for some supplies and it just happened. My love of retail definitely took the lead! And I thought how perfect…if I own the supply side, I can really make the best experience! Again, I love to help people. I spend most of my days helping bakers, chocolate makers and anyone who wants to try!
What do you love about Cranford, NJ?
The community! I've never seen a group of people so powerful. The support for small businesses is just insane. I've never felt more welcomed anywhere in my life or career. People helping people! I'm a huge advocate of community. We all volunteer and support as well. We donate all the time to help support everyone and will always do so!
Describe in your own words what Sweet N' Fancy/The Sprinkle Experiment offers customers?
We offer a one-stop shop for candy and cake supplies. Whether you are a professional or a child who wants to learn, we have it all! And if you don't want to make things, we have Sprinkle to help! Classes and parties are starting soon! We are there to walk you through anything and everything!
What is your inspiration for the interior design and decoration of Sweet N' Fancy?
Functional and whimsical. I want it to be a fun, warm, and engaging atmosphere! We are almost in the home stretch of the total makeover of the interior. Stay tuned!
How do you start your workday?
I start daily by baking the orders due for the day. Sometimes as early as 2 am to ensure the freshest product! Then I'm in the store a few hours early to get set for the day!
Who is a part of your Sweet N' Fancy team?
It's a family thing. Connie, my sister-in-law is with me daily as well as two friends' daughters who volunteer their time when available. I also have one employee that worked for the previous owner – we love her!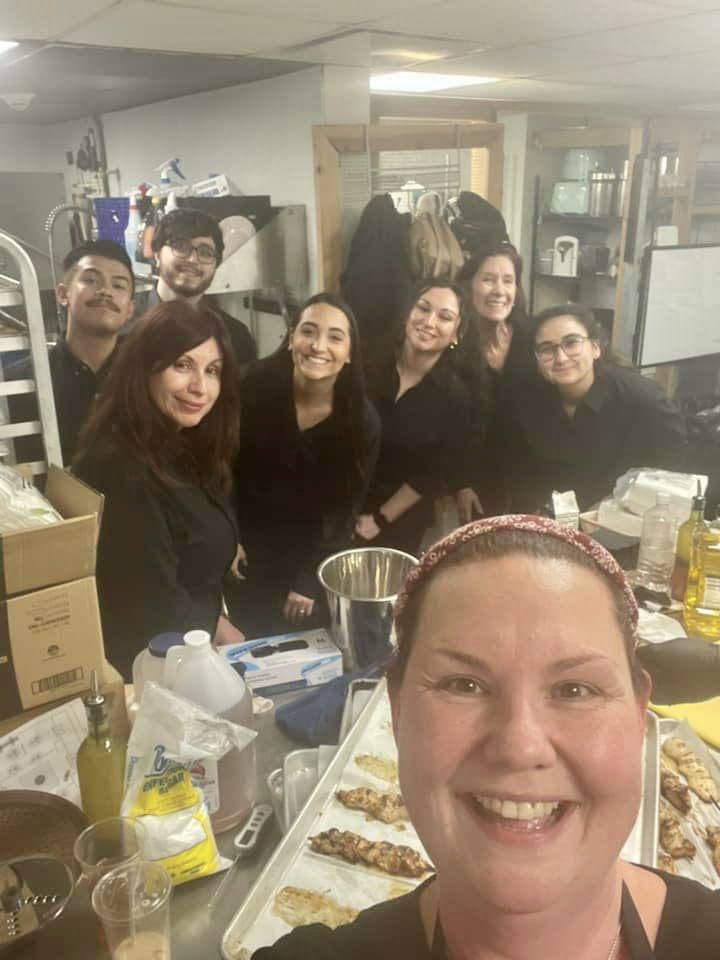 How do you decide what to make each holiday?
This is the tough part. You must stay relevant, yet different. We are always thinking months in advance!
What are the newest additions to The Sprinkle Experiment 2022 menu?
Check out the latest Valentine's Day menu (see picture)! The biggest part is for people to understand we are a full-service made-to-order bakery and candy store. We make EVERYTHING! As well as we customize it all! Big things are in the future!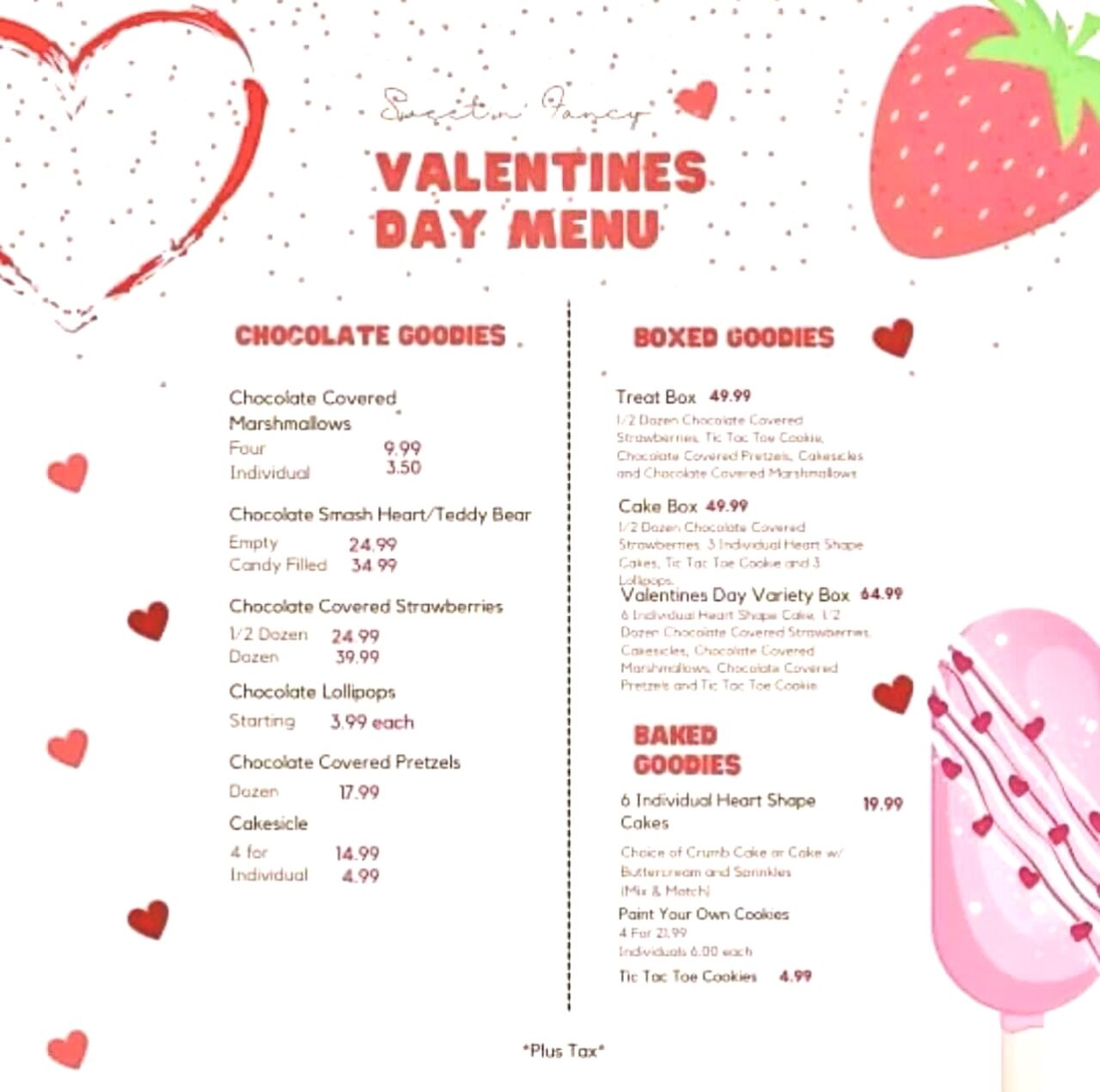 What's the most popular thing customers are buying right now?
Chocolate, cake boxes, and baking supplies. Oh, and CRUMB CAKE!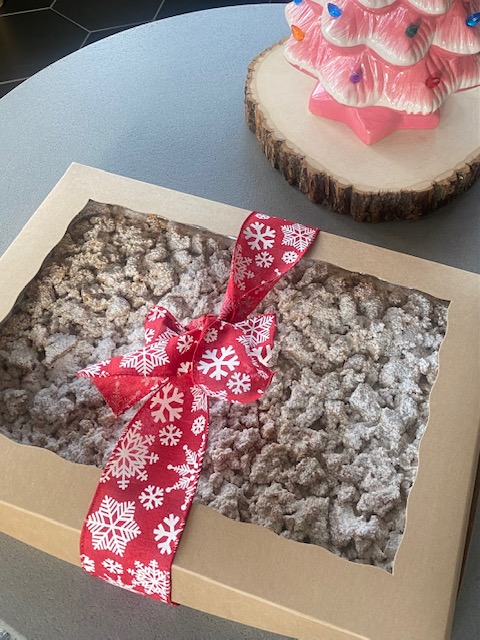 Let's talk about that Crumb Cake…people went nuts for it! What makes it so irresistible?
For starters, Cranford Moms posted it. That says it all! It was always a winner! Someone entered my crumb cake into a contest, and it was voted #1 in New Jersey! I'd say it's the freshness and texture. It's light yet loaded with 100% scratch ingredients. All orders are made-to-order to insure freshness. That's the benefit of being a small business. product. Each crumb is put on by me!
What are the new trends in sprinkles and cake flavors & design?
People want bold, pretty, sparkly, and great tasting!
If customers want to put in a custom order right now, when, and how should they do that?
They can message me in social, email or call me. Of course, the customer is always welcome to stop by the store if in the area. Custom orders require conversation, so we make sure it's exactly what they envision!
How do you hope to see Sweet N' Fancy Emporium grow in the next year?
Awareness is key. I feel the quality speaks for itself and take pride in using top-quality, whole ingredients.
Cooking/baking classes on the way?
Yes, in the next few weeks! Keep checking back on our social media.
Anything else you would like to add?
I beyond appreciate this opportunity! We love Cranford and the surrounding towns. We have clients in multiple states! I'm almost 43 and my son just turned 3. It took us a long time to have our miracle boy. Being in corporate, I was traveling a lot and not fully present for the gift I worked so hard to have. This all just felt right. It was a life-changing move, but I feel with the support of the community, family, and my ability to make people happy, we will be successful! Very excited for 2022 and beyond.
And finally…how to pre-order your Valentine's treats NOW
The Sprinkle Experiment will have grab-and-go cocoa explosions, chocolate heart lollipops, paint-your-own cookies, chocolate-covered strawberries, chocolate smash hearts, treat boxes, and more! Message Amanda on Facebook or at @thesprinkleexperiment on Facebook to place your order. Orders can be picked up starting February 13 and 14 between 12-4 pm.
Here's how to stay in touch with Amy and Sweet N' Fancy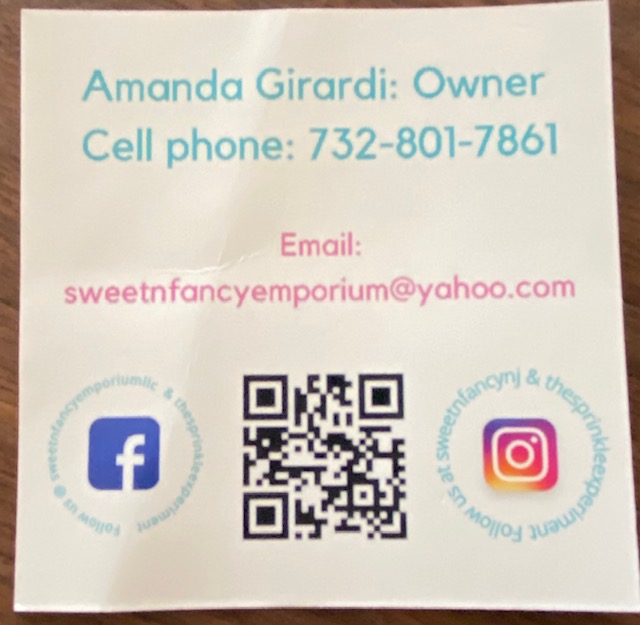 Hours: Tuesday – Saturday 10AM-4PM