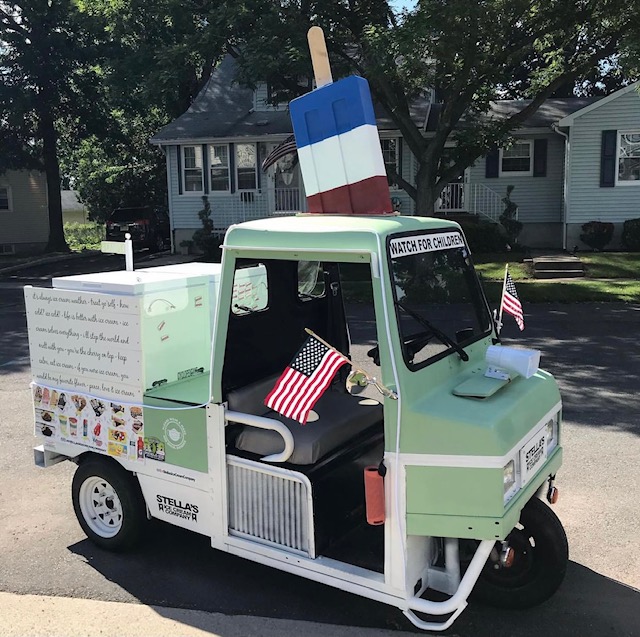 Local Couple Creates a Little Ice Cream Truck with a Huge Following!
Have you met Stella yet? She's tiny but fierce. Mint green and hot pink. Fun and flirty. And she's a hot commodity around town! The most adorable ice cream truck arrived just in time for summer and goes by the name of Stella! Stella's Ice Cream Company was spotted driving this insanely cute truck earlier this spring. Social media went crazy! I had to find out the story behind the adorable ice cream truck, the creative couple behind her creation, and how you can have her parked outside your home this summer… serving up cool treats! Here you go!
Meet Frank and Michelle
We are husband and wife part-time ice cream truck owners, Frank & Michelle. Our story starts in December 2013. We met online and had our first date at Avenue East in Cranford. Since that date, we celebrate all our anniversaries at the same table. One of us still orders the same meal every time! (we won't say who).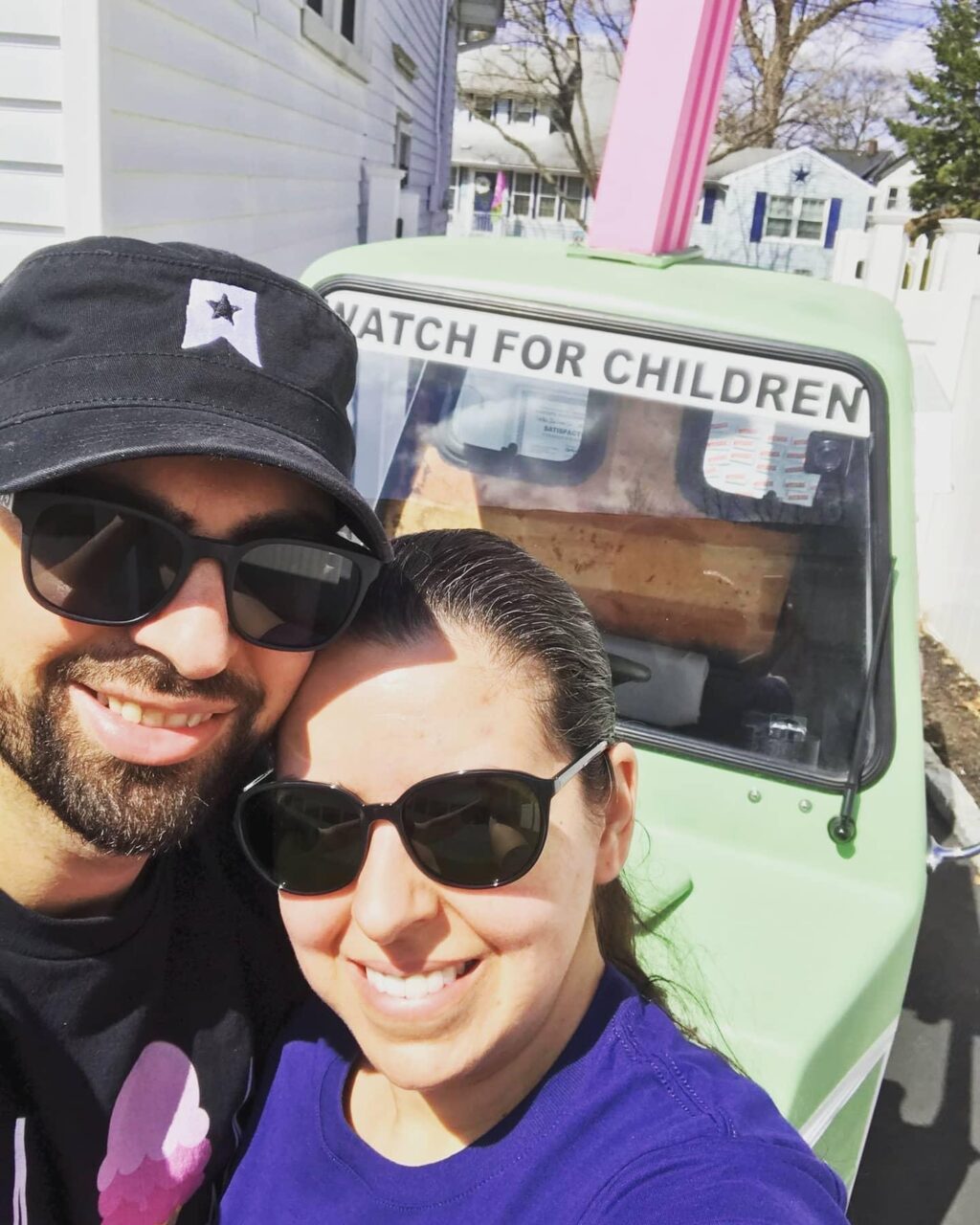 A longtime love for Cranford, NJ
We live in Cranford, NJ and we love it here. Frank grew up in a small town in NJ, Saddle Brook. One of the reasons he loves Cranford so much is that it feels a lot like his hometown. Michelle grew up in Yonkers, NY, and moved to Cranford in 2009. She admits that it took some time to get used to because it was very quiet. Eastman clock in the center of Downtown Cranford with all the nice shops and great restaurants makes it feel like a scene you would get from a Christmas Railroad set! We both can't see ourselves living anywhere else than this great area!
Bringing joy to the community
The main reason why we started Stella's Ice Cream Company is that we wanted to see kids smile again…to get excited about something! Covid was horrible last year, and we wanted to try to bring joy back to the community. We always wanted to try to run a small business ourselves and figured, "Let's start an ice cream truck company!". We never thought we'd have this much fun with it!
Creating Stella from a police truck
Stella was born in 2001 as a three-wheeled Cushman. In her former life, she was used as a NYPD Meter Maid! We acquired Stella from a gentleman in Ithaca, NY. He was using it at his house in Florida to shuttle his family around town and to ice cream shops none-the-less! It looked nothing like you see now. We put a lot of work into Stella over the winter. Everyone is telling us its current purpose is much better. We couldn't agree more!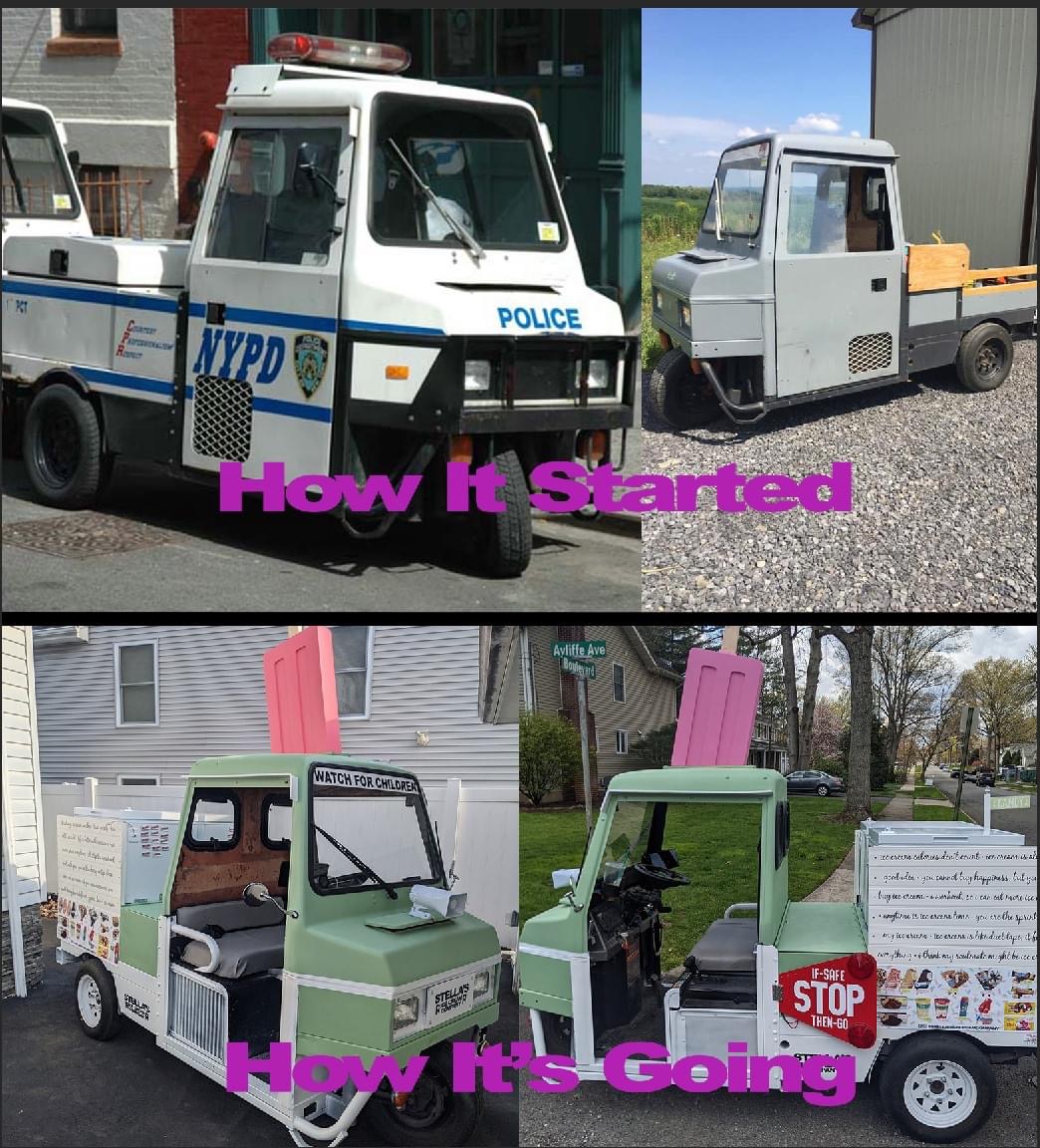 What makes Stella's Ice Cream Company truck different from others?
Have you seen our truck?! Stella, as we like to call our truck, is a small golfcart-looking vehicle with a giant popsicle sticking out the top! (By the way the color changes by season!) We were trying to bring a vintage/European feeling to Stella's. I think we did just that!
Why the name Stella?
We loved the idea of people running after us, screaming "STELLA!!" Just like they do in A Streetcar Named Desire or Elaine from Seinfeld. Stella also happens to be part of our last name. It also means "star" in Italian. That's why we have the star in our logo.
All your ice cream classics…and then some
Stella's offers novelty pre-packaged ice cream. We have a lot of the classics, like Chocolate Éclair, Strawberry Shortcake, Toasted Almond, Cookies & Cream, Chipwich, & Bomb Pops. We also sell an unusual item, Pickle-Ice. If you love pickles, this one's for you. In addition to ice cream, we sell candy, water, and Gatorade.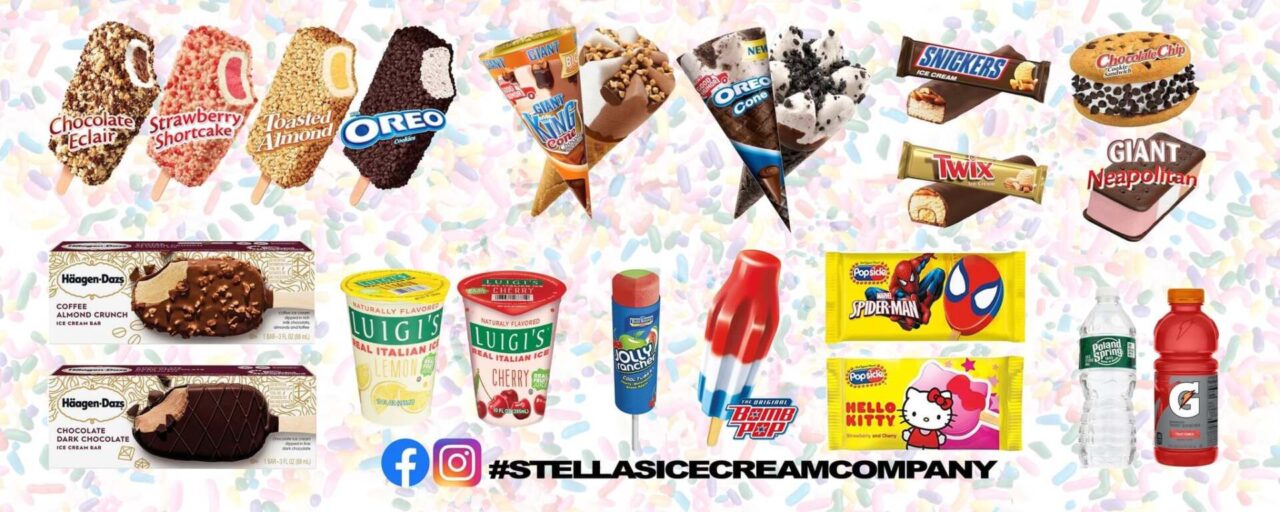 Stella's Ice Cream Company offers Allergy-free options
We do sell several products such as Luigi's Italian Ice, Spiderman & Hello Kitty. These products don't contain any of the common allergens. When we started our truck, we tried to think of everyone. We carry an allergy menu with us to make it easy for everyone!
Stella's Ice Cream Company neighborhoods
Currently, we have permits for Cranford, Garwood & Westfield. We don't see ourselves expanding, because at 5mph, these towns are huge! The best way to know if we are around is to listen for our music! We're sticking to the old school way of, "I hear the ice cream truck coming!". What's fun is the surprise of it!
Payments accepted
We take Cash, Venmo & Cash App
Keeping it simple with Stella's
We get a lot of comments about our low prices and all we have to say is that we want everyone to be able to afford our ice cream! We want everyone to share in the joy of Stella and hope she brings happiness to everyone we meet.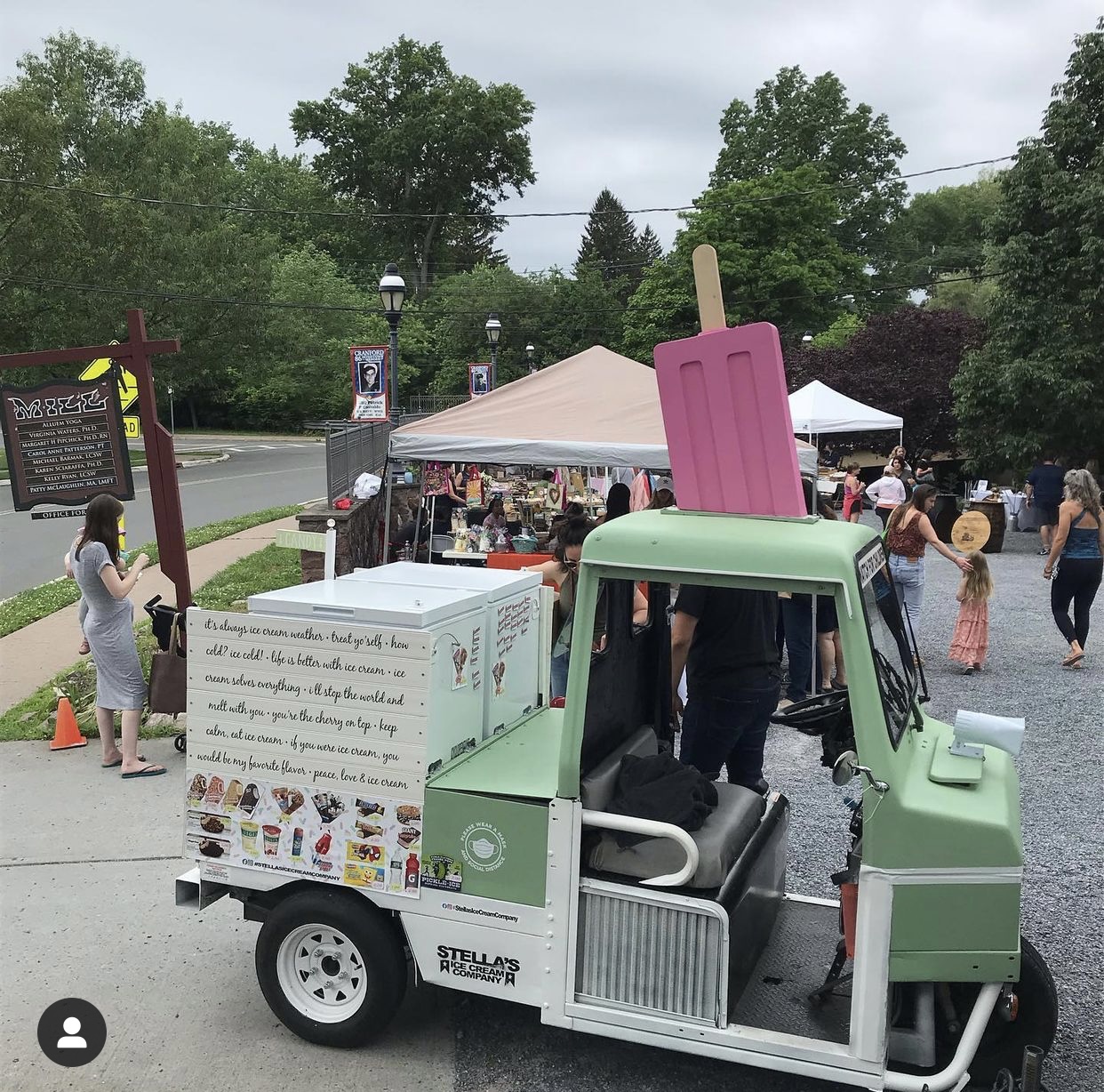 Stella's Ice Cream Company is available for private parties!
Yes, you can rent us for a private party. The best way to contact us is through Facebook or Instagram at @stellasicecreamcompany
Ice cream brings pure happiness
The best feeling is going down a block and seeing the kids get so happy! They start dancing and jumping up and down – it's amazing. The other day one kid ran out to our truck with his piggy bank. It was so funny to see him crack open his safe and dump out his money. His parents were in shock and everyone else around was laughing!