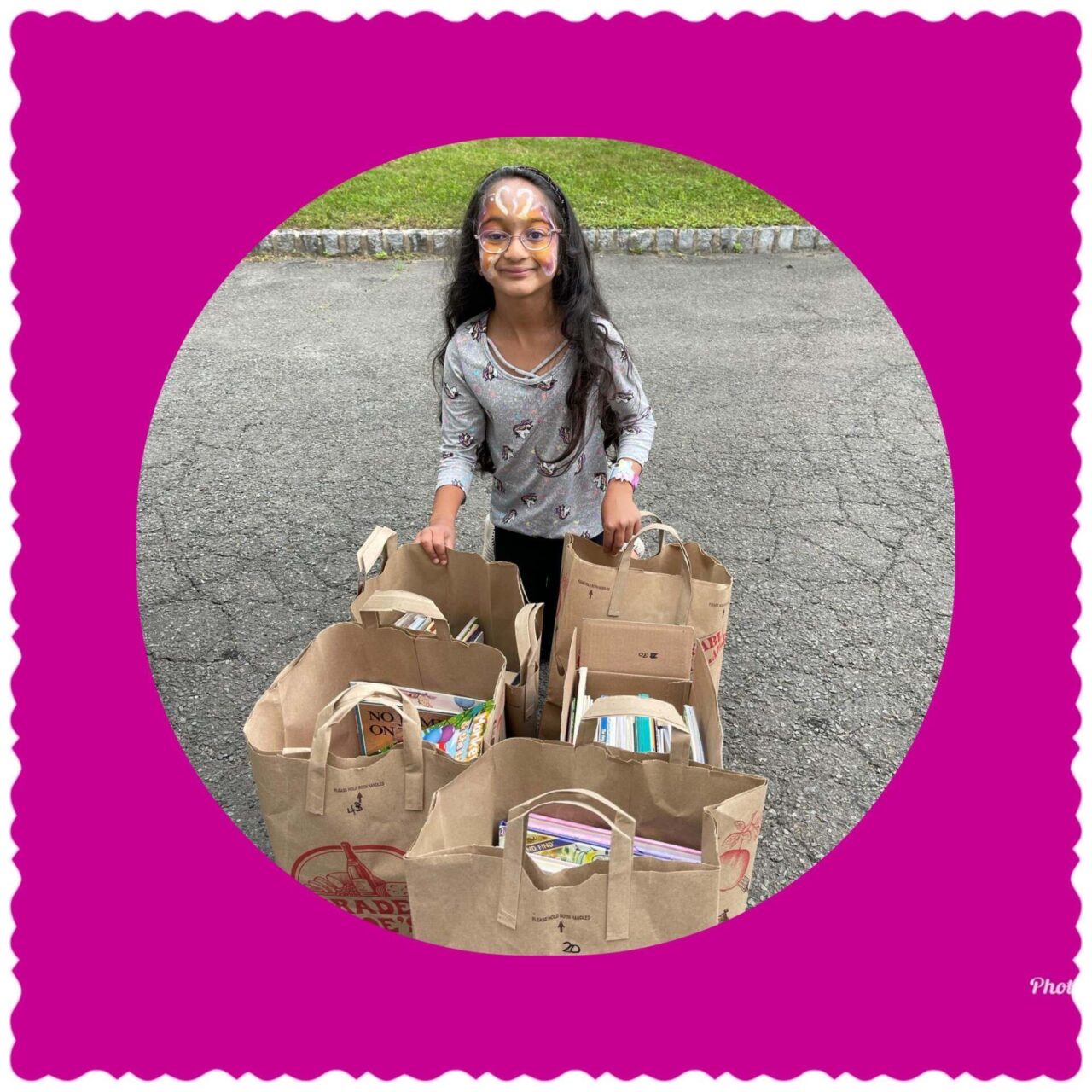 Local Westfield Student Makes it Her Mission to Share Her Love of Reading
Meet Sophia of Sophia's Book Stand, based out of Westfield, NJ. She's only seven years old and has already sent out 1,500 books in FOUR months to students and teachers in at-risk communities all over the United States! She's fulfilling the book needs of children at home and teachers at school, has won the hearts of famous children's authors, and has partnered with crucial local organizations. Sophia is a SUPERSTAR in my book, and I wanted to share her mission and organization with the community. I'd love to tell you all about Sophia's Book Stand and how you can help this organization through book drives, monetary donations, and how to connect Sophia with schools or children in need of some favorite books!
First, let's find out some fun information about Sophia!
How old are you? 7 years
What grade in school? 2nd grade
What town do you live in and why do you love this town? Westfield, NJ. I love it because I love the downtown, Mindowaskin Park and all the fun activities around here.
What hobbies do you enjoy? Reading, arts & crafts, singing, dancing and I love to organize! I also like to play the piano, basketball, tennis, softball, swimming, and martial arts – lots of things!
Favorite color? Hot Pink
Favorite food? Nutella
Favorite book? I love so many of them! Right now, I love Magic Treehouse, Dory Fantasmagory and Amelia Bedelia
Favorite movie? Aladdin (not the cartoon version)
What makes you sparkle? Picking out books to send to kids/teachers and I love getting donations of books and going through them to see what's inside!
When did you begin to want to help others? And why books?
At the beginning of the year my mom and I were talking about how to help people during COVID. She asked me what I love to do, and I said, "I love to read!" We started talking about how so many people didn't have jobs or extra money. Then I came up with the idea of sending free books to kids so that they can love reading as much as I do!
How did you start the idea of Sophia's Book Stand?
First, I came up with a name and then I worked with my Aunt Tina Paymaster (who is a graphic designer) to help me design my logo. I knew exactly what I wanted it to look like and she helped me create it! Then my mom and I created a form for people to fill out to get books we made a page on Facebook and Instagram.
What do you think is the greatest need for children in terms of literacy?
They need books! When you are little, it is good to listen to books because when you get older you will start to remember the words and learn how to read. Then you will hopefully love reading forever!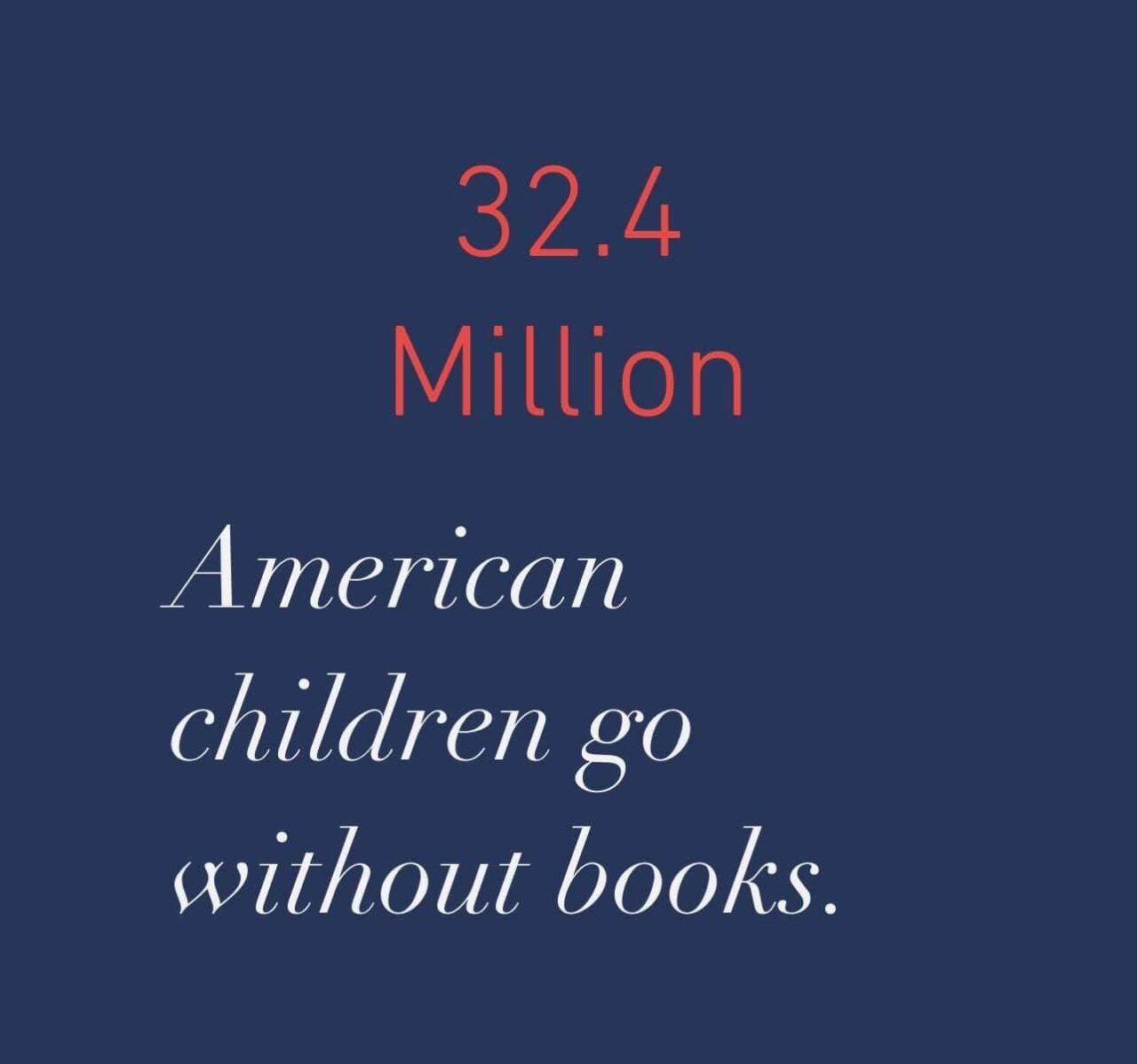 How does Sophia's Book Stand help with this need?
I think having books at home is important. I started by sending each child two books because I thought they would get bored with just one book. Then I increased it to four books and now I send SIX books to each child! I always ask on my form what kinds of things the child likes, and I try to find books on that. I know when they get the books, they will like them and spend time more time reading.
Sophia's Book Stand is also sending books to schools!
I also think it is important to have books at school for the teacher to read to the students. Now I am sending books to teachers that work in a Title 1 school or a district with low-income families. I send them free books for them to give to the students to take home, too!
What is the ultimate goal for Sophia's Book Stand?
My mission is in my logo – "Making Sure All Kids Have Books to Read". I started this on April 25th and my goal was to send out 1,000 books by the end of the year. I am happy to tell you that I reached my goal in just three months!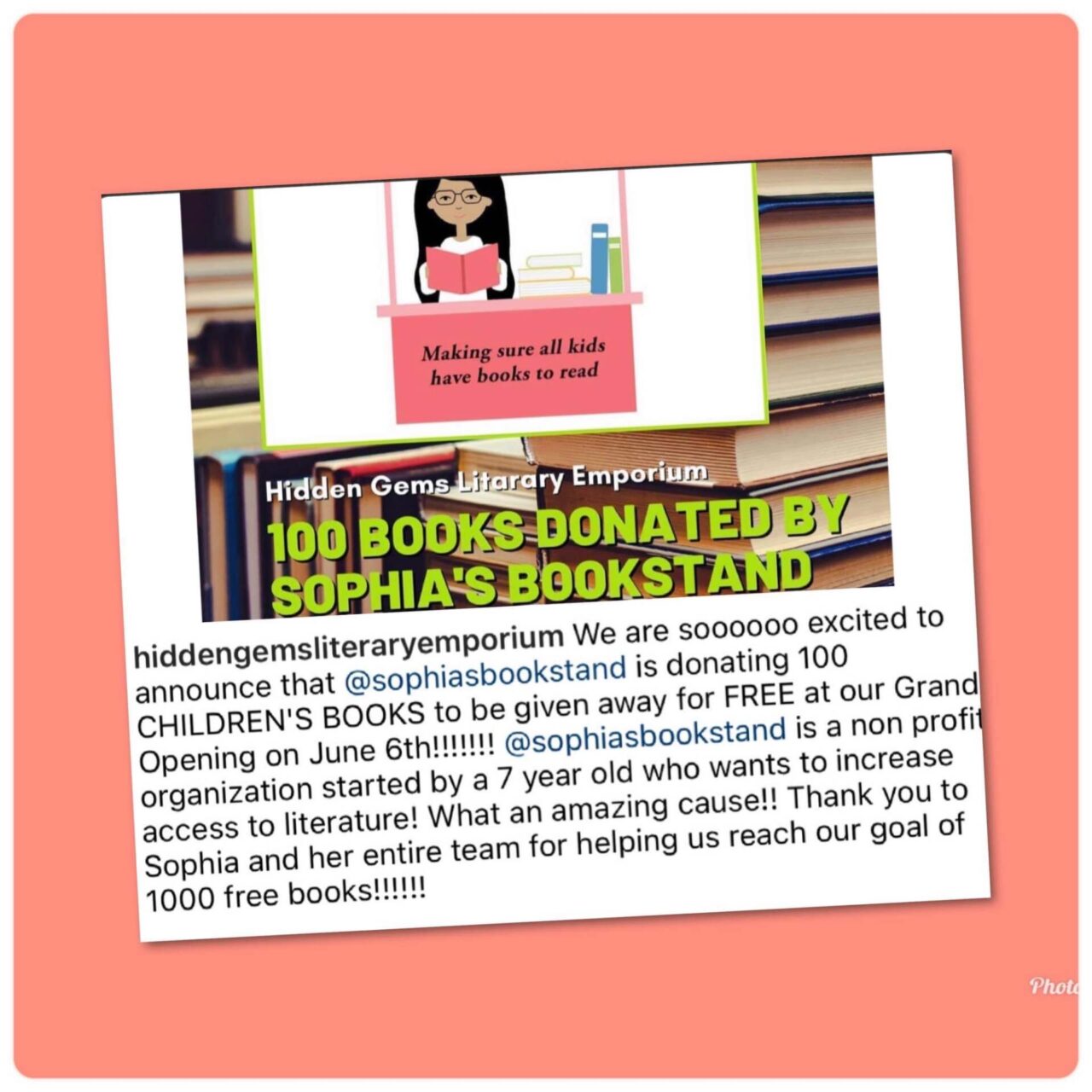 What are some stats for Sophia's Book Stand
By the end of August, I had given out 1,500 books! That is just FOUR months since I started! I gave out 713 books that month to kids and teachers in need. A lot of authors and publishers have also sent me books which I think is amazing – such as Jeff Kinney of Diary of a Wimpy Kid!
What organizations have you partnered with?
New Jersey Literacy Association, Boys & Girls Club of Newark, CASA of Union County, HomeFirst Housing & Family Services, The Smith Family Foundation in Trenton, Community Healthcare Network in Queens, NY and we are talking to some others!
How can people in the area help to donate books to Sophia's Book Stand?
They can do a book drive for me! I only take books that are new or like new because I want the kids to feel like they are getting brand new books! I know when I get a new book, I get so excited! I want these kids to have the same experience. Once they have collected the books, they can message me on my Instagram page.
How can we donate money to the cause?
I have a GoFundMe Page: https://www.gofundme.com/help-sophia-get-books-to-kids-in-need. Many kids are even having lemonade stands for me and raise money for Sophia's Book Stand! You can also donate even $5 or $10 through Venmo to my mom (@nipa-parekh) and the money will go directly into Sophia's Book Stand bank account.
I use the money people donate to mail out the books, so I really appreciate when people donate money.
Future goals for Sophia's Book Stand
I hope I have enough books and money to be able to send each child 12 books. Some of the kids live in neighborhoods where they don't have access to a library or a car and the only books they will get are the ones I send. I think it would be cool if one day I could have a huge warehouse and send teachers in need 300 books for their classroom and even more books to each child that fills out my form!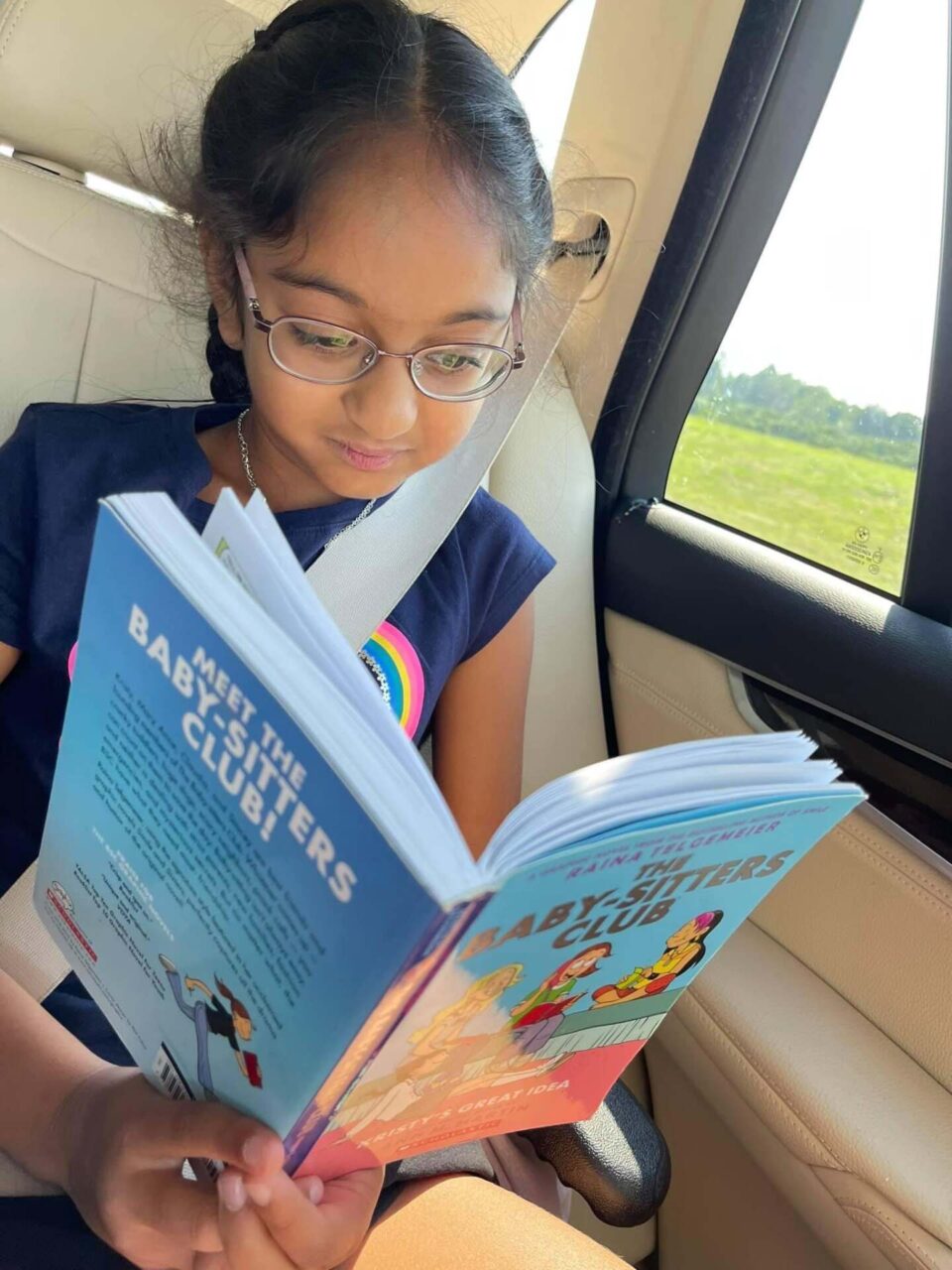 Other ways you can help Sophia!
I need more Instagram and Facebook FOLLOWERS because the more followers I have the more kids and teachers I can help! I am on both Facebook and Instagram @sophiasbookstand.
Packaging materials needed: I appreciate when people share their boxes and bubble mailers with me – it's a great way to recycle and help the earth. Message me with donations! And I love mailing the books to kids because it's always so exciting to get mail!
Connect Sophia with a school or family
I am focusing on newborn-10 years old, but all kids are welcome. You can sign up to get books by filling out this form:
https://forms.gle/5Q2uwUYJdjPjayAa6
Or you can donate via my GoFundMe page:
https://www.gofundme.com/help-sophia-get-books-to-kids-in…
My goal is to send 25 kids' books each month!