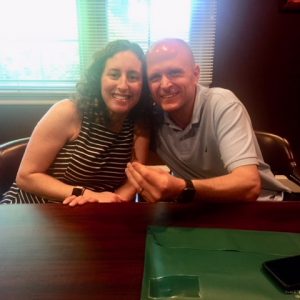 Meet Rebecca and John – just a lovely couple with beautiful children and one on the way! I had the absolute pleasure of helping them move to Cranford just three weeks ago! Still getting to know the area and their new home – I had my assistant chat with them about their recent home-buying experience and what they adore about their new dwellings!
Tell me a bit about yourselves…
Rebecca: I grew up in Hunterdon County, New Jersey and John grew up in Upstate New York near Albany. We met in college at Cornell. We've been married for twelve years and have two children (ages 6 and 3) and one on the way in October!
John: Yes, that definitely accelerated our decision to move!
Where did you live prior to this home?
Rebecca: After being married, we traveled around for a while and then decided to go back to school in Madison, NJ. We bought a townhouse there in 2007.
Other than the arrival of the baby – what made you decide to move? And why Cranford?
John: The biggest reason was the 4th bedroom. The driving factor behind moving to Cranford versus other towns was that Rebecca's parents live in Westfield and I also work in Westfield.
How did you find Sharon?
John: Sharon was referred to us by a colleague of mine. He was emphatic about her and she had helped him and his wife find a home in Cranford. They were so happy, and he told me – "You gotta talk to her!" When you find that kind of recommendation you know you have to go with it!
What caused anxiety/stress during the process?
Rebecca: Actually, we didn't have any stress at all! We started the process of searching with Sharon about a year and a half ago. There wasn't any pressure – we were just looking. We really loved where we were living and were waiting for the right house to come along. Once we started getting a little more serious after we found out about the baby – we lost the first house we loved to another buyer. But we were still okay just starting over and looking again!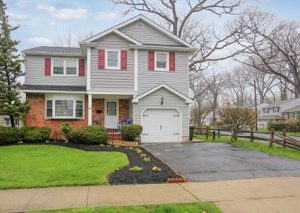 What made you fall in love with this particular home?
Rebecca: We found it in one of Sharon's listings emails that she sent to us! We already knew the area that we liked in Cranford and this house was already renovated – which was important to us this time around. It also had a small yard which we liked – we didn't want a lot of maintenance! The kitchen was beautifully renovated – all the pieces just came together!
Any surprises on closing day?
John: Everything honestly went smoothly. And the reason it did was because Sharon honestly took care of everything without us even knowing. It was like she had a magic wand, and everything just happened! If something did happen, she would say, "I'll take care of it!" and it was done!
Now that you've been living in the home for a few weeks, what's your favorite feature?
Rebecca: Well, our son says his room already feels like home so that's good! The kids really like the basement and all the open rooms – it's like one big play space! I really love our kitchen! It's bigger and newer than our townhouse and has a large open space to the family room.
John: Same. I love the kitchen!
Any personal renovations for the future?
Rebecca: Maybe some little things. We'd like to add a mudroom off of the garage. And eventually finish the basement with a bathroom and extra bedroom for the in-laws!
Before I ask you the last question, anything else you'd like to add about moving, buying a house, etc.?
Rebecca: Everything is still so new, and we are getting to know Cranford! I just want to say that buying with Sharon was just wonderful – she's so reliable, responsive, and SO EASY!!
John: I don't usually outwardly recommend people unless they ask. But in this case, if I found out that someone was looking to buy a home in this area, I would tell them that they absolutely have to go with Sharon! She's just that terrific. When you have work, kids, family…and there's one part that you don't need to worry about and wonder if it's going to get done – you can't put a price on that!!
Best advice that you can offer other new home buyers?
Rebecca: We are still learning! I'd say that having the time and luxury to find what you want is important. Not having to settle or feel pressured was great. I'd also add that this is a tough real estate market! It's important to realize that you may have to compromise. You have to settle on the fact that you may not get 100% of what's on your list – and figure out what's important in order for your family to grow.
John: Good point! Yes, we didn't do an intense search – but we did see a house every few months. Sharon would take us out and show us different towns. Once we pinpointed Cranford, she drove us around all four corners, so we knew each area very well. When we found out about the new baby, we knew it was time to get more serious and that springtime was the time for homes to hit the market. Get to know your area well before you decide!