I really enjoyed working with Rachael and Dan! After a year and a half search for the right home in Cranford, they met "the one". Now residing in Cranford for over two years, they have fallen in love with the walkability and sense of community and look forward to raising their newborn in this great town!! Read all about their "Sold with Sharon Story"!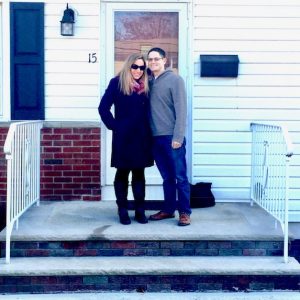 Tell me a bit about what you were doing when you both met!
Rachael: I was working at the Manhattan District Attorney's office in NYC and had gotten my master's degree in non-profit management. I was living in Hoboken.
Dan: I was also working in the city at Viacom in Times Square and living in Hoboken.
Rachael: We both had friends that went to Rutgers and they set us up on a group date – a Grey's Anatomy date! We found that we really connected, and we have been married for seven years! We have a son Zachary "Zack" Morris (Saved by the Bell reference made) who is 10 months old!
What made you decide to move? And why Cranford?
Rachael: After Hoboken we moved to Edgewater. We knew we wanted to start a family soon and we were pricing out the costs of a condo there versus a home somewhere else. We knew it would be hard to fit baby items into a one-bedroom apartment!
Dan: We needed a town that had a train and bus and close to our families.
Rachael: We really liked Cranford – it was walking distance to the train and had a great sense of community. The downtown felt similar to Hoboken.
Dan: It was also great because it was a town we could afford and, in the end, the easy commute to work was the most important.
How did you find Sharon?
Rachael: We had a long search with Sharon – almost a year and a half! We had been working with my cousin who was a Coldwell Banker realtor in Morristown. We realized that we really needed someone who knew the Cranford area. We met Sharon at an Open House and she seemed very knowledgeable.
My sister immediately fell in love with her because they both love all things Victorian. My sister told me, "She really knows what she's talking about!"
Dan: We both appreciated her honestly. She told us exactly how it was going to be and was very straightforward about everything. She really knows the Cranford area like the back of her hand!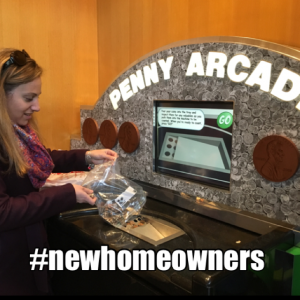 What caused anxiety/stress during the home buying process?
Rachael: We really had no stress with the process. It was just hard to coordinate how we were going to see these houses between living in Edgewater and working in the city. Also, the market was pretty dry during the time of our search. We wanted a colonial that was move-in ready!
Dan: The process took us a while – it was a running joke. Thank goodness Sharon didn't give up on us – she wasn't pushy and was very patient!
Rachael: It also helped with our schedules that Sharon had Angela, her assistant. They both worked together to make sure we were able to see the houses when Sharon happened to be away on vacation!
What made you fall in love with this particular home?
Rachael: It really checked off all the boxes on our list – a colonial, four bedrooms, and near the local schools. We hadn't seen a house like that in our price range since the beginning of our search.
Dan: We knew about the neighborhood and the house already from the pictures online. We knew this was the one and it was move-in ready!
Now that you've been living in the home for a few years what's your favorite feature?
Rachael: I love the backyard. It has an overhang so you can still be outside even if it's raining! I also really enjoy the open-concept layout inside.
Dan: I feel the same. This house came with a bigger backyard than we expected. It has a nice kitchen for entertaining and hanging out.
What is your favorite aspect of living in Cranford?
Rachael: The neighbors are so friendly. Just by taking Zack on stroller walks we have met so many young families. Also, the sense of community is great. We love taking walks to various places in downtown and not feeling like we have to get into the car all the time.
Dan: I really appreciate a walkable town as well with Zack. And how easy it is to get to work.
Rachael: Dan, I think what you love is Track 5 Coffee!
Dan: Yes, definitely –
Rachael: He loves that he can walk in there and everyone knows his name and what is order is! Then he hops right on the bus!
Best advice that you can offer other new home buyers?
Rachael: Be patient. Don't settle just because you are getting frustrated. You will end up with what you want. And have faith in Sharon – she knows what she is doing!
Dan: I feel the same about being patient. Sharon joked with us about Rachael not being convinced about any house that we saw. It's hard to wait – but you have to be patient to find the "this is exactly what we wanted" house.
Rachael: We joke that Cranford should be renamed "Cranford Steele" because Sharon literally knows every person who can help you and she's so good at what she does!