Meet Missy and Tim: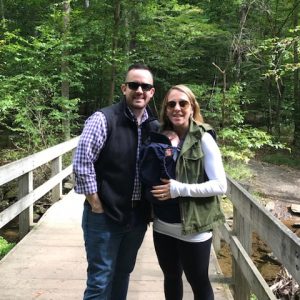 My assistant Andrea caught this sweet couple in the last month of living in their first home together. I had the pleasure of assisting them as they put their pristine Cranford home on the market in anticipation of moving to a larger home to accommodate their growing family! Missy and Tim are both from South Jersey and met in their hometown. They have been married for six years and have a gorgeous little girl who is 8 months old! They moved to Cranford two years ago after living in a townhouse in Hillsborough, NJ. I so appreciate that the took the time to chat about their selling experience amid moving boxes, packing, and a busy baby!
What was going on in your lives when you decided to sell your home?
While we loved the proximity to downtown Cranford, we wanted more of a neighborhood feel now that we have our daughter. We wanted something a little bit bigger as well. Honestly – if things were different we would have stayed here if we could…we really love Cranford. We moved here initially because of the cute downtown and proximity to the train station!
When did you first start thinking about moving away?
Right after we had our daughter we knew we wanted to have more children. We knew our family would grow. This definitely prompted us to start the search.
What was the toughest part of getting your home on the market?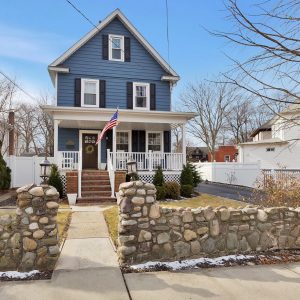 Getting my baby and the dog out of the house! It was a challenge keeping the house clean and not having baby toys all over the place! I definitely tried my best to stay on top of everything to make it look nice all the time!
How did the staging turn out?
We really liked the stager! She came in and the house pretty much stayed the same for the most part. She was great doing some little tweaks and moving furniture around. The small things made a big difference – it just was nice to have her there to change some minor things that made sense! Like, why didn't I think of that!?
Tell us about the house you sold, and the mental shift of thinking about the big move.
Tim had sold our townhouse in Hillsborough, so we had never sold a home before. It was overwhelming. We had to figure out everything as we went along. The process was definitely anxiety provoking – and to find another house as well is very difficult!
How did you find Sharon?
We did an internet search. We were looking for somebody that knew what they were doing. We wanted an agent that treated it as their job, not a hobby. Sharon's status of being known in the industry and top realtor in the area made our choice easy. She gave it all of her energy! She was just what we had wanted- someone who treated the job like their baby!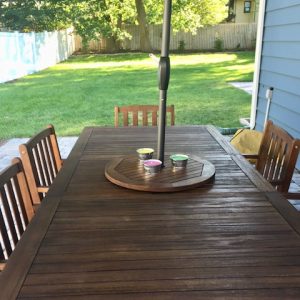 Do you have a favorite spot in the home?
The backyard is larger than most in Cranford. We just loved it in the summertime. We've had birthday parties and my baby shower out back! Our fire pit is enjoyed almost every night. We also have a dog and she loves the yard because she can actually run and get exercise!
What do you like best about your neighborhood?
The walk to downtown was definitely our favorite. It was a nice 10-minute stroll to get to dinner! For us, we like to walk every night so this was definitely our favorite part about the location.
What were you afraid of, or what caused stress about making this move?
Dealing with an 8-month old and moving! It's hard to get things done with a busy baby and nap time. I also am trying to keep her entertained while I'm packing!
Tell us about the home search
Overwhelming. We ultimately wanted to have Sharon help us find a home, but we ended securing a house that was not on the market. This opportunity just really fell in our lap and we had to take it!
Did you get the offers you wanted?
We had 9 showings the first day, 10 the next day, and 8 the following day! Sharon had everyone do "best and final" by the end of the week and we had 5 offers! We were amazed that we got significantly over asking price! We weren't expecting this at all…
What advice do you have for people who need to sell a home and buy a home?
Sharon said it perfect one day…she said, "If you sleep on it, you won't be able to sleep in it!" I just thought that was so true – because if you wait too long you won't get the house you want! This definitely summed up the entire process of looking for a home around here!
But it's definitely worth it in the in the end!