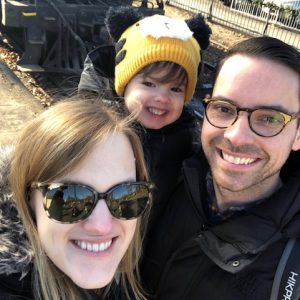 It was all about a baby skipping a nap and one, gorgeous backyard tree… Meet Margaret and Brian in my latest Sold by Sharon Story! I was so excited that these two chose this adorable home in Cranford. It truly was the perfect fit for mom, dad, baby, and baby #2 on the way!! And talk about renovation…this couple took DIY to heart and have completely modernized this charming home that needed a personal touch! I had the best time recapping the entire experience with Brian and loved the pictures of all the "after" shots! Great job guys!
Tell me a bit about yourselves…
Margaret is from New Haven, Connecticut and I am from the North Side of Chicago. We actually met at a bar in New Haven called "Bar"! She has an identical twin who was in my graduate program and we met through her. That was 10 years ago! We will be married 5 years this June. We have a two-year-old son named Rowan.
Where did you live after you were married?
We lived in Jersey City for the last 8 years – various apartment throughout downtown and on the water. We lived through two hurricanes there! We truly were connected to that town and the move out here was emotional – as we had grown a life in Jersey City.
What prompted the search to buy a home, and why did you choose Cranford?
We left the same way everyone does I'm sure – the classic story of needing more space. We were starting a family, had a baby, and were getting ready for school and a more family-oriented town. We actually have a baby boy on the way in May! And he and Rowan will be exactly 3 years apart!
We looked at many towns in the area, but Cranford was always the first frontrunner. We really liked the Cranford school system from what we knew about it. It's just the nicest, smallest, cutest town. I love the trees. The town can take you where you want to go on the train! I definitely prefer cities – Margaret is more of a suburbs-type but even she grew to love Jersey City.
How did you find Sharon?
(laughing) She's hard to NOT find! I took the lead on shopping for a house. Sharon was just everywhere. I think I first noticed Sharon on Instagram – I used Instagram as a research tool. I liked her attitude and presence on the internet. I'm sure many realtors are all over – but it was clear that Sharon brought the passion, effort, and care to the towns she is an expert in. I could tell she was particularly fond of Cranford. She portrays herself as a top first-time homebuyer agent and she lived up to that. I knew immediately that she was the one. As soon as my wife and Sharon got together, they were totally at ease with one another.
How did you find your current home?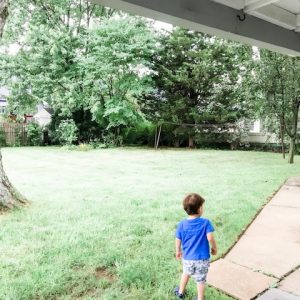 We didn't know we were pregnant again at the time we started our search in April 2018. We were casual about seeing houses. We had maybe seen about 8-9 with Sharon and took a break over the summer. Then I started feeling anxious at the end of the season. I guess you could say we found our home because Rowan skipped a nap! I had a few homes in Cranford on my list. We said – if he's awake then we will head out to the open houses. Our house was the last one we tried to see. The realtor was packing the open house sign in the trunk when we asked to step inside! A few interesting things occurred as we went in the home. Rowan headed to the three-season porch and there were these fish pillows on the chairs. He thought they were so funny and then he just burst out laughing, rolling around. He was hilarious!
Then we head out to the backyard and there was a big tree. Rowan started climbing around. Then I see my wife standing there with her arms folded, looking up at the tree as she said, "Brian I really love this tree!" I knew this was it. We did the rest of the tour and got in the car. We just looked at each other and said – "I think we should put an offer on this house!"
I believe we did the next day!
We aren't impulsive people at all. We loved this house and it was the right price. It's on a small street with a cul-de-sac. Margaret and I loved the kids outside just playing and riding their bikes. (PS… I know some of those cute kids!!)
What renovations have you done so far?
The previous owners had lived in the home for 42 years. The home was built in 1956 and there was just one other owner before them. It was lovingly care for – but it needed critical updates. Believe it or not it was still running off the original boiler!! We converted from oil to gas. We waterproofed the unfinished basement. We refinished the floors and installed hardwood floors upstairs. The most obvious transformation is the kitchen. The kitchen had great cabinets – so I simply restored them. My father-in-law and I put in new countertops, appliances, and flooring. We also painted the entire home! Next was the first-floor bathroom – the pink tile was in great shape so we reglazed it in white, put in a new floor, vanity, flooring, toilet, and then reglazed the cast iron tub.
We have done so much cosmetic work that we haven't even moved upstairs yet! When we closed in September 2018, we lived with friends in Jersey City while we completed the larger projects. We have 5 bedrooms and I don't think any of them are being used for that purpose! Renovations have been ongoing since we got here – but we are so close to getting upstairs soon because that baby is coming! We are okay with the timeline, though – because we really wanted to make it our own.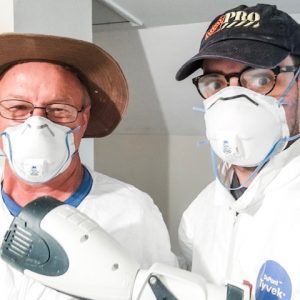 (Margaret and Brian would like to give a HUGE SHOUT-OUT to Margaret's father, Casey, who played a major role in their renovations…they want to thank him so much for all of his time, energy, and love that went into their home!)
What did you like about your current home – features that were important to you?
For me – it's when I'm brushing my teeth in the morning and I can see the tree in our backyard. It's really a massive backyard – 10,000 square feet – the largest on the block. Not to be too sappy – but I try to imagine the memories that have been made in that yard. The daughter of the owners actually gave us a nice card when we moved in. She wrote and told us about all the memories that happened in the house – from children being raised, weddings, and grandchildren running around. My wife also adores this aspect of the house.
Now that you have been in Cranford for a few months – what do you like about your new town?
We haven't gotten out much during these cold, winter months. But being so close to Unami Park is pretty awesome. The massive trees are gorgeous, and the playground is super nice. With a small child and baby on the way – being near a park is important.
I also walk to the train and go into Newark. I work at Audible Books It's over a mile walk each way as I go up South Union Avenue to the train station. It's just a beautiful and peaceful walk. I am an avid fan of architecture and just love the homes in this area. Cranford is a viable and thriving downtown and it gives me energy each day. This walk is definitely my "me" time and I hope to keep up the commute that my house still gives me!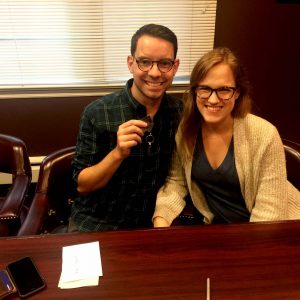 Best advice that you can offer other new home buyers?
#1 is to work with Sharon! After that – you always hear that classic advice to not buy a house and change everything about it all at once. I think the opposite. To make a house your own and do a lot of work all at once – you SHOULD do that if you found the right neighborhood and city. Don't be afraid to take on a big project if everything else fits. However – I will add…stay connected with your partner. You need to be in touch throughout the entire project – because it needs patience and you need to make sure you are both on board and agree with the direction it's going. It's a lot of work, but truly worth it in the end!