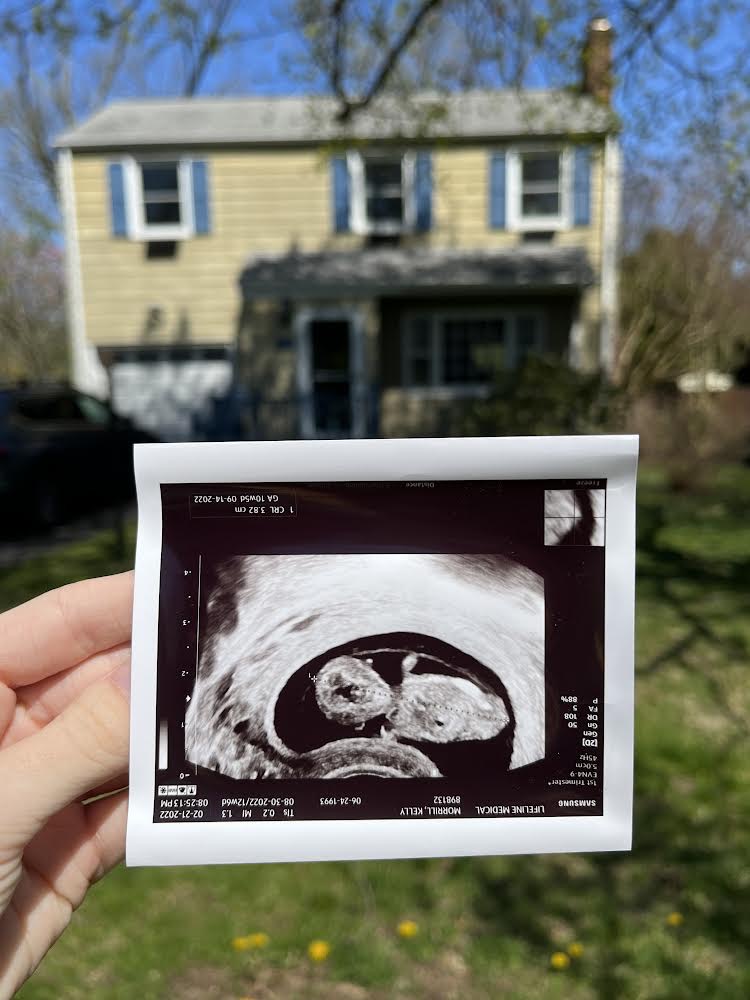 This is Kelly and Elliott's own Sold by Sharon Story – the tale of a young couple who fell in love with Cranford, NJ Living and wanted to settle down and buy their first home! They both said of their new town: "When we first moved here, we had no idea how special this town really is! We love the downtown and supporting local businesses." It was very exciting to work with Kelly and Elliott and they knew exactly what they wanted! They both love being outside and their new 3-bedroom, 2-bathroom colonial has the perfect backyard space to enjoy the fresh outdoors! The BEST part about our shared Sold Story is that Kelly and Elliott found out they were pregnant the day after they put an offer on their first home! Let's see what these homeowners have been up to since they moved into this sparkling new house this past spring!
Sold By Sharon Stories share a little bit about yourselves…
We met in Stamford, CT in 2016, while were both living there. Both of us grew up in the surrounding area. Actually, we met on a dating app- Kelly had never used a dating app before and Elliott was her first ever "match"! In our free time, we like to spend time together outside and by the water.
What were you doing prior to your decision to move and what prompted the move?
We moved to New Jersey in 2018 when Kelly changed jobs. Elliott kept his job, just switched which river he was crossing to get into Manhattan. We started renting in Cranford, NJ because it was the middle point between each of our commutes. The two of us quickly fell in love with the town and knew we wanted to buy a home and start our family here.
How was the current home-buying process for you?
Some might say that we got "lucky" because we bought the first house, we put an offer on (which is definitely an exception for today's market). We truly waited until we saw something we really loved, and Sharon gave us the right advice and information to help make it a reality for us.
What aspects of house hunting were you not expecting?
The open houses were crazy. There were always so many people, lines out the door, etc. It was so much better to make an appointment to see a house by ourselves, without having to worry about what was going through all the other potential buyer's heads.
How did you find Sharon Steele to work with as an agent?
Sharon came highly recommended by others in town, and we now add our voice to that choir. She's very communicative, straightforward, and truly understood both the market and what we were looking for. The inspection process was not an easy process for us, but Sharon was very calm through the entire process, and she expertly navigated the situation. In the end, we made it across the finish line with our sanity!
What was something that you HAD to find in your search for a new home?
We really wanted a backyard so we could spend more time outside and have an outdoor space to ourselves. We already spend a lot of time in the backyard and only envision us spending more time with kids (and a dog) in the future!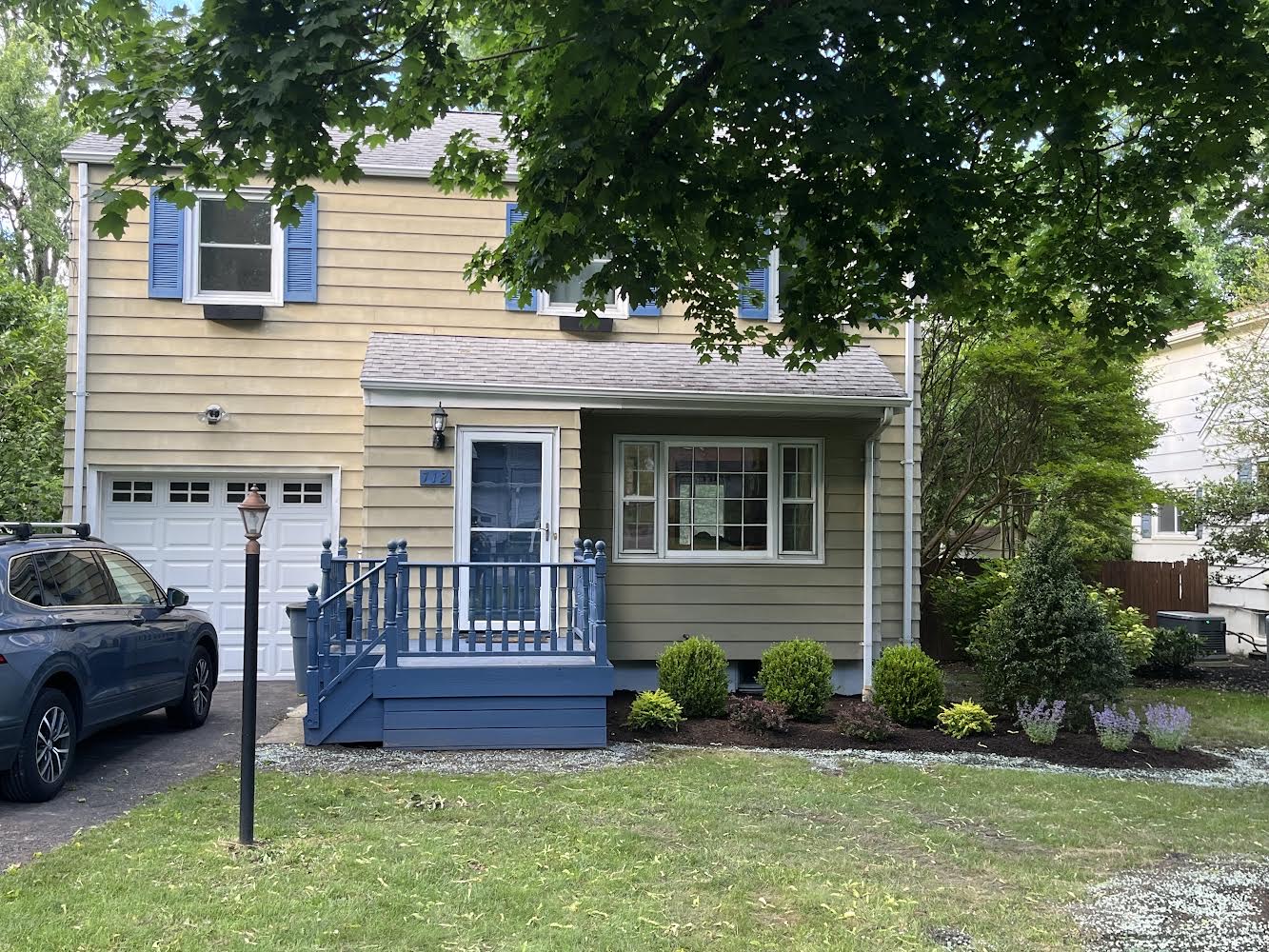 What drew you to your new home?
We loved that it had the space we needed, without feeling too big or too small. There's some space for us to grow with the house (and love that all 3 bedrooms are upstairs!). It's small enough that everything feels very connected. We saw a lot of houses that might have had more space, but would have required some big upfront updates, or houses that were updated but were just too small. This house just struck the perfect balance for us.
What was going through your head as you closed on your new home?
The day after we put an offer on the house, we found out Kelly was pregnant! Closing on this house made our dream of buying a home to raise a family feel so incredibly tangible. I think it really hit us when we walked into the nursery and realized that in a couple of months, we'd be a family of THREE!
Any advice for homebuyers like you?
We learned a lot in patience and to not let some of the small things get in the way of the bigger goals. Ultimately, conceding on a couple items (even if we didn't agree in principle) ended up being small in the grand scheme of it all.
What has been the biggest change in the home since move-in-day?
We updated the upstairs bathroom by replacing the floors and vanity.
How would you describe your personal design style?
I think our style is a nice blend of modern and traditional. In general, we are both drawn to a very neutral color palette, and we love incorporating artwork and pieces that have meaning to us. It's been fun to make it our own.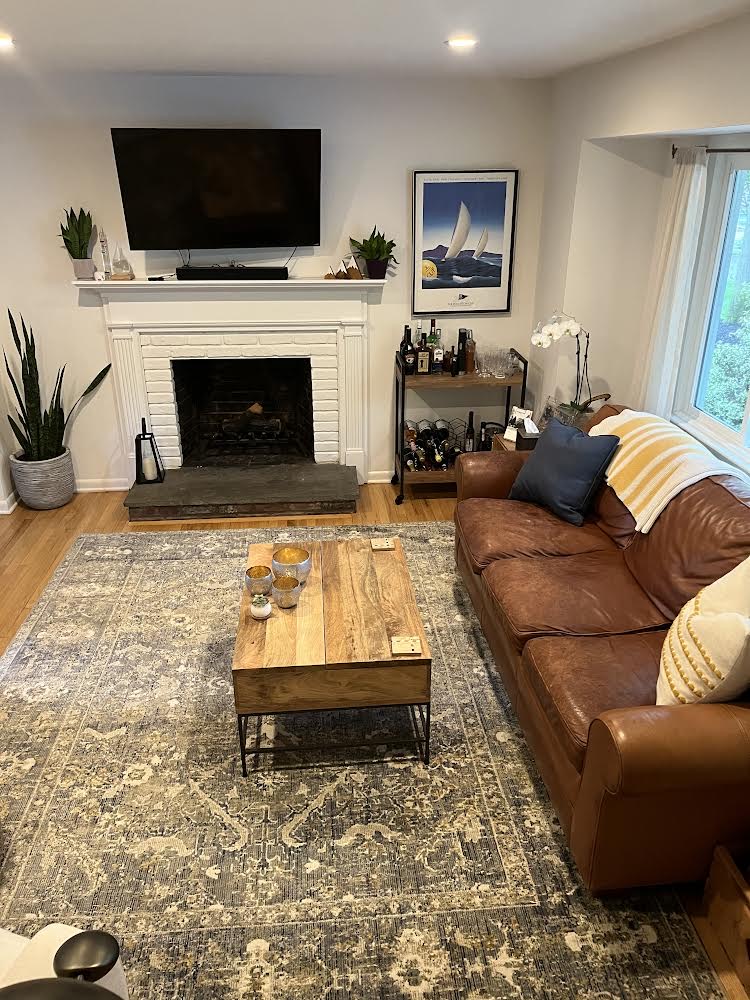 If you have painted, what is the name of your favorite new paint color?
The whole house had white walls, so it wasn't a priority to paint before moving in. But… we have already painted the nursery! It's a grey/blue color called Flint Smoke by Behr and we love it! It's neutral enough that it doesn't scream "baby boy" but still has strong blue undertones. Elliott's parents love the color so much, they are going to match it for the guest rooms in their new home in Florida!
What was your first major splurge?
We bought new windows which are getting installed next week. It will be so nice when we can actually open the windows in our living room and sunroom!
The BEST room in the house and why…
We spend a lot of time in the sunroom. We honestly weren't sure what we'd use the space for originally since it's small, but we had a couch that fit perfectly! It's a cozy and small space, but all the windows make it feel so bright. The sunroom is a great place to read a book!
What's one more thing your house needs?
We are patiently waiting for our baby to join us!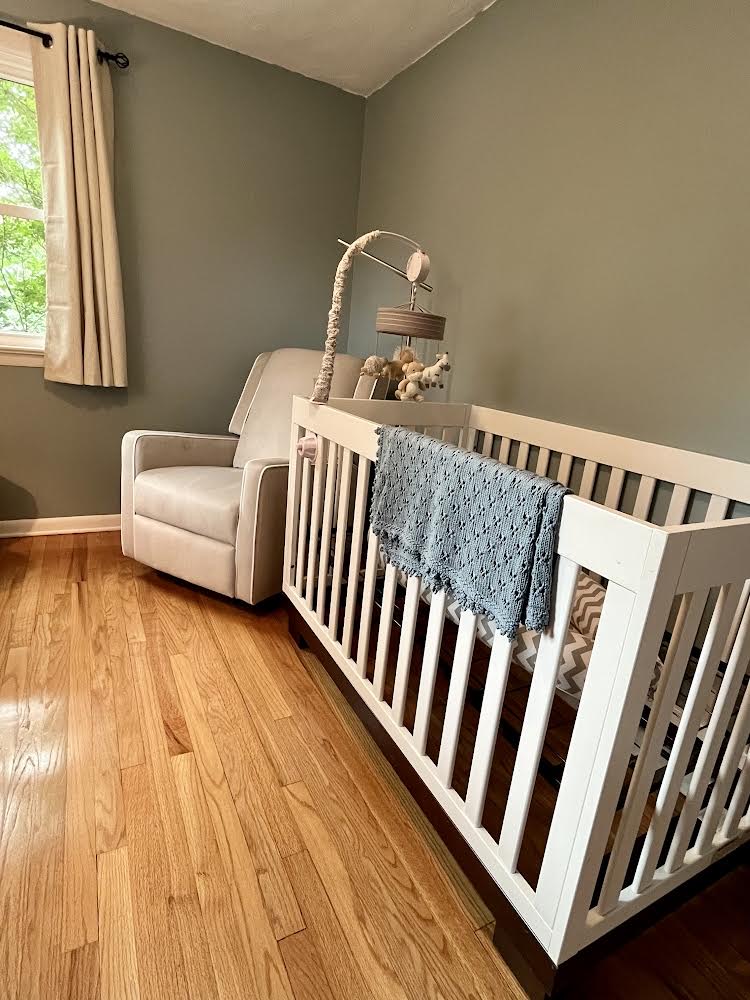 What's a new memory that you cherish in your new home?
It might not be a specific memory, but the feeling of coming home every day and for it to feel like "home" is something special.
How would you describe your neighborhood?
There are always people walking outside and it's nice to see everyone out and about. In addition to the great restaurants in Cranford, we also find ourselves exploring more places than we did before since we are on the border of Westfield and Garwood!
What is your favorite Cranford, NJ spot for a bite to eat?
Our standard 'go-to' is the Cranford Hotel, but we love trying all the restaurants the town has to offer. There's always something good to eat, no matter what we're in the mood for.
Something you've appreciated about your home/community since move-in day?
We've enjoyed meeting our neighbors. They've all been very welcoming!
Create your own Sold by Sharon Story!
I want to thank Kelly and Elliott for taking this journey and putting their trust in me as a realtor. They truly found the perfect home to become a family of three! It's been wonderful to see the transformation of a house into a "HOME". That gleaming home in Cranford, NJ is the perfect beginning to their new chapter. I can't wait to see how it transforms as time goes on.
If you are looking to make a move, get in touch today. Fall is just around the corner and why not find a cozy new home to ring in the new year? I would be happy to answer any questions you may have. Will YOUR journey be the next feature in a "Sold by Sharon" story?! Fill in the form below to contact me!