This is Andrew and HaVi's own Sold by Sharon Story – the tale of two busy parents with two young children who were in search of their forever home in Westfield, NJ. They had moved to Westfield in 2013 and were in need of more space. They found their new home after a year of searching. It was everything that they had wanted – complete with close proximity to downtown and a two-car garage. This was a custom, split-level home with four bedrooms and two and a half baths.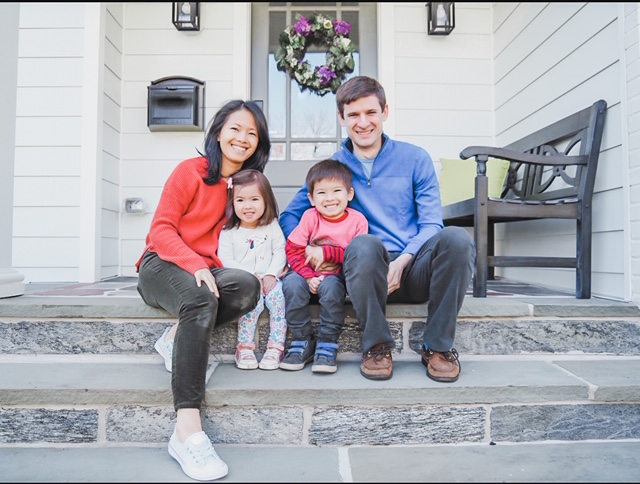 Why did you choose Westfield, New Jersey as a place to raise your family?
We were introduced to Westfield through a friend and fell in love with its vibrant downtown. We wanted to move to the suburbs but did not want to leave the city-like atmosphere behind…Westfield gives us the best of both worlds!
What prompted you to move to a new home?
Our current home was great, but we decided to make a change. We wanted to be walking distance to downtown and more space. Additionally, we wanted a large kitchen and 2 offices.
How did you meet Sharon?
We heard of Sharon through the Mothers' Center of Central NJ and a friend who had worked with her to sell and buy. When we met Sharon, we immediately liked her go-getter, no nonsense attitude. We knew she was someone we could trust and get things done.
What made you fall in love with this home?
We found this gem after looking for a year. The absolute perfect location, everything we wanted, and the attached two-car garage! In addition, the yard is amazing!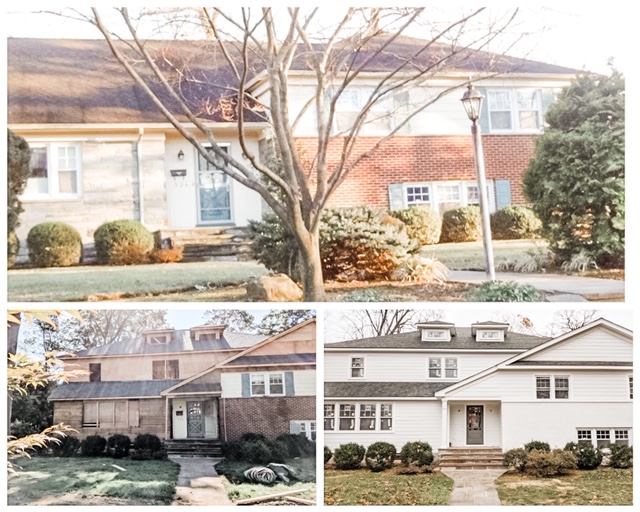 What renovation did you do to your home?
The whole house was gutted, and we also built an addition. The house was a 4-bedroom home and we kept it that way. The 4th bedroom was on the top floor with angled ceilings, so we raised the roof to add 2 offices and created a master suite. On the main floor, we reconfigured the space by removing and adding closets and built an addition to square off the rooms. This, and taking some space away from the large living room, allowed us to create a large kitchen, a walk-in pantry, spacious family room and a powder room towards the back of the house. We kept the second level layout as is but updated the bathrooms, painted and refinished the floors. In the basement, we took some space away from the existing bonus room to create a mudroom, laundry and game room.
Who was your architect?
A Westfield local, Kenneth Abrams. He came highly recommended to us and we couldn't be happier. He got us from just one meeting. As a result, our house today is basically his first sketch!
And you fell in love with TimberRidge Construction?
We were introduced to TimberRidge through Sharon. Upon meeting Anthony, we just knew he was the right person to trust to build us our dream home. Everyone told us that a renovation is stressful because it never ends on time nor on budget – our experience was the opposite! Most importantly, the whole project was fun and fascinating, and we moved in before the anticipated completion date!
What did you REALLY not back down on with the renovation – what did you HAVE to have?
We got everything!!!
How would you describe your personal design style?
Probably transitional. While we don't really have a decorating style per se, we knew we wanted to make the house timeless. So that really dictated our selections. We worked with interior designer Irene Reilly to keep us focused. And Anthony was very helpful in this regard as well.
Tell Me About Your "Favorites"…
The colors of the house are shades of gray, white, blue but we did add some brighter colors. For instance, we did use our favorite color, purple, in the powder room.
The best room of the house?
The kitchen because that's where we spend most of our time.
What do the kids love about the house?
Everything so far!
What's a new memory that you cherish in your new home?
Everything we've been able to do together around our large kitchen island.
How would you describe your neighborhood?
Quiet and everyone is super nice!
What was your first major splurge?
The renovation! Our big splurge after the renovation was the shades. We needed window coverings for 27 windows and phew, they were quite an investment!!! However, we do have more planned. The next project is the yard which we hope will be done by May.
When you head out the door – where do you like to go in Westfield?
We keep exploring and finding new things! As a family, we frequently visit Turning Point because our son loves their home fries (and Jojo, the best waitress in town!). You will also find us at the Salad House for their Sweet Heat and Crispy Shrimp sandwiches and pizza. Another spot that we like is Fiamma's – food comes out super-fast! – and Brick Oven. Not in Westfield, but right near our house, is & Grain – we love their cheese danish and fresh breads. Above all, we enjoy that there are so many wonderful options just nearby!
Sold By Sharon Stories: Havi and Andrew…
I love that HaVi, Andrew, and the kids truly made a house a home in Westfield, NJ. I'm sure that they will cherish many more memories as they transition into each new season. If you are looking to make a move, get in touch today. I would be happy to answer any questions you may have. I would love to feature YOUR journey in a "Sold by Sharon" story!