Sold by Sharon: Genevieve and David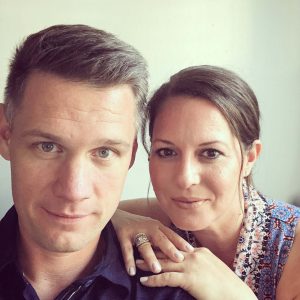 Hailing from Montreal, Quebec – Genevieve is the Director of Health and Beauty of Whole Foods for New York, New Jersey, and Connecticut. When she isn't making the aisles of this superstore gleaming and fabulous – she's designing her own forever home in Cranford! Genevieve and husband David are taking on such a huge home renovation project that we needed TWO parts dedicated their "Sold by Sharon Story" feature – before and after! I hope you will follow me as we revisit them this spring to capture the remodeling of this charming 1938 Colonial in Cranford with great curb appeal! Right before the holidays I met up with Genevieve as she was going to the opening of her new Whole Foods store! She helped me start the story of their adventure! Genevieve and David can't say enough good things about Magnolia Home Remodeling in Union, NJ and the fact that they are currently on her speed dial!
Tell me a bit about yourselves!
David is in the book business – we met at Barnes and Noble about seventeen years ago. A few years later we were ready to make our first purchase. David grew up in Westfield and knew the Cranford area well for the charm, community, and great school system. We decided to buy at Parkway Village and would have celebrated 15 years in the spring. Our neighbors are so sweet and not thrilled to see us go. It's a great place to live and we will miss it!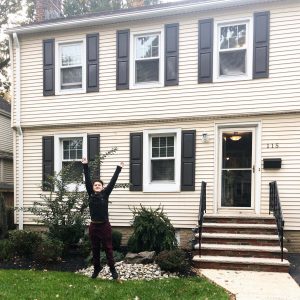 What made you decide to move to move again in Cranford?
My son is twelve years old and at Orange Avenue School. We knew that soon we would need to spread out a bit more and have more space. We had been looking in the area for a while. We knew exactly what streets we wanted as our son has best friends living on nearby streets. We wanted to make sure he was close to those streets!
Since you are truly integrated into this community, what are some of your favorite spots or activities in Cranford?
We love the community! When you have a son in the school system you make friends. It's such a warm, small town feeling. We also love that it's a foodie town. We adore our CSA every summer at Dreyer Farms! We buy for 4-5 people and we are only a family of three! We use every last item in the box! It's such a unique, special place. Shopping local – it's what I love.
How did you end up finding Sharon?
We started becoming serious about looking to buy a home in the late spring of 2018. As I was driving through towns and looking at Zillow, I noticed Sharon's name was on a lot of properties – even one near us. When I reached out to her, she was very responsive, and we LOVE that about her! She was great at following up. I started following her on social media and noticed her extensive reach into the community. It was clear she really knows the area really well! Her responsiveness and sense of urgency was impeccable. It was a great partnership – in fact, she will be helping us sell our townhouse when the remodel is complete!
How did you find your current home?
We hired Sharon about a week prior to finding our home. It was actually September 11 and we called her up and said we had to get into that house! We made an appointment to see the home. It just so happens that I was away for work during that time and David and my son had to FaceTime from the house! They visited the home and my son really liked the third floor "teen room"! David also loved the house -so we had a family FaceTime and we said, "Let's go for it!" We ended up putting an offer in that night and the offer was accepted the next day! It's funny that I didn't even get into the house till the inspection day!
What did you like about your current home – features that were important to you?
The home has great bones and I could visualize everything that needed to happen right away. My passion is cooking- it's a true hobby. Me being in the kitchen and entertaining is my favorite thing to do! We love to have room to entertain our family and friends. I immediately saw that large dining room and knew it could seat at least ten people. I could also see that the wall between the kitchen and dining room could be opened up into one large entertaining space!
What renovations have you done so far?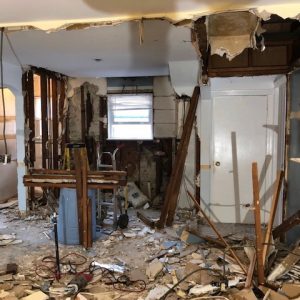 We have a lot of plans for the house and the anticipated move-in date was the end of January. We found some unexpected costs associated with replacing the gas boiler. We also discovered that the chimney was unusable and had to repair that as well. Another not-so-fun project was clearing out the asbestos in the basement tile
The major work was completely gutting the kitchen. The original kitchen was pink countertops with wood laminate cabinets! (and we can't wait to see the final product!)
Since we only have one full bathroom – we had to make it work for our family. The current shower was very small and just wouldn't work for my 6'4 husband!
The basement was very dark and must have been used as an entertainment space many years ago. This was a labor-intensive job with all the painting and removal of asbestos tile. We refinished everything and exposed the beams. Then we opened up the ceiling. David is a musician – that's his hobby! (side note: he also plays with Claudine Flynn – amazing Cranford mom/singer from a previous post!) He will use this room to play his music and jam with friends – he's very excited to have this music space!
We also refinished all the floors, repainted everything, and took down the wood paneling in my son's third floor bedroom.
Basically, the whole house is being "touched"! And we owe our family and friends a HUGE thank you because they truly helped with so much of the demolition!

Best advice that you can offer other new home buyers?
Do a 2nd level inspection on every major component in the house. First do a home inspection- then hire a specialist for the chimney, boiler and asbestos inspection. These are all "big ticket items" to take into consideration. You need to know the status ahead of time for negotiations with the seller. I think it's crucial to realize what you are getting into. It can make or break a deal! It's all the stressors of buying a new home. We were so happy to have Sharon with us who recommended the chimney. It had to be completely redone or it would have been very dangerous left "as is"!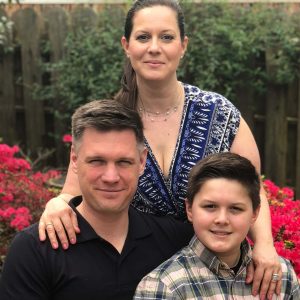 I simply love working with this family, and my very favorite part of the whole transaction is how truly connected David, Genevieve, and Lawrence felt to each other, as well as to the the home! Since Genevieve was away on business when it came on the market, Lawrence FaceTimed the showing so she could see everything. It totally impressed me! That smart young man could see the potential in the home, and he certainly contributed to making the decision! It was a blast!
Stay tuned for Part 2 to see more before, during, and after photos of this amazing renovation!