Here's a "Sold by Sharon Story" that was so refreshing and unique. Usually when I am meeting clients who are about to be empty nesters – the talk is about downsizing to a smaller home. Denis and Eileen were a breath of fresh air and such delightful clients to work with. They had been loving their Fanwood NJ home for the last fourteen years – it had a small yard and was close to the train station. Their only daughter was getting older and that gave them the idea of finding a way to create a magnet back home. They thought – let's find a way to build a better backyard and have an oasis for our children when they come back home. They decided to up-size, and their plans went from there. I could not wait to share their home buying and home selling Sold by Sharon Story!
In April 2019 they moved to a glorious wooded retreat in Scotch Plains NJ complete with a hidden room (read below)! I was honored that Denis and Eileen chose me as their realtor for both aspects of selling and buying a home. Now I have the pleasure of knowing them and watching them live out the next chapter of their life in their dream home!
What made you decide to move from your home and buy a new one, just miles away?
Eileen: We got in contact with Sharon to get our own house sold. After making the decision to move locally and it was a fairly rapid process We had been in our house for about 14 years in Fanwood, New Jersey, and although we loved our home and raised our daughter Grace there (She is seventeen now) we decided that with her going off to college in a year's time that we wanted a home with more land and put a pool in to have more space for the kids to come home. We wanted to create a bit of an oasis. We are basically bribing our children – trying to build a home for the next chapter of our lives where our kids will want to come back and see us. That was the plan.
We decided to put our home on the market first even though we hadn't found a new home yet, but we knew we wanted to stay in the immediate area to keep our daughter at the local high school for her senior year.
Once the process of looking for a new home began, we figured we would start the process of getting our own home ready for sale. And that's when we contacted Sharon. We received her name through a recommendation from someone in our circle who had worked with her in the past and had spoken very highly of her. We reached out to her and she came over and met with us. She was "our person" from that moment on. And of course, we met her assistant Angela and she was just delightful. The journey went from there.
Backing up just a bit…please tell everyone a little bit about yourselves and how you met?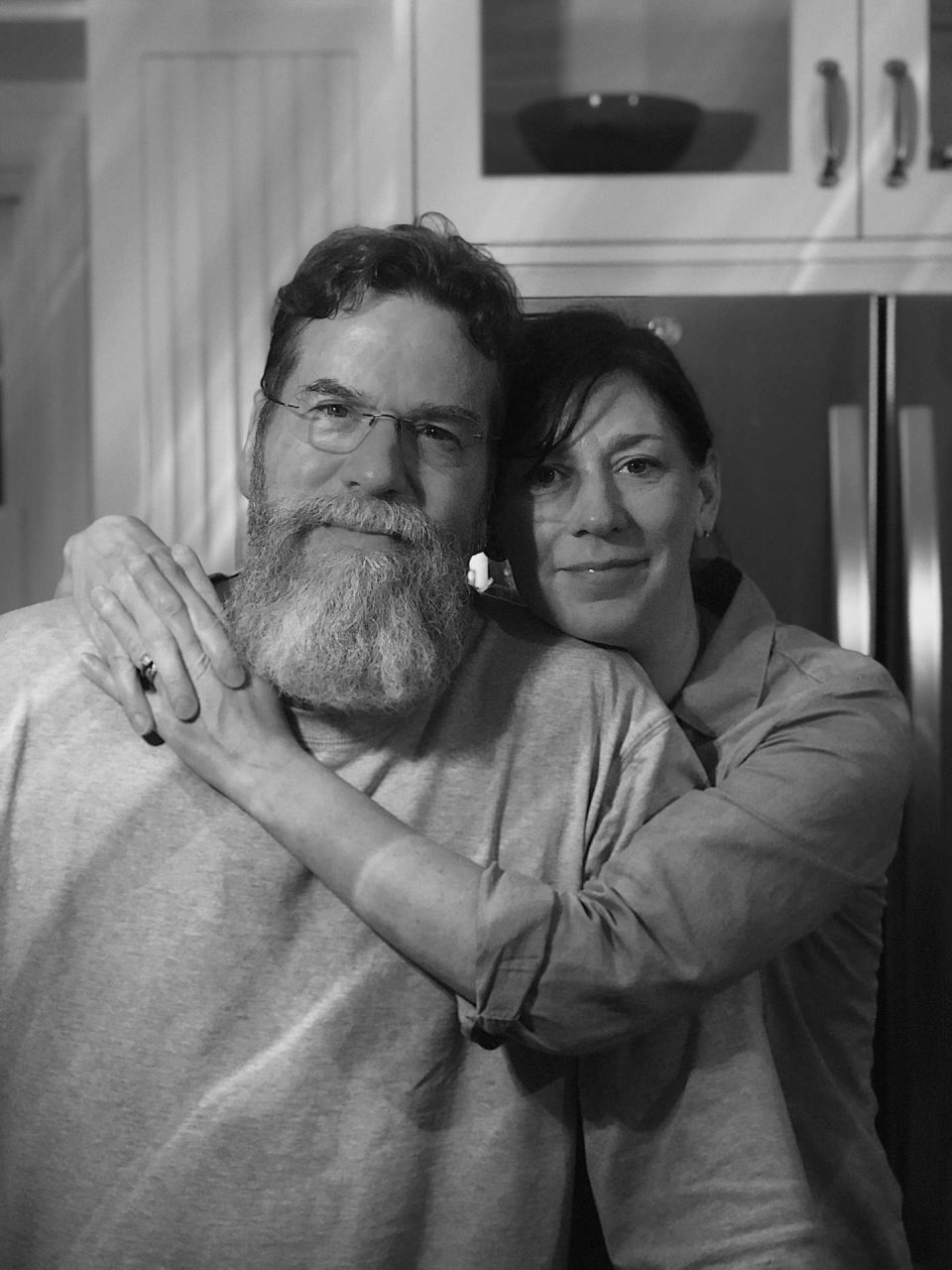 Eileen: I'm from Dublin, Ireland and I moved here 27 years ago. Denis and I actually met in New York City – both living there. We were married 19 years ago and spent 15 years living in the Upper West Side before we decided to move to New Jersey. The decision to move to NJ was prompted by our daughter being 2 ½ and we were looking at school systems and what upbringing we wanted to give her. We just randomly landed in Fanwood, NJ. We were looking at New Jersey communities with close city commutes. Fanwood seemed like a lovely little town with a real sense of community. It had a bit of diversity to it and a normal neighborhood feel. We instantly liked Fanwood and close transportation option to the city which suits us. We were very happy there for the last 15 years in that location.
Eileen: By the way – I work in advertising and my husband is a retired social worker.
Denis: I went to school in the city, stayed in the city, worked in the city…till she dragged me to New Jersey (kiddingly).
Eileen: He couldn't imagine life without Manhattan. But now we have no regrets.
Denis: As much as I loved living in the city, there's a lot here that you couldn't have there. Every morning I go outside, and I have a flock of deer. They come up and I feed them by hand. So, you don't have that in Manhattan!
Yes – I hear you've been coined the "deer whisperer" and that you've named a deer "Griselda"?
Denis: Yes, Griselda! She comes three times a day. First she looks in the windows. Then she eats out of my hands and lets me pet her. Eventually she began to bring 8-10 others that come with her and stand back and eat. They won't let me touch them. Griselda's the smart one that gets the peanut butter sandwiches! Griselda got used to me while we were working on the house starting in February. By the time we moved in in April, she began approaching me.
Eileen: Living in Scotch Plains – only two miles from our old house – feels like we are completely in the woods. We have two dogs, three cats, birds, and a koi pond. We are definitely animal people!
Tell me a little bit about the search for this new home and the timeline of coordination the buying and the selling of your homes…
Eileen: We contacted Sharon about four months ago to get advice on the process and how to ready the house for sale. Denis and I met with her publicly in August/September of 2018 yet we didn't put our house on the market until early 2019.
Our search became serious in October 2018 when we started going to Open Houses and then, through that process, got a little more intense. We started to narrow down our options and, as things got more real, Sharon accompanied us to the properties that were more interesting.
Finally we found this house in November 2018 and it was about the 15th house that we had looked at. It was a bit bigger than we were looking for – so that was a big pause. The setting, the backyard, acreage, and the rustic feel was what really grabbed us. The potential was just amazing. That's what really gabbed our imaginations. We actually put a bid on the house the day before Thanksgiving. Sharon was texting me with the owner's response. We made the decision that this was "the one". It worked out and we finally "sealed the deal" and closed on the house in February of this year.
How did things work out selling your home?
Eileen: We put our old house on the market the end of February/early March 2018. We officially closed on it in May/June 2018. We had both properties for just over three months.
Eileen: The whole process was quite nerve-wracking. Everyone will tell you that. Even the smoothest of processes- buying and selling a house and trying to orchestrate the whole thing from a timing perspective is stressful!
Sharon was so helpful with all of the issues that came up with the sale of our house and the purchase of the new house. She always remained calm as we went through the stress of the "what- ifs" … What if our house doesn't sell in time? What is we don't get the value of our house for what we put into it? All of that nonsense!
What are your favorite aspects of buying a new home – the things that drew you in?
Denis: I love the whole house! I love the big openness and how it flows from room to room. From where we are sitting right now – we call it the "great room". It's a two-story room with a big fireplace and huge windows that look out across the woods. It's just a really pretty, pristine setting.
The new home also came with this hidden room in the basement that we kind of discovered. Inside this room tucked away past the pool table, the shuffleboard table, and the boiler room – was a room with an entire model train set! It's unbelievable! You can't even describe it in words. It takes up the whole room. There are murals on wallpaper, painted towns, people, little cars…it was such an added bonus! We can't wait to set it up and get the trains running!
Eileen: It's pretty significant – it's like something you'd see in a train museum! Its' such an interesting aspect to the house that you'd never have expected. Imagine with whole room filled with tracks, mountains, and valleys.
The draw for me was the setting and what I think the yard will feel like next spring and fall when it's all completed. And just like Denis – I also love the main living room. The height of the ceilings, the landing, the two levels of windows looking out onto nature – it's perfect. And it doesn't feel "grand" at all – it's just welcoming, warm, natural, and attractive.
The master bedroom has a lovely sitting area with its own gas fireplace. It has the same wall of windows that again looks out on nature and has the most wonderful cozy and warm feeling seeing all of those trees.
Were there any renovations that needed to be done?
Eileen: Everything was all cosmetic. We just wanted to get everything done before we moved in. The biggest thing we did was we painted everywhere. That was a big job in and of itself – it was a two-month process to get it all painted from floor to ceiling. The upstairs was all carpeting with no wooden floors underneath, so we pulled all of that up and we had wooden floors installed. And every room that had tile downstairs we replaced with wood as well. That was a very big job as well.
Everything was all by choice. The house is a little bit vacuous right now. We did purchase a few pieces but there are rooms that are still empty. We're not quite sure what we're going to do with them. But we'll take our time and find a way to move into them – in a way that feels right when we know.
What did you learn through this process, advice to pass along?
Denis: Tell them to "Call Sharon!" To be honest…she was the "calm in the storm" kind of person. She never got flustered. Every time we doubted anything she was like, "Relax, it's all going to come together." I believed her.
I think a lot of it is finding the right person to help you get through everything. There's a lot that you don't know – we were like novices again at this. She was always there to put us in touch with someone or give us a name and guiding us as to what to do. It really wasn't a hard thing for us from that point of view – just the usual anxiety. Logistically, Sharon took care of everything.
Eileen: I'm sure she has this effect on a lot of people – and that is part of her professional ability… she just "got us". We could be hanging out with her over dinner any time and she's just like us. We trusted in her candor and figured she'd tell us things straight. You really want someone who you can trust and believe and who feels they "get you" and that really was Sharon for us.
To Denis' point – Sharon was there absolutely every step of the way during the home buying and selling process, and -we've done this before- but you forget all the details and questions that come up. And anytime we ever had any kind of mental pause – She was right there – instantly – with a very calm, steady response, solution, or suggestion.
She was incredibly responsive day or night, big or small. She answered all of our questions. I believe it was Sharon's communication abilities plus style that helped an awful lot because we were never left hanging in our own anxieties for more than seconds. That level of reassurance was very quick, and it kept everything as very calm as it could be.
Sharon's just a really nice, normal person and that makes the whole process feel like you are hanging out with a friend: quick to be so honest with us in a very professional manner. She really had our back!
I'm really excited for the both of you and deciding not to downsize – but rather make the most of this gorgeous, wooded retreat!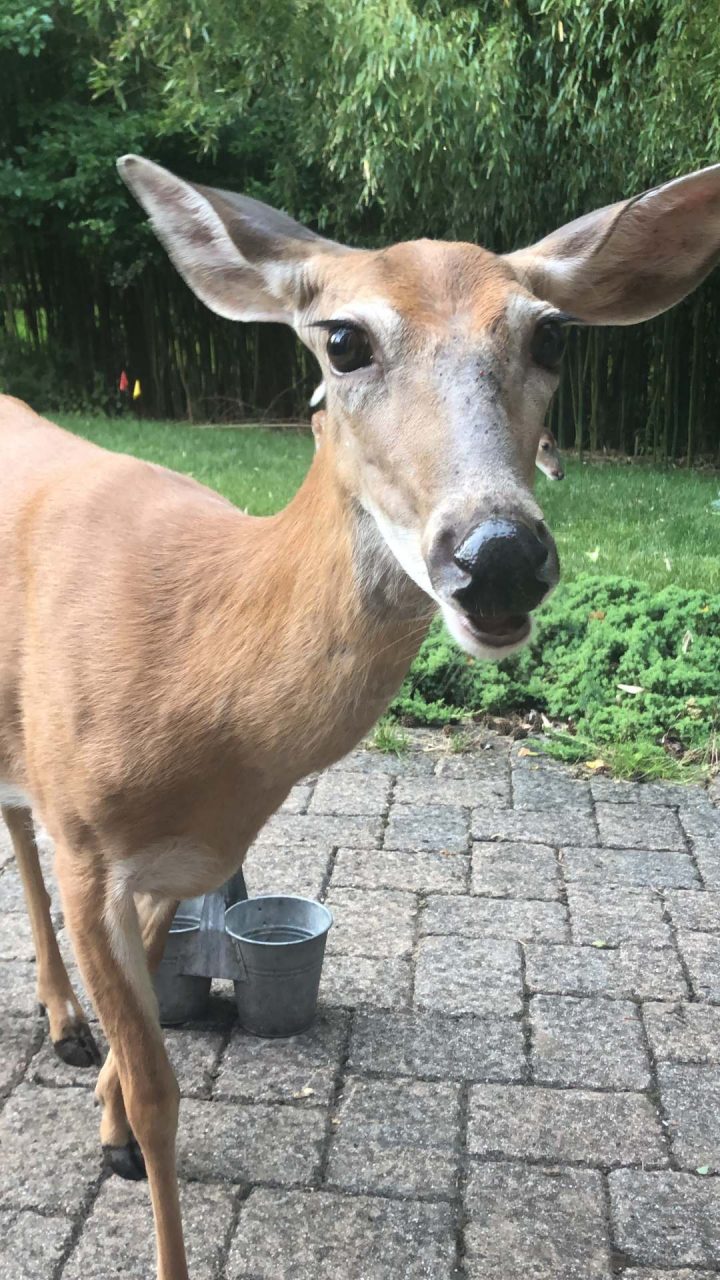 Denis: It's a place for all the family to come back to. We're putting this huge pool in the back. It's for brothers, sisters, nieces, nephews – it's for everyone! We both have huge families.
Eileen: It's a gathering spot.
Denis: A central spot for everyone to come back and see each other and unite.
Eileen: No – it's not a retirement spot. We aren't planning for that. This is an 8-10-year chapter. You've gotta live your life! We figured we have these 10 years – of gathering, fun times, more times with family and kids – before we actually have to think about downsizing.
You have to live every chapter out the fullest, right?!!
I feel like we've done our life in stages. I first had to pry Denis out of the city, Fanwood was then the stepping stone by living in a lovely area of suburbia…and now we have retreated into the woods! It's a bit of a journey!
If you are looking to make a move, feel free to reach out! I would be happy to answer any questions you may have! And I would love to feature YOUR journey in a "Sold by Sharon Story"!