Many of you may already know Cranford resident and local health and fitness expert Ashley Legg of "Legg Day Fitness".(If you are not familiar with Ashley's business, check out my post here: Get Fit With Legg Day) . She's very involved in our town and with the Cranford Community Connection organization! I was honored to be Ashley and Ryan's realtor and helping them find their first home together as newlyweds! They were looking for land in Cranford and ended up with the exquisite backyard gardens of a former restaurant owner and renowned chef! They were such a joy to work with… their excitement was infectious! If you see Ashley and Ryan around town, be sure to say hello!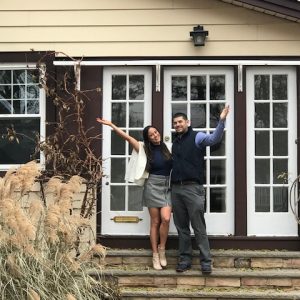 Tell me a bit about yourselves:
Ashley: We met in 2013 in Oklahoma City, Oklahoma. We had both moved there for our jobs – by ourselves without our families. I had moved there for a reporter position at NBC Channel KFOR-TV. Ryan had gone out there for a position with the Dell Corporation. We met at a local Cross Fit gym – both worked out at the same time! And when you join a gym you're immediately like a little family. I definitely initiated the interest – and after a little bit he asked me out for a first date! Four years later we were married in Oklahoma City!
Where were both of you born?
Ashley: I was back and forth from Las Vegas, Nevada and South Dakota as a child and Ryan is from New York.
What made you decide to move all the way to the East Coast?
Ryan: We made the move to Cranford in February of 2017. We found an apartment and just wanted to be closer to family. I had a great job opportunity in Manhattan.
Ashley: After living in a one-bedroom apartments our entire relationship – we were ready to move! We wanted to eventually find a home and start our family!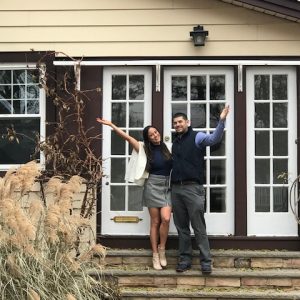 Why did you pick Cranford?
Ryan: My sister lived in Mountainside and had also lived in Cranford, so we were familiar with the area. I liked that it was close to the train station and very convenient.
Ashley: I loved the slogan, "Keep Cranford Quaint"! I found Cranford to be intimate, inviting – a hidden gem. I'm very community driven and I loved the hometown feel. I have the big city nearby – it's the best of both worlds!
How did you find Sharon?
Ashley: I was referred to Sharon by one of my first friends in town and local business owner. Since I was just starting my own business (Legg Day Fitness) and I knew Sharon was really involved in the community – I thought I'd approach her about help with both!
What caused anxiety/stress during the process?
Ashley: We actually started looking in May 2017 and had to take two breaks – either we weren't ready financially or the house wasn't the right fit.
Ryan: Once we found the perfect fit, we had to move quickly and make sure everything happened according to a timeline!
Ashley: That down payment is scary! Once you figure out how to make that happen – it's like… "Boom"! You have the keys and are sleeping on an air mattress in an empty home!
What made you fall in love with this particular home?
Ashley: We really wanted a lot of land – like how we both grew up – and that's hard to find in Cranford. We were actually on a break from looking at homes but were still getting the emails of listings. Ryan called and said he saw this home and I immediately knew exactly which one he was talking about! We saw the house and immediately fell in love. The previous owners had a huge backyard with fifteen above-ground garden beds and a greenhouse! We put everything we had into this house. Nothing went wrong. Sixty days and it was ours! We knew it was just meant to be!
Any surprises on closing day?
Ashley: We closed on Ryan's birthday – December 8! It was so easy! I thought it would be this crazy process – but we just signed the papers and got our keys! We are so excited that we are finally homeowners! It's just one of those milestones that you reach in your life – a home represents a stage in life. We planted our roots!
Favorite feature of the home?
(Of course, the backyard gardens for sure!)
Ashley: I love the character of the home and especially the creaking wood floors. There's just something about coming downstairs in the morning and hearing that sound! I love all the wood paneling – the dining rooms gets amazing light and it shows off the wood so well! Our indoor porch is unique and I adore the little cozy nook! We also have a massive deck out back!
Ryan: After always living together in small apartments – just to be able to have room to spread out!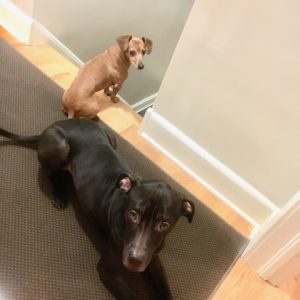 Now that you've been in the home awhile…
Ryan: We've added our furniture and wall art! For future renovations, the kitchen is a starter and adding a second bathroom.
Ashley: We realized our dog likes to dig holes near the fence – so Ryan bought some lumber and repaired the fence!
Our backyard is a lot of work and takes two of us to clear the debris and get everything ready to plant! We've already been to a gardening class and having a lot of fun! We have a cherry tree, strawberries, a raspberry bush, 12 different varieties of vegetables, herbs, and Ryan might grow some hops for his home brew!
I know this house is small, but it has a lot of room for expansion! I'd also like to use this house for my nutrition and fitness business! It would be great to incorporate cooking with fresh ingredients and homegrown vegetables!
Oh – and our dogs literally love the space!
Best advice that you can offer other new home buyers?
Ryan: Be patient – don't rush into it. When you find the home that's meant to be – it will all turn out great!
Ashley: Definitely open communication with your partner or family member! It can be a very frustrating process and we were told to expect to go through 2-3 homes before we found the one! You need to weigh all your options together and make your decision for the long term!