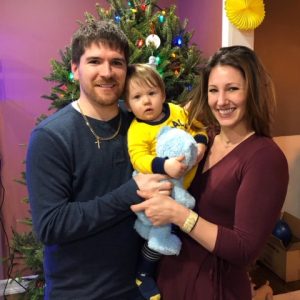 Ashley and Ken had a red-letter year in 2018! They moved into their new home in Westfield in June 2018, they began their gorgeous DIY renovation work, and their adorable baby just turned one! This couple is the perfect example of a home buyer looking past the aesthetics of a home and seeing it's true potential! Just look at their before and after pictures! In the latest Sold By Sharon Stories: Ashley and Ken, I share how I worked with this lovely couple — and follow up with them on their home renovation adventures! And I am so happy they brought the "Plate Wall" from Clark to Westfield… I just LOVE it!
Sold by Sharon Stories: Ashley and Ken
Tell me a bit about yourselves…
Ken: We've been together a long time! We are both grew up in Union and met in high school in 2004. We dated for a while and married in 2012. We had our first son last December and we can't believe he just turned one!
What were the events leading up to your home purchase?
Ken: We were living in Aberdeen in Monmouth County and moved to Clark in 2014. Once a baby was in question – we knew we needed a bigger backyard and more space. Sharon helped us find and sell both homes in Union County!
How did you find Sharon?
Ken: Originally when we sold our home in Monmouth County, we had a wonderful realtor – when she knew we were moving to Union County she really helped us.
Ashley: She said she'd find us the best realtor in that area!
Ken: Yes – she vowed to find us a great realtor in Union County. I think she called Sharon directly. We ended up working really well with Sharon – so we had to call her back again!
How did you find your current home?
Ashley: We weren't particular on the town – our parents watch our baby during the week and we needed to be in Union County and close the Garden State Parkway. We were looking in Scotch Plains, Cranford, and Westfield – even though we didn't think we could find something in our ballpark there. But one day we saw our Westfield home on either Sharon's Open House List or MLS. It had been passed over by so many people because it definitely needed work. We are not afraid of remodeling so we took it!
What did you like in particular about this home – features that you initially noticed?
Ken: The first thing we noticed was the size of the yard!
Ashley: Yes! It sits on a ½ acre of land! That was the biggest thing.
Ken: The patio is as big as our last backyard!
Ashley: We love this house because we could look past certain qualities and knew we could fix them. We could give it the love it needed. Our last home didn't really need anything done to it – but we still had to add things! We are always adding our own taste!
Ken: We like to change things to our liking – to make a home really ours.
What renovations have you done so far?
Ashley: We already renovated all the floors, painted the walls, fixed some of the landscaping, and renovated a bathroom.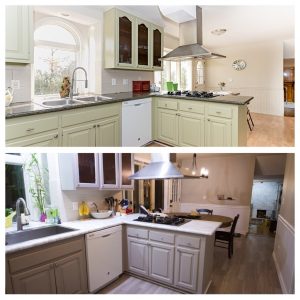 What's in plan for the future?
Ken: Next we want to tackle the kitchen. I'd also like to renovate the fireplace in the living room and fully convert to a gas fireplace. We'd like to open up the wall between the kitchen and that room and extend it out more.
What are some of your favorite spots or activities in Westfield?
Ashley: We adore our neighborhood which we call "The Court". It's a lot of younger families with kids the same age as ours. It's just a great town!
Ken: It's a very prideful thing – you are never upset to say to you live here!
Ashley: There's so many activities going on all the time…
Ken: Definitely our neighborhood – it has such positive vibes!
What did you enjoy the most about working with Sharon?
Ashley: She's a straight shooter like us. She tells it how it is. Sharon is very straightforward and honest. She looked at so many homes with us and would tell us if she knew a home wouldn't work for a baby and four dogs! She really took our family into consideration. It was never about the sale.
Ken: She was taking care of us. It was a relationship. She was concentrated on finding the home that was right for us. Nothing was hurried or rushed at all.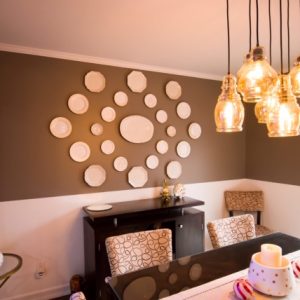 Best advice that you can offer other new home buyers?
Ashley: Try to look past other people's "stuff". Think first about the house you grew up in and what features you liked about that home. Think about what was important to you and then figure out how to make that happen in your new home!
Ken: People can't look past simple aesthetic things. Take our house for example – everyone said, "Oh that's the house with the wood paneling walls!" Well you should see it now! Problem solved! You can get caught up on things that are easily changed.