I have some wonderful "Sold by Sharon Stories" to share, but none as close to my heart as this one! It is not often that I have the privilege of helping someone I consider to be an integral part of my business as well as a treasured friend! Enjoy this blog about my amazing marketing assistant Andrea and her beautiful family's journey to home ownership!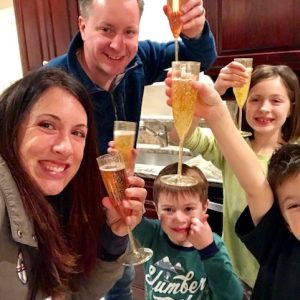 Tell me a little bit about yourselves…
We are high school sweethearts from Granite City, Illinois. Basil (BJ) is a bariatric/general surgeon in the area and I used to work as a speech therapist till I had three kids under the ages of three! These little ones are now getting bigger and are 8,7, and 5! After BJ finished his surgical training in North Carolina, he secured his first job in Millburn, NJ. We started renting in Maplewood, NJ and lived there for five years. It's a beautiful town but BJ needed to be closer to the GSP and I wanted a bit more of a "hometown" feel. We found another amazing rental home on Walnut Avenue in Cranford and fell in love with everything! We have been living at this home since 2014 and have been waiting for the right home to catch our eye!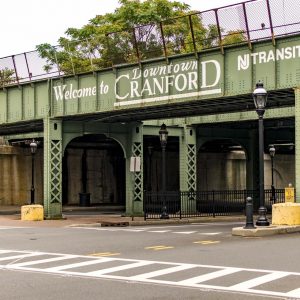 What made you want to stay in Cranford and buy your first home in New Jersey?
There was no way we were leaving! From the minute we started living here it just felt like home! Like we were always meant to be here. We are both from the Midwest and Cranford reminded us of being back home! Everyone cares about their neighbors and it's a true community spirit! The entire family is completely absorbed into this town: the schools, our friends, drinks at The Dive, family dinners at The Hotel, all the fun events, canoeing on the Rahway River, and fishing in the ponds! We couldn't ask for a better place to call home! We've been itching for a house to make our own and to put down some roots in Cranford!
What made you choose Sharon as your realtor?
I've been a huge fan of 365CranfordWestfieldNJ on Facebook and Instagram since we moved to town. I felt like I already knew Sharon because of all of her blogs, posts, and community support. Also, all of my friends had used her as their own realtor. They had nothing but wonderful things to say about finding a home in Cranford with Sharon! I loved the fact that she was a long-time resident and knew all the ins and outs of buying in this town. It's crazy that I ended up becoming her assistant, so it was a total no-brainer! I went into the whole process respecting Sharon as a friend and colleague and with the utmost confidence because I've seen her in action! We were all very excited to start the process!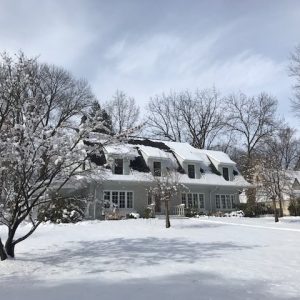 What challenges did you find during the search for your new home?
The biggest challenge was realizing that when one door closes, another opens. The search for a new home is an absolutely exhausting and emotional roller coaster. It's so easy to get excited about a particular home and even put yourself mentally in that home. But we realized that home buying is a series of hurdles, small wins, and setbacks till you (hopefully) have those keys in your hand! Sharon was simply fantastic every step of the way. She knew the right people for each task, the answers to all of our questions, and kept us calm and collected! While I am sure there were hurdles along the way, Sharon made the whole experience seem flawless. I completely appreciate her time and expertise immensely! We had the best team of professionals!
What made you fall in love with your home?
We immediately fell in love with the property! The house is set back from the street and has the most beautiful side yard that overlooks a tributary of the Rahway River. I love the feeling of being in nature and this house really makes you feel like you are surrounded by a little forest! BJ and I also adored the fact we could own a piece of Cranford history! This Dutch Colonial was built in 1912 for Charles Lewis Emmons, the original director of the Aeolian Piano and Organ Company in Garwood. The purpose of this home was to showcase new models of grand pianos as well as provide an inviting place to entertain visitors to the piano factory. The current sellers lovingly cared for this home for 35 years and left the grand piano that was made to match the wood paneling throughout the front rooms. As a classically trained pianist, I cannot wait to finally have a piano to play all the time!
How did you celebrate the new house with the family?
We closed in the evening and headed straight to our completely empty new home to have a sleepover. We ordered pizza, had a champagne/sparkling cider toast, and slept in sleeping bags! The kids loved playing hide-and-seek and finding secret nooks and crannies. Basil and I stayed up late reading the detailed history of the home that the seller left behind as well as enjoying the relics left for us from the past residents: an old beer bottle from the early 1900s, a tin tobacco case, a bottle of holy water, and old postcard, a photograph of the original owner found in a floorboard, and a steamer trunk It was truly a special evening that we will never forget!
Are you going to renovate?
Yes! We will start the process soon of modernizing the back rooms of the home and repurposing the upstairs to fit the needs of our family. We adore the interior Craftsman-style architecture of the original footprint of the home and will restore all of the woodwork and unique antique features (butlers bell, lead glass cabinets, glass door knobs)! It will be a longer project, but we are looking forward to putting our own style into our forever home! I hope to share the process of renovating on the 365 Blog to chronicle a first-time experience for us and to also highlight local businesses.
Best part about the entire process?
Knowing that we are exactly where we are meant to be. We have fallen completely in love with Cranford and all the dear friends we have made here. BJ and I couldn't imagine being anywhere else or in any other home. It's like it was waiting for us the whole time – it just took a while to get to it! Knowing Sharon made everything so smooth and easy – it was a truly wonderful home buying experience. I will never forget her saying at the beginning of this story, "If it was meant to be, it will just happen!" We just can't wait to move in!