When I first met Amy and Rich, I honestly thought they already had the perfect home in Cranford. They had asked me to come over for an initial meeting – and I immediately saw that they had one of the most beautiful properties in Cranford! I'm always honest with my clients – so I told them they should try to figure out how to make that home work since they loved the location so much! You can't find often that kind of land in Cranford!
However, when they came back to me after exploring all of their options – I was happy to help them find their forever home in their favorite town – as well as help them sell that gorgeous home to a new family! It was quite a journey, but Amy and Rich ended up with the home that was always meant to be theirs…
Tell me a bit about yourselves…
(Laughing) It's not some big romantic story! My mother always told me that I would never meet my husband at a dive bar – and…well…that did happen! (Funny aside… that is EXACTLY how I met my husband, too!) We were both living further south and were headed out for the evening with friends. We met at a dive bar and immediately hit it off! I am from Matawan and Rich is from Sayerville. We dated for a while, were engaged for a year and a half, and married in 2008!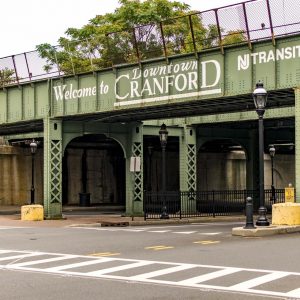 What made you decide to move? And why Cranford?
We started out living in Edison in an apartment. We were saving up money for a house. Initially we were looking further west, but the housing market became more affordable and we started looking near Cranford. Rich was working at the Prudential Center in Newark at the time and he wanted to be able to take the train. We wanted a home close to the train line. So, we started looking for a better town with a shorter commute. We definitely wanted to be more local.
We bought our first home in Cranford in 2009. This was one year before our daughter was born. We really loved Downtown Cranford. We loved being able to walk around, go to dinner, and go shopping. We didn't have children yet, but we could see that it was a good place to raise kids. We stayed at this home from 2009-2017!
What prompted the move to another home?
Our family had grown, and we found ourselves with two children and a home that wasn't functioning the way we wanted it to. We wanted to see what other options were out there that could possibly work better for our family.
How did Sharon get involved?
We invited Sharon over for a first meeting to discuss either selling our first home or adding on to it, and she actually said "No, you don't sell this house! This is a beautiful piece of property and you can't find this in Cranford!" She told us to try an addition instead. We hired an architect and explored a bunch of options, but in the end, it just didn't get us there. During this process our financial situation changed, and we were able to start looking for a larger home. Sharon ended up being the realtor who sold our first home and helped us find our forever home in January of 2017!
What did you enjoy the most about working with Sharon?
I've told Sharon this before…I think the most amazing thing about her is how she handles the situation when you don't get the deal. A lot of realtors pride themselves on getting the deal – but Sharon works with you through the whole process. It's really hard when you have your heart set on a particular home and can envision your family living in it. You are convinced that's the home and then it falls through. Sharon helped us realize homes that weren't what we needed and how to press forward. She showed us the light and how to adjust for the next search. We realized that more money is not always the best answer. We also loved Sharon because she literally sat in a home for an hour while Rich and I discussed the home and ended up deciding not to bid on it. As we were walking out the door she told us she knew we wouldn't decide to place an offer because it wasn't the home for us! I asked her why she sat with us so long and she indicated she wanted us to use that time to truly figure out what we liked/didn't like. She let us figure out things on our own! She really knew us!
What made you fall in love with this particular home?
I love our house -it's so functional and perfect for us. Sharon really helped us see that. We are two working parents and must make the most out of a house!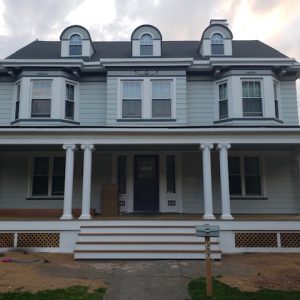 What features of the home immediately made you fall in love?
I adore our front porch. We did considerable work on this after we moved in – but it's my favorite feature because we really want our family and friends to feel welcome as soon as they walk in! My second favorite feature is the family room area. The previous owner took two rooms and combined into one large area. We had so much fun at our first Christmas at the home and was able to fit all of our family into one space!
Did anything cause anxiety/stress during the home buying process?
We did go through a lot of negotiations. Old houses are tough. You go through an inspection but then you also realize there's 100 years of history behind those walls that you just can't see. Sharon completely helped us with the negotiation process and guiding us through buying something that we knew would need a lot of modern updates.
Any renovations for the future?
Before we even moved in we put in French drains, updated the sump pumps, and redirected the water away from the house. Then we tackled the front porch. We kept the roof and pulled everything out and rebuilt from the bottom up! We didn't get a chance to landscape after the construction – but I'm so excited to see what it looks like next summer! We also replaced the flooring on the first floor up through the staircase. Goals for the future? We have a lot of modern updates to tackle as well as new gutters – nothing exciting! However, one day we hope to have an oasis in our master bath – a little retreat area!
Now that you have been in Cranford for a while, and with children…what do you enjoy about living in this community?
I love the community as a whole. It truly "takes a village" – we have developed really good friends that we completely trust with our children. As two working parents, it's so nice to know that you have other parents that look out for them when we can't be there. You can't put a price on that! It's just a great network that we have going on and that's just the nature of Cranford! Through sports and PrimeTime our we have made friends from across town and we can say honestly say we have made a family here! Everyone is always ready and willing to help at any given moment.
Best advice that you can offer other new home buyers?
It's really about the day-day functioning of a home. Sure, a home can look beautiful from the outside – but how does the kitchen, bathroom, entryway work for you? Those times in the morning when you are stressed-out trying to get everyone out the door – you just need a space that really works with your family dynamic. The home has to have area that will grow as your family grows! That's what makes it a HOME – not how big it is. But how you can see your family in that space and maximize the time you spend together.