Sold by Sharon Stories: Agatha and Tom is the tale of two super cute young Staten Islanders and their big move to the burbs. They found their dream home in Cranford, NJ. This was a four-bedroom, two-bath Cape Cod home only one mile from everyone's beloved Nomahegan Park! They really loved the woodburning fireplace in the living room, large bedrooms, and the perfect backyard for entertaining friends and family! Let's see what these new homeowners have been up to since they moved in!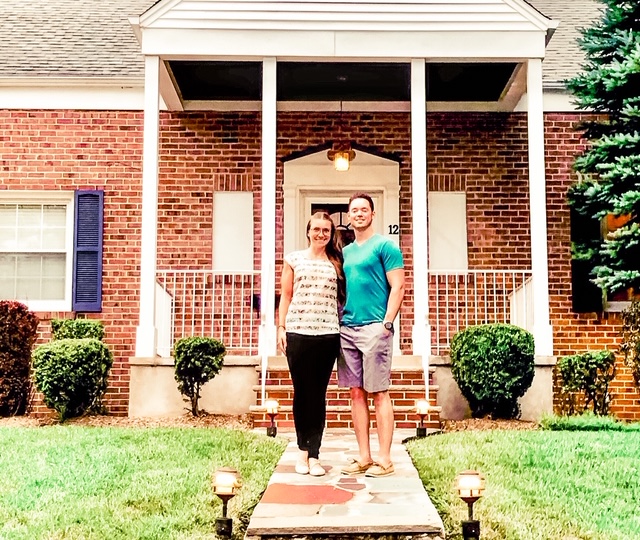 Focused on the "Where":
Why did you choose Cranford, New Jersey for your new home?
We were looking for a town in New Jersey that was located in between both of our jobs. We fell in love with Cranford immediately.
Focused on the "Why":
What prompted the move?
We wanted to buy our first home together.
Focused on the "What":
What was something that you HAD to find in your search for a new home in Cranford, NJ?
The commute to work had to be feasible and we wanted to be close to our family and friends who still live in Staten Island. We also really wanted to have a nice sized backyard, basement, and living room for entertaining. Two showers were also a must, as well as being located on a quiet block.
Focused on the "How":
How did you meet Sharon?
Tom's cousin is best friend's with Sharon's niece, and she referred us to Sharon.
The Emotional Part of Buying a Home:
What made you fall in love with this home?
We toured three houses the day we saw this home and of the three, this was the one we were least optimistic about! As soon as we pulled up, we knew it had great potential. Walking through the house it checked nearly all the boxes.
(For me, assisting this young couple from offer to closing was important on a personal note. Tom is the nephew of my sister's dear friend and I needed to make sure everything worked for them. They chose a great home and things went really smoothly… once we got past the multiple offer pressures!)
Making the Home Their Own: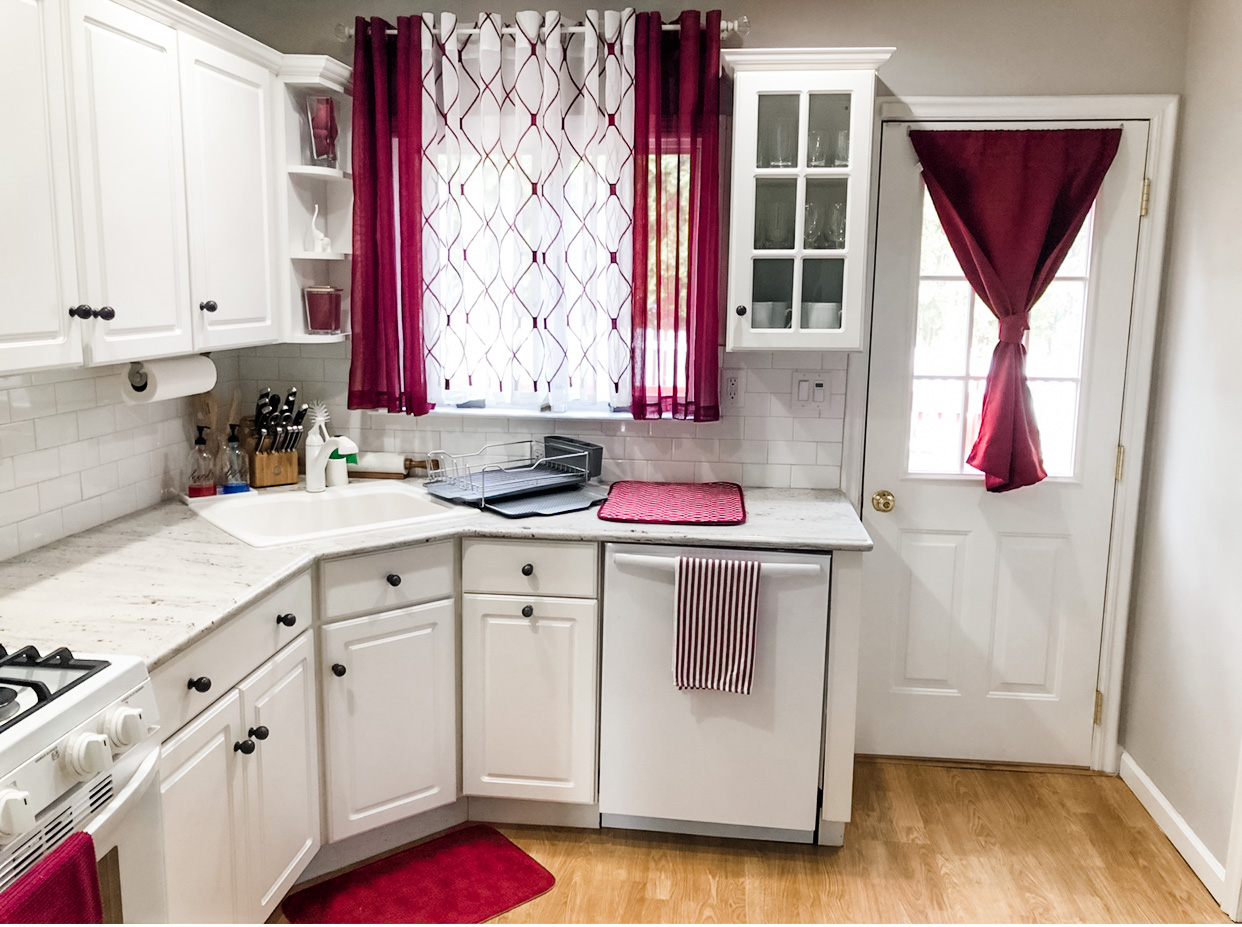 What's the biggest change since move-in day?
Agatha has been implementing her "vision" in every room. The house now feels like a home.
What renovation did you do to you home?
No major changes yet besides aesthetics, but we have some ideas in the pipeline – stay tuned!
How would you describe your personal design style?
"Agatha's vision" – which loosely translates into modern glam contemporary with a lot of geometrics. Thankfully Tommy agrees with most!
A Few Favorites: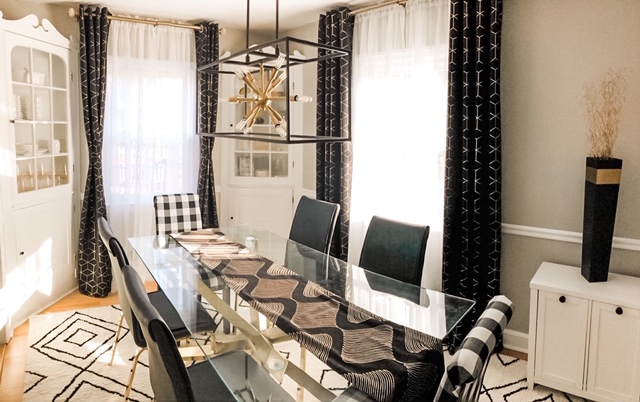 Favorite color you painted a room…
Tom's pick: Master bedroom – "Morning Glory" – a light blue
Agatha's pick: Guest bedroom – "Hunter Green"
The best room of the house?
Agatha's choice: the dining room, since it is the only room almost completely "done"
Tom's choice: the living room, since it has the best piece of furniture – the reclining sectional, which we have dubbed "the command center"
The Fun of New Furniture:
What's one more thing your house needs?
Lots more furniture to buy!
What's a new memory that you cherish in your new home?
Assembling our bed. Putting up the Christmas tree. Tommy winning his fantasy football league! Spending every day together during this quarantine is something we will never forget.
What was your first major splurge?
King size mattress and living room sectional couch.
Exploring the Neighborhood: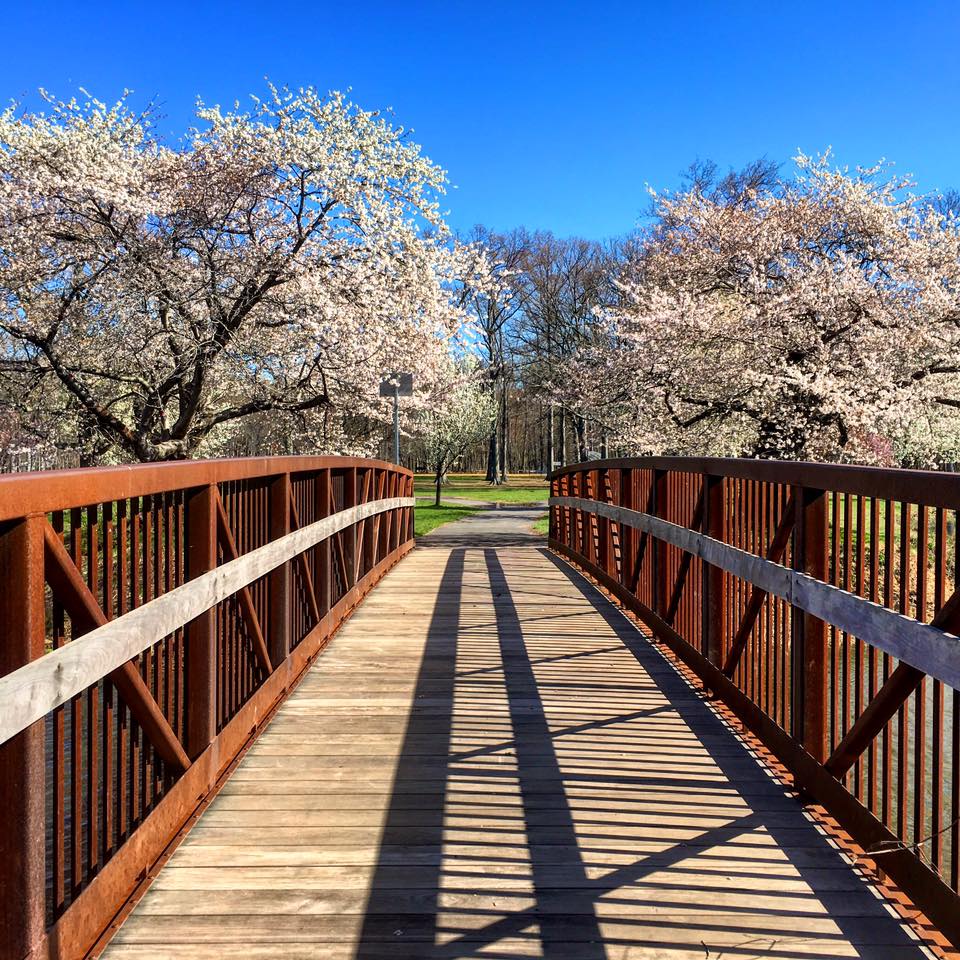 How would you describe your neighborhood?
Quiet, private, and beautiful.
When you head out the door – where do you like to go in Cranford, NJ?
Nomahegan Park, Downtown shops/eateries, and just walking through the streets of Cranford – we love looking at the houses here.
Something you've appreciated about your home/community more since "staying-at-home"?
Taking walks through the streets of Cranford. We've really appreciated how beautiful all the homes are, how clean everything is, and the good-natured people that live here.
Home Sweet Home:
Sold by Sharon Stories: Agatha and Tom was one of my favorite posts yet! It certainly sounds like these lovebirds have settled into NJ's Best Downtown Cranford, NJ quite nicely. I bet they have gotten to enjoy every aspect of their new home a little more being quarantined! I can't wait to hear about what renovations and changes they do in the near future. Of course, I am most interested in hearing these plans over a cocktail or two at one of our wonderful local spots!
If you are looking to make a move, get in touch today. I would be happy to answer any questions you may have. Who knows…maybe YOUR journey will be my next "Sold by Sharon" story!