Ralph's Famous Italian Ices & Ice Cream Set to Open in Westfield, NJ!
Initially started in my hometown of Staten Island, Ralph's Famous Italian Ices & Ice Cream has been around since 1928! I have fond memories of pizza at the world-famous Denino's followed by ices at Ralph's! Considered a traditional summer treat in New Jersey for decades, Ralph's treats will now be serving up in Westfield, NJ in the very near future! We are so excited to see this iconic orange and blue frozen treat stand pop up in our community at 524 Central Avenue!
I caught up with franchise owner Cathy Jensen to see what made her fall in love with Ralph's Ices and why she is so excited to open in September!
Please tell me a little about yourself – where you grew up, where you live currently, and why you love living in your community!
My name is Cathy Jensen, though I spent a good part of my childhood growing up in NYC, summers were filled with a dunk in the pools of Van Cortland Park and then a slice of pizza and yes, an Italian Ice. I came to be a true Jersey Girl when my parents decided to move to the quiet suburbs of New Jersey when I was eleven.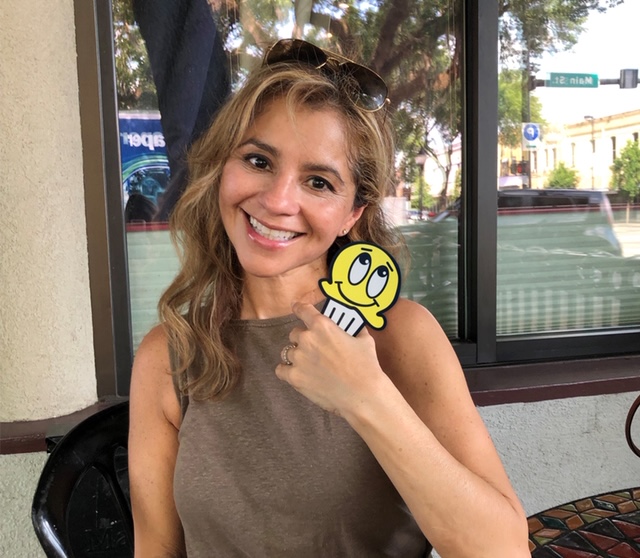 I currently live in Scotch Plains. This whole Union County area is where I call home. Essentially, this area is in a close ride to NYC, the picturesque Pennsylvania mountains, and the Jersey Shore where I plan to build our next Ralph's (Cape May to be exact).
What led you to opening up your own Ralph's Famous Italian Ice?
When my daughter Ashley was one, (she is now 18). I came across my first Ralph's Famous Italian Ices and Ice Cream in Livingston. As a new mother I was mesmerized by all the fruit flavors they had. I thought, "What a delicious treat for my little girl" and in my opinion, better than any candy.
That was 17 years ago and most ice cream places didn't carry flavors like coconut, mango, and cantaloupe. There were so many topical flavors reminiscent of my childhood "back in the day". I liked what I saw and better yet, I LOVED what I tasted. And so did my little girl, Ashley.
What was it about the Ralph's Famous Italian Ice franchise that intrigued you?
The clincher was that my daughter is lactose intolerant. Among other delicious treats, Ralph's offers Italian Water Ice that is DAIRY FREE. I was HOOKED, A Ralph's fan for life! I couldn't wait to share this new find with friends and family. Anyone who knows me, knows Ashley and I would drive 30 minutes for Ralph's Italian Ices and Ice Cream, any time any day. At the time I contemplated opening one up, but being a new mother was my first job. I decided to wait until I could fully dedicate myself to this frozen treat that took my breath away.
Why Westfield, NJ as the location?
We looked in all the neighboring towns in this area. I think it was fate that brought us to 524 Central Avenue. It just so happens that 522 Central Avenue was the first store we rented. It is not the corner store we are opening up in now but was the first suitable location we found. As fate would have it, 524 Central Avenue became vacant and our landlord, Karl Gerkins, offered us the location as it was a better location than 522. We were so excited to have the corner store. We wanted a family-oriented town, and Westfield certainly fits the bill!.
What was your design inspiration?
Our Ralph's Famous Italian Ice has a 1950's theme. In my opinion, the 1950's were post WWII. America had just won the war, soldiers had returned home to their loved ones, and the economy was booming. Families spent more time together and actually had conversations at the dinner table. Cell phones were nonexistent. Seems to me that they were happier times. As a society we were not burdened with all the technology we have now. Though it has taken us forward in many ways, it has also pushed us back as a social society.
What do you hope to bring to the community?
I envision our Ralph's to be a place where families, couples, grandparents with their grandchildren, friends, whoever they may be… will gather and spend some quality together time. Just enjoying each other's company.
I am hoping to not just open up another ice cream store, but to open up a destination that will exude happiness and goodness to the community. I never imagined that a global pandemic would occur. Now more than ever, I believe we need places like this to come together safely and separate ourselves from the distractions we are all faced with on a daily basis.
And your tribute to Westfield, NJ?
If all goes well, we will be painting a mural on the side of the building depicting Westfield in the 1950's with a tribute to the Class of 2020 and students everywhere. These students have gone through a lot. I am happily amazed by their resiliency and strength. I want to honor them. The artist is Rich Janusz, a local artist. He paints from his heart, which is precisely what we need to exude that "happy factor "I mentioned earlier.
Tell me a little about the construction process. How did the pandemic pose a challenge to opening on time?
Covid-19 has brought many challenges and sadness to a lot of people. Unfortunately, it has been very hard to keep our construction going -as we had planned to open in June originally. However, due to the pandemic, it has been so difficult to restart the engines after being shut down for 3 months. We were trying to open up by the end of July, but sadly we have been hit with so many hurdles.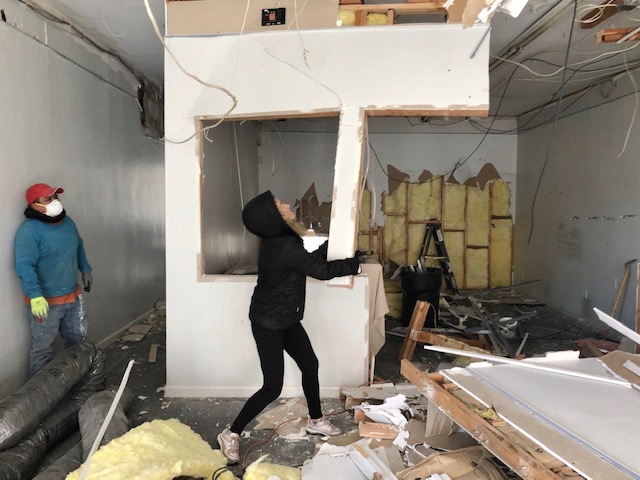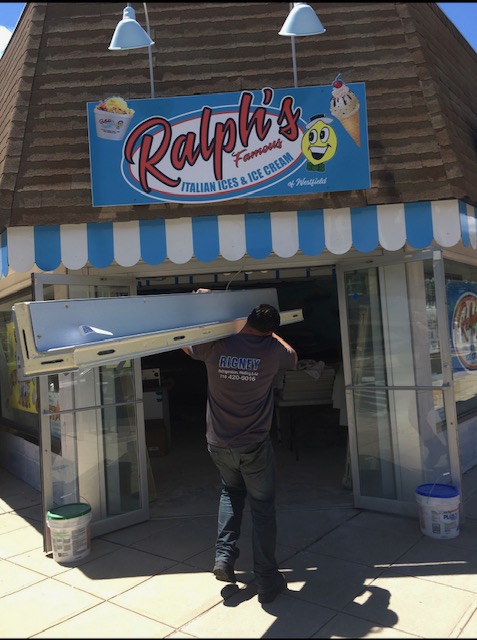 Fortunately, we have one of the best local construction companies, Shoreline East Construction Corporation and architectural firm Forefront Designs, LLC– both located in Westfield, NJ. We know Ralph's Famous Italian Ice fans are waiting and we thank them wholeheartedly for their patience.
When do you hope to open?
We are looking at a late September opening. Though we don't have a hard date, it will be a short season this year. We need to open up responsibly. That means protecting our customers, and our employees. Though it will be a short season, I believe it will only get Ralph's fans revved up for the following season. What I will say is that the presentation of our store is worth the wait and only second to the taste of the most delicious Italian Ice and ice cream ever made! We are hoping that our Ralph's will bring happiness to the community- "Where there is a flavor for everybody and a smile for everyone"!
What steps have you taken to make sure everything is safe and appropriate for social-distancing?
Of course, we will be complying with all local safety guidelines. There will be limited outdoor seating which is key during these times. We will have plexiglass partitions inside the store to protect the customers and the employees. Ralph's will also be offering delivery service.
Ok now to the fun things…tell me about the menu for Ralph's Famous Italian Ice! What sets this apart from other ice cream shops?
Ralph's Famous Italian Ice has over 100 flavors between the Water Italian Ice and Cream Italian ice categories alone. All their flavors are an adventure in taste. They range from flavors like Black Raspberry- to Blue Hawaii- to one of my favorites… Jelly Ring. Imagine small pieces of jelly, encased in chocolate, surrounded by decadent chocolate cream ice. Need I say more?!
Ralph's also carries ice cream and an array of different products and drinks. We serve Ralph's signature sundaes, Ralphie sandwiches (which are Belgium waffle ice cream sandwiches drizzled with raspberry, chocolate, or pancake sauce), shake, and fruit smoothies. We also carry a limited selection of sugar-free Italian ices. You can find all of Ralph's flavor's and products on our website: http://ralphsicesofwestfieldnj.com/
The nutritional information for products can be found here: Nutritional Facts of Ralph's Frozen Italian Ices
What can the community look forward to with your opening?
It is obvious that I am very passionate about Ralph's Famous Italian Ices and Ice Cream and it is that same passion that drove me to open up my own Ralph's. I want everyone to have that same feeling I had 17 years ago when I stepped into my first Ralph's.
My wish is to spread that joy and good feeling. Our intent is very simple. We want to spread some cheer at a time when the world around us desperately needs it. Though maybe just for a moment – that moment means a lot to us as we join the family of so many businesses striving in these difficult times. "Together We Stand".
Stay tuned to 365CranfordWestfieldNJ for the most up-to-date info on Ralph's Italian Ices opening in Westfield at 524 Central Avenue!