Perhaps you are a foodie fan and watch Food Network like it's your job. Maybe you tune in to this channel because the reality food shows are so addicting and you wish you could make magic happen in the kitchen like the stars! Possibly you watched the Food Network's "Christmas Cookie Challenge 2017" last month and caught local mom, Kristie Mass, from Westfield, win $10,000!! I caught up with Kristie after the show aired and just fell in love with her home bakery business, Peapods Cookies, and all of her phenomenal creations!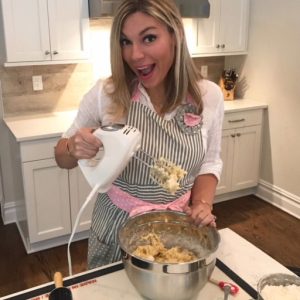 I caught up with Kristie after the show aired and just fell in love with her home bakery business, Peapods Cookies, and all of her phenomenal creations! She's a true artist extraordinaire! Turns out Food Network isn't her first celebrity appearance – she's also been featured on Cooking Channel, the Martha Stewart Show, and more! I just loved listening to her tell her story and it was wonderful to hear how someone came to find their true talent and the perfect fit for a lifetime love for what they do!
It all started when she was a toddler as she sat next to her mother in the kitchen, rolling out dough for the traditional Christmas cookies. Her mother was always in the kitchen and made sure that she incorporated her daughter in all the baking projects. Holidays were a special time in Kristie's home – bonding with her family while making dozens of cookies. She continues to treasure her collection of recipe books from generations of family members!
As she got older, Kristie was drawn to the world of fashion. Tapping into her creative side, Kristie received an art degree from the New York Fashion Institute of Technology and began working at a dream job for Juicy Couture. Then one year for Easter she was asked to bring a dessert to share. She sat down to decorate some amazing Easter-themed cookie designs and they were a huge hit at the gathering!
Holiday after holiday friends kept asking for her beautifully designed cookies. Kristie started a blog, sharing her cookie creations and found that she would leave work and run home to make the latest batch of intricately designed goodies. She started baking for family/friends on the side in 2011 and it flourished to become a full-time business in early 2014. She sold her cookie sets on Etsy and then quit her job in the fashion industry once it started doing so well!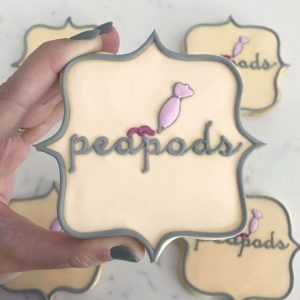 Kristie's bakery business is called Peapods Cookies – named after her Pomeranian dog that she got when she was in college. In the beginning, her cookie designs were mainly going out to children's birthdays and baby showers. Kristie commented that the name was joyful and really "reflected my business theme". As Peapods Cookies became more popular, Kristie was receiving tons of specific orders for special events. She truly took on each project as an art commission and spent so much time and detail on each piece. She hand-picked her favorite creations and had them displayed in her office! Her favorite set was one for a baby shower – she made individual Calvin and Hobbes cookies that were absolutely amazing – they needed to all be framed!
Now Kristie lives in Westfield with her beautiful family. She had twin girls 3 ½ years ago and decided to take a break from baking for about 2 years. Kristie started the business back up about a year ago. The Food Network experience was the perfect reintroduction back into the world of baking!
The beginning of summer 2017 was when a casting associate from Food Network reached out to her through Facebook after falling in love with her posts. Kristie went through the interview process and was one of the lucky bakers chosen to participate in the upcoming "Christmas Cookie Challenge 2017". They filmed in August and the show aired in December. Kristie appeared on the 5th episode of this challenge.
Her favorite part was seeing the judges and meeting them in person. She's a huge The Pioneer Woman- Ree Drummond fan! Kristie admitted to being a bit star struck as she has been using her recipes for years! Kristie shared, "I was stressed out a bit – so many emotions all at once!"
Each challenge was difficult but she found that she had a strong skill set for each one. The "Toy Cookie" challenge was easy for her because of her twin girls! The 2nd challenge was her favorite as they had to make 12 Christmas-themed cookies using just one ingredient. Kristie chose apricot jam and then was asked to put each cookie it in an edible box. She knew she had possibly won this challenge with her gingerbread house! Ever since she was two years old she had been making gingerbread houses with her mother. Kristie commented, "I know every trick to making the perfect house! So, I felt very confident about this challenge!" It was just the trick to help her win the entire challenge and the $10,000! "I'm not sure what I'm going to do with the winning money – I could really use nice vacation and just relax!", stated Kristie.
Kristie's has so many events on her "plate" for the new year! She is busy making stunning cooking for birthdays, baby showers, and weddings. She loves doing characters and character sets for special occasions. Her favorite creations are the "paint your own" cookies. They are absolutely adorable! The cookies have designs but are not colored in. Each "kit" comes with an edible paint palette and the children decorate their own cookie! "These keep little hands busy for a while and then they can enjoy the delicious cookie after. They are the perfect party favor because there's nothing left afterwards!", commented Kristie.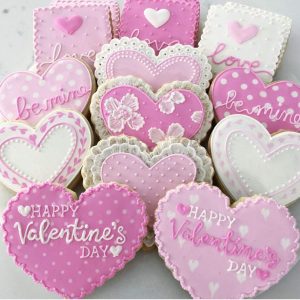 Valentine's Day is the perfect occasion to have Kristie share her decorating tips with you! She is hosting a "Mommy & Me Cookie Decorating Class" for ages 8 and up on Sunday, February 4. She will then have a decorating class for adults only on Sunday, February 11. The Eventbrite for this event is here: Adult Valentine's Day Cookie Class. You will go home with a set of 8 hand-decorated cookies that you personally made using a variety of techniques! Stay tuned to her Facebook page for more events coming up!
Make sure to include Kristie and Peapods cookies in your next event! All inquiries can be made through messaging her at her Facebook page at peapodscookies. It's very important to follow her on Instagram at IG peapodscookies because she posts different pictures on each social media site!
Thank you, Kristie, for sharing your story – I just love how you used your talents and created the perfect job for yourself and your family! I look forward to getting my daily dose of your gorgeous cookie works of art!