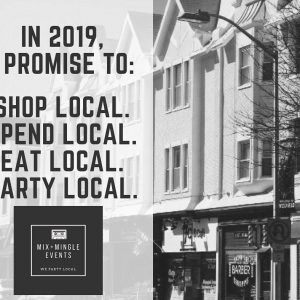 Aren't we so lucky that Brooke Feldman Poller from Westfield Living Magazine and Jessica Stillman Silverstein of EventsbyJES have united to form the ultimate event planning company in our area?! Born out of a desire to "plan community building events that bring people together and support local businesses" – Mix + Mingle Events was created! Coming up…their first big event – under the name of their new company – a private superBOWL party at Linden Lanes! Brooke commented, "We just love creating experiences you can't have on your own!"
Just one year ago, Brooke, from Westfield, was working for Westfield Living Magazine as the Director of Content and Events. Her job was to find community-based events and bring the community together. She knew just what to do, who to find, and where to go in town for the best experiences!
Jessica, from Scotch Plains, was already a very successful event planner with her own company and throwing huge bashes in the area. Her first "Bad Moms" movie experience was an insane hit – complete with swag bags and Jell-O shots. Everyone was dying to know when her next mom-movie experience would take place! When "A Bad Moms Christmas" debuted – Jess knew she needed a team!
Thank goodness Jessica and Brooke had found each other already and was the "event team" for Westfield Living. They made this event "bigger and badder"! Over 300 local moms flooded the Westfield Rialto Theater for a truly epic movie-going experience – all sponsored by local businesses and complete with wine, rosé spritzers, Jell-O shots, and Lord & Taylor throwing prizes into the crowd!
The list goes on and on of mega-fun parties taking place in our own neighborhoods. Brooke revealed that "we like to be the first to throw a big party at new places!" As a Westfield Living events team – they had the first party at Escapology in Garwood. Over 100 people participated in attempting to "break out" of clever mystery rooms and then enjoying a fully catered dinner, a DJ, and fun drinks!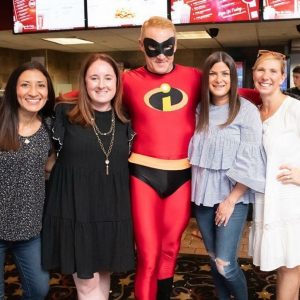 The 2017-2018 school year ended in a bash at the Rialto Theater where Jess and Brooke hosted an "Incredibles 2" VIP movie watching experience for families. Mr. Incredible himself was present for photos and autographs, swag bags were handed out, snacks and popcorn, and raffle prizes galore!
This dynamic duo also boasted the inaugural party at Yestercades in Westfield with their "Westfield Hits the Jersey Shore" theme. Not only could video gamers play till their hearts content – but they also enjoyed a Boardwalk Buffet, Donut Wall, dinner, and themed drinks!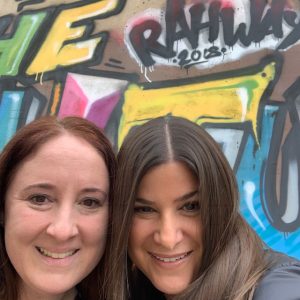 As Jessica and Brooke began working together, they realized they could do this on their own! Both women came together for a love of supporting local business and having a fun experience! They commented that their company is "everything we want to do – but we want our friends to come along! We just have so much fun creating experiences that you can't have on your own!" They want you to know that they are not just focused on the Westfield area – but Union County as a whole! They are super excited to introduce you to their new business, Mix + Mingle Events, and what they have in store for you!
2019 superBOWL party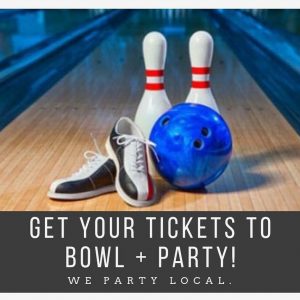 Their superBOWL event is adults taking over the Linden Lanes Bowling Alley the night before the Super Bowl on February 2 from 8:00-11:00pm. Brooke and Jessica will be "creating a whole experience". All you have to do is create a team of 6 and join Mix + Mingle to bowl and party. Your team can be co-ed, couples, guys versus girls, etc.! Only 24 teams are allowed – so get your tickets ASAP! Tickets can be purchased at https://www.mixandmingle.events/ and are $65/per person. This includes bowling and shoe rental – and every lane gets pizza, wings, unlimited soda, 2 pitchers of beer, red/white wine! Jessica and Brooke even have trophies and awards to hand out! A portion of all proceeds goes back to the community to an organization called GoodSports.org – which provides athletic equipment and gear to children in need. The deadline for registering for superBOWL is Saturday, January 19!
Mix + Mingle Theater Club, Ghost: The Musical
Another event coming up in 2019 is the Mix + Mingle Events Theater Club taking you to Ghost: the Musical at UCPAC Hamilton Stage opening night! Enjoy this exclusive party on March 1 from 8:00-11:00pm. Your ticket purchase at https://www.mixandmingle.events/ gets you honorary entrance for a private VIP pre-theater reception and after the show for an exclusive meet + greet with the cast of Ghost: The Musical on opening night – plus cocktails and passed hors d'oeuvres!
What else is in the future for Mix + Mingle Events? Their calendar is filling up fast and they are open to private parties as well as Girls Night, Guys Night, Family Events, and Kids Events! Brooke commented, "We just want to create well-attended local events and share with the community!" Jessica added, "We love the give-back aspect of our company. For every event, we will share the proceeds with an organization matching our theme!" They also gave me an inside scoop on a mixology competition in 2019 – "like Iron Chef but with cocktails!"
Let 2019 be the year that you get out and get local with your friends! Mix + Mingle Events is a collaboration of "local women who want to do fun things and include everyone!"
You can follow them at Facebook: Mix + Mingle Events Facebook, on Instagram at Mix + Mingle Events Instagram, and their website for purchasing tickets at https://www.mixandmingle.events/