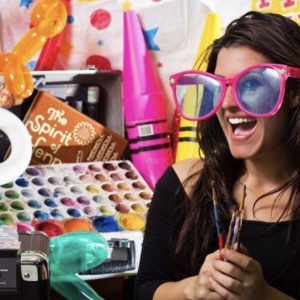 Meet Shayna Craig – the ultimate entrepreneur from NYC and by her own words "a hippie born in the right generation". She is now bringing her amazing creativity and world of fun to everyone in this community with an entertainment company called Love Peace and Paint. It all started with her passion for acting. She was involved with an indie production company and started spending more time behind the scenes. Shayna did a video shoot in New Jersey and that's the moment when she fell in love with this Garden State! "I love that in one hour you can be at a farm, the woods, or the beach!"
Fast forward to 2010, Shayna embraced her creative side and branched out into making magic happen at parties! At one particular event she met a magician who showed her she could do it all on her own! He made her realize that she could start her own party planning/entertainment company. With just a little research, Shayna quickly started the creation of Love Peace and Paint. Shayna loved that there are always jobs around this area – children's events, entertainment, and the arts!
She opened for business in January 2011 after spending some time working on her website. She was excited to see a slow trickle of business! Now, Love Peace and Paint is one of the hottest new companies in the local party/entertainment industry! Shayna commented that "this is my baby! I am trying to show people how to be independent – as women and entrepreneurs. My motto is "Spread Love, Colors, Sunshine, and Light". I am trying to build a community with my company and want others to succeed. I am working closely with my sister and anyone else who wants to share my vision."
Shayna calls Love Peace and Paint a "one-stop shop from A-Z and we bring the kitchen sink!" Here's just a sampling of what she and her team of skilled entertainers and artists can bring to your next event…
Characters
Henna tattoos
Flash tattoos
Glitter tattoos
Air brush tattoos
Singing telegrams
Fire performers
Balloon twisting
Backdrop painting for photo shoots
Magicians
Tarot Card Readers
Caterers
The trendiest thing Love Peace and Paint is doing is custom temporary tattoos for concerts and business events – she can place any logo you want! Kids can design their OWN LOGO for a party and it lasts 10 days!
"We work with every budget and every type of event," Shayna commented. Businesses, parents, and communities have used Love Peace and Paint so much over the last year that the business has become extremely popular! Little Nest Portraits in Westfield used Shayna for their logo backdrop creation at their grand opening ceremony. The evening before, a passerby could view Shayna making the creation in the front window! Love Peace and Paint has also been front and center at other big local events and is very excited to take an integral part in AddamsFest in Westfield, October 26-28.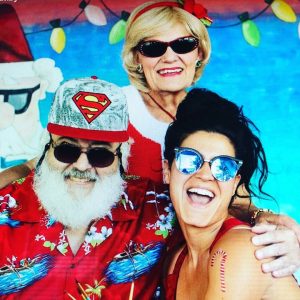 We met Shayna at the location of her new studio-in-progress in Hillside. She calls this area "Brooklyn West" and is ready to transform the entire area! She is excited about transitioning the studio into a multi-purpose space for shooting films, conducting interviews, balloon arches, art meet-ups, consultations, performances and entertainment space for fire breathers, magicians, and more! Shayna is ready to bring this community together!
Are you an artist and want to get involved with Love Peace and Paint? Shayna would love to have you on her team and share the love!
"I'm doing what I love – this is what I came to the earth for!" If you would like Love Peace and Paint to transform your next event (children's or adult) – I suggest you get on the list right now! They are booking multiple parties every weekend! Simply email Shayna at http://lovepeaceandpaint.com/and fill out the request form on the website or call at 908-768-7687!
In the meantime – check out the art creations at her Facebook at Love Peace and Paint FB and start imagining how they can bring the heART of the party to your next event!