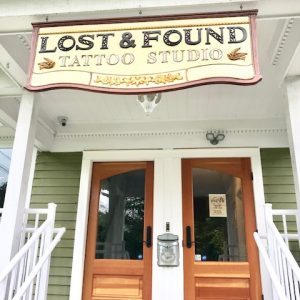 As I was sitting in Ali and Pete's kitchen on North Avenue in Cranford, I realized that this was no ordinary business that had come to town. This was a community that was being created, a place of creating self-expression, and getting back to the art of neighborly love and conversation over coffee and bagels.
What husband and wife team, Ali Mennor and Pete Dickson, are creating in Cranford is much more than tattoos. Ali is such a talented artist and is not only creating magnificent designs in collaboration with her clients, but she is giving back to the breast cancer survivor community and making these women feel empowered and beautiful once more.
Lost and Found Tattoo on 230 North Avenue West in Cranford is a stunning semi-private, tattoo-certified studio. This gorgeous house was once Ali's childhood home and now she and Pete have renovated every floor to make sure each room was "meticulous and correct". Pete mentioned that the construction started over a year ago (January 2017). He stated that the "goal was to maintain character and time period of the home and the neighborhood".
Ali added, "When people are here, our house is their house!"
I felt so warm and cozy in their studio with coffee cup in hand, talking about their latest ventures in the world of tattoo art. It seemed as if they have always been at this location – but their story is just beginning!
Ali has been in the world of tattoo artistry since 2007. She became interested in this craft while watching her friends start collecting from various artists. Ali commented, "Our favorite artist is in Switzerland. Having him tattoo me changed my life and meeting him changes most people's lives – he's the enlightened tattoo master!"
This individual is Filip Leu and Ali said that "his work just flows around the whole person. Having him tattoo my back – it changed everything about who I am…and to go back home and show this to other tattooers and my friends…just to see their jaw drop and the impact it had! This just drove home the power of using art in this way and inspired me to committing to it. I am just trying to do a little bit of my own to honor his legacy."
Pete: Tattoos used to be very small and localized and Filip became part of the crossover who took tattooing to a fine art. His work just flows around the whole person. Ali was able to understand some of his technique through exposure. She could understand what she had seen, and it wasn't like anything that was being done in New Jersey at that time.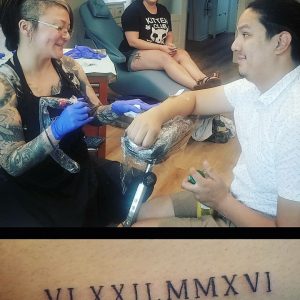 Ali decided to take up this art form and chart her own path to becoming an amazing tattoo artist. She had already received her bachelor's degree in Fine Arts and Illustration at the University of the Arts in Philadelphia. She became a tattoo artist seven years after meeting Filip, in 2007. Since then she has made quite a following for herself on her Instagram Feed at Fast Ali and has been an artist at four studios plus guest spots New York City, Rhode Island, and Massachusetts. "I met so many great people at all of the studios – but I realized it was time to spread my wings!", commented Ali.
Ali and Pete actually met while she was giving him his first tattoo. Pete used to be the main brewer at Carton Brewing Company! He commented that, "I wanted to try something different. We have been fortunate enough to be tattooed by several amazing artists and we wanted to bring this home."
Ali: Pete takes care of everything to manage the business side of Lost and Found Tattoo. I needed to focus on just the clients and the artwork and now I can hyper-focus thanks to Pete! It's pretty magical! We can truly create a personalized experience!
Pete: We are surprised at how much this business is evolving!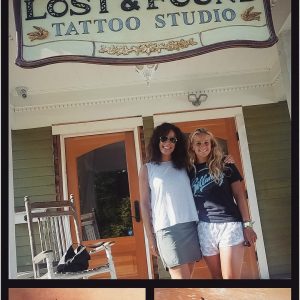 Evolving indeed! Not only did Ali commit herself to helping her clients create amazing designs together – but she realized the need to become certified in areola restoration, scar camouflage, and 3D Nipple Tattooing.
Ali: Not to say that the surgeons and nurses weren't doing a good job – but I realized that I could bring so much more to these women with my art background and eleven years of tattoo experience. I am certified from the Beau Institute of Permanent Cosmetics and a member of the American Academy of Micropigmentation. I have completely set aside part of my practice for breast cancer patients and feel that we can create something beautiful together – my tattoo experience is really the backbone of the craft.
Lost and Found Tattoo has made a pledge to provide 50 FREE areola restorative tattoos for breast cancer survivors. Ali has performed 20 at the current time as has 30 more to go! They have a separate room for this permanent cosmetic treatment. Ali said that "We love the room and wanted the right vibe – it's more feminine, cozy, and looks out over our beautiful backyard and gardens! Our goal is 50 and after that we will find a way to keep it going at low or no cost for another round of 50 more!"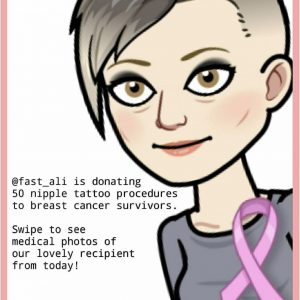 Pete: A group from Boston captured exactly what we are doing here. One woman was a cancer survivor. Her friends were supporting her and decided to come here for her areola restoration. We opened up our home to them and spent the day with the women as she got her areola restoration and another tattoo of three birds for each of her children. We ended up running out of time and all the friends came back the next day for their own tattoos! It was all about supporting the one friend and we accommodated more than what she came for!
Ali: She wrote us a lovely letter saying that we changed her life with this girl's road trip… but she really changed ours!
Pete: We were so fortunate to have that experience ourselves and that this happened in our own home. We are really trying to just give back to the community!
Ali: We are here for you and your victory tattoos as well – create something meaningful to symbolize that the cancer is behind you!
Besides beautiful, expressive creations – Ali can work with you on camouflage for scars, vitiligo, skin trauma, and surgical scars.
Pete mentioned that they are booking consults 1-2 weeks out and tattoos a month out. They encourage you to call and make a free consultation appointment where you and Ali can create a conversation regarding ideas, location, and content with visual reference to support the idea.
Ali: I need my clients to stay open and not be married to a very specific idea- it's a conversation! If you are interested then you can leave a deposit for the next tattoo appointment. I work slow and steady. We get to know each other, and then you leave with a tattoo! You are with us in our home and it's meant to be a meaningful experience.
What is important is what my client needs to express themselves and what they are comfortable with. It's my job to guide that vision and all my work is guaranteed. How can we create the best idea for that tattoo? It's a conversation.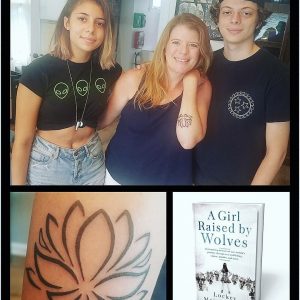 We love being here in Cranford. Even though I have a strong following from my other shops – half of my clientele is from Cranford! I'm like the tattooer for Cranford moms! We make you feel comfortable and people love it here!
Pete: We were so well received in this area – there's so much support and it was very unexpected. We were eating at Kilkenny's one night and people we never met sent us a round of drinks to say "welcome to town"!
So how can YOU be a part of their Lost and Found Tattoo family?
Ali: I tell everyone to first check out my work on Fast Ali and if you can visualize that I can help you express what you want – give me a call! It's so nice that Pete is here with me. We are a team and we work as one. Getting the service of both of us is truly a benefit.
Be sure to visit their Facebook page at https://www.facebook.com/lostandfoundtattoostudio/ , check out Ali's designs at fast ali, then call Pete to book your free consultation at (848) 219-2579!
And if you or someone you know is ready to reclaim their body and get a breast cancer victory tattoo – please them know about Ali's goal! No strings attached, just love for womankind!
–