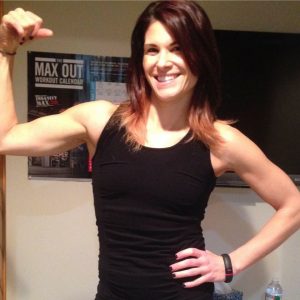 Coming out of winter hibernation? Looking to get back on track with your healthy eating and fitness? Meet Cranford resident, Cherise Mazur of "My Fit Life" over at her brand-new living blog called cherisemazur.com. Why do I love this local mom and her approach to fitness? She's just like me and you! Cherise is a busy working mother and wife trying to lead a healthy lifestyle and instill healthy values in her family. I am very excited for Cherise and just wanted to share her latest venture with everyone who is struggling with the same balance of busy life/healthy life!
To look at Cherise you would never believe that she ever had issues with her weight – but she told me that this used to be a huge issue when she was younger. After her daughter was born 14 years ago, she had had enough. She took control of her eating and health and made a pledge to lead a healthier life for herself and her growing family. Cherise found the time to do workouts at home and educated herself on clean eating long before it was a trend!
Cherise found that she was truly passionate about fitness and helping others do the same! Over the years, Cherise perfected her recipes and acquired certification in group and personal fitness. She has inspired so many friends and helped them with meal planning, exercise routines, grocery lists, and recipe sharing. Cherise figured it was time to start her own living blog!
Her brand is "My Fit Life" because that is her personal motto and she hopes that everyone can adopt the same philosophy. Her stunning and user-friendly website offers a FREE subscription and it's packed with the most delicious recipes and fitness tips! But here's the catch…everything is EASY, HEALTHY, and SIMPLE!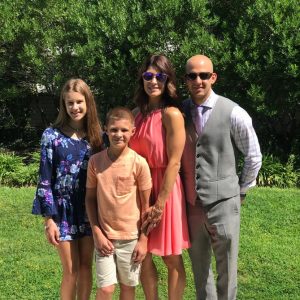 What sets Cherise aside from many other fitness gurus is that she understands firsthand that we ALL live busy, crazy lives! We think healthy living and clean eating sounds great – but how can we realistically accomplish those eating goals with a full-time job, kids events every night, and no normal routines during the week? Cherise makes it easy, doable, and manageable! I love that her new website is so organized with tabs for each meal! She even has 5-minute workout routines! I can do this!!!
Cherise makes sure that all of her recipes have minimal ingredients and can all be found at ONE store – usually her favorite, Trader Joes! Her ingredients are clean, fresh, and easy to find! She has recommendations for grocery shopping and easy meal preparation over the weekend! She is careful to include recipes for all meals of the day that include dietary restrictions such as gluten-free and vegan. Thank goodness this lady has a sweet tooth and offers some delicious sweet and savory options to make everyone happy at snack time! "I'm not a professional cook!", commented Cherise. All the recipes at her website are easy enough for any basic cook! "These are all healthy and simple – and can fit into your busy lifestyles!"
What are her favorite recipes on the website?
Fit Pancakes : We all love a heaping stack of carb-loaded pancakes – but they aren't the best choice for a healthy breakfast! Cherise's pancakes are nutrient-dense and taste delicious with warm fruit, nut butter, or yogurt!
Overnight Oats in a Jar : This is her go-to breakfast! A yummy concoction of yogurt, oats, seeds, almond milk, nut butter, and fruit is all prepped in advance and ready to eat on a busy morning!
Black Bean Veggie Burger: This version is not loaded with soy like the others! Cherise made a superfoods bean burger that pairs well with avocados, tomatoes, mixed veggies, and goat cheese!
Buddah Bowls: She's obsessed with these bowls and I need to be,too! They are versatile and you just chop and fill with your favorite ingredients: mixed greens, roasted root vegetables, plant proteins, and healthy fats!
Gluten-Free Banana Chocolate Muffins: I absolutely HAVE to try these at home! Made with almond and coconut flour and bananas and honey as sweetener – you won't be able to keep these on your countertop for long!
Where can you find Cherise in action? She's a group fitness instructor at JeniFit Studios at 345 South Avenue in Garwood. All levels of fitness are welcome at her Cross Fit Circuit Class Wednesday nights at 7:30 pm! For only 40 minutes you can experience an extensive variety of fat-burning, muscle-perfecting moves that continually challenge the body and lead to steady, continuing results. The class is intense workouts that include resistance training, body-weight training, cardio, plyometrics (jump training) and ab work! I can do anything for 40 minutes! Sign me up! Cherise loves this studio as it is a boutique fitness studio and you can even try one class for FREE!
How can you or a company team up with Cherise? Do you or someone you know work in the social media/health fitness world and would like to incorporate Cherise's brand into your own platform or event planning? She would love to work with you on:
Sponsored Posts
Brand Ambassadorship
Social Media Campaigns
Event Appearance & Live Social Sharing
Contact Cherise at Cherise Mazur at info@cherisemazur.com
What's in the store for the future?
Cherise promises to keep inventing and posting new simple, delicious, and healthy recipes on the blog! She is ready to take on new clients to assist with meal planning, shopping lists, and clean eating changeovers. She also loves 5-minute workouts to squeeze in before or after work and will continue to post new ones each week! Cherise would like to incorporate healthy menu choices from local business on the blog as well as start some meal planning group sessions! There's a lot in store for Cherise so make sure you sign up for your subscription and tell your friends to keep up on the latest news at cherisemazur.com ! She also manages a visually stunning Instagram account at instagram.com/cherisemazur !
"I just want to help others! You have to put yourself first sometimes!" – and we all know that if "momma ain't happy, ain't nobody happy!"