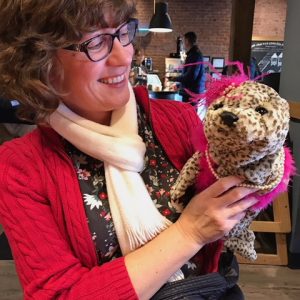 Perhaps you've met Cranford author, Laura Sassi? She's written those beloved "Goodnight, Ark" and "Goodnight, Manger" books that our children adore! She's been to local schools, libraries, and bookstores sharing her stories, her exuberance, and passion for children's literature – and she's quite amazing at what she does! I was so excited to be able to meet Laura in person at Track 5 coffee and hear about her latest book, "Diva Delores and the Opera House Mouse", due out on March 6 by Sterling Children's Books. Little did I know that I would be lucky enough to be introduced to the stars of this book, Delores and Fernando! What a delight to be able to sip coffee next to those characters!
Laura Sassi is literally from all over the world! As a young child she lived in Spain, France, and all over the United States. After meeting her husband in college, they lived a short time in California before returning to his hometown of Cranford in 1999! She continues to feel at home in Cranford because it has that "small town feel" and she has always loved a "walking town"!
Laura was a history major in college, yet writing was always near and dear to her heart. She eventually became an elementary school teacher and loved the reading and writing component. Stepping away from education when she had children, Laura found that she needed an outlet during those long days of motherhood. She rekindled her relationship with the pen and paper and began writing poems. This "hobby" proved to be successful and soon her poems were being published in magazines!
A dear friend in the business recognized that her work was "picture book potential". Laura took that advice to heart and set out to write her first children's picture book. She had to spend some time educating herself on this new style of writing. In picture books, every word and rhyme has to count! She became a familiar face at the Cranford Public Library – poring over all the children's literature. She participated in online and in-person critiques. Laura initially received a lot of rejections but learned to persevere. Finally, she secured an agent and that made all the difference.
Her first book, "Goodnight, Ark" was selected by a publisher after three meetings and two offers. She was so surprised and honored that the editor didn't change one word! She was thrilled to find out that her illustrator was the famous Jane Chapman. Laura had always admired her work and it was a "life moment" when she got to meet her in person at her home in England. They immediately connected as if longtime friends and Jane shared the process and original spread of illustrating "Goodnight, Ark"!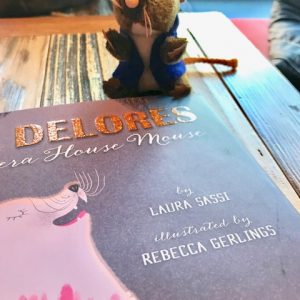 Laura is clearly very proud of her latest book, Diva Delores and the Opera House Mouse. Laura stated that Diva Delores reminds her a lot of her own daughter who is the inspiration behind this character. Her daughter is equally passionate about dance as the star of the book. The idea came to Laura in 2011, but she set it aside for a year at a time to tweak and add to the story. The names were chosen because Laura is obsessed with rhyming – so "Delores" had to rhyme with "chorus" and "mouse with "opera house"! The mouse also had to be named Fernando as that seemed like a strong opera name!
As with all of her books, Laura likes for there to be a common theme and lesson that is learned by the last page. Her words teach children about honorable qualities. The themes running through "Diva Delores and the Opera House Mouse" are respect, size, collaboration, community, "together you can do great things", and kindness. Both characters want the opera to turn out well but have different ideas on how to arrive at the same goal. How do they manage to work as a team – this diva and this common mouse? Guess you'll have to read the book to find out!
Once she felt the story was exactly as she wanted, Laura sent the finished product to her agent in 2015 and the book was accepted in 2016! This time, artist Rebecca Gerlings is the illustrator and Laura couldn't be more thrilled! I was able to get a secret glance at the new book and the vivid colors and designs will just thrill your little readers!
Here are some exciting events that are associated with Laura's latest book – which actually hit the shelves earlier than she anticipated!!!
Sunday, March 11 at 2:00 pm, Barnes and Noble, Rte 22 in Springfield: BOOK LAUNCH PARTY! Meet the author at this special story time and book signing with craft!
Wednesday, March 21 at 10:30 am, Garwood Public Library: Story time with the author plus puppets and a craft!
Friday, April 6 at 11:00 am, Cranford Public Library: A workshop with picture book creation with Diva Delores and the Opera House Mouse! Registration Required!
Saturday, April 7 at 10:30 am, Watchung Booksellers in Montclair: Author/Illustrator Story Time with Laura Sassi
Tuesday, April 17 at 4:00pm, Fire Me Up Studios in Cranford: Diva Delores and the Opera House Mouse Story Time, meet the author, and clay craft! Registration Required!
It's also a huge year for Laura Sassi as she has another book due out in August 2018 called "Love is Kind" Without revealing too much – it's a heartfelt story of a little owl who learns some life lessons along the way to finding its grandmother a special gift! Stay tuned for more details this summer!
For all information on Laura Sassi and her phenomenal books – visit her at her website, Laura Sassi Tales (https://laurasassitales.wordpress.com/), her Facebook page at LauraSassiTales, and her Instagram feed at https://www.instagram.com/laurasassitales/